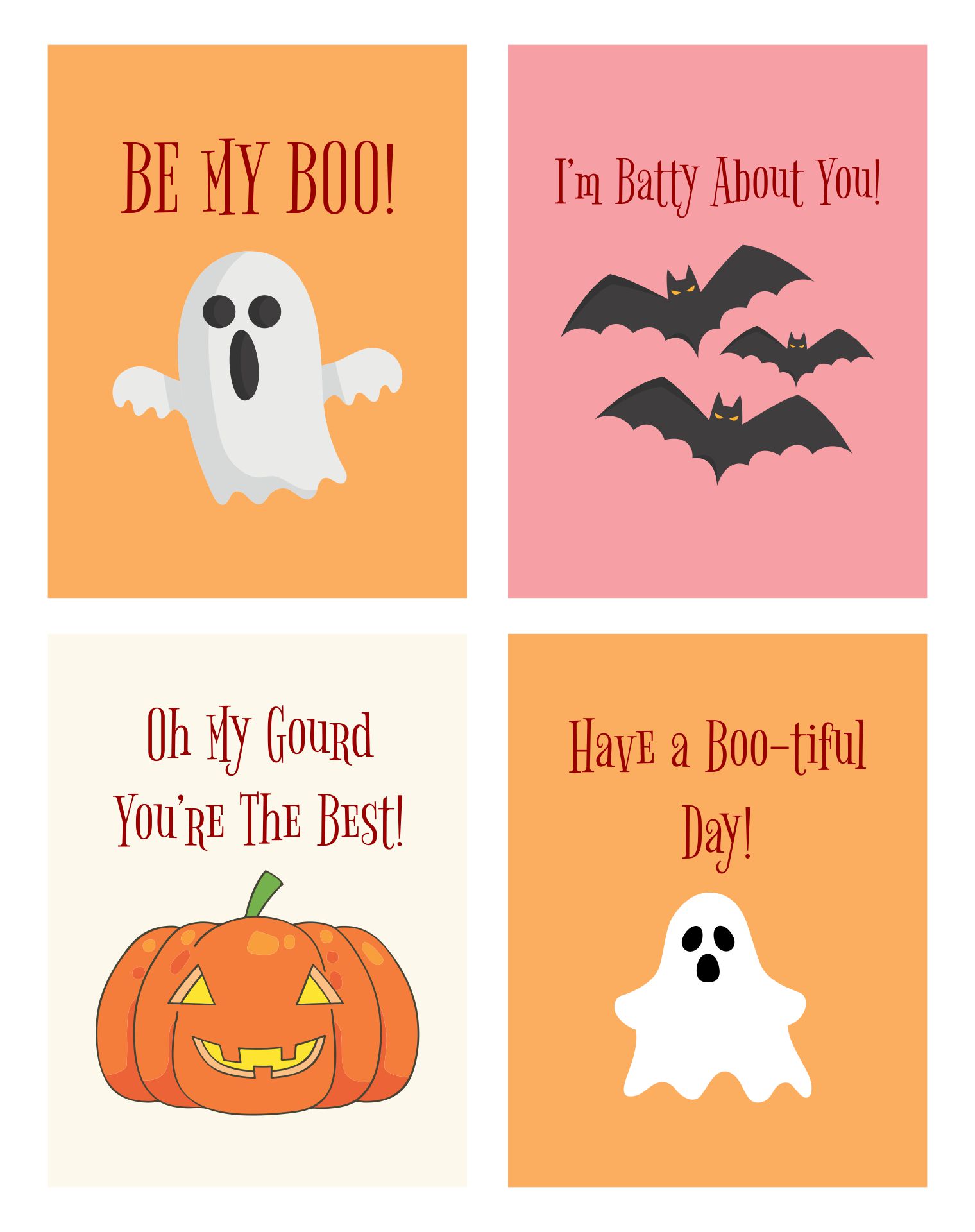 What Halloween lunch notes for?
"Boo! What a silly sweet tooth you are." That's how it says on the lunch note card on top of a cupcake and brownie for the kids' brunch. You can ask what the kids feel when they find it; could be shocked yet surprised or to remind them that the spooky season is approaching. That's the Halloween spirit!
You can also use the Halloween lunch notes to cheer your spouse or friends at work. The note is as if a daily reminder to always have a bright day in the office. That's the simplest small thing to make a smile.
When is the best time to send Halloween lunch notes?
With the Halloween characters alone, usually, parents will slip the lunch notes in the kids' rice box and the kids to their friends' a week before October 31st. If you are parents, you can put the notes after you've finished putting all lunch boxes in the bag. Make sure the kids don't see it. The kids can insert the scary-themed lunch notes to their friends when they are not around in the class. It must be a surprise, plus to make a small joke. A week after Halloween is still accepted.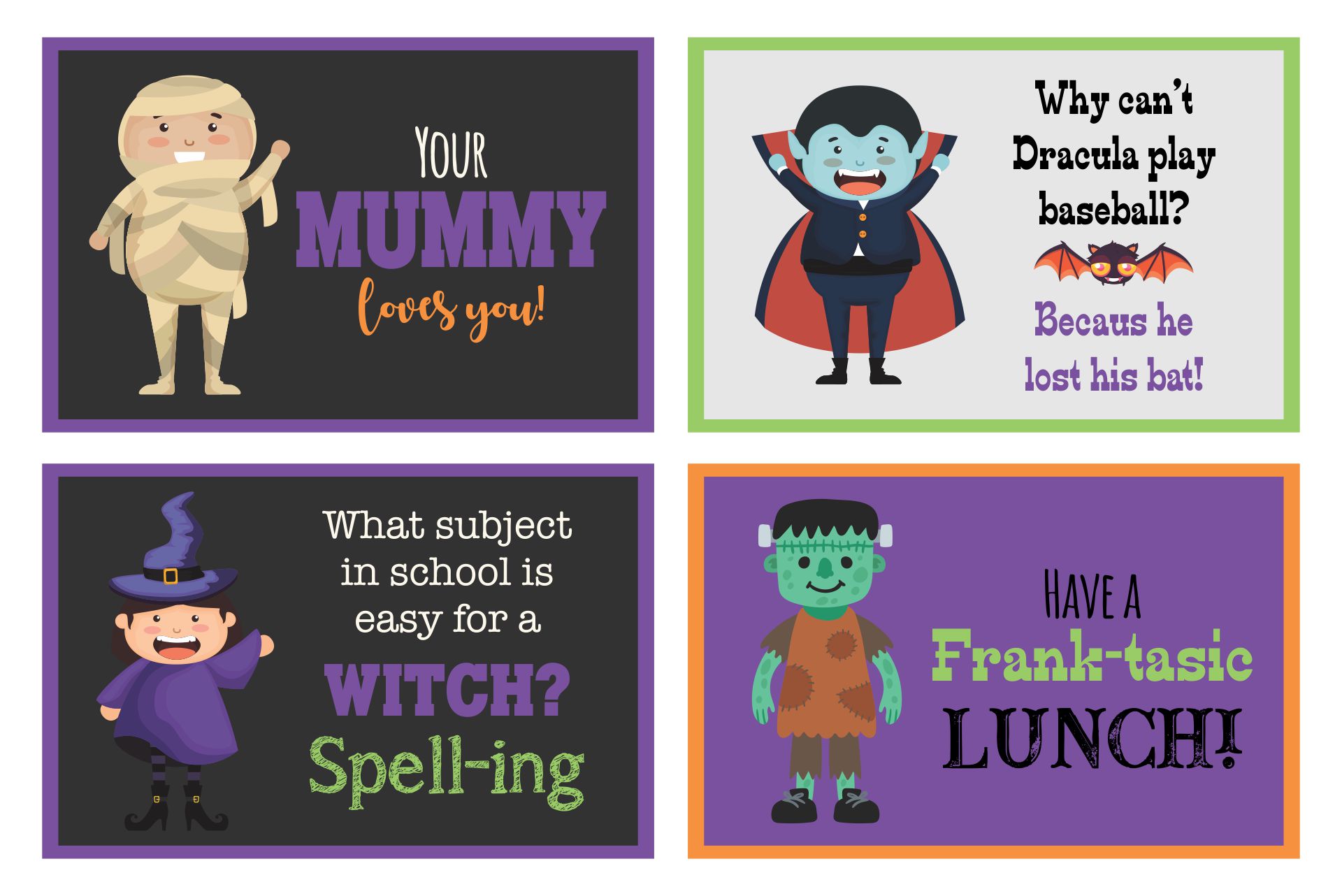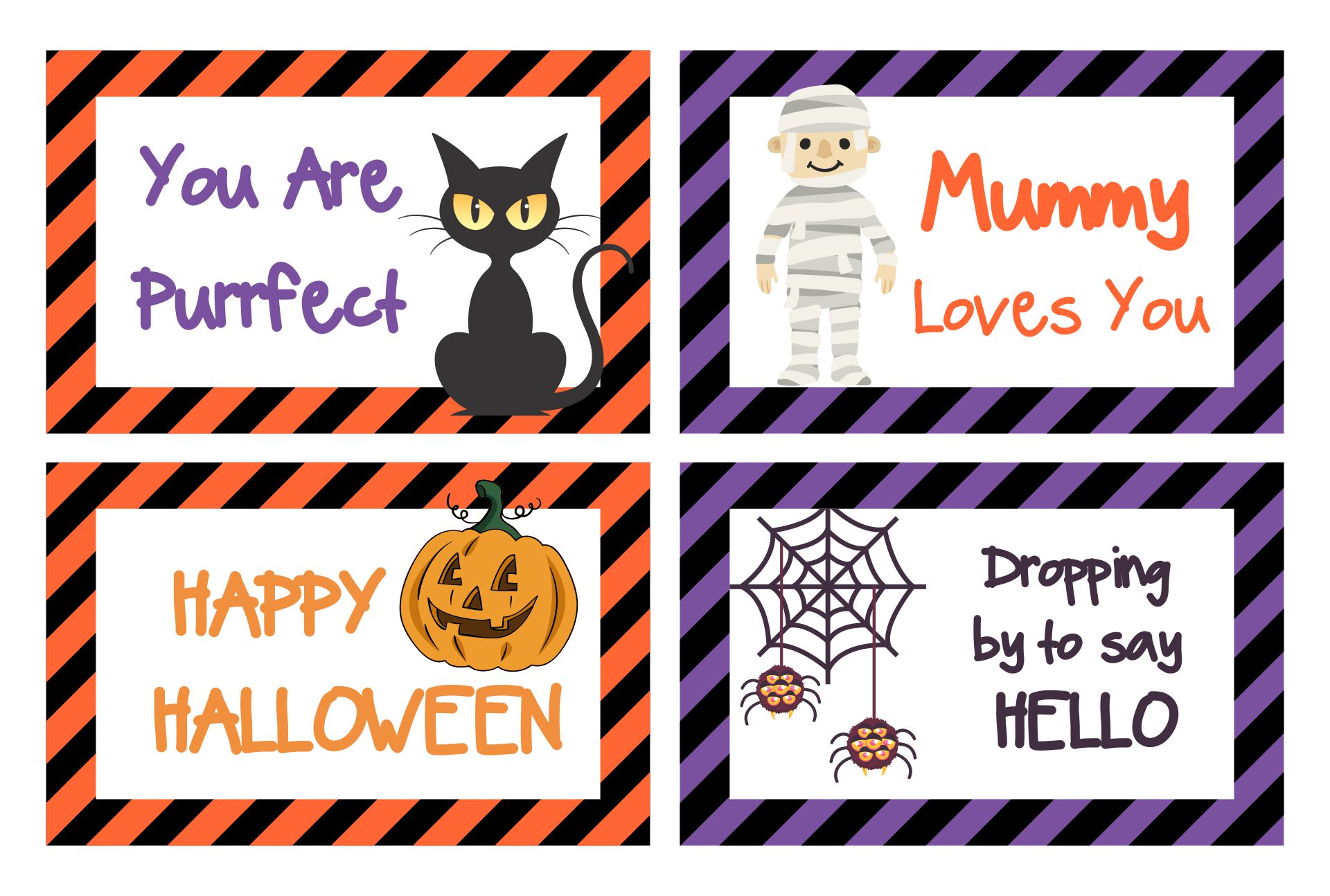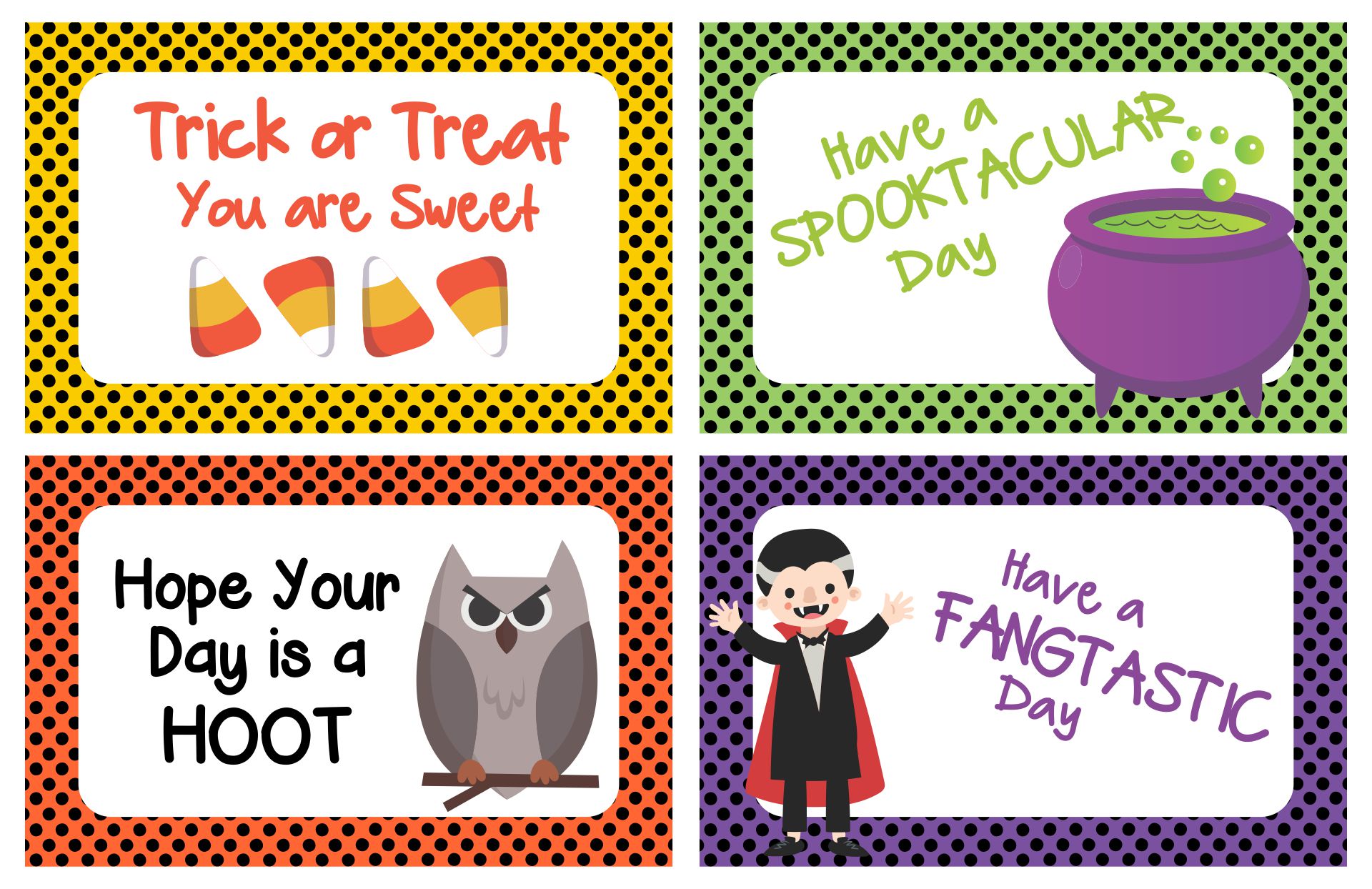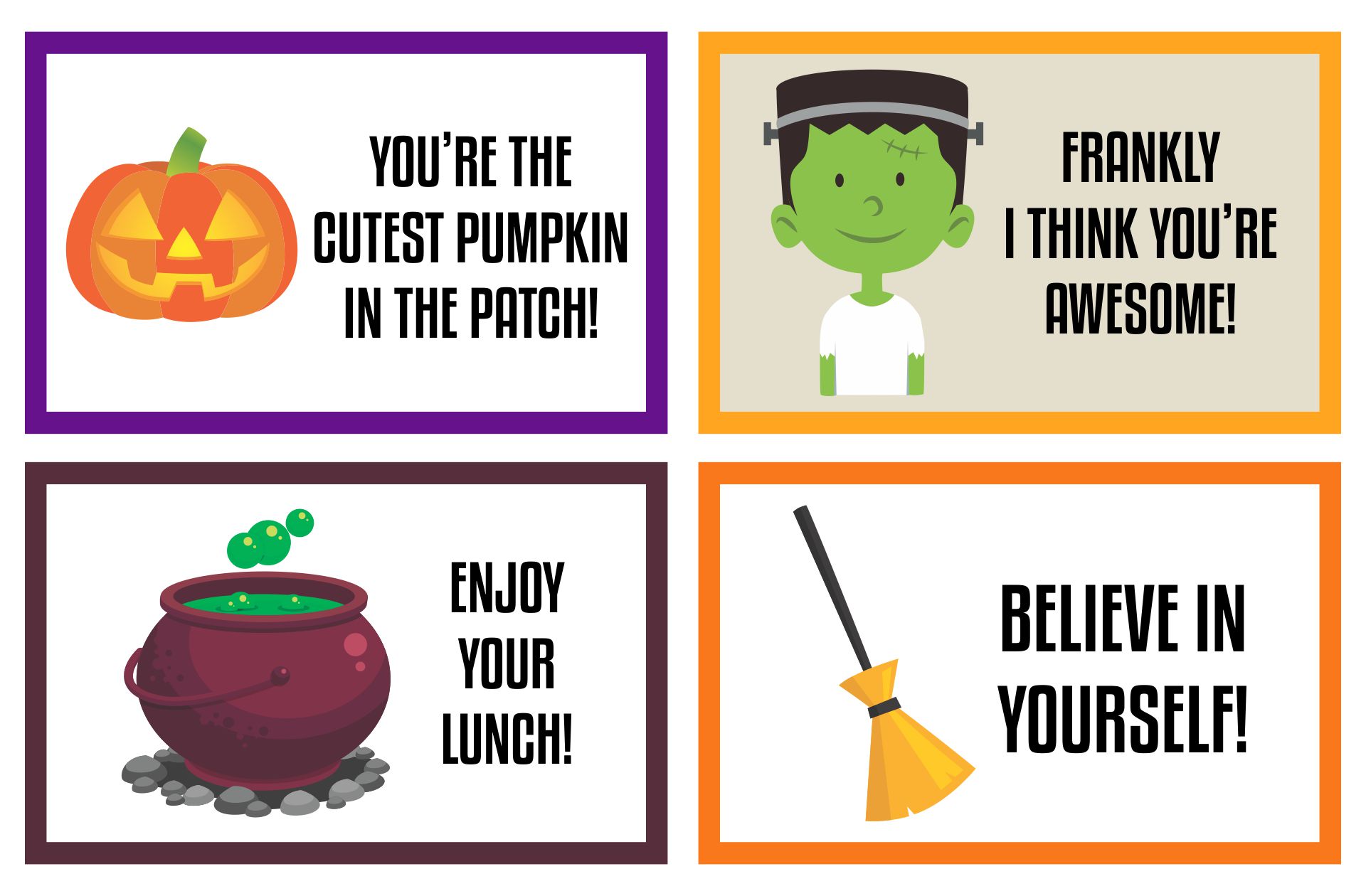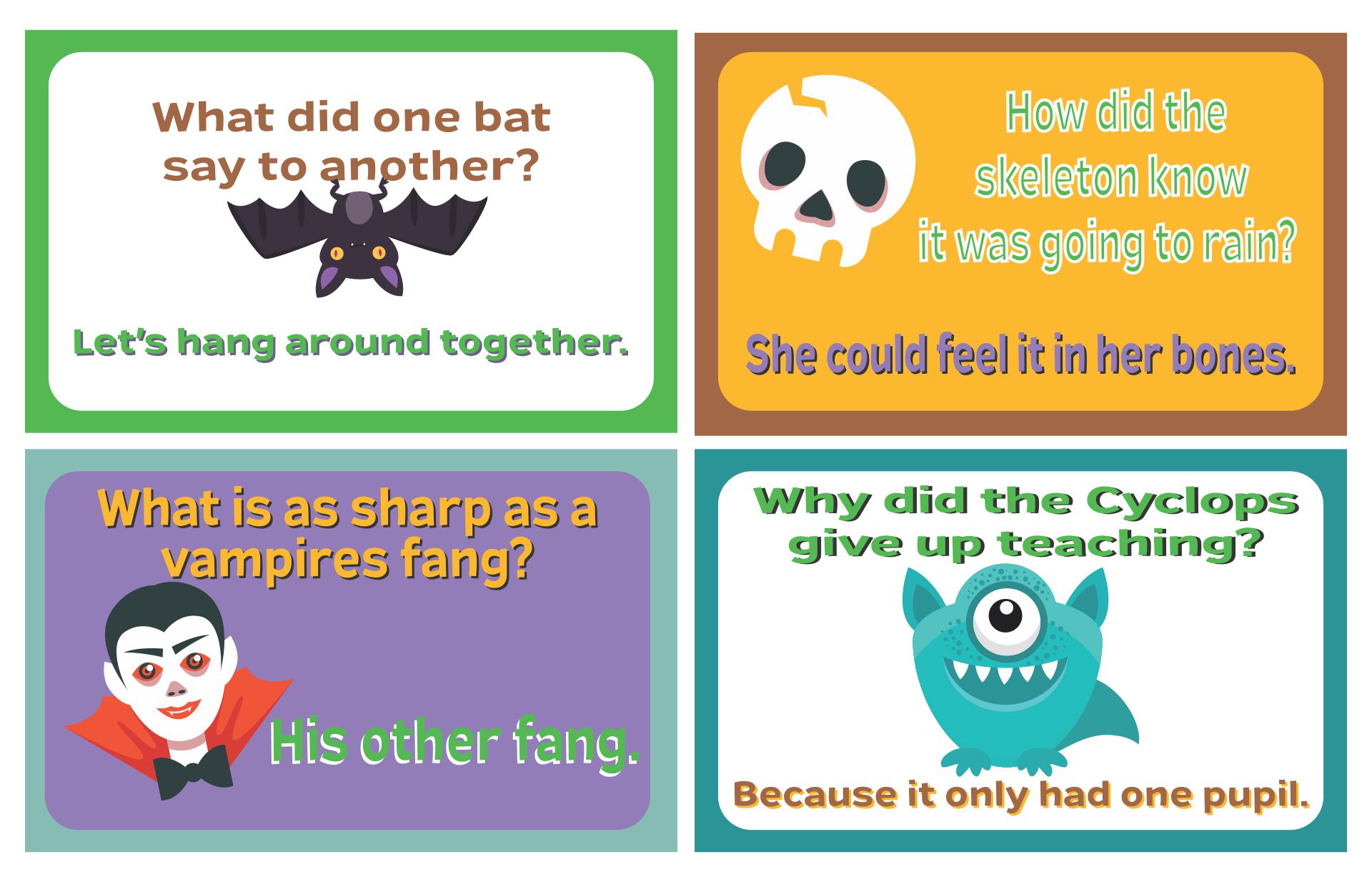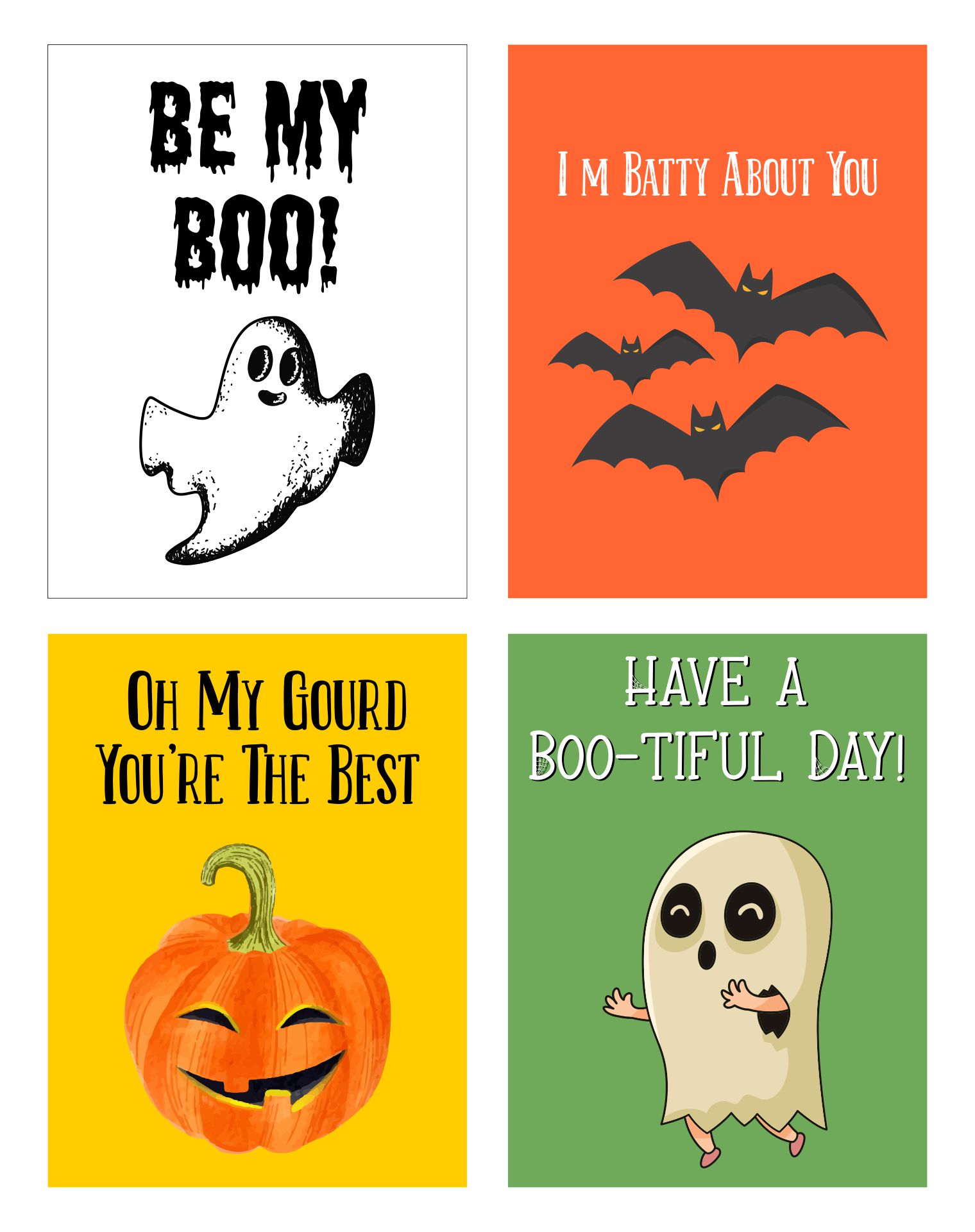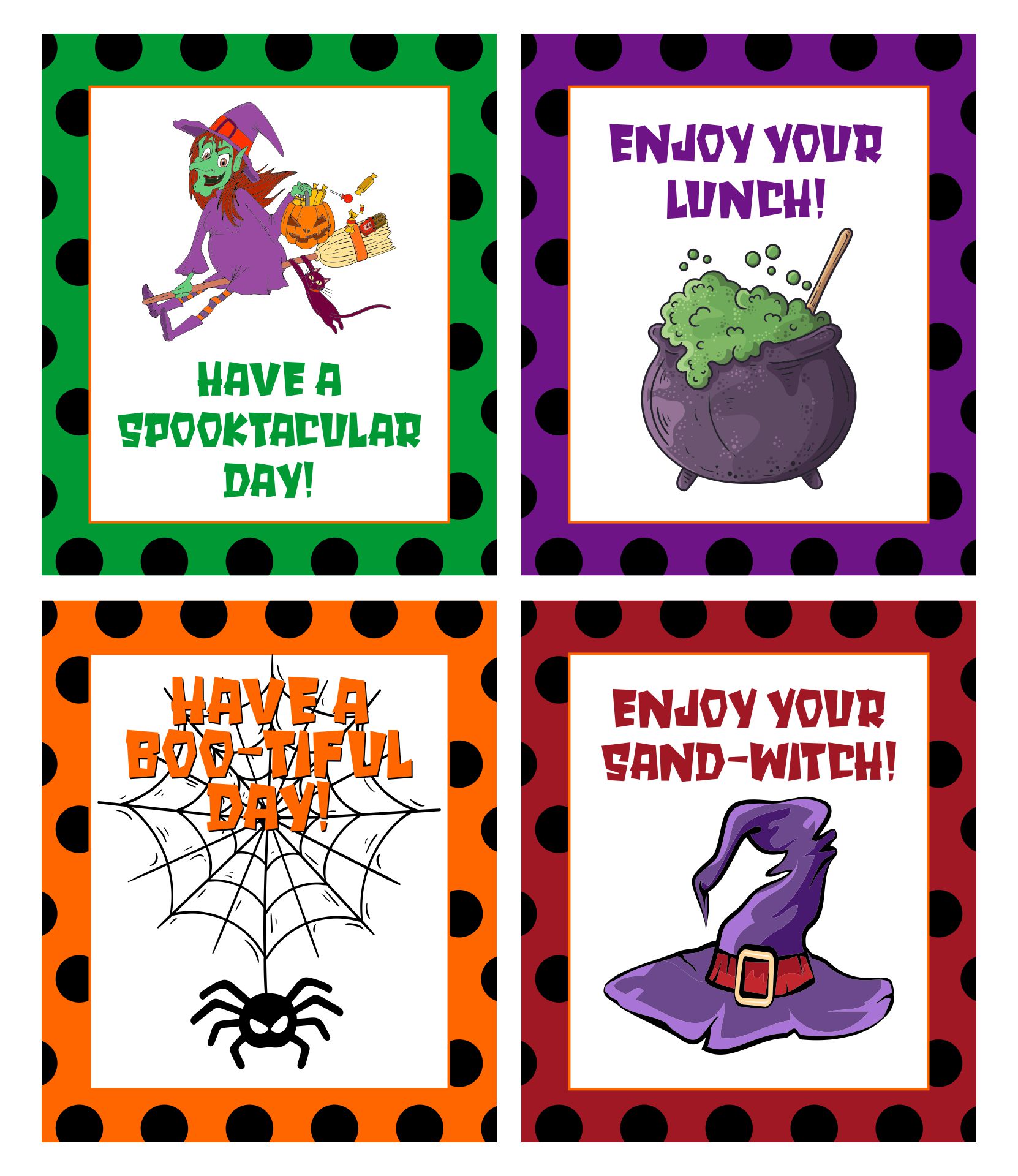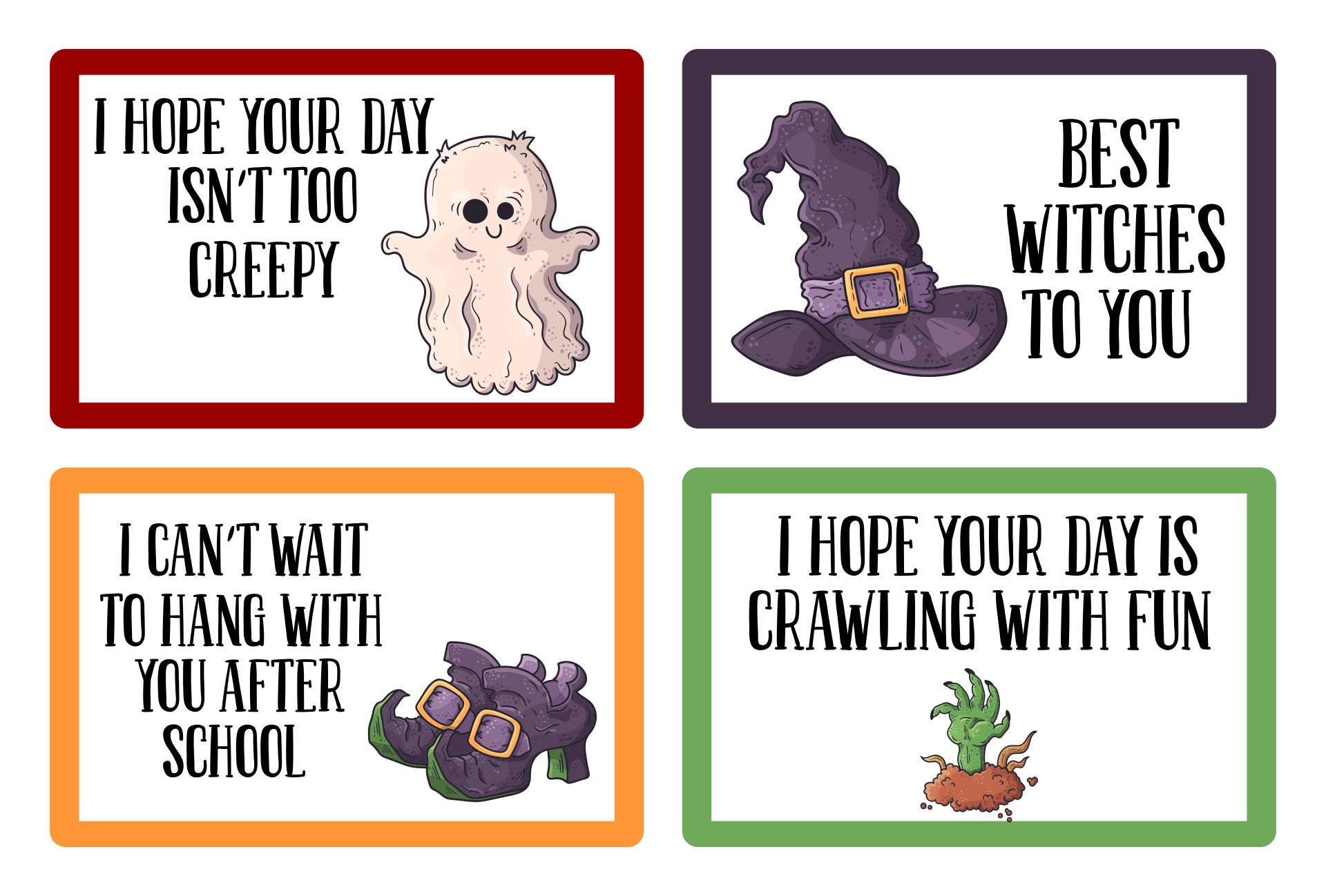 How to print Halloween lunch notes?
As you can see, there are a lot of selections for the Halloween-themed lunch notes. Its colors align with the hilarious texts on the notes. Therefore, you must carefully print the lunch notes, so that the kids notice them.
Choose the scariest yet cute Halloween lunch notes.

Pick the right paper, cardstock will do better than other papers because it is not easily crumpled.

Make sure the colored ink of the printer is enough to print the colorful Halloween lunch notes.

You can make a hole with a hole puncher if you want to tie the notes instead of slipping it secretly.
How to make hilarious Halloween lunch notes?
Hilarious here means it is different than others. By that, the receivers will share their laughs when finding the lunch notes. To do so, you can write the notes with a riddle, such as "When will ghosts eat your lunch?" The questions, despite the impossibility, the receiver will wonder the possibility of the answer, plus they will most likely eat the lunch and bring the empty boxes to show to mother. You can also greet your friends with "Enjoy the spookiest day of the year!"
What to prepare before giving lunch box notes to your children?
We are all aware that the only steps required are to print out the lunch box notes, cut them out, and place them inside a lunch box.
However, the following are a few things you might want to keep in mind before adding your notes to the lunchbox:
To ensure that your kid reads the note, think about taping or attaching it to specific food items.


Printing the lunch notes on heavier paper will make them more durable like cardstock. Even you also laminate the paper. Using clear packing tape could be used to complete the task. Afterward, if you have more children, you can utilize them again.
What lines might you write on your Halloween lunchbox note?
Here is the list if you're unsure of which creepy Halloween lunch notes to pick:
A friendly ghost wishing you a spooktacular day.


A batty boo.


A black cat that is sure to be good luck!


An owl that'll tell you who's who.


A jack-o-lantern with a witches hat because why not?


A sweet treat Halloween cupcake.
How do you make a french bread mummy pizza?
Getting ready for Halloween couldn't be easier than with this French Bread Mummy Pizza.
It takes no more than 30 minutes to prepare and just requires a few basic ingredients.
Ingredients required for preparation:
1 French loaf of bread
4 tablespoons of melted butter
2 garlic cloves, minced finely
1/4 cup extra virgin olive oil
12 teaspoon pizza or Italian seasoning
1 tablespoon of parmesan cheese, grated
1 cup of sauce for pasta
preferred pizza toppings (optional)
9 ounces of mozzarella cheese, thinly sliced
4 black olives, cut

Steps to make it:
The recipe's first step is to preheat the oven to 400 degrees Fahrenheit. Next, cut a loaf of French bread in half evenly.


Every piece should be flattened out in the middle by being pressed down firmly with your palms. Set aside after placing on a baking sheet or sheet pan.


Combine the four tablespoons of butter, two minced garlic cloves, one and a half tablespoons of extra virgin olive oil, one and a half teaspoons of Italian seasoning, and one and a half tablespoons of grated Parmesan cheese in a small bowl.


Then, equally, distribute this mixture in the middle of each loaf of French bread. Bake the bread for 6 to 10 minutes, until it is lightly browned, with it remaining on the baking sheet.


Retrieve the French bread from the oven with carefully, pour the 1 cup marinara sauce on it, then add your favorite toppings (if using). Finally, top with the 9 ounces of sliced mozzarella cheese and two sliced black olives for the eyes.


Put the cheese under the broiler on low until it is completely melted and warmed. While it is baking, watch it carefully. From the pizza oven, gently remove. As soon as it's warm, slice and serves. Enjoy!


Last but not least, don't forget to include your Halloween lunchbox note. "Have a lovely day, my pumpkin," is a suitable greeting.