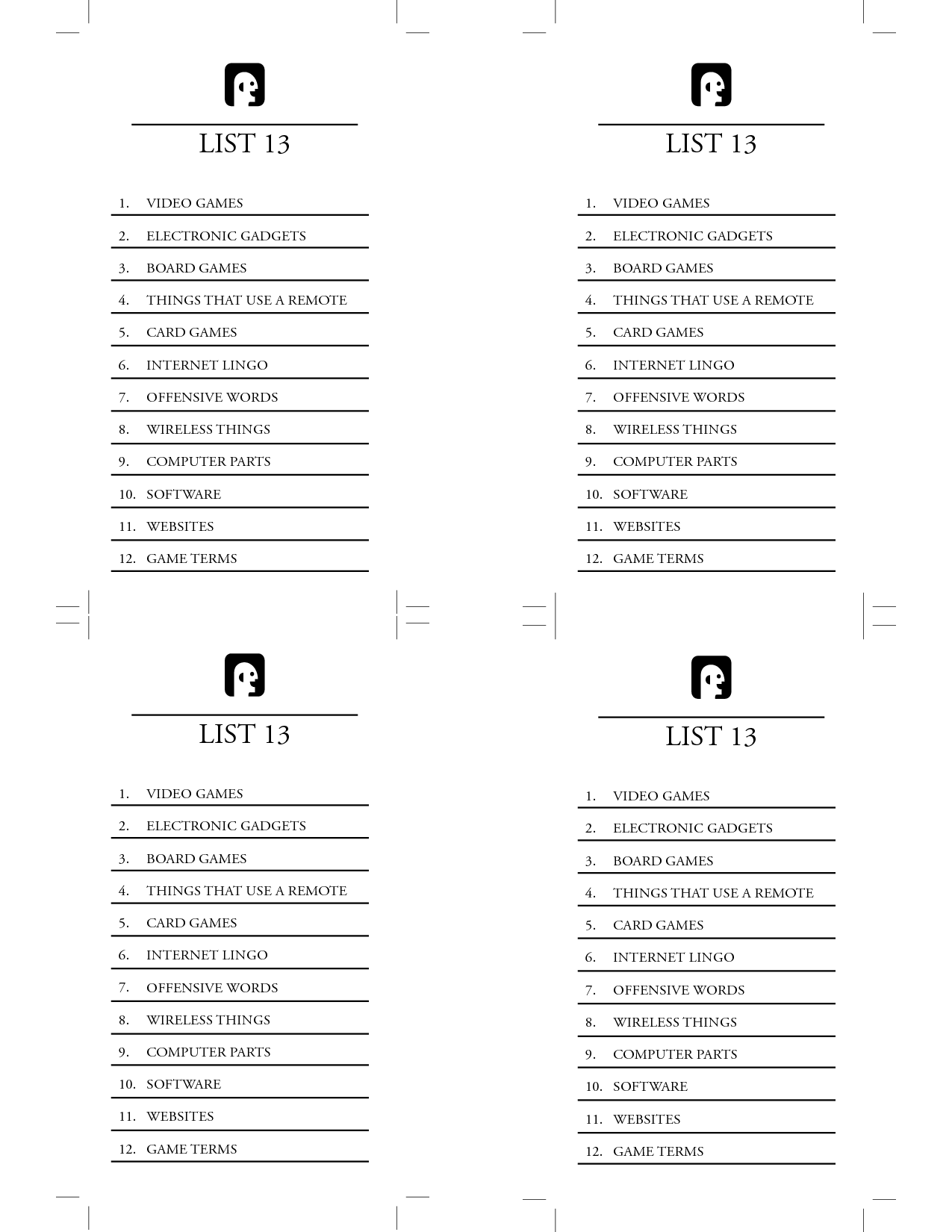 What are the Scattergories Categories?
After it was introduced for the very first time in 1988, the game has now been played for more than thirty years. The main objective of the game is to write the most words based on the scattergories lists. The words should be started with the letter shown on the 20-sided letter dice. The game has provided 250 different categories. In fact, each category has its own sub-categories. For example, there is a category for animals. With the category, there are so many sub-categories like reptiles, fish birds, four-legged animals, mammals, and so on. It is similar to the entertainment category, there will be movie titles, song titles, actors, actresses, tv shows, and many more.
How do you play Scattergories?
Actually, there are ways to play the Scattergories, by playing it online or offline. If you want to play it online, you can access the apps or websites. But, if you want to play it offline, you need to have the board game by purchasing it or making it your own. Either of those, you have to play it in three rounds. Each player takes the same category cards consisting of scattergories lists and an answering sheet with three columns consisting of 12 blank lines for each column. Then, roll the 20-sided letter dice and write down the words started with the letter shown. The timer for each player to write is 3 minutes. And each player should fill up all those three blank columns.
After the timer is finished and all the three blank columns are filled with the words from the scattergories lists, then each player is needed to read it out loud. The points are from how many words are written, if there are duplicate answers, then both players will have zero points. Also, the articles like 'A', 'An', and 'The' are not included in the starting letter. The words can also be phrases which means the more words with the same first letter at one line the more points the player will also get. Then, repeat it again for the next round two and three. The winner is the player with the most points.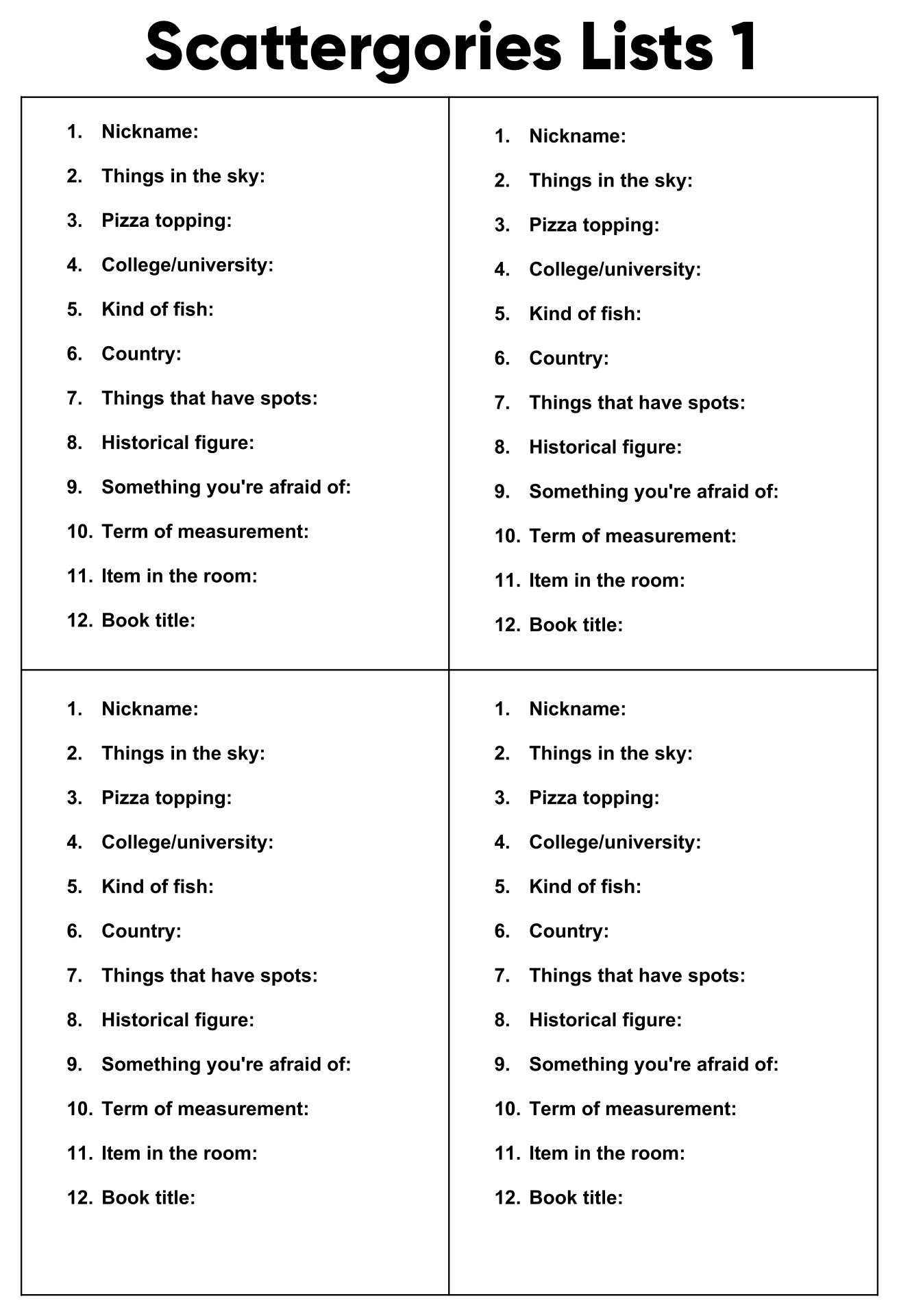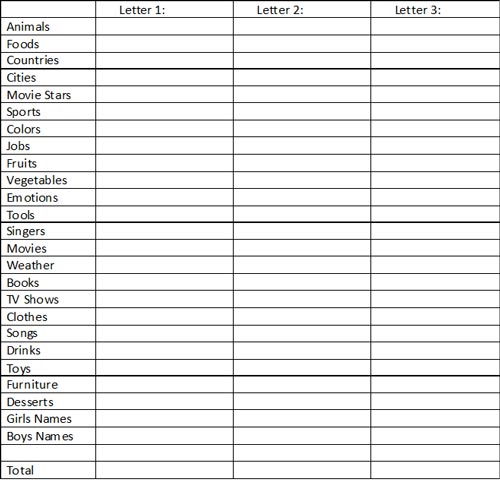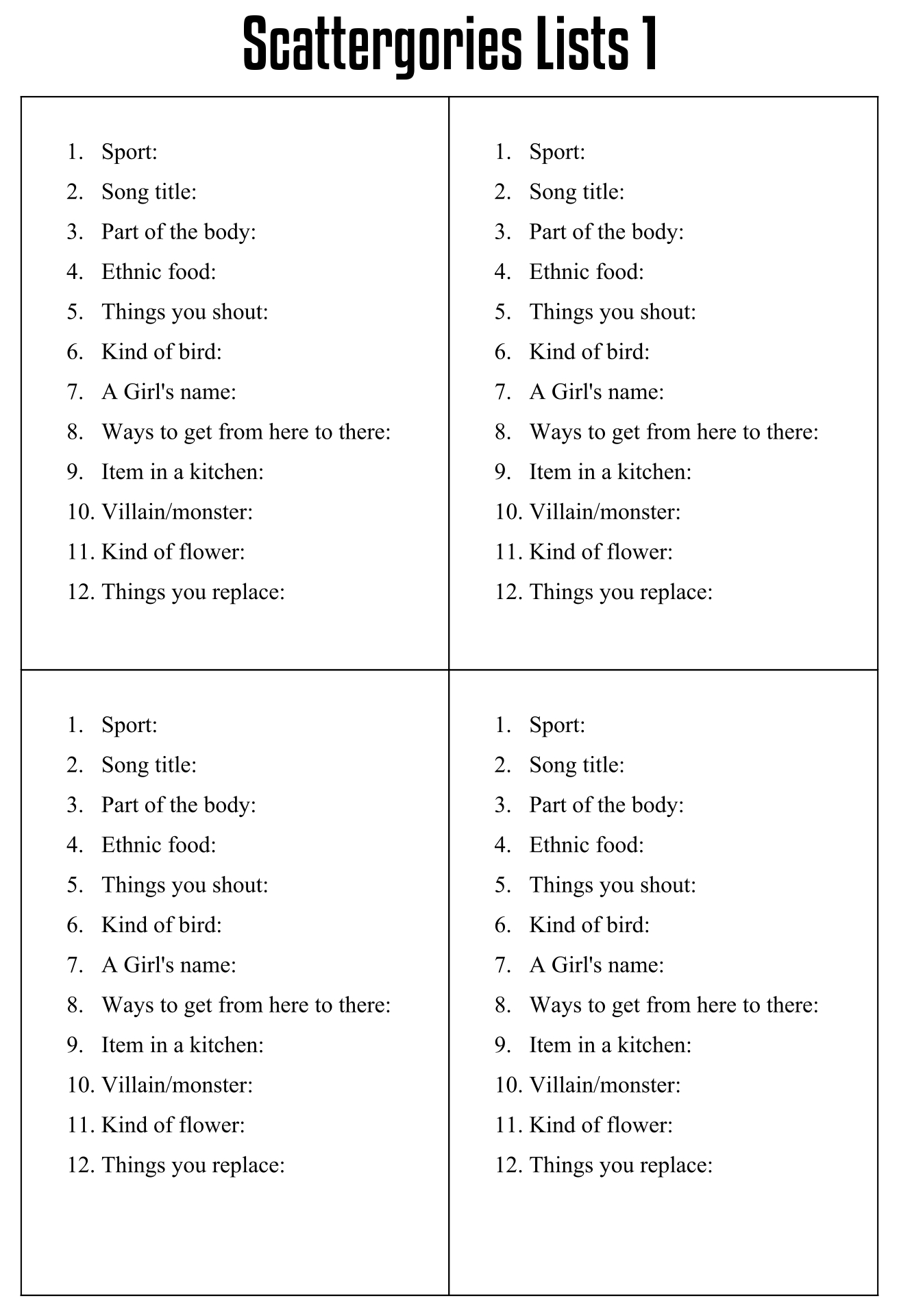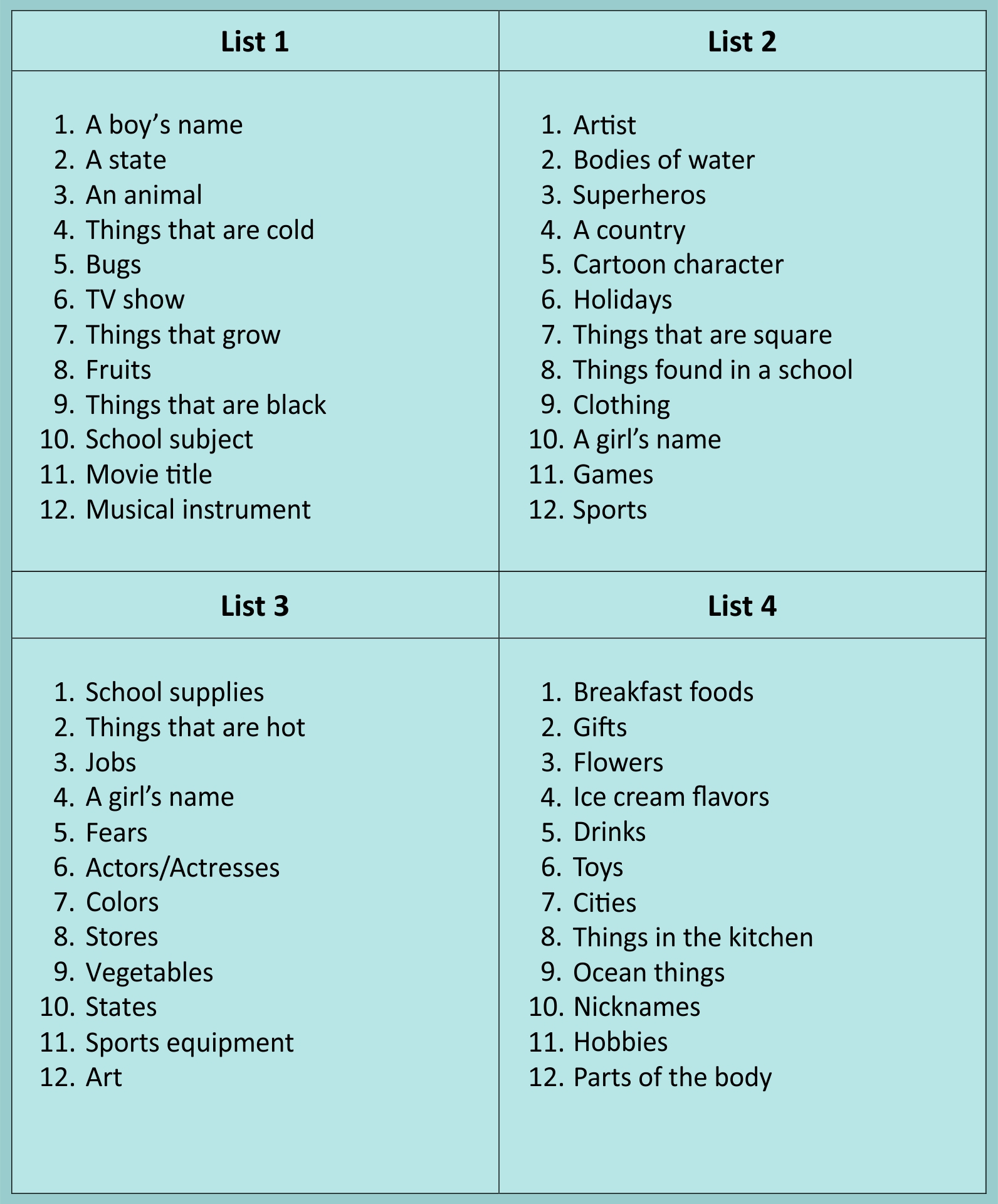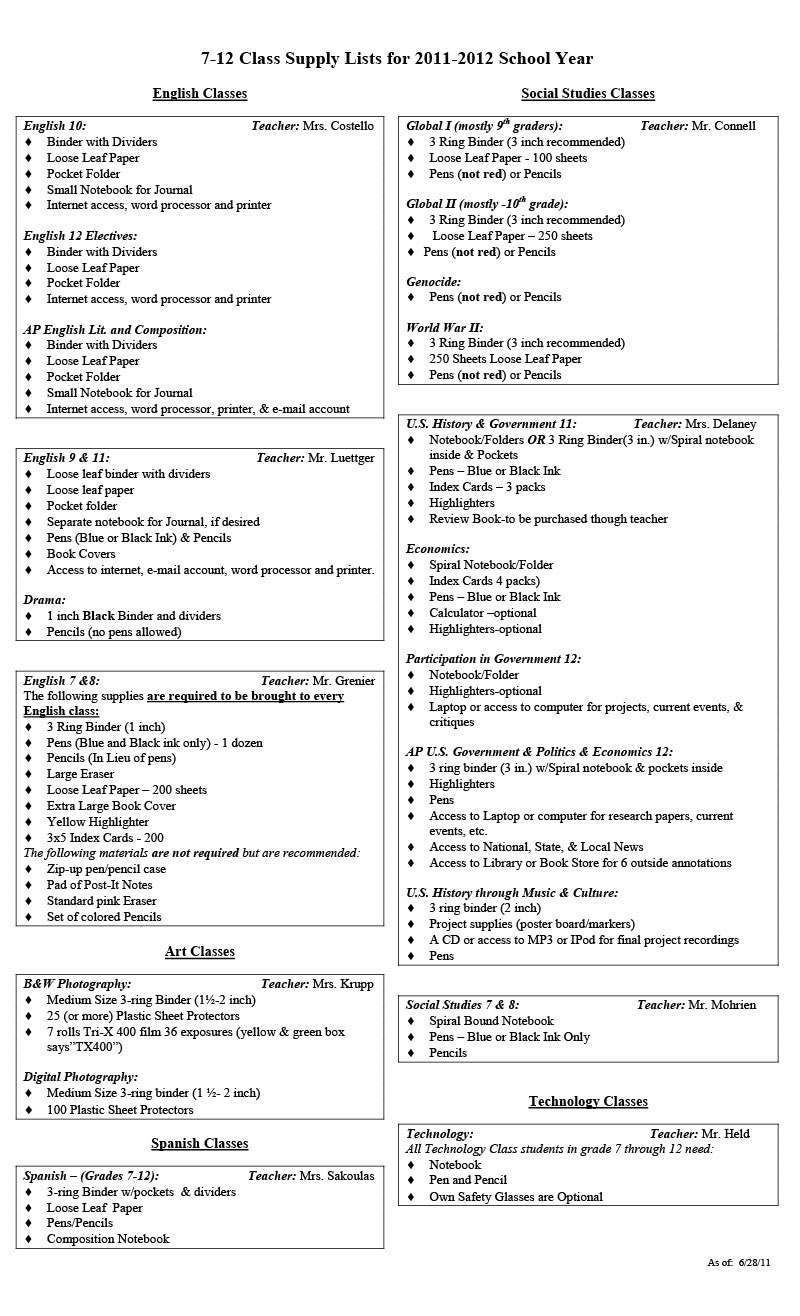 How do you play Scattergories online with friends?
There are plenty of choices to play Scattergories online. You can play it through apps or you can also play it directly through websites. Both of them will give you so many more scattergories lists than the offline game. Also, the online version will allow you to play with so many more friends. There are also many more rewards and prizes available for the winner. The steps are simple, you just have to log in to the online game and connect with your friends or you can also search for an unknown person to play with.
---
More printable images tagged with: