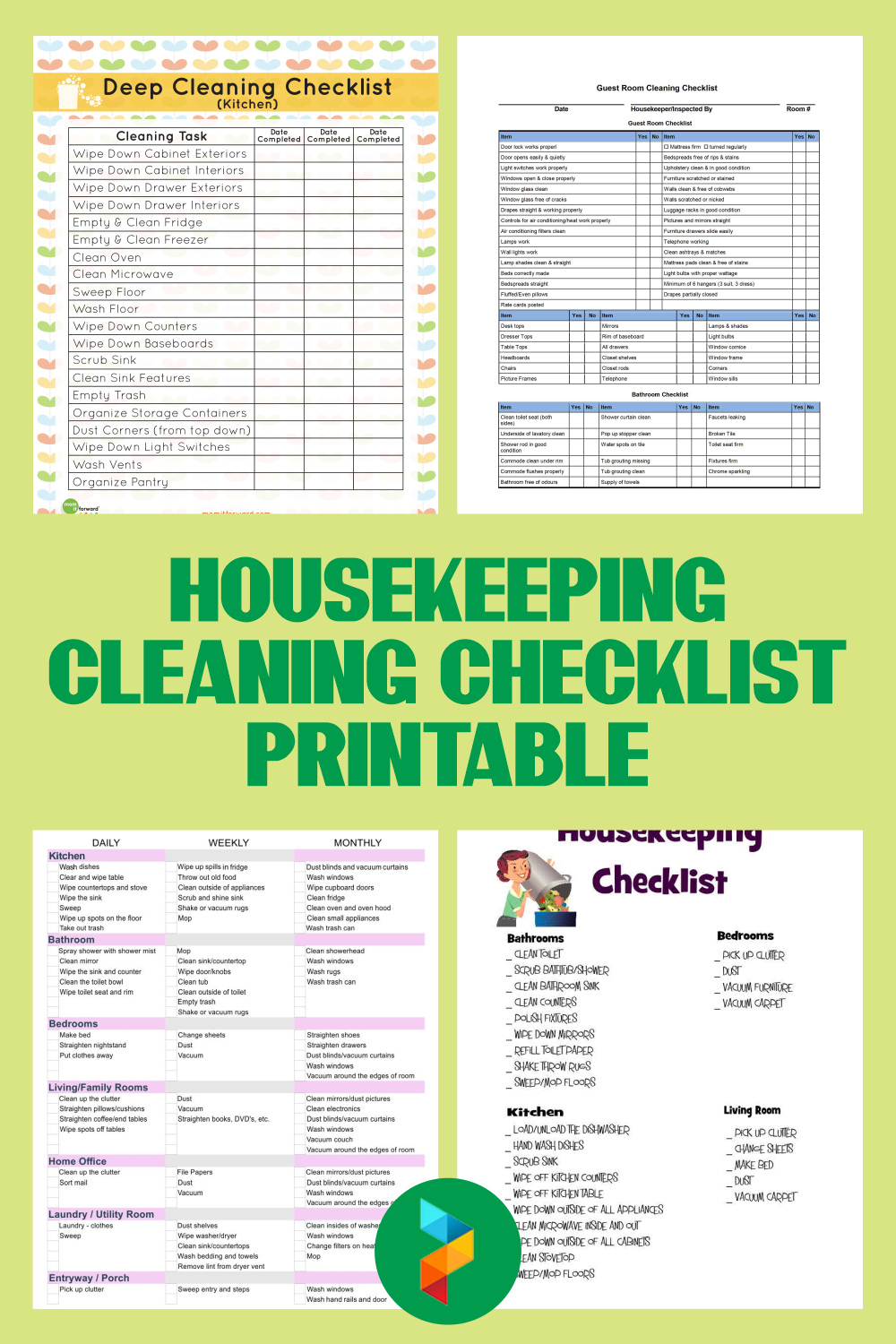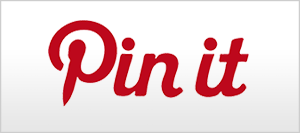 Housekeeping Cleaning Checklist Printable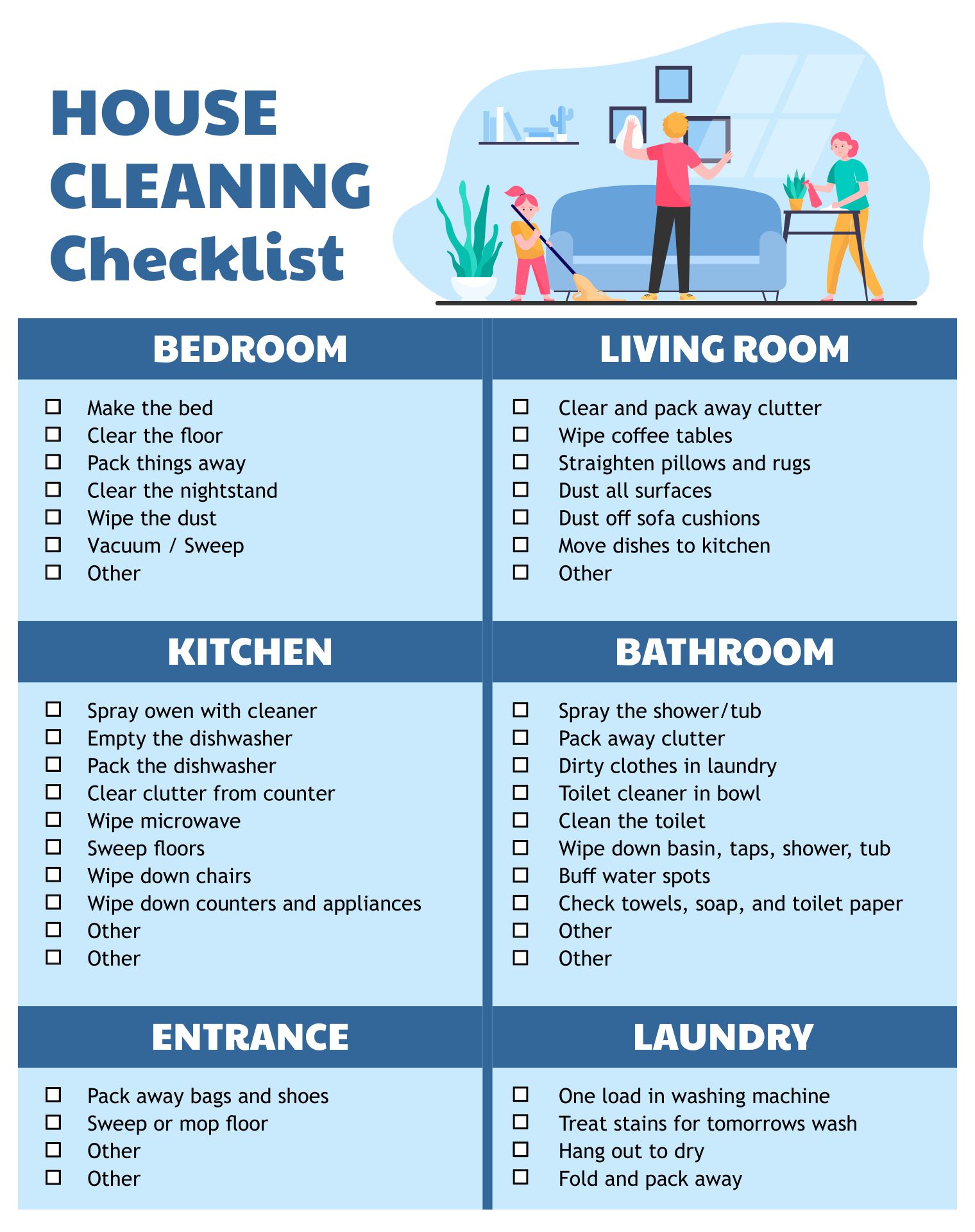 What is weekly cleaning in housekeeping?

Housekeeping refers to doing basic cleaning tasks in a house, hotel, or other places. Usually, people will make schedules of their cleaning from daily, weekly, monthly, or even seasonal. For weekly cleaning specifically, it is an additional cleaning to the daily one where usually the chores are more complicated and time-consuming. Making some sort of checklist can help you to keep track of what should be done for your weekly housekeeping cleaning. Here is a weekly housekeeping cleaning checklist you can follow:

1. Doing laundry.
2. Scrubbing bathroom tiles and surfaces.
3. Dusting the furniture.
4. Changing the bedsheets.
5. Cleaning the kitchen.
6. Cleaning the windowpanes and mirrors.
7. Mopping the floor all around the house.
8. Cleaning the carpets.

What are the typical house cleaning duties?

Typical house cleaning duties can refer to the housekeeping cleaning chores that you are able to do daily without additional help. The duties may differ from one person to another. There are many things that can affect it, like their schedule and their house condition. However, here we tried to make a list of the house cleaning that you can use as your housekeeping cleaning checklist:

● Making the bed and cleaning the bedroom.
● Sweeping the floor.
● Washing the dishes.
● Throwing out the trash.
● Cleaning the kitchen table.
● Cleaning the dining table.
● Dusting tables, door panels, and chair rails.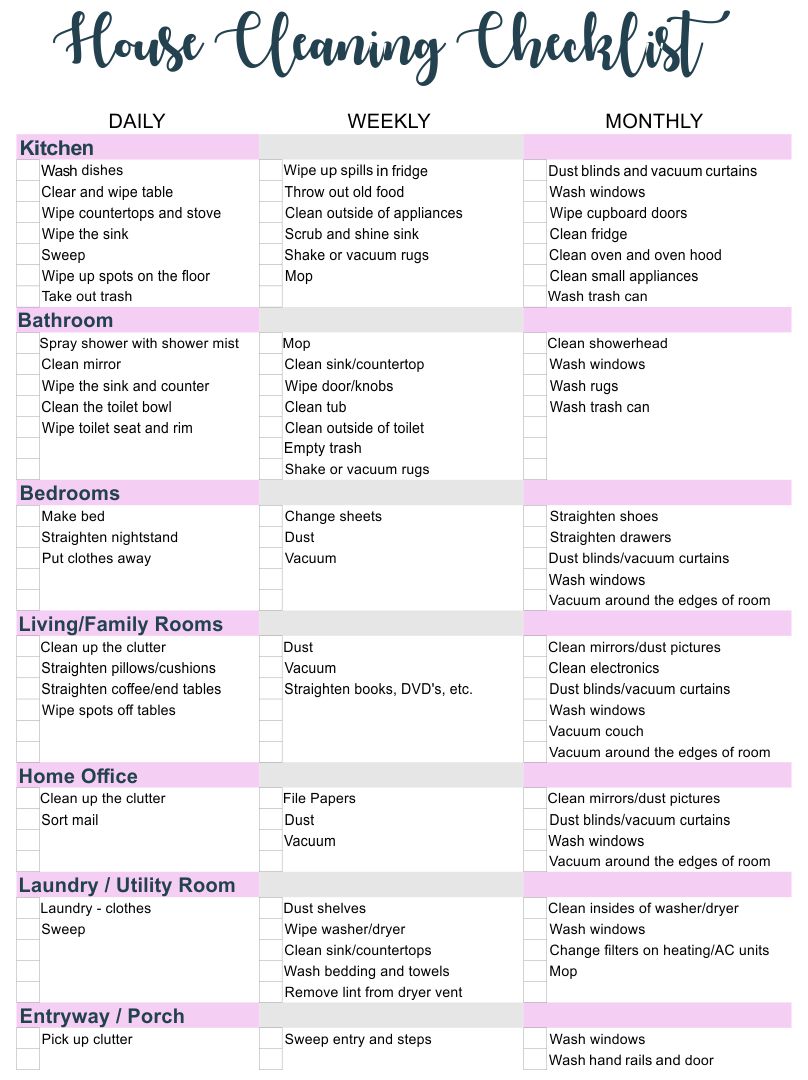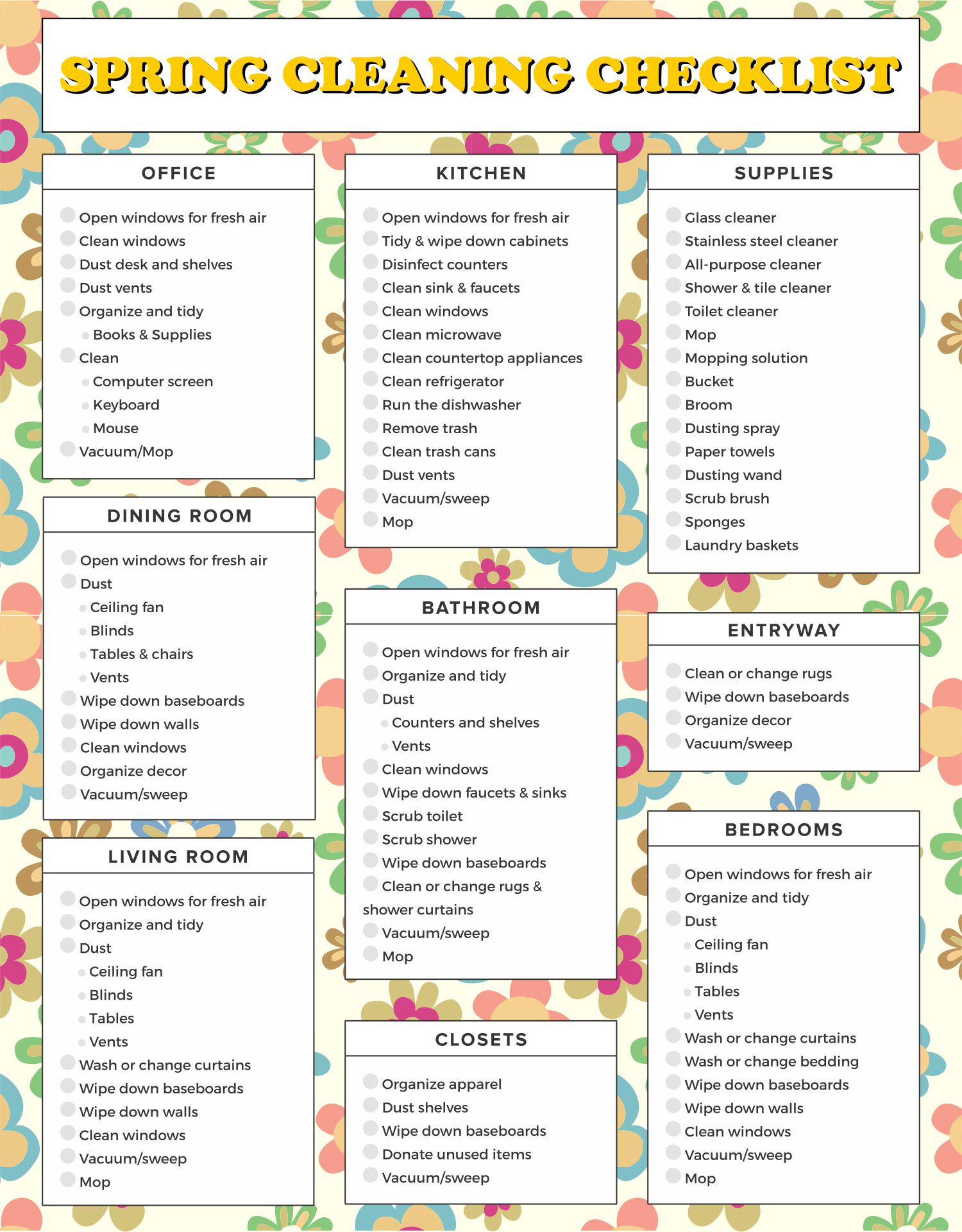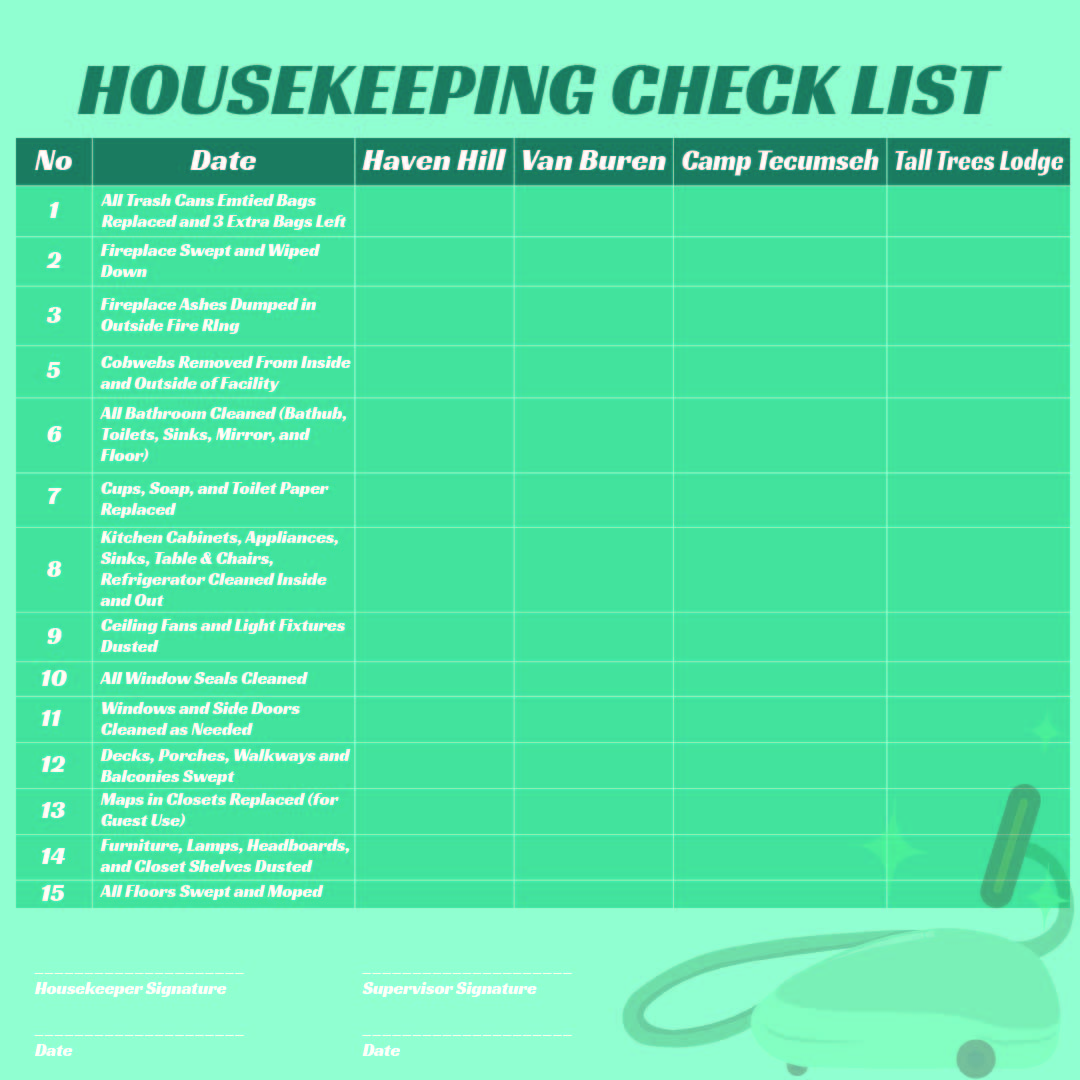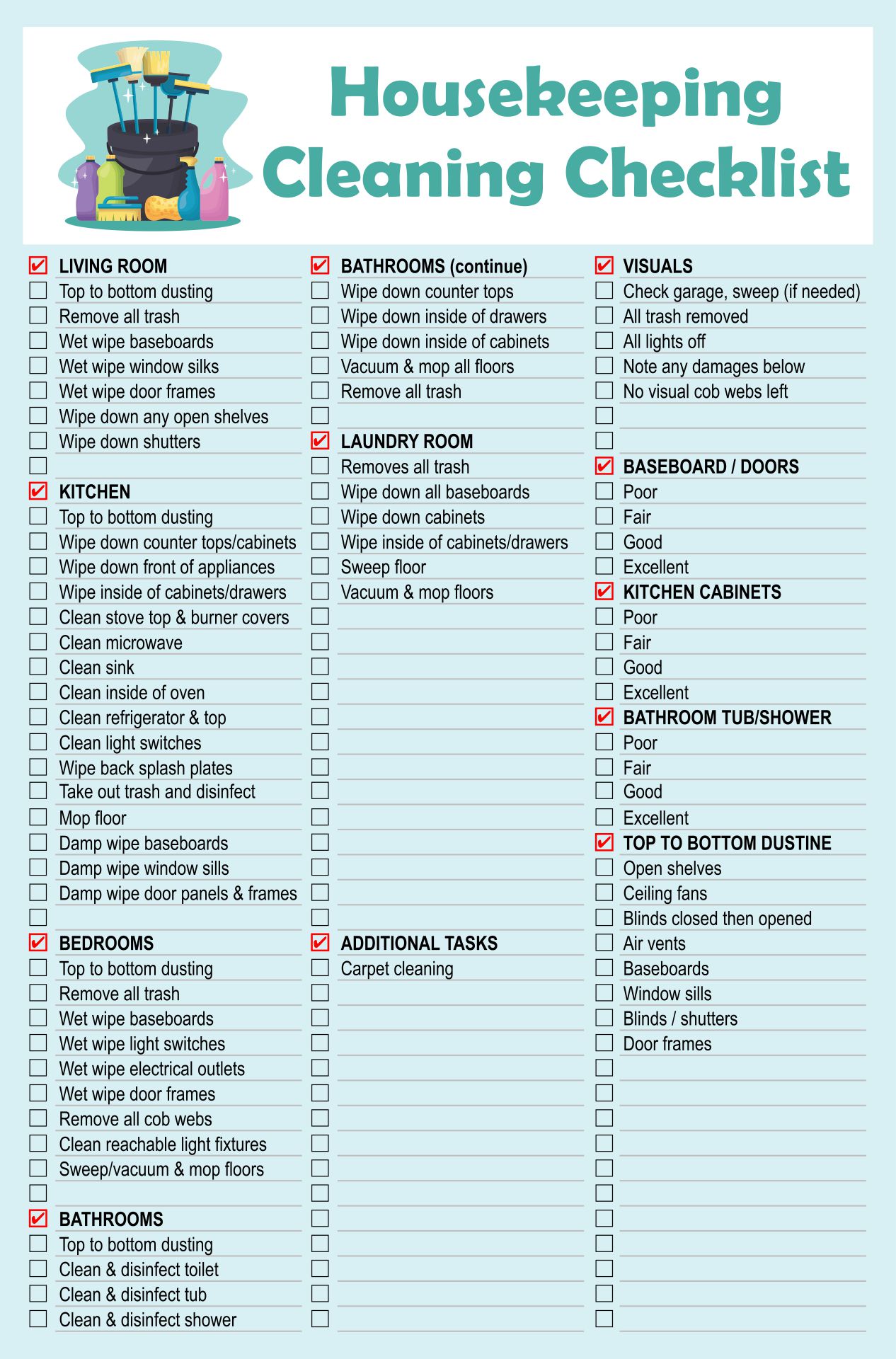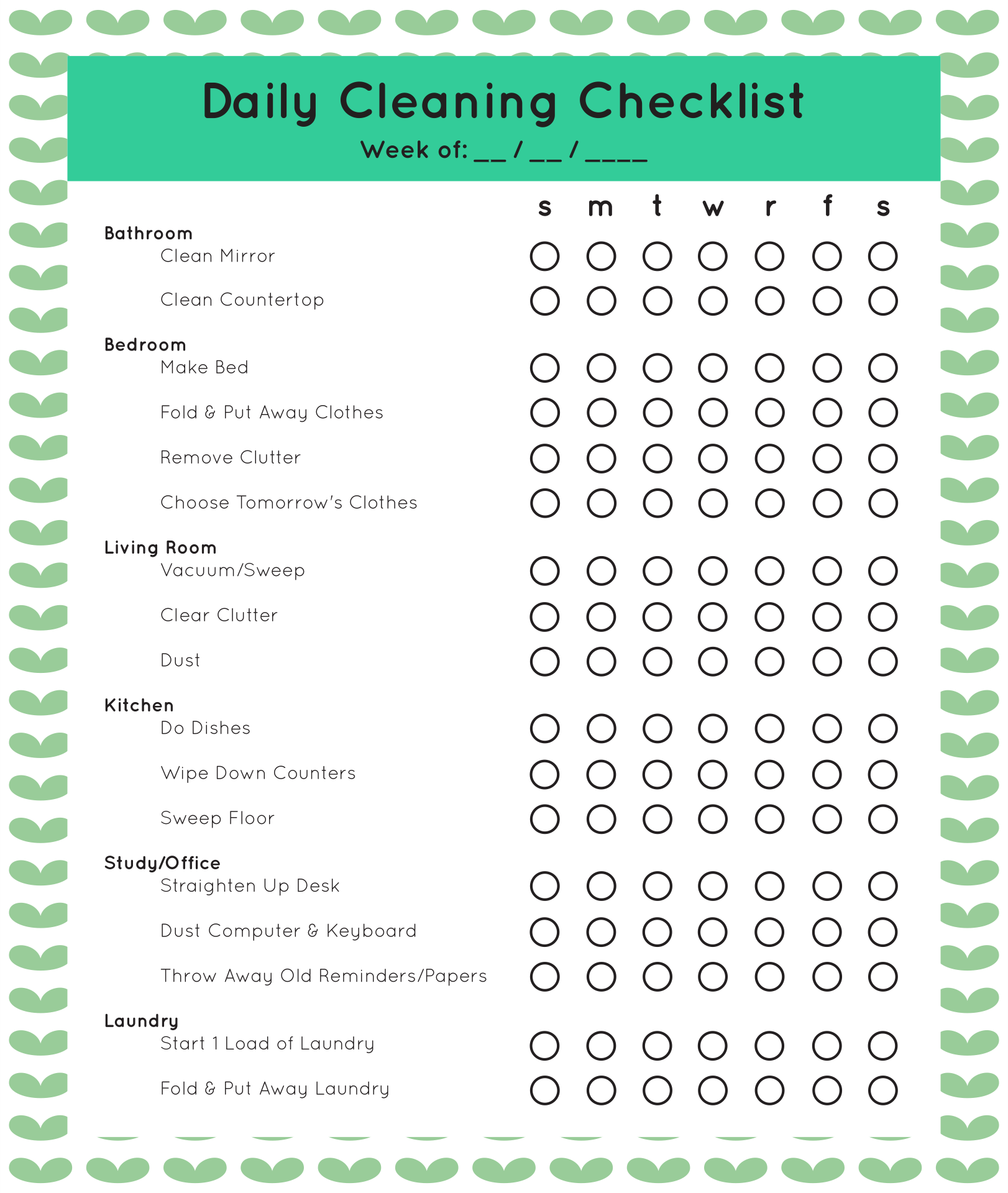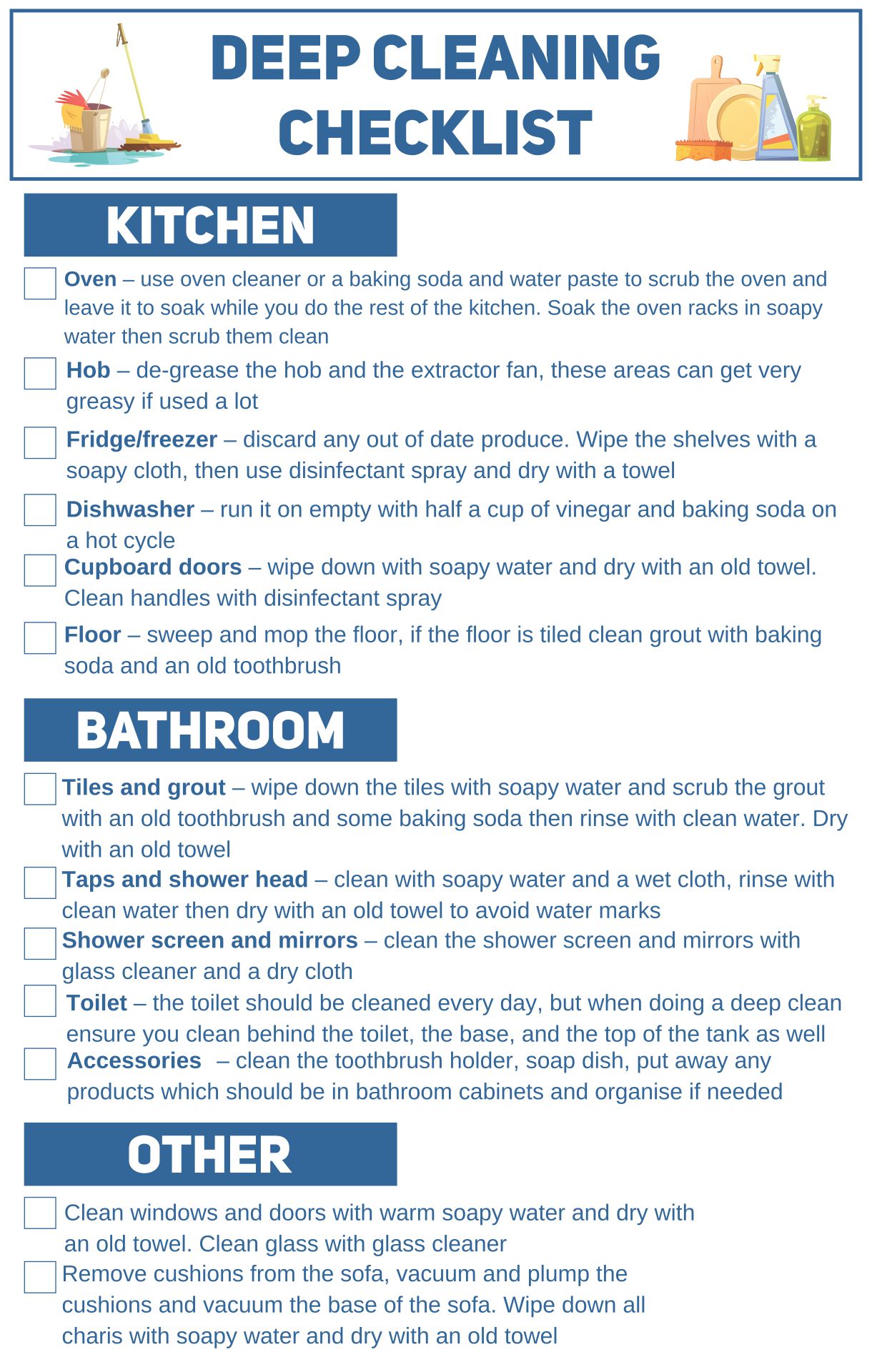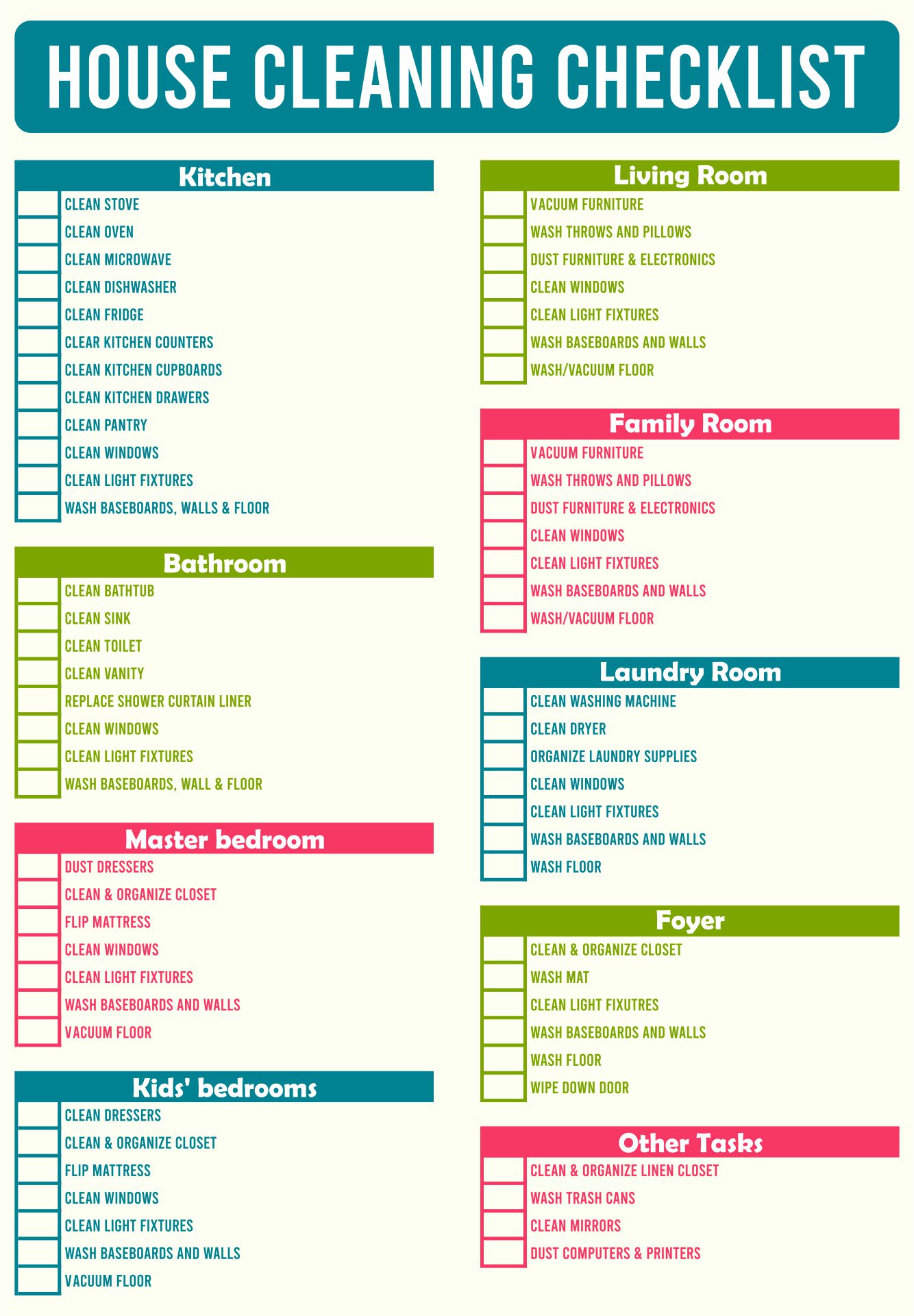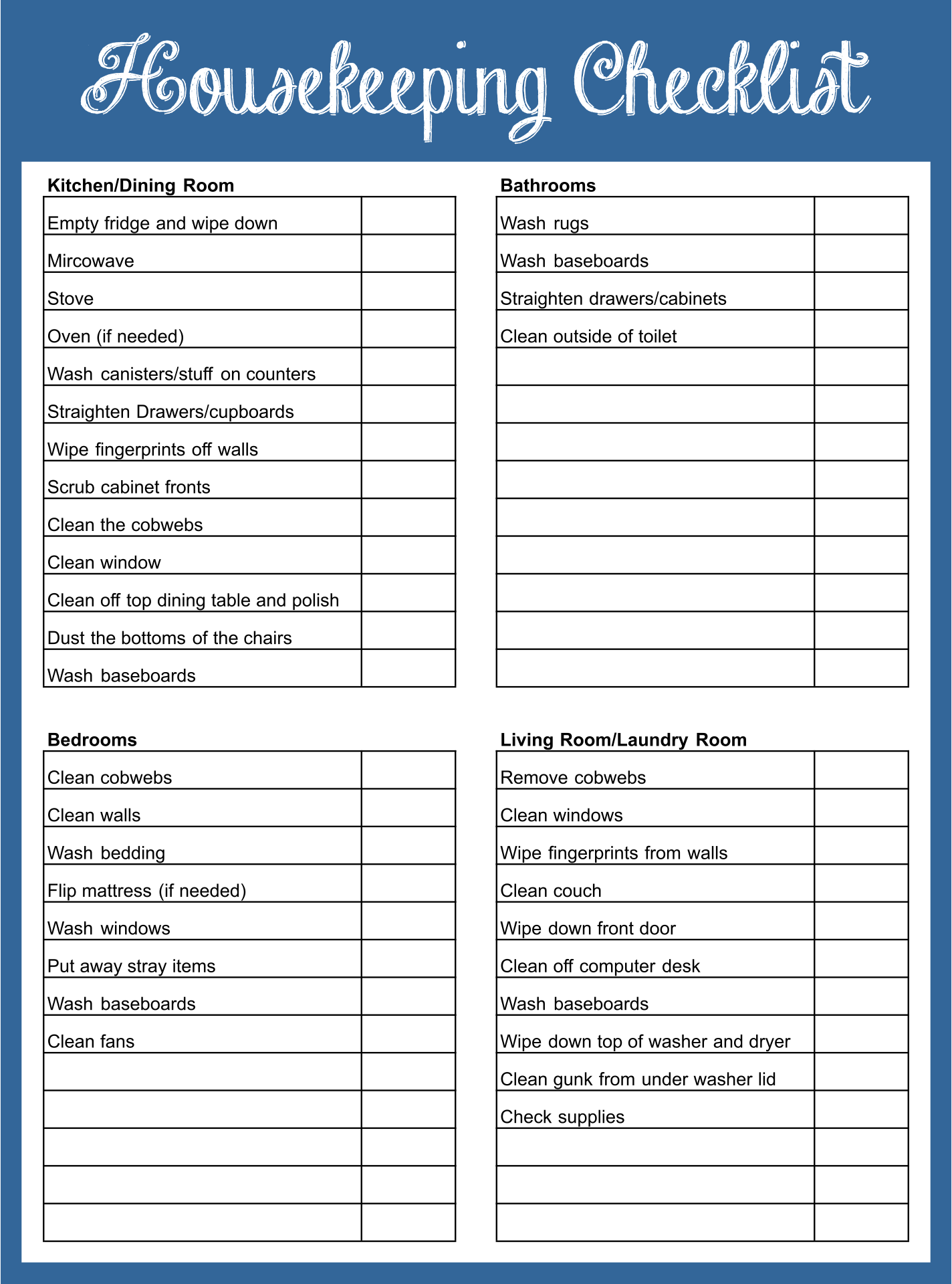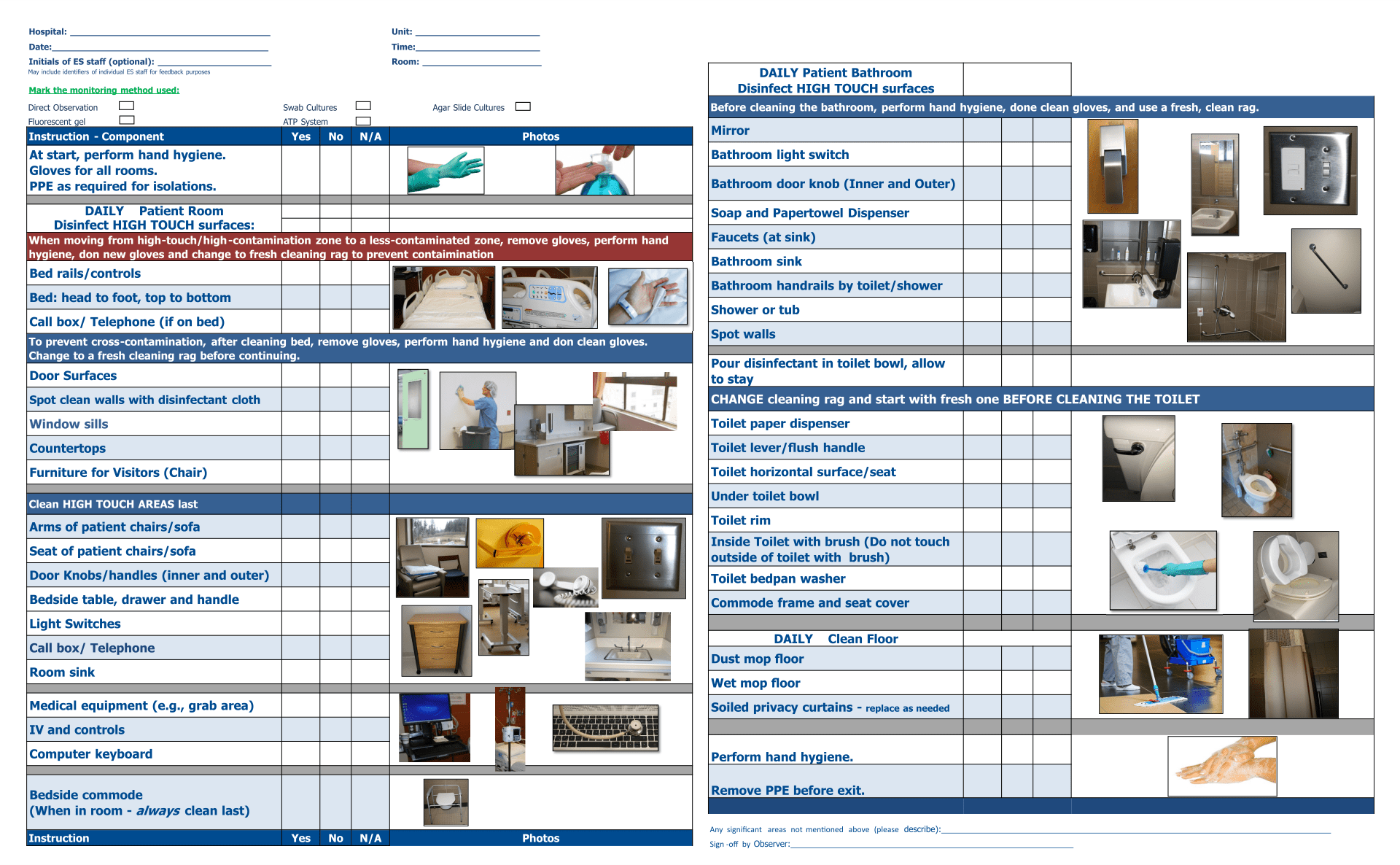 How do I clean my house like a professional checklist?

Occasionally, you will feel like your house needs some deep cleaning but hiring a professional cleaner can be money consuming. But, it is actually not impossible to deep clean your house all by yourself with the help of a housekeeping cleaning checklist you can find on the internet as some sort of guidance. You don't even need to buy new cleaning tools and supplies as long as you already have the basic necessary tools. While you can customize your own housekeeping cleaning checklist by looking for references on the internet, here we are giving you some tips to clean your house like a pro!

1. Declutter
First thing first, declutter all unused items in your house from clothing, books, magazines, toys, shoes, electronic equipment, etc. It will make the cleaning process easier later on as you won't need to clean off those items.
2. Dust
Dust any visible surface like the coffee table, photo frames, dressing table, the top of the wardrobe, etc. It will make it more efficient and easier when you want to wipe them later.
3. Vacuum or Sweep
Cleaning the floor is absolutely a must when you are cleaning the house. If you don't have a vacuum cleaner you can sweep the floor using the traditional broom.
4. Mop
Mop the floor after sweeping it with some floor cleaner for a good cleaning measure.
5. Clean the windows and mirrors
You can simply do it with some newspapers or unused cloth and glass cleaner spray so your windows and mirrors stay clear.
---
More printable images tagged with: