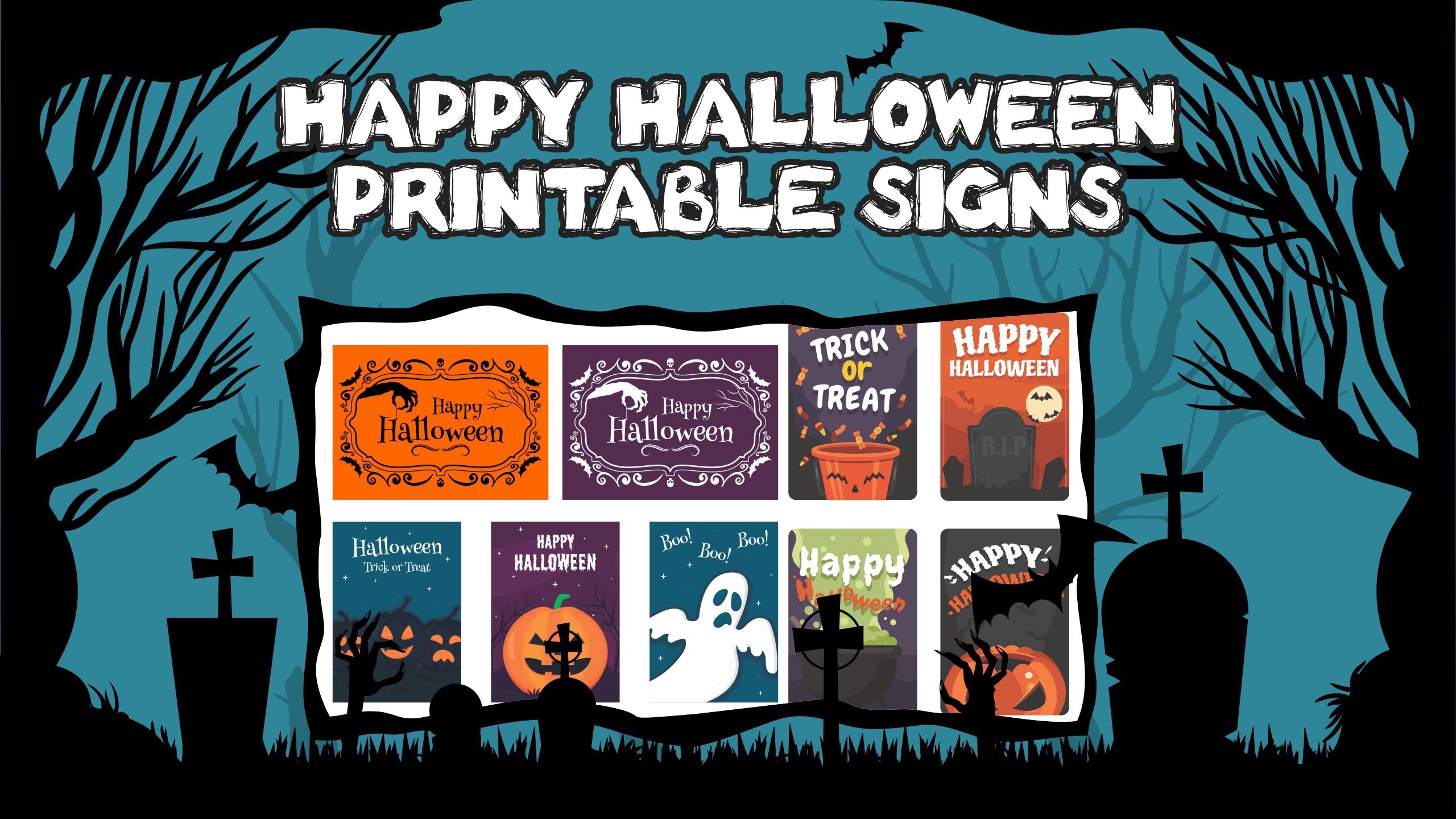 Happy Halloween Printable Signs
What do you need for Happy Halloween signs?
As for any other special occasion, a sign board is needed to stand out the theme. People make a lot of signs mostly themselves and they can attach any items and words as they want to. Happy Halloween signs might be one in a year event where the signs are way more bright yet dark and scariest. Well, the level of scary depends on how afraid of ghosts and that sort of stuff too. If you want to make a Happy Halloween sign on your own, first you can use an old cardboard and delicately wrap it with a plain paper cover or paint over it. Then you can make the alphabet signs to be attached on the board by using color papers or make it look like an art object by doing collage on the Happy Halloween sign. Feels like killing two birds with one stone, an aesthetic sign yet looks like an artwork.
Why are Happy Halloween signs iconic?
Every holiday or event is always left with iconic symbols or items. As for Christmas there is an iconic thing like the red and green color decoration and Santa Claus with his presents. It goes the same for Halloween. If you happen to see the Happy Halloween signs on the street or nearby your office corner, there are always iconic symbols that make it stand out. The font used is matter, as well as the pumpkins and other characters in the signs. It shows that the font is remarkable and most designs used the same font to keep the image of spooky Halloween itself. Besides, Halloween could never be apart from pumpkin because of the Jack-O-Lantern history and all similar images that come from movies. An iconic Happy Halloween sign turns out to be iconic because of those images and the society has been using the signs to remark that the festival is coming.
How to make Happy Halloween signs in a card?
When an invitation for a party can't be fulfilled, the only answer to reply is by giving your friends greeting cards. Rather than not giving any attention, it will be much better to do. If you want to make a Happy Halloween sign on your own in the card, it's pretty easy peasy. Choose whether you want to make a manual or digital card first. If you want to make a Happy Halloween sign on the front cover of the card, you can find a template on the internet or make one typography of the Happy Halloween signs creatively. The digital version of the signs for cards, you can make it by using applications from your phone and add some stickers to your own photo and your friends, then voila you have your own unique photo card with a Happy Halloween greetings for them!