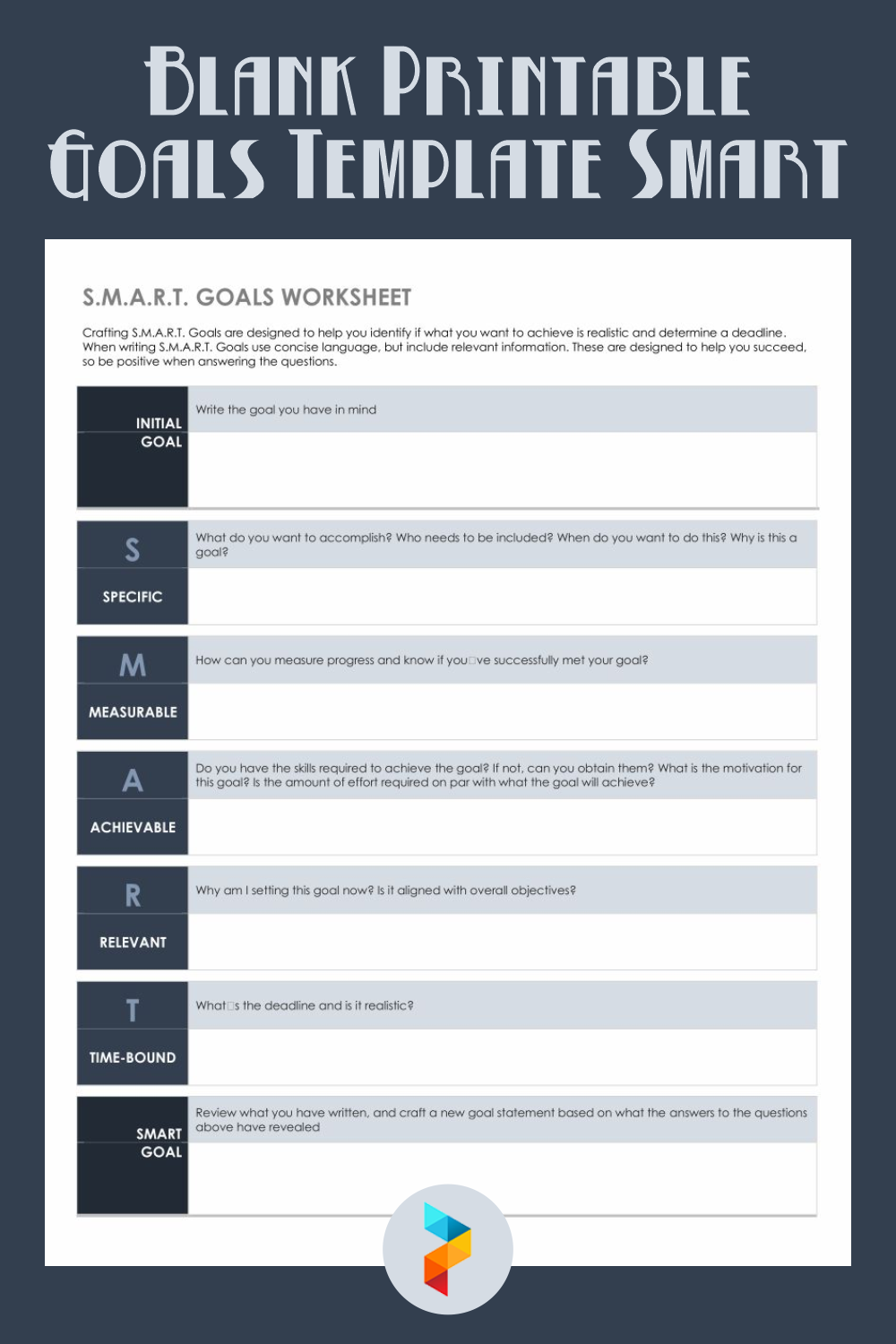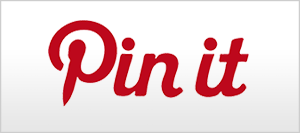 Blank Printable Goals Template Smart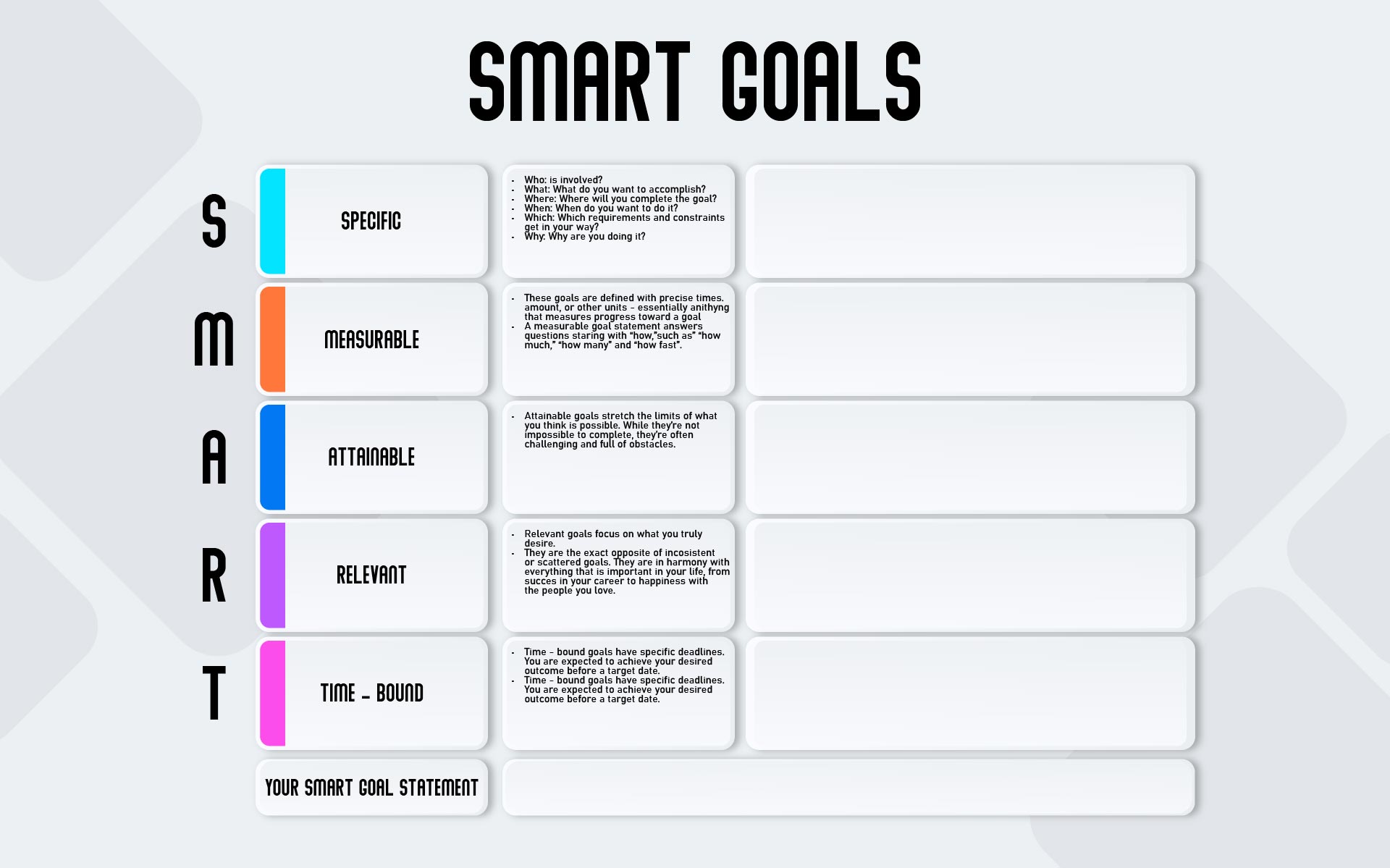 What are the SMART Goals?
SMART is actually a mnemonic that stands for Specific, Measurable, Attainable, Relevant, and Time-Based. This template can support us to construct our goals.
1. S: Specific
We have to determine these targets as detailed as possible. So detailed, that you can't break it down to smaller parts.
2. M: Measurable
Make sure every single step can be measured by exact indicators.
3. A: Attainable
No matter how ambitious we are in reaching our goals, it can be impossible if it seems too high to reach.
4. R: Relevant
The key to making goals relevant is habituating the current conditions. If the plan isn't related to the present situation that we have, then it's hardly achievable.
5. T: Time-Based
Plans will completely work if completed on time. It can lessen the chance of other tasks to be postponed. Defining a clear timeline will easily navigate us to start doing these tasks as soon as we can.
How to Write a SMART Goal?
There are several ways in making each aspect of a SMART Goal. This will help us to decide the targets and plans.
1. Specific
The key is to start with a specific goal using the 5 W questions—what, when, who, why, where.
● What : Start determining the a specific, detailed, and focused accomplishment
● When : Imagine then create a time table.
● Who : Carefully determine the individuals who will work with us in a team.
● Why : Remember the exact reason behind achieving goals.
● Where : This can be blank when we use this for personal use. For teamwork, state
the precise place to start the plan.
2. Measurable
Adding numbers for repetition can help us to make a personal target. We can also use fixed indicators or metrics to value how far you have progressed.
3. Attainable
We can start consider this three things,
● What way will we use to reach the target?
● What tools will we adopt to lessen the distance between us and our goals?
● If we don't own the tools, what strategy will we build to overcome it?
4. Relevant
The target has to be reasonable and realistic. Start declaring the final result we desire, prepare ourselves to move quickly when some things don't work.
5. Time-Based
A rational time table is needed to persuade us to start and complete tasks. Make sure we understand what to do within that span of time.
A friendly tip, we can start printing a blank goals template of SMART goals as a guide.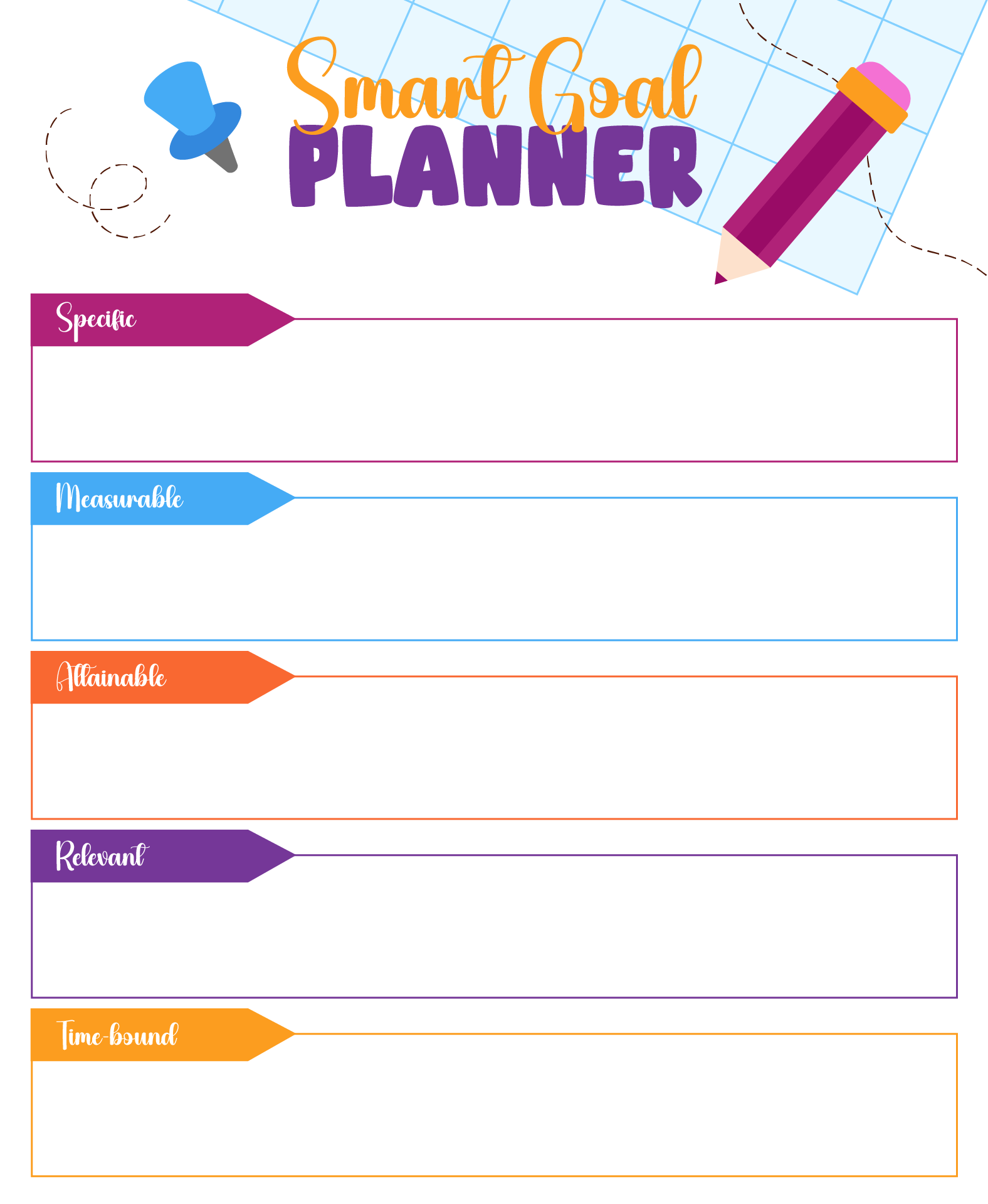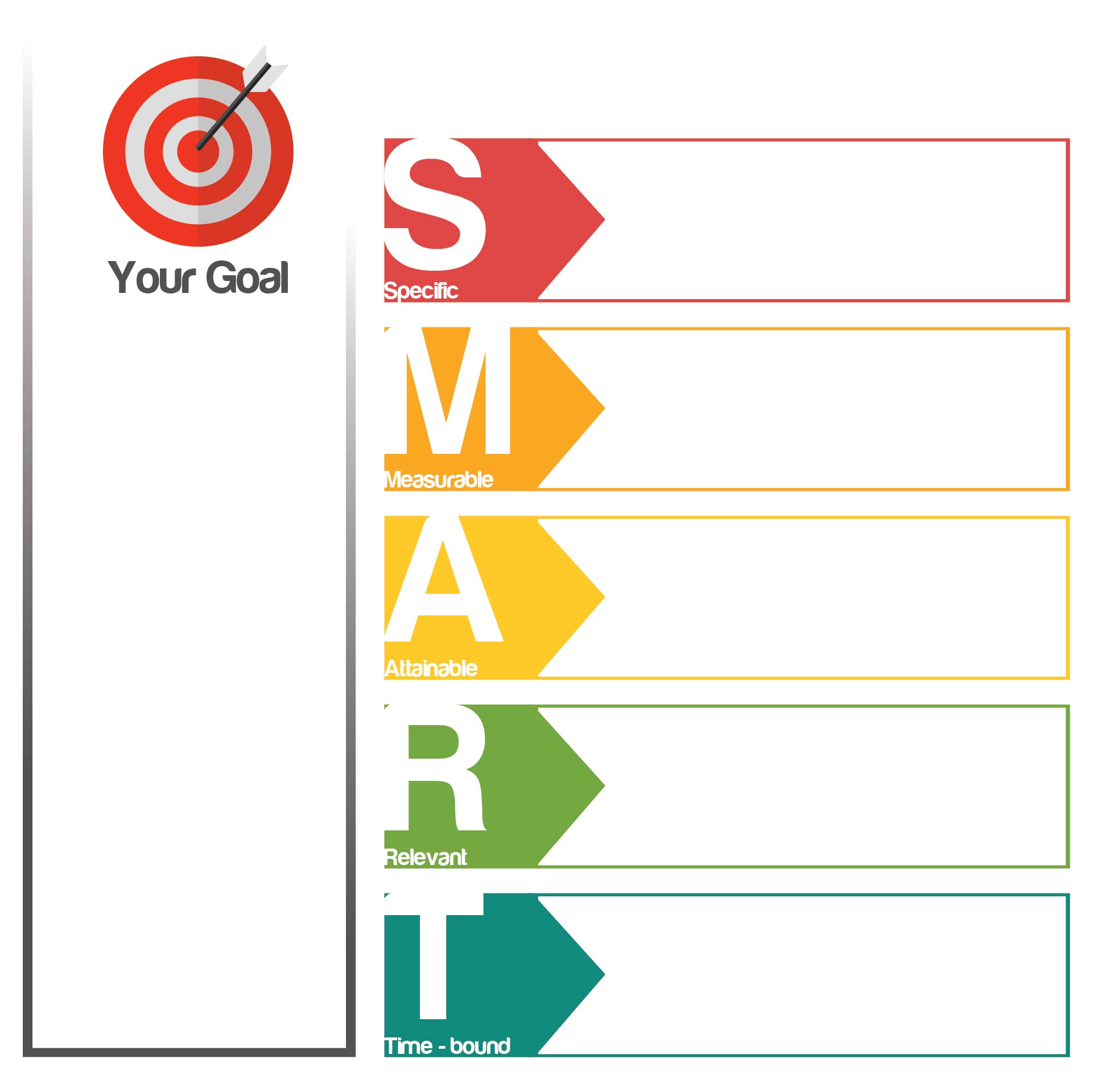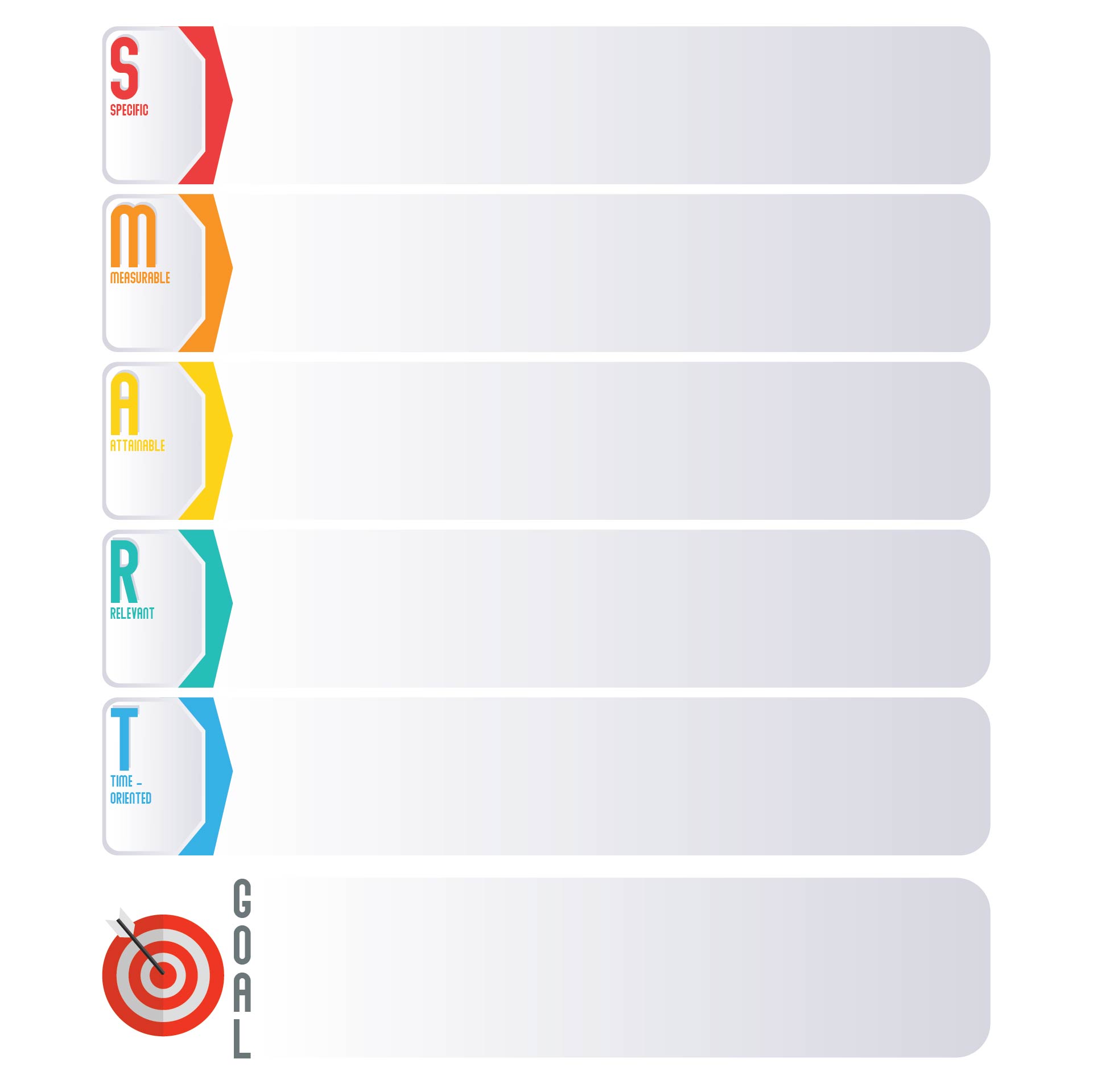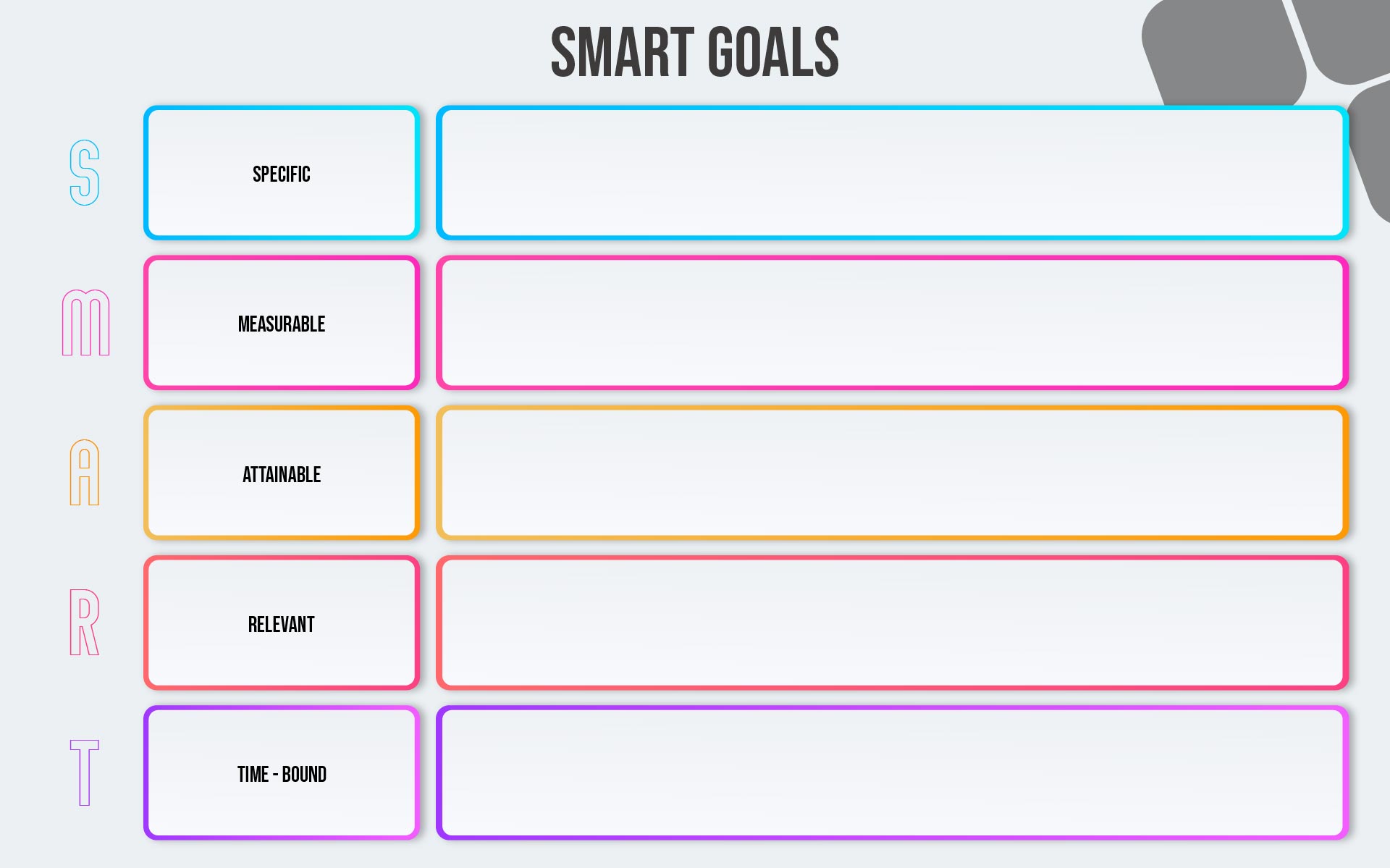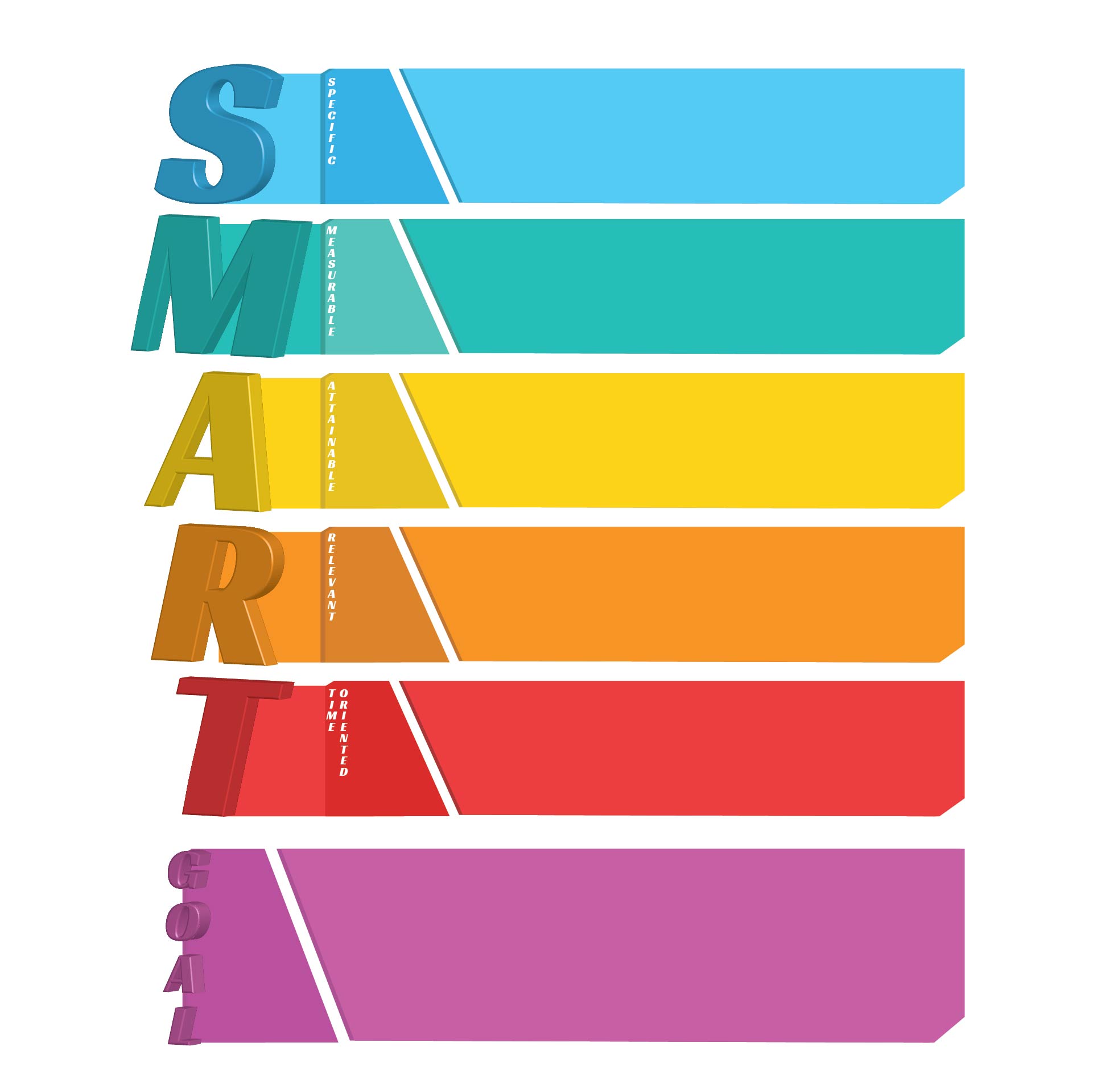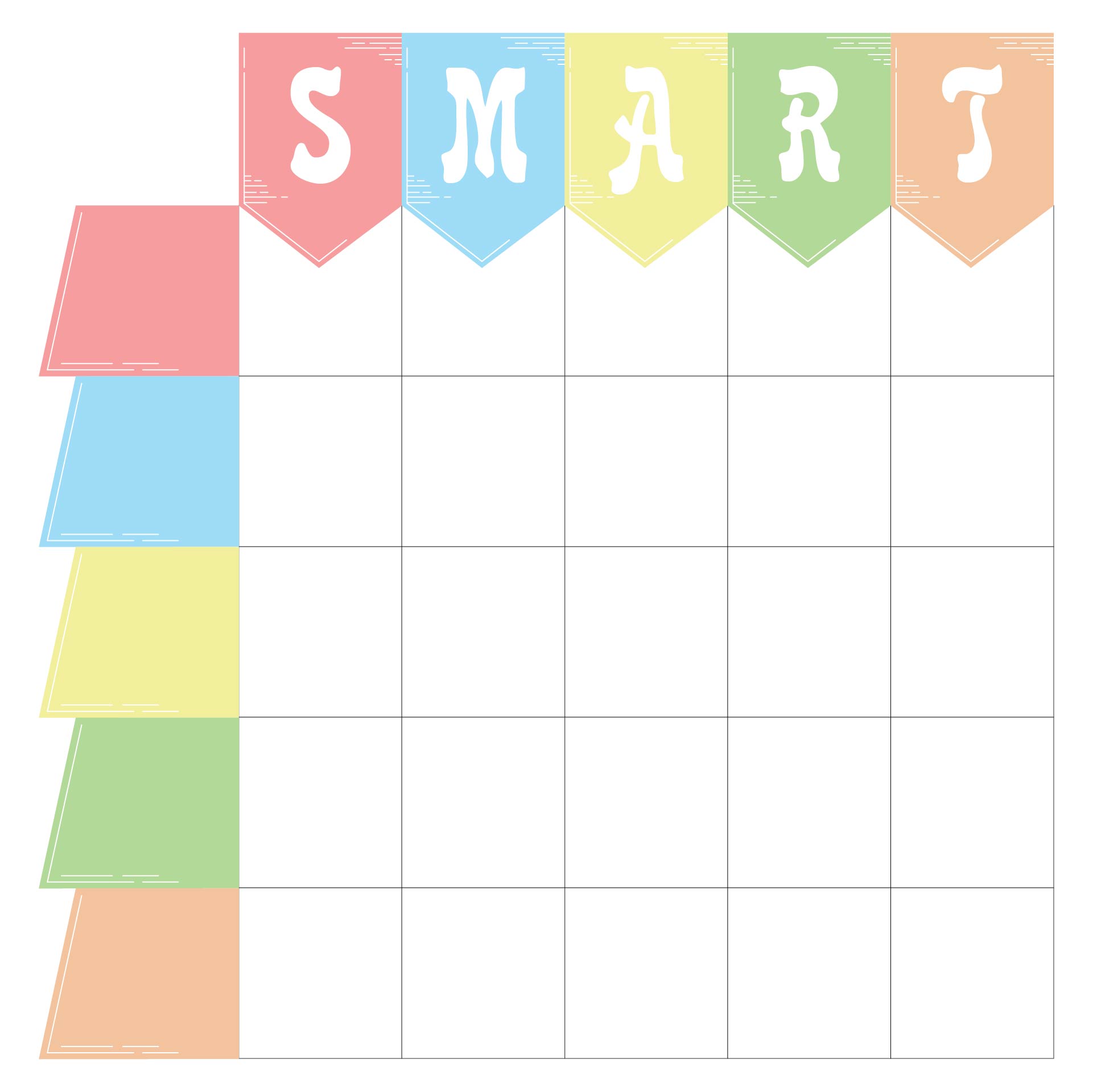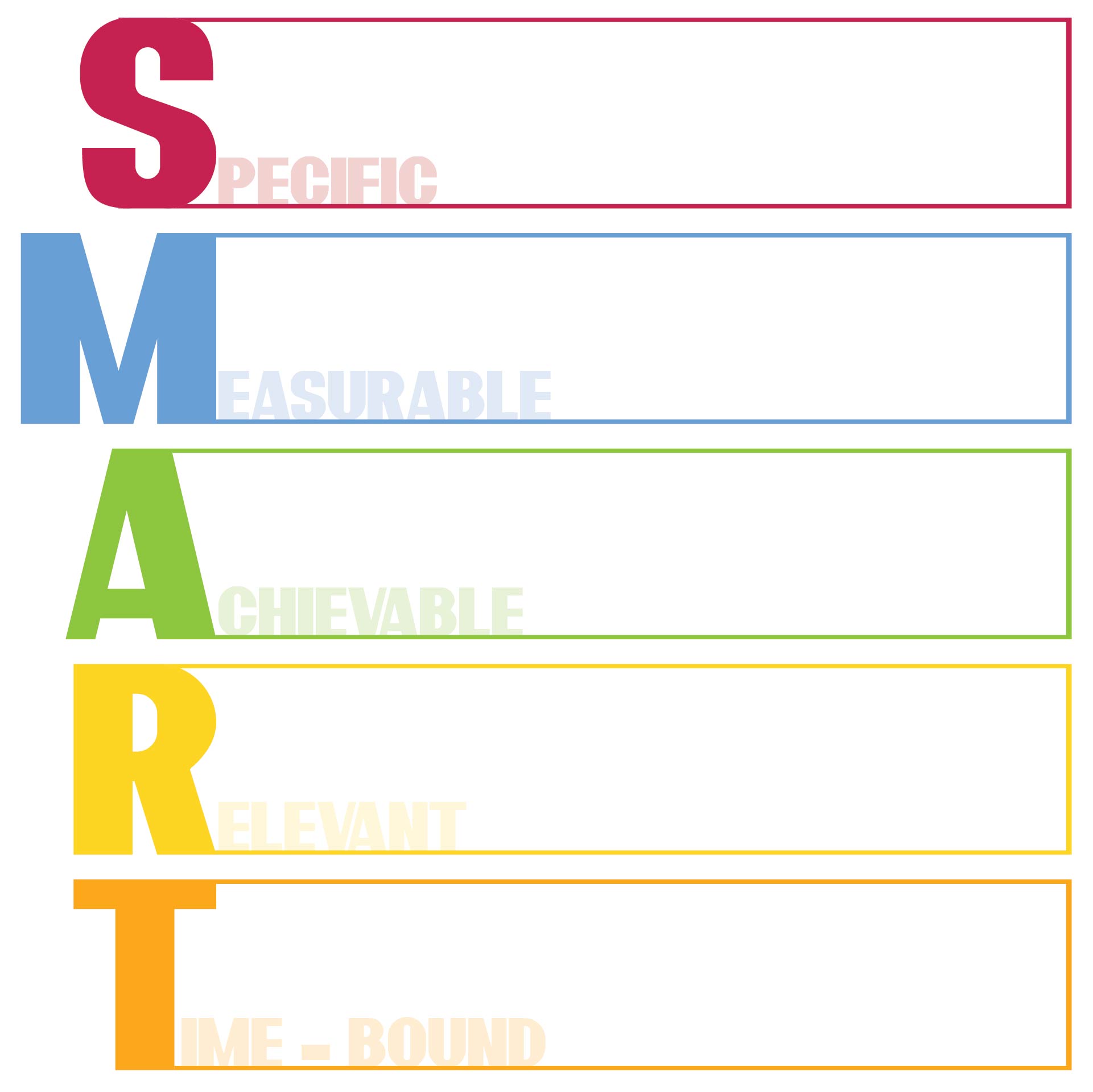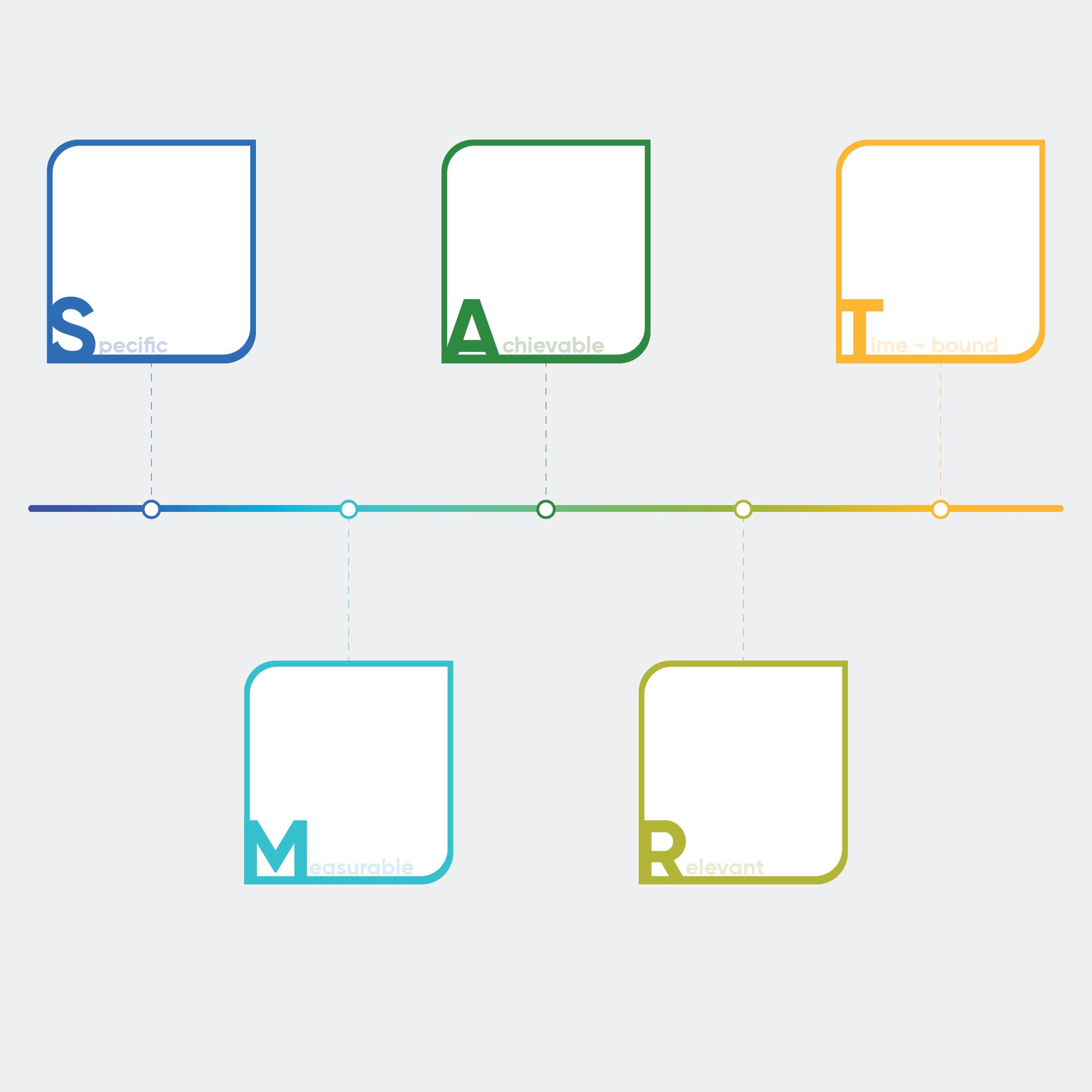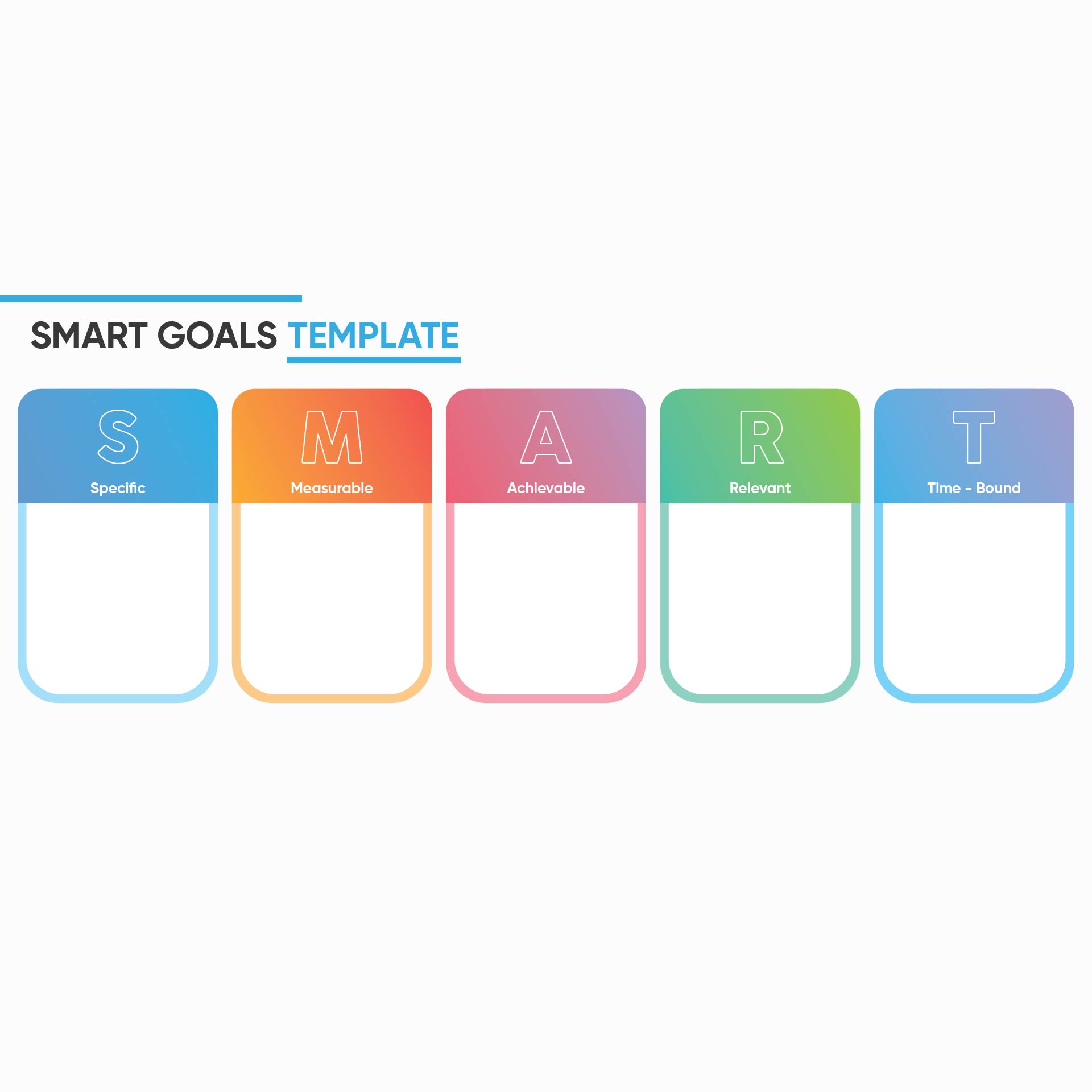 What is an Example of a SMART Goal?
Let's assume we are a contributor for a local online media. We have to target writing fifteen articles to gain traffic.
1. Specific: I want to write fifteen articles about the controversy of aesthetic plastic surgery in a single day.
2. Measurable: Every article must include 500 words.
3. Attainable: When I work marathon in the morning, I can boost my productivity up to five new articles within an hour.
4. Relevant: The more the articles done at a time, the more clicks it will gain. It affects the traffic. The revenue can increase significantly.
5. Time-based: Start collecting information at 08.00 A.M, then start writing at 08.30 A.M.—04.00 P.M.
A SMART goal can help us in deciding and realizing a target. We can start printing our blank templates and fill it based on that mnemonic. Good luck on pursuing your goals!
---
More printable images tagged with: