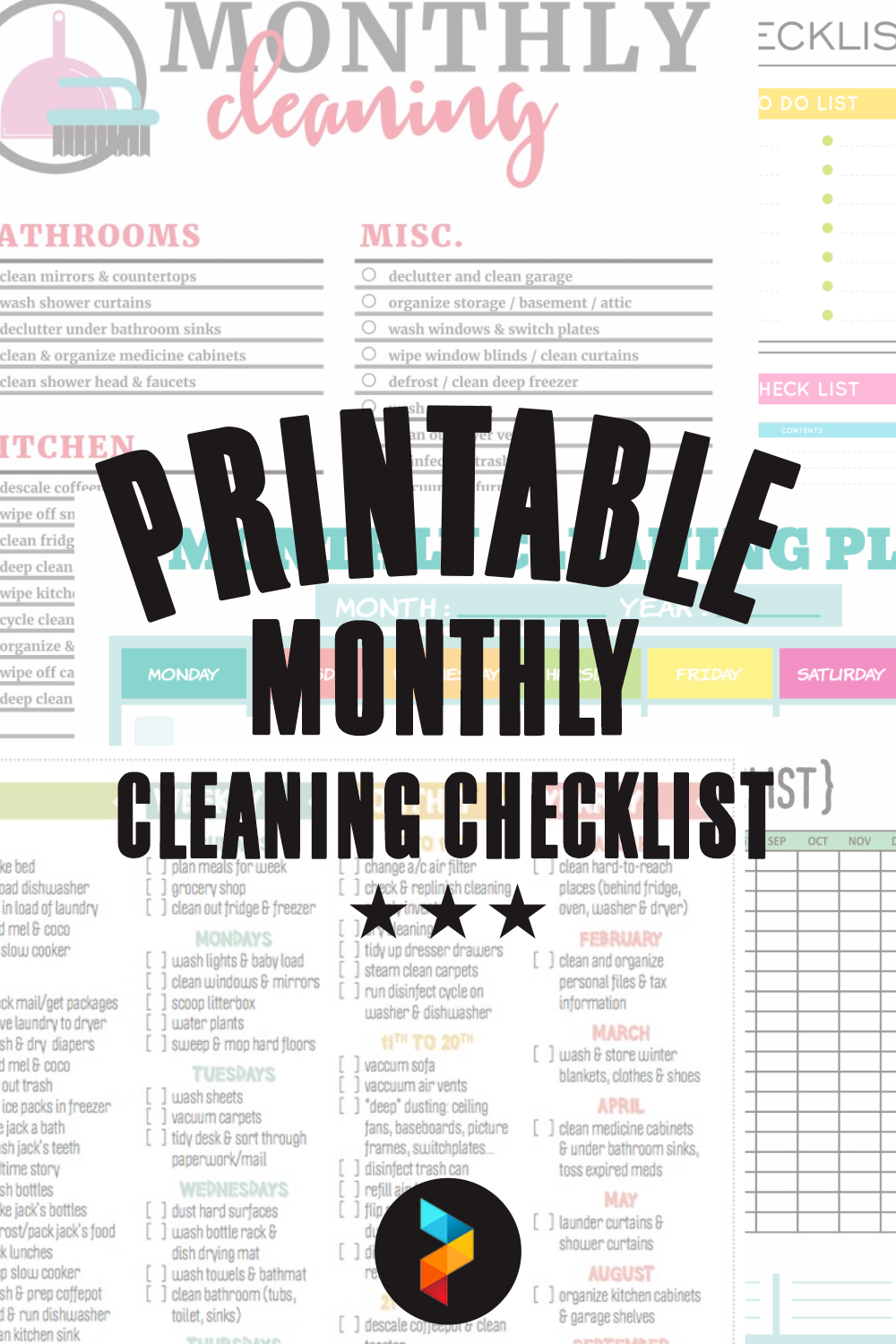 Printable Monthly Cleaning Checklist
Should I Make Monthly Cleaning Checklist?
The answer is obviously yes. We often forget to clean our things regularly as we are too busy with our daily activities. Cleaning our things regularly can help it last longer. Just like our body, we clean it every days, we feel comfortable because, and keep healthy. So, it's inevitable, we need monthly cleaning checklist to remind us what things that should be cleaned every month.
What Should Be Cleaned Monthly?
There are chores that you should do every day to keep your home stay clean and comfortable. For the example, you have to wash your dishes, sweep the floor, picking up clutter, and many more. But, don't forget that you also have monthly chores. Cleaning it monthly help it to last longer. So, what is it? What should be cleaned monthly? In case you need some help, these are the things that you should clean monthly:
1. Clean the dust of your ceiling fans
If you have ceiling fans at your home, then you should clean it every month no matter what. You know when your ceiling fans dirt, it can spread germs or even virus. So, it's important to put it on your monthly cleaning checklist.
2. Clean your refrigerator
Refrigerator can also become a comfortable place for bacteria because you put your food ingredients over there. There are veggies, fruits, meats, fishes, frozen foods, and many more. You even put a bottle of waters inside. So, to keep it clean, it's better if you check it every month.
3. Clean the dust in your air vents
This is also important. When our air vents are broken, air circulation in our home can be disrupted. And when it disrupted, you know what will happen, it has to do with your respiratory tract.
4. Clean your windows
It's not just windows. We talk about the curtains, hangings, frames, anything around your windows. Keep it clean by cleaning the dust over it. You will thank later because it help your lung breathe fresh air.
5. Vacuum inside furniture
Another place that can be homes for bacteria is your furniture. So, clean not only outside of it but also inside of it. Please remember that it can be homes for thousands of bacteria, germs, and viruses. So, stay healthy by cleaning it every month.
6. Clean your carpet
Your carpet makes you warm and comfortable. But, sometimes you don't realize that you step on it every single day. Now, can you imagine what is above and under your carpet? Don't risk your health and your family just because you forget to clean the carpet.
Where is the printed Bible?
Since the 1980s, over half of the 100 million Bibles printed each year have been printed in China, he said. Of those, in the United States, 20 million are sold or given away.
Is it possible to sell things on Canva that you make?
At Canva, they create templates for their users. However, they also welcome people who would like to create and sell their own Canva-made designs as templates that others can use on their platform. This means that, while it is not possible to resell the templates that they have created, you can create your own templates to sell to other Canva users.
Can your Pinterest boards be printed?
Wouldn't it be awesome to be able to print a Pinterest board? If the thought has crossed your mind, a workaround is accessible now. By following an uncomplicated three-step process, Pinterest boards can now be printed as PDF or archived for future use.
Could I use a photo from Pinterest?
Scroll down under the "Usage rights" section and select "Free to use and share." These are images that you can pin down. Old images, old books, and other things that are no longer copyrighted are okay. Public domain means you can use it for free.