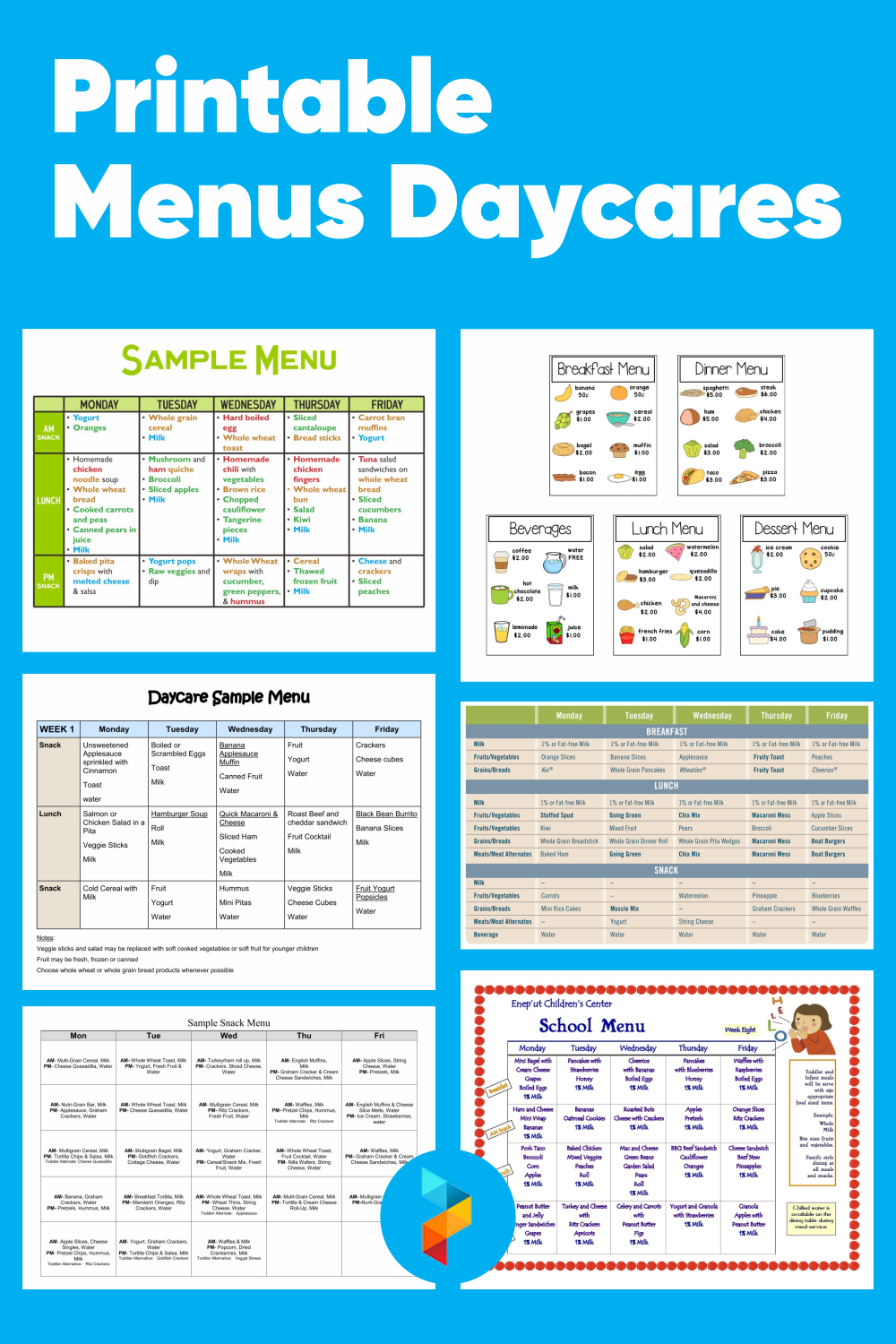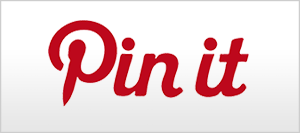 Printable Menus Daycares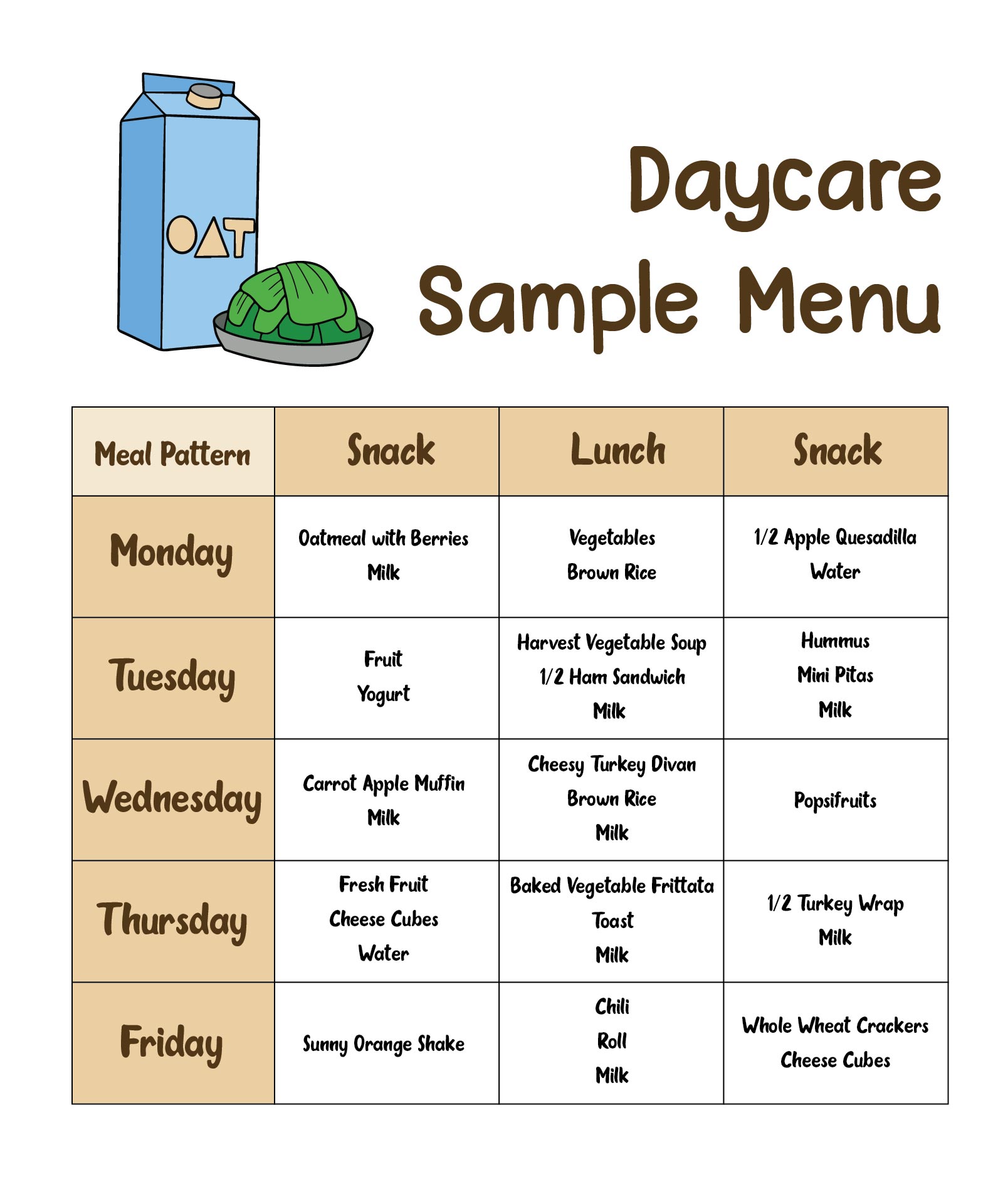 What is a Daycare Menu?
Menus daycares are healthy food menus for daycare centers. Because children do many activities such as playing and learning, a healthy menu is needed for the development and growth of children. By regularly consuming healthy food, children will be able to develop these good habits in adulthood.
Currently, many children consume less nutritious food. In fact, children need a lot of nutrients to enhance their growth. Reporting to www.hnhu.org/childcare, children and babies in daycare must consume safe and nutritious food to meet their daily nutritional needs. Therefore, all daycare centers need to implement the best and most nutritious daycare menu.
How to Plan Daycares Menu?
To plan the best daycares menu, you have to do the right planning. The most important thing in planning a daycares menu is the quality of the food. So, here are some ways to plan the best quality daycares menu.
Food Safety

You must choose safe foods. The reason is, there are many foods that contain diseases because they are contaminated with parasites, germs, viruses, or bacteria. It can happen if the food is not stored or cooked properly. Therefore, daycares should have special kitchen staff who are responsible for food processing and are able to cook food in the right way.

If the daycares do not yet have kitchen staff who have that expertise, it is best for kitchen staff to join Food Safe training. In addition, the daycare management must determine the feasibility of the kitchen and the area around it.

Budget

A budget is also important for planning daycare menus. Some of the things that must be considered in determining the budget are as follows.




Which staff or division will give spending money to kitchen staff to cook daycare menus?

Does the menu fee include the childcare fee?




Most daycare centers charge an additional fee for the daycares menu. However, there are also daycare centers that provide programs for daycare menus. So, parents do not need to pay extra fees.

Healthy Food Menu Planning

If you want to provide a highly nutritious menu, the food menu must contain iron, fiber, zinc, vitamin C, vitamin A, and healthy fats. For children, the amount of healthy fats should not be limited because children need those healthy fats for their growth. Children's need for healthy fats is higher than adults'.

Attractive Look

Children love all things interesting, including food. So, you should be able to choose the type of food menu that is not boring. Therefore, menu variety is the main key. Apart from being attractive, make sure that the food is healthy. You can use delicious, attractive, and nutritious ingredients such as yogurt, fruit, and vegetables.

Meanwhile, you can provide snacks such as triangle toast, fruit muffins, and nuts. You can also make vegetable cakes. So, choose a menu that is liked by children according to their age. Background considerations are also important.

For example, children living in Asia will have different food preferences than children in America. That's because their eating preferences are determined by culture and family. Therefore, cultural factors must also be your consideration in making a healthy diet menu for children.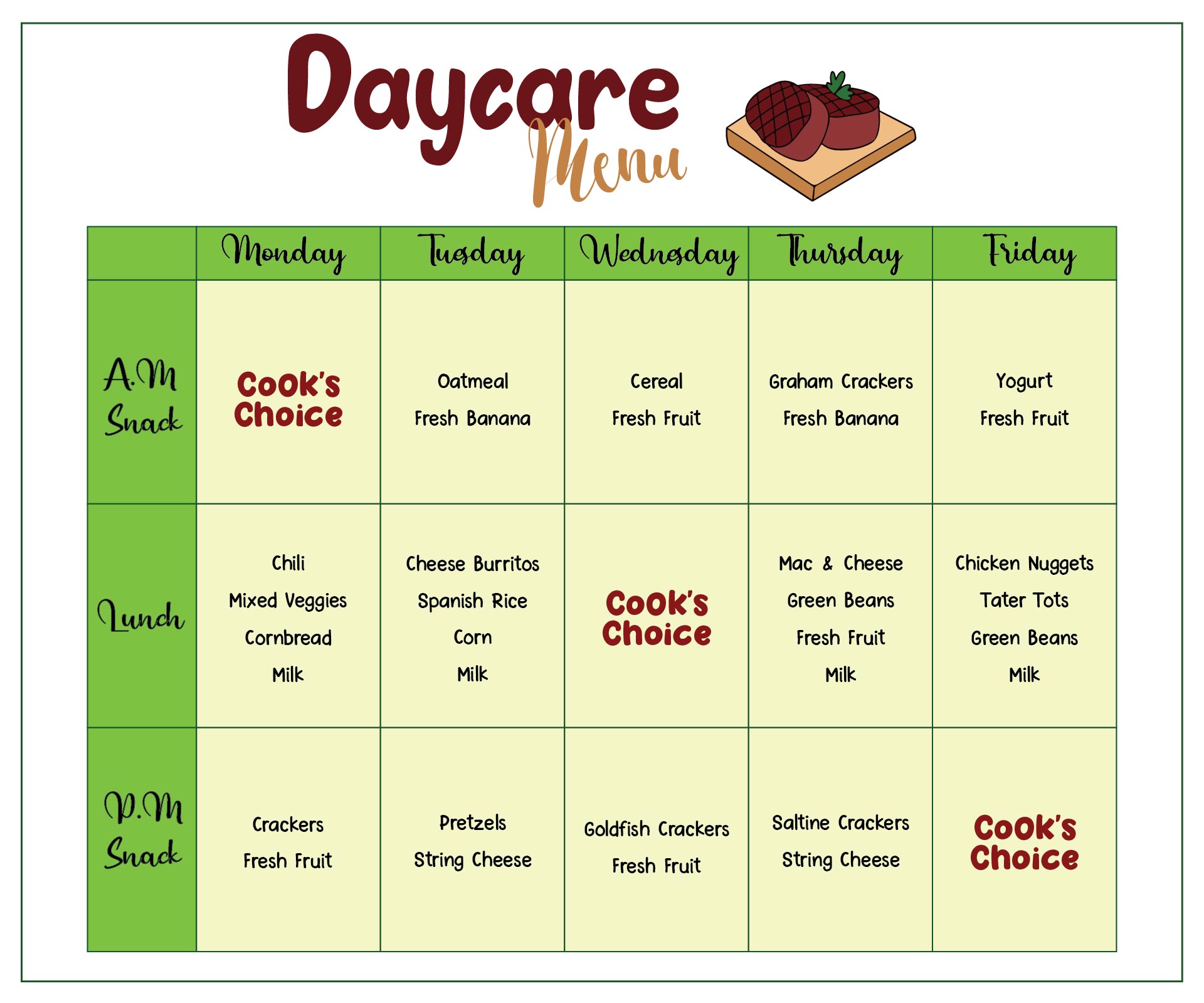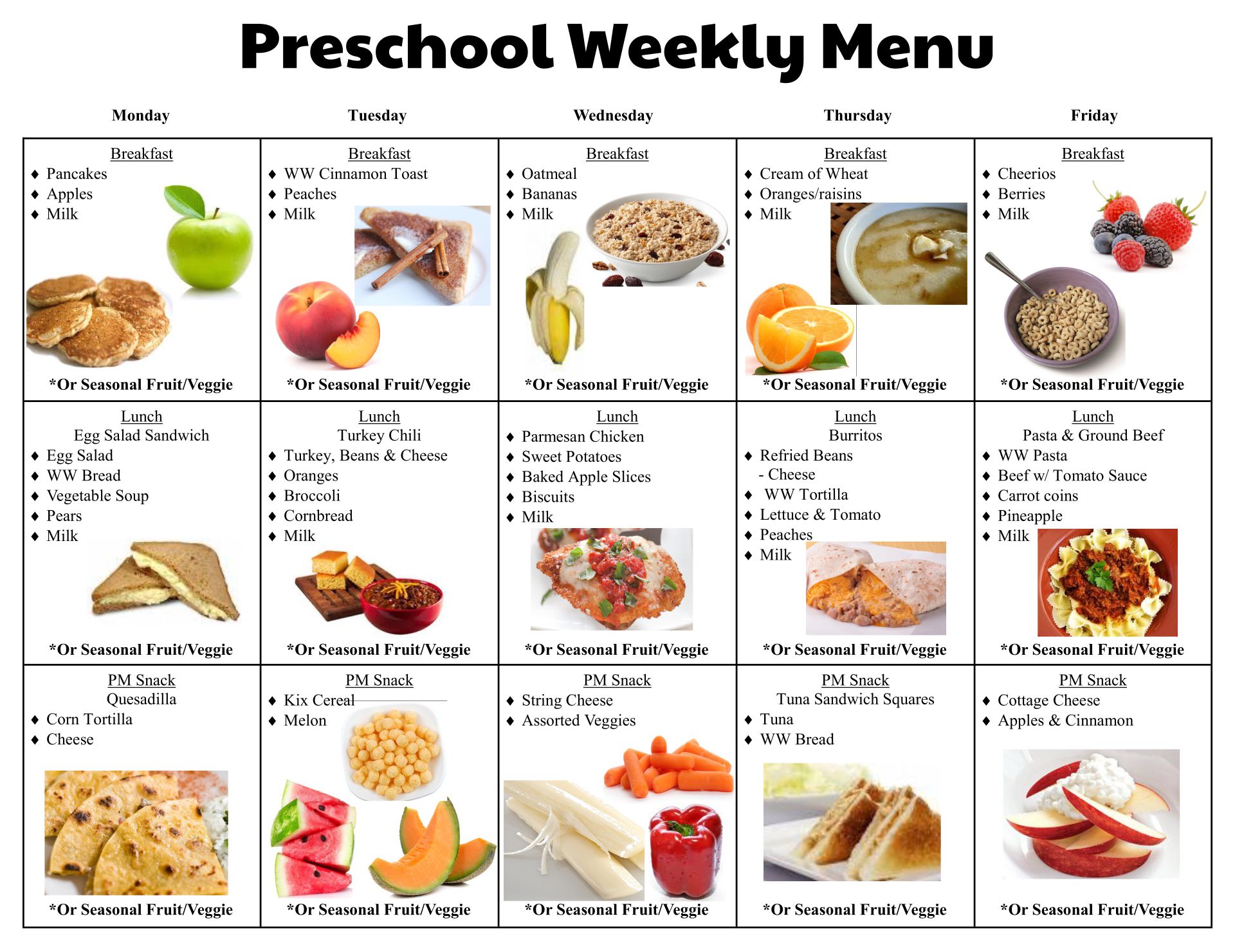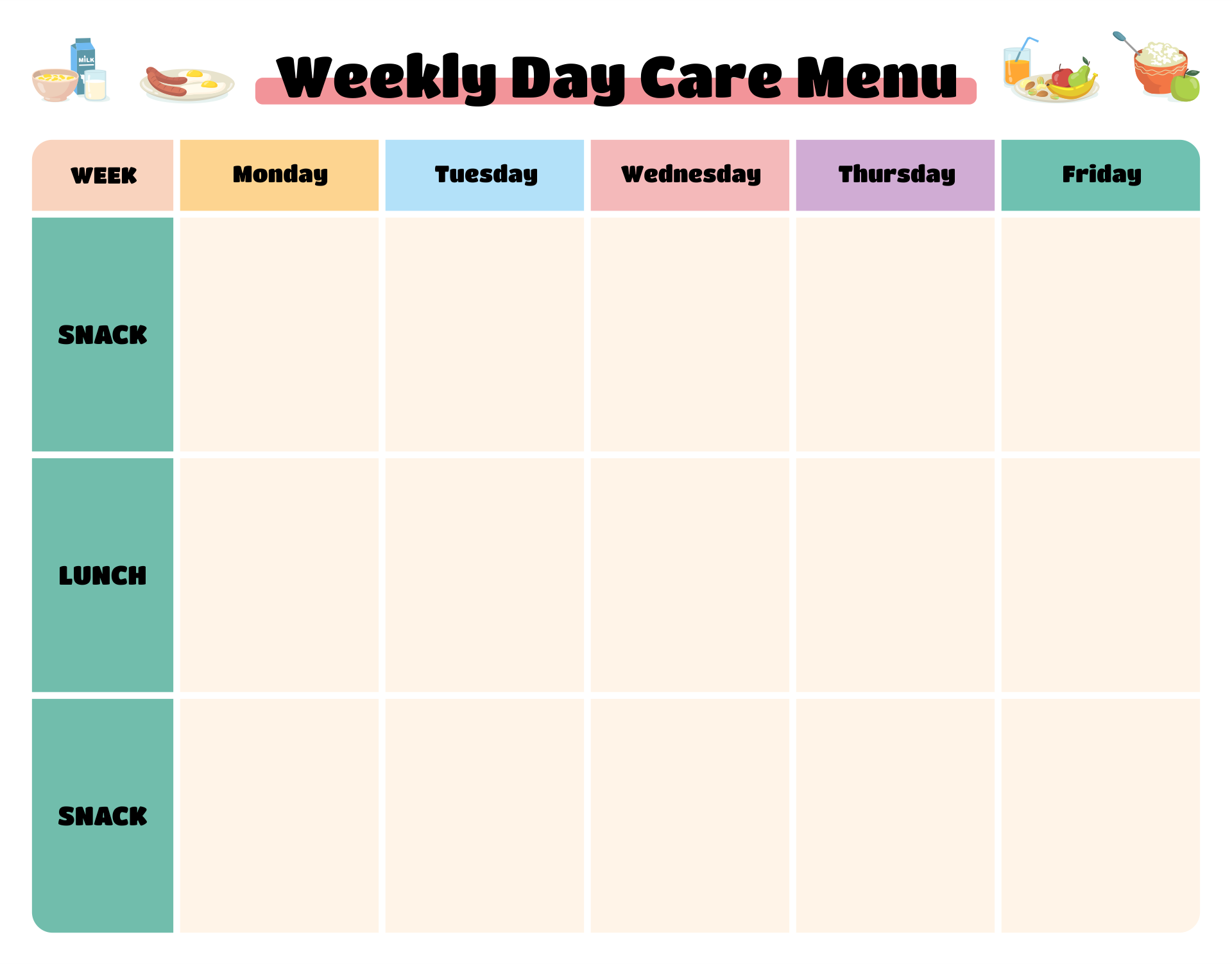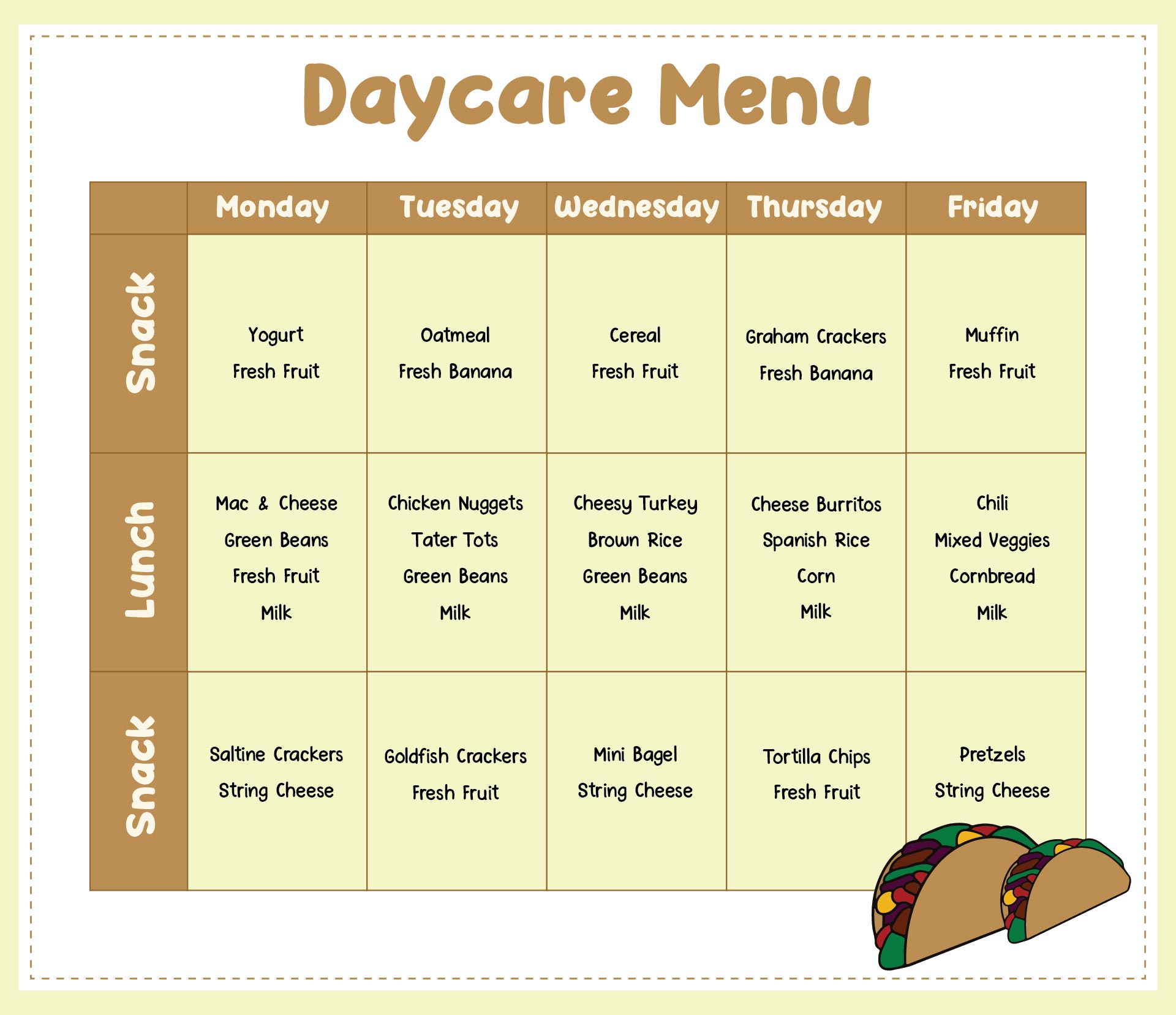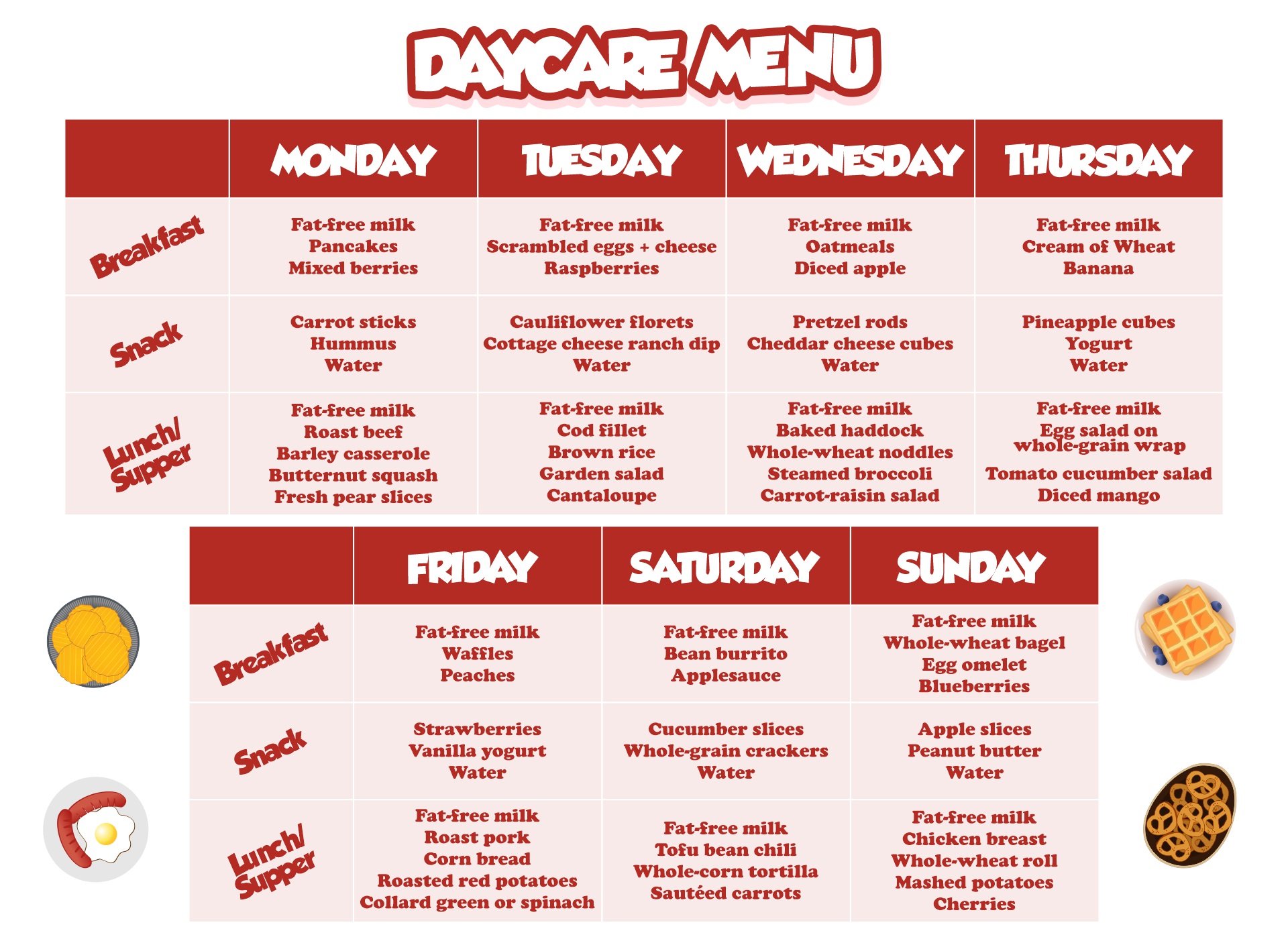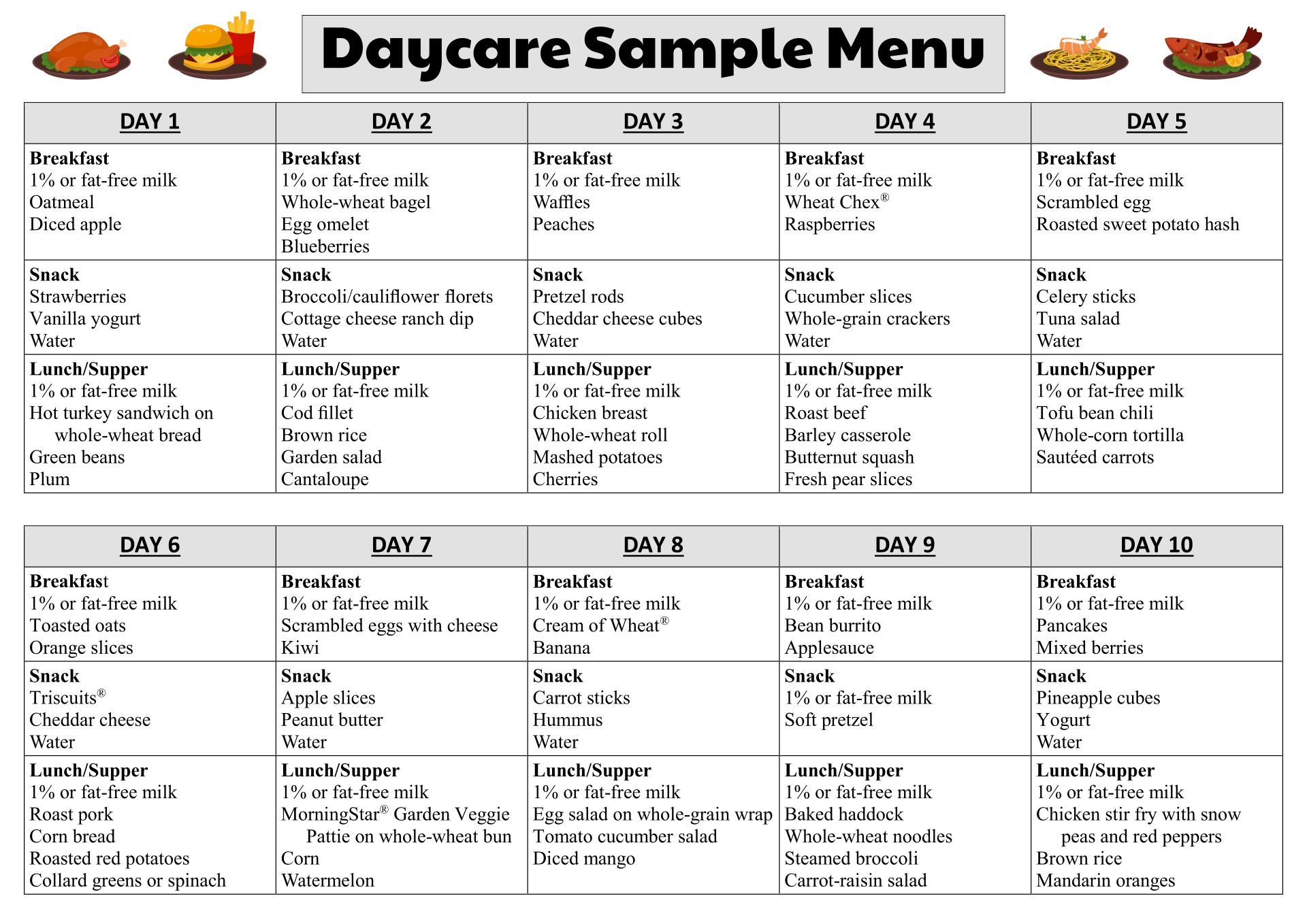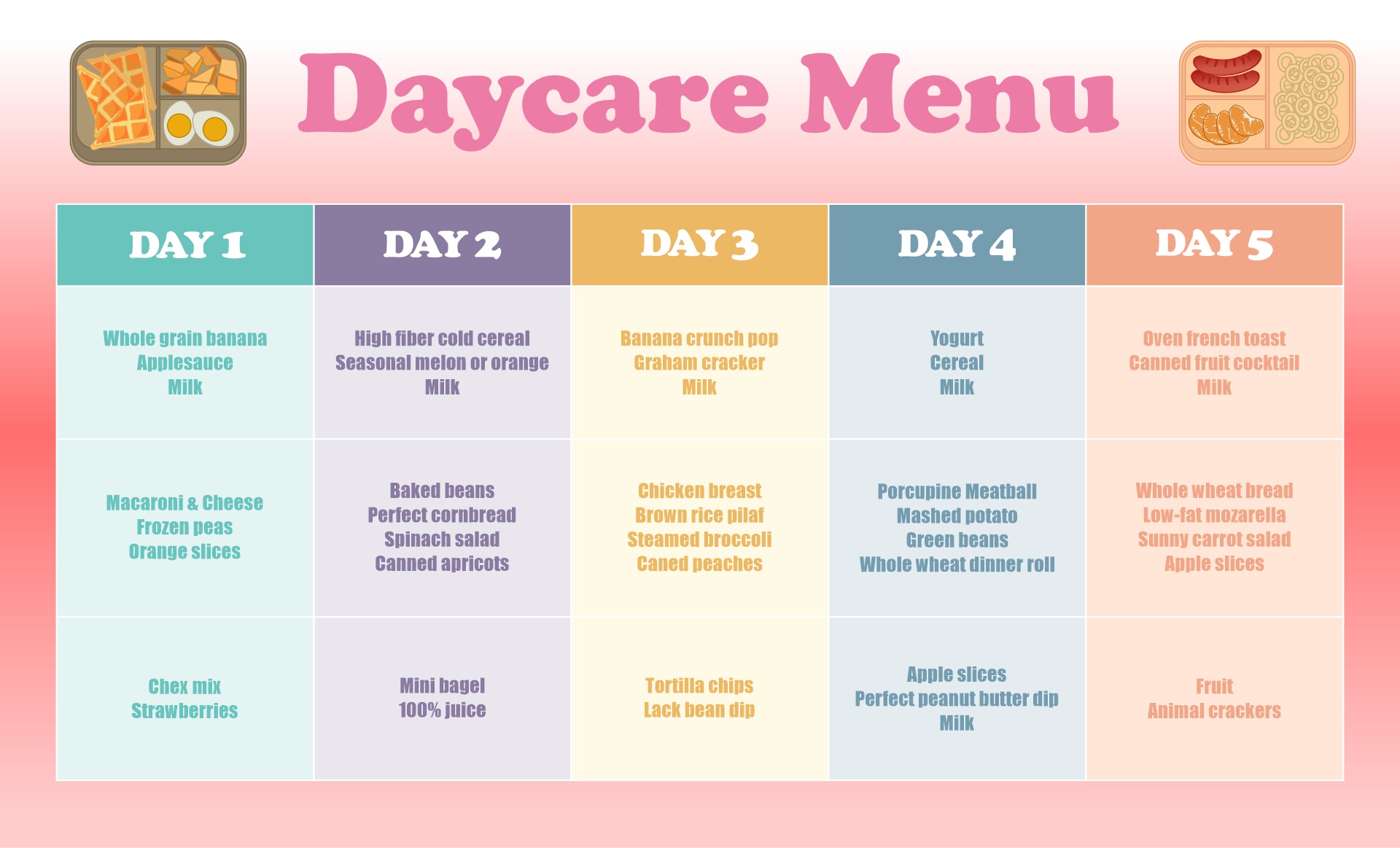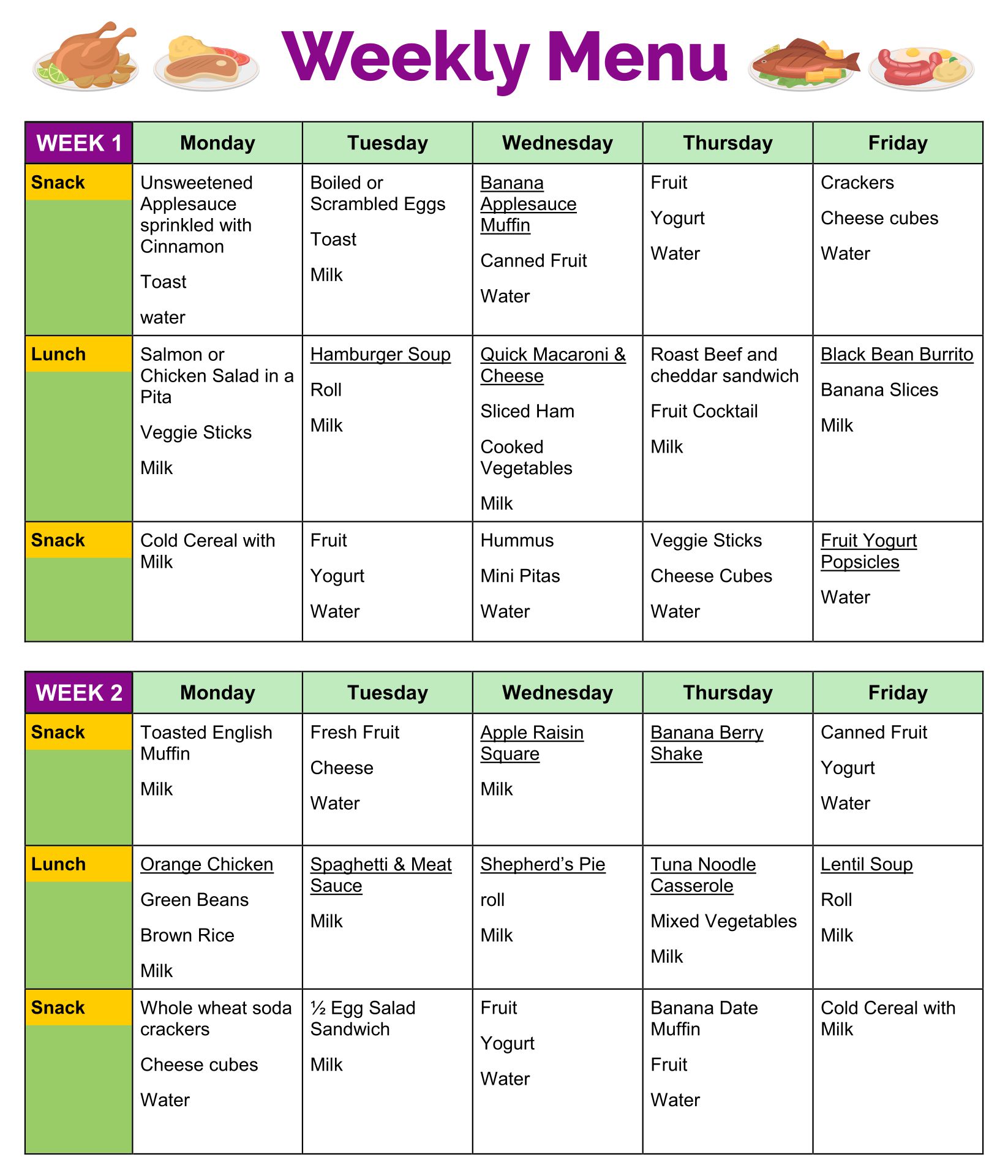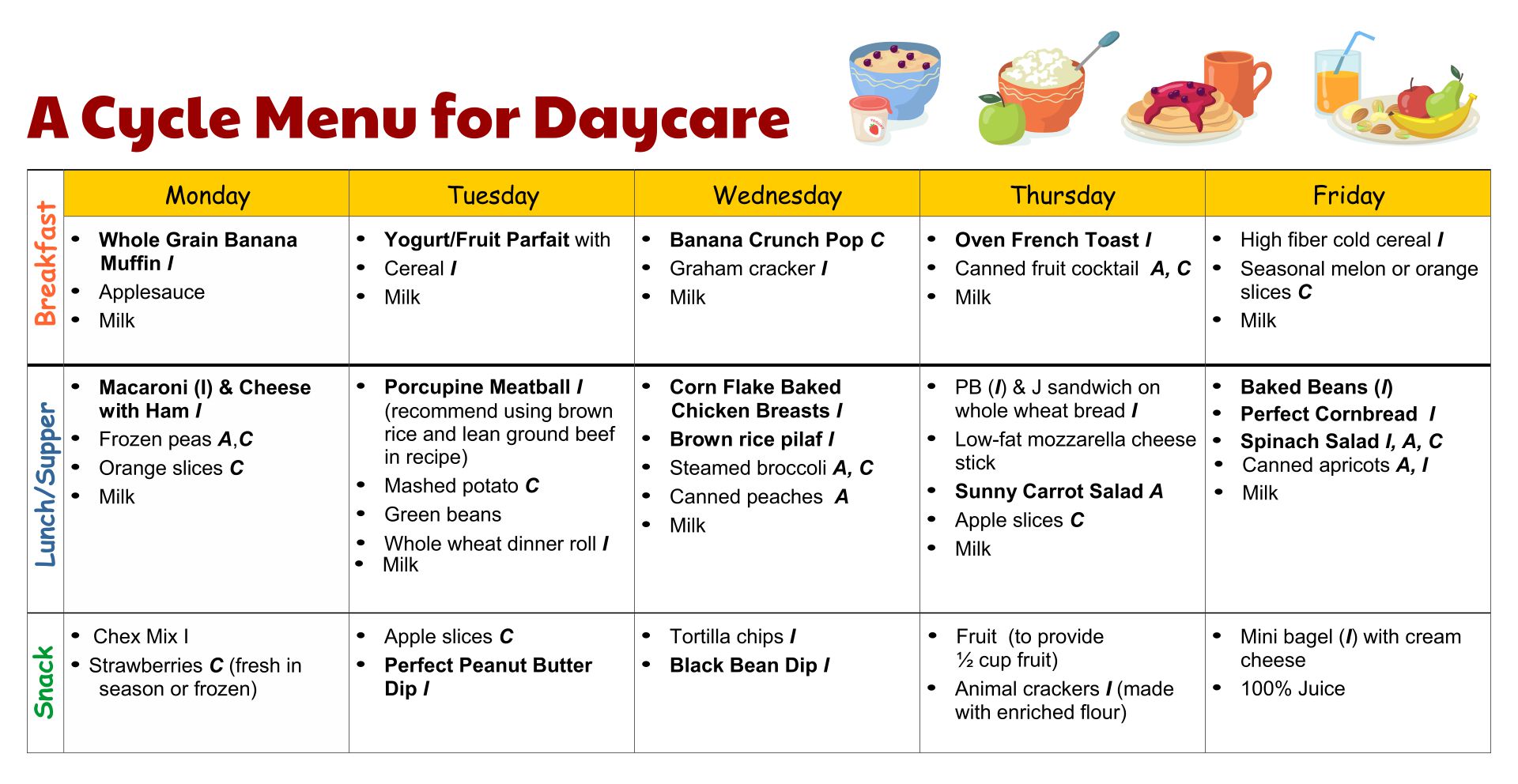 What are the Benefits of Menus Daycares?
The daycares menu is an important topic because these food menus can have a lot of impact on children. If not planned properly, the daycares menu can have bad effects on children. If you choose the right daycares menu, children will get several benefits.
Therefore, the daycare menu must comply with the healthy food regulations of the USDA CACFP to be able to meet the nutritional needs of children. If the daycare menu complies with healthy food regulations, children will receive the following benefits.
Maintain Children's Health

The safety and health of children is important. So, daycare must minimize the risk of allergies, food intolerance, and autoimmune diseases in children.

Based on data from the Food Allergy and Anaphylaxis Connection Team, there are 32 million people who suffer from food allergies. Of these 32 million people, 6 million are children. Therefore, teachers, parents and staff in childcare must choose a healthy menu and have easy access to children's health information.

Improving Children's Brain Performance

Research conducted by Feeding America explains that children who get good nutrition have a high focus on learning at school. If they don't get good nutrition, they will have problems with communication, language, behavior, and motor skills.

Meanwhile, research from Harvard shows that the food consumed by children will affect the function and structure of children's brains. It also affects the mood of children. That's because the digestive system gets serotonin. So, healthy food can improve brain performance and positive mood.

Obtaining Nutrition

To get the benefits of this one thing, you must follow healthy food recommendations from the National Academy of Medicine. Foods with high nutrition are whole grains and foods that contain sugar and are low in saturated fat. In addition, a healthy menu should contain 3 healthy components (for breakfast) and 5 healthy elements (for lunch and dinner).