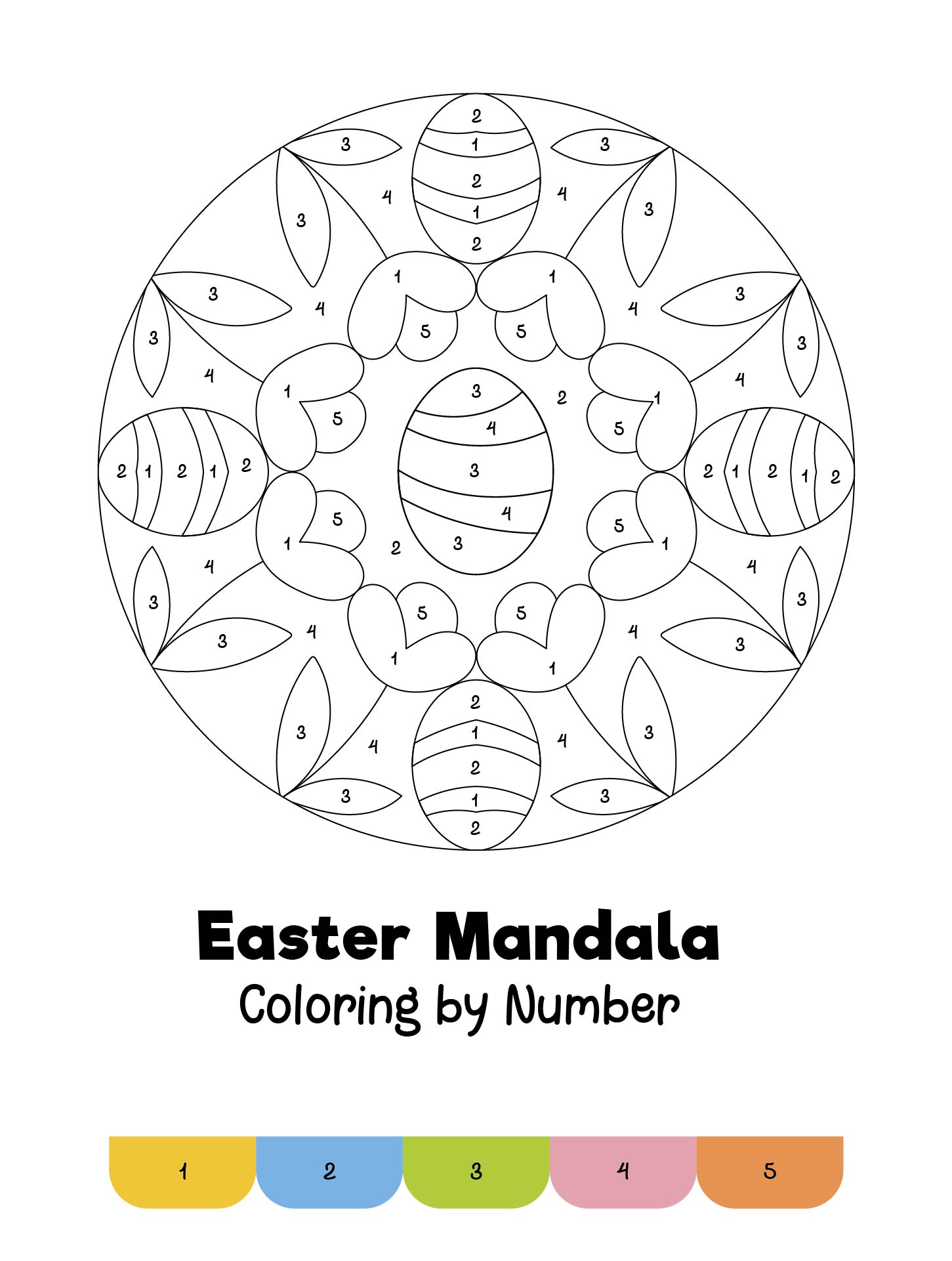 What is The Concept Behind the Mandala Coloring?

The Mystery of Mandala, in contrast to traditional color-by-number patterns, hides the finished image and envelops it in mystery. With this original method, coloring becomes a discovery journey, much like cracking a puzzle.
The first stage in the Mystery of Mandala is to pick a numbered part and a related color. The artwork gradually takes shape as colors are methodically applied to each part. The mystery is in not knowing the ultimate product, which builds suspense and intrigue with each color stroke.
Coloring stimulates numerous senses, especially when the final image is veiled. To produce a comprehensive sensory experience, sight, touch, and even the sense of imagination are used. This sensory involvement enhances the activity's therapeutic quality, improving its stress-relieving benefits.
The Mystery of Mandala fosters patience, a virtue that is frequently tested in today's fast-paced society. Individuals learn the importance of incremental development as the design gradually emerges. This patience practice goes beyond the coloring book, teaching awareness and resilience.
While the numbered parts give structure, the color options allow for personal expression. The mix between structure and creativity reflects the delicate balance sought in life. This balanced duality has a strong resonance, motivating people to discover their own distinctive expression within established parameters.
The Mystery of Mandala teaches the skill of accepting flaws. In a world obsessed with perfection, this technique serves as a subtle reminder that beauty frequently emerges from the unexpected and flawed. The finished mandala's ultimate reveal underscores the concept that life's riddles may lead to beautiful outcomes.
Why Mandala Pattern is Common in Color by Number Activity for Adults?
Adults looking for comfort, creativity, and awareness can now engage in coloring as a therapeutic activity because it has moved beyond its traditional position as a kid's activity. The idea of mandalas coloring has emerged within this field of adult coloring, capturing devotees with its singular combination of structured coloring and detailed graphics. The mysterious "Mystery of Mandala" stands out among them as an enthralling excursion into the realms of color, creativity, and self-discovery.
What is Mandala?
The word "mandala" derives from ancient spiritual and cultural activities. Mandalas, which derive from the Sanskrit word for "circle," has long been a part of many cultures, including Hinduism, Buddhism, and Native American traditions. The universe, oneness, and harmony are represented by these elaborate geometric motifs. Mandalas, which are frequently used as meditation aids, allows people to start on an introspective journey, exploring the depths of their awareness and seeking harmony in the chaos of reality.
How Does Coloring Become a Popular Mindful Activity?
The therapeutic advantages of coloring have been supported by science in recent years. Adult coloring books, which feature sophisticated patterns and designs, are now well-liked stress-relieving, anxiety-controlling, and brain-stimulating resources.
Coloring stimulates the parts of the brain that are in charge of concentration and creativity, creating a condition akin to meditation. The rhythmic and repeated activity of coloring combined with this meditative state has a relaxing impact on the psyche.
The development of conventional coloring and various patterns such as mandalas gives the activity some structure. The elaborate mandala pattern is combined with numbered portions to create a guided tour out of the coloring experience. People seeking artistic expression and a sense of success are drawn to this union of creativity and organization.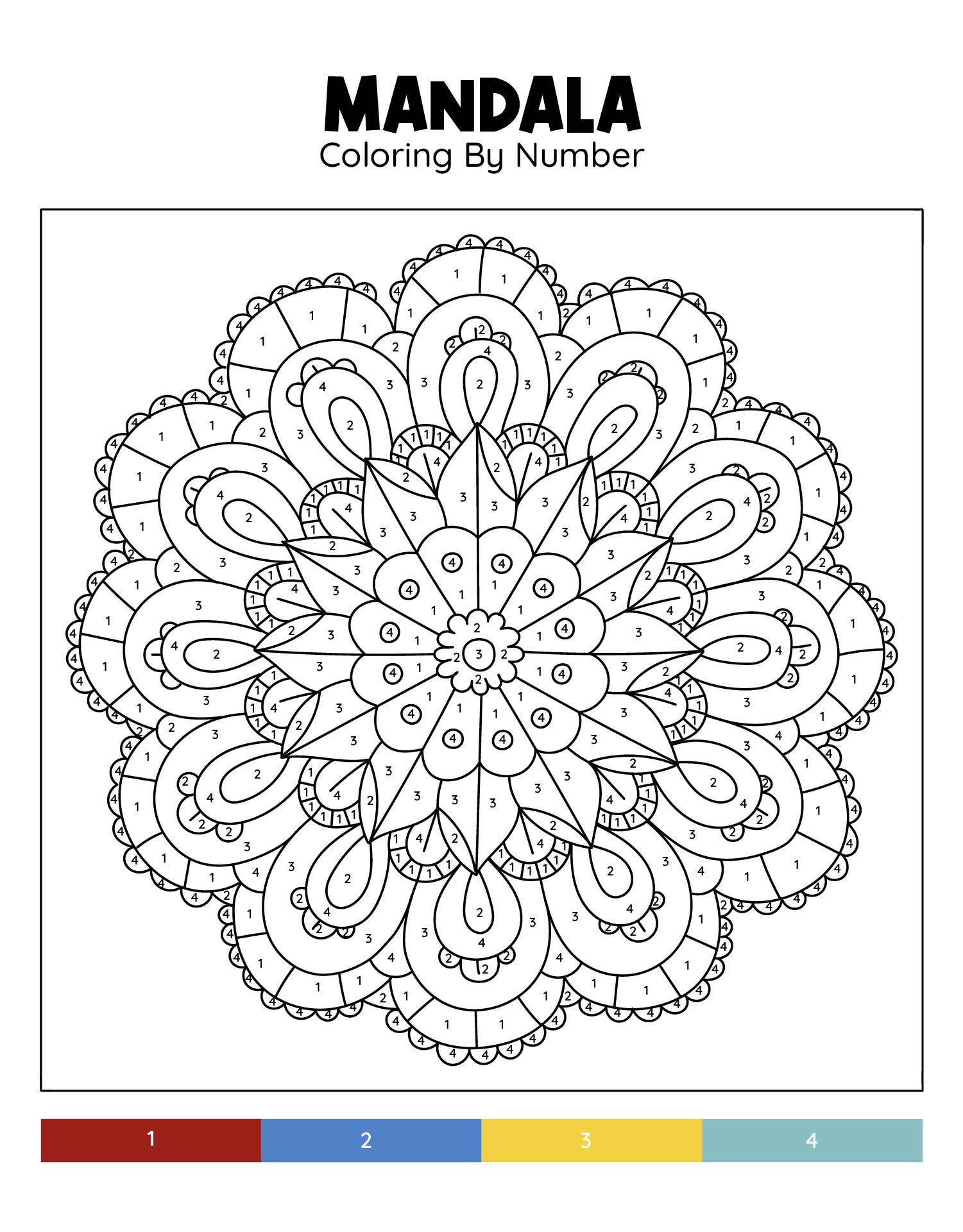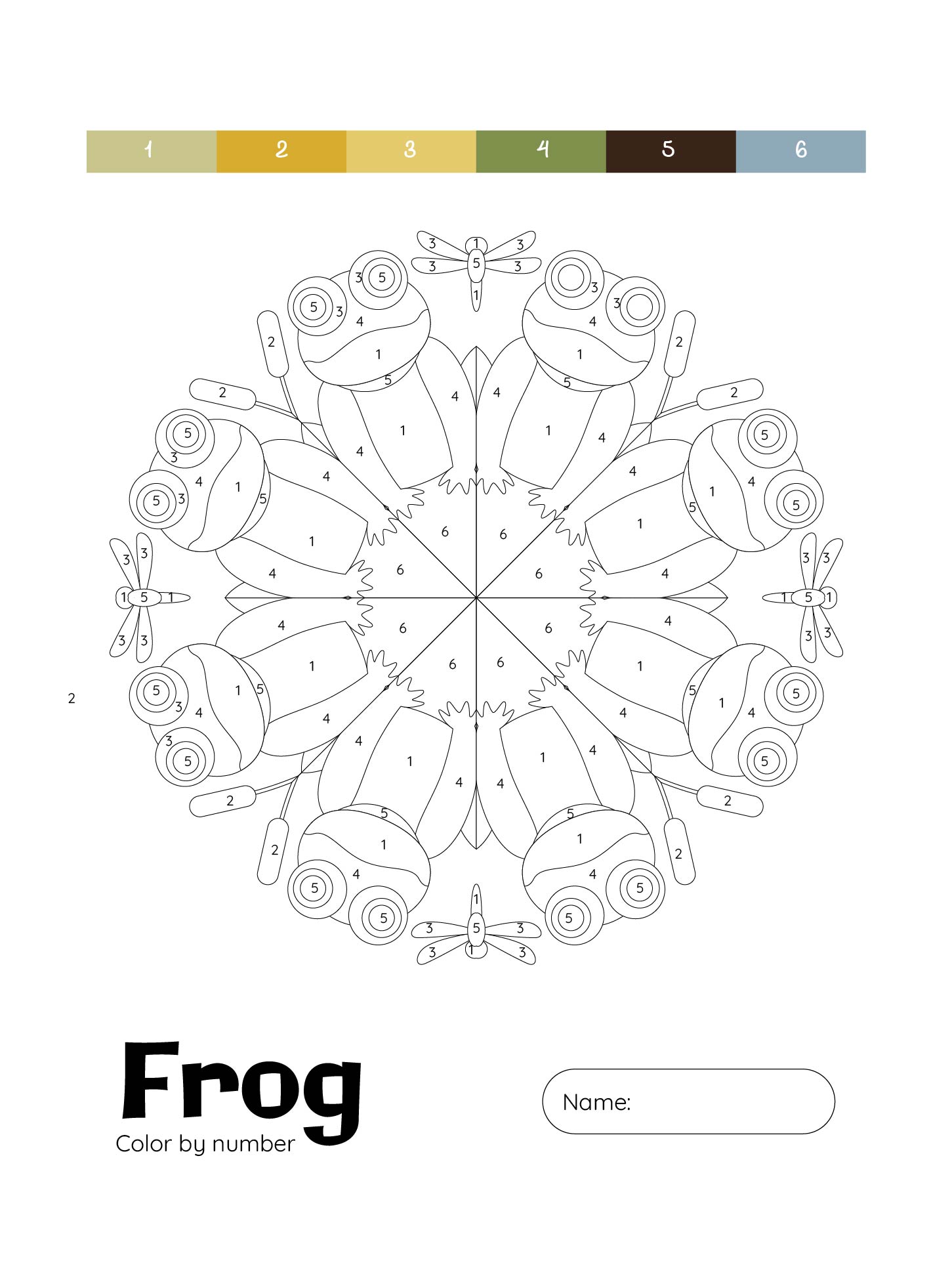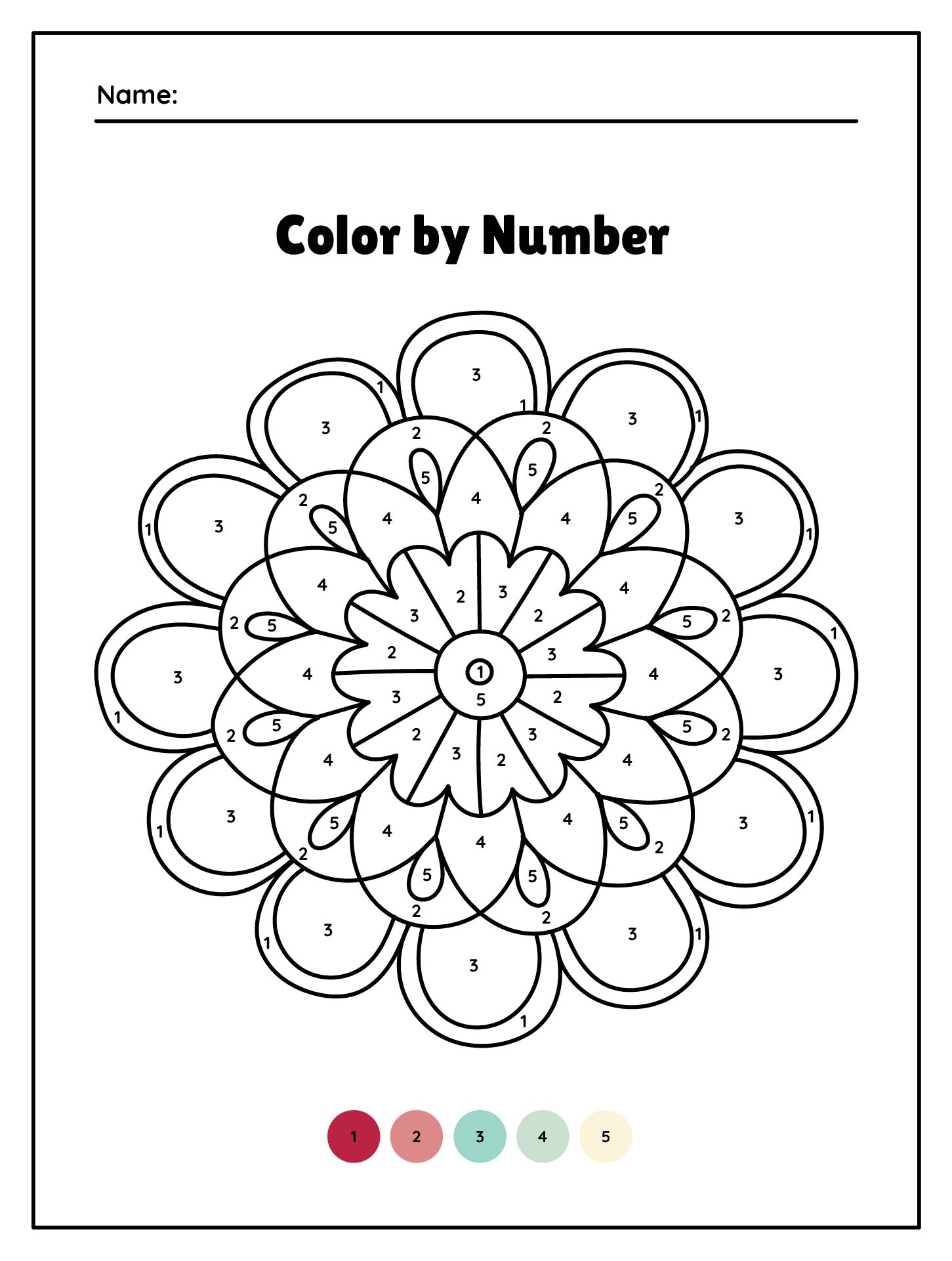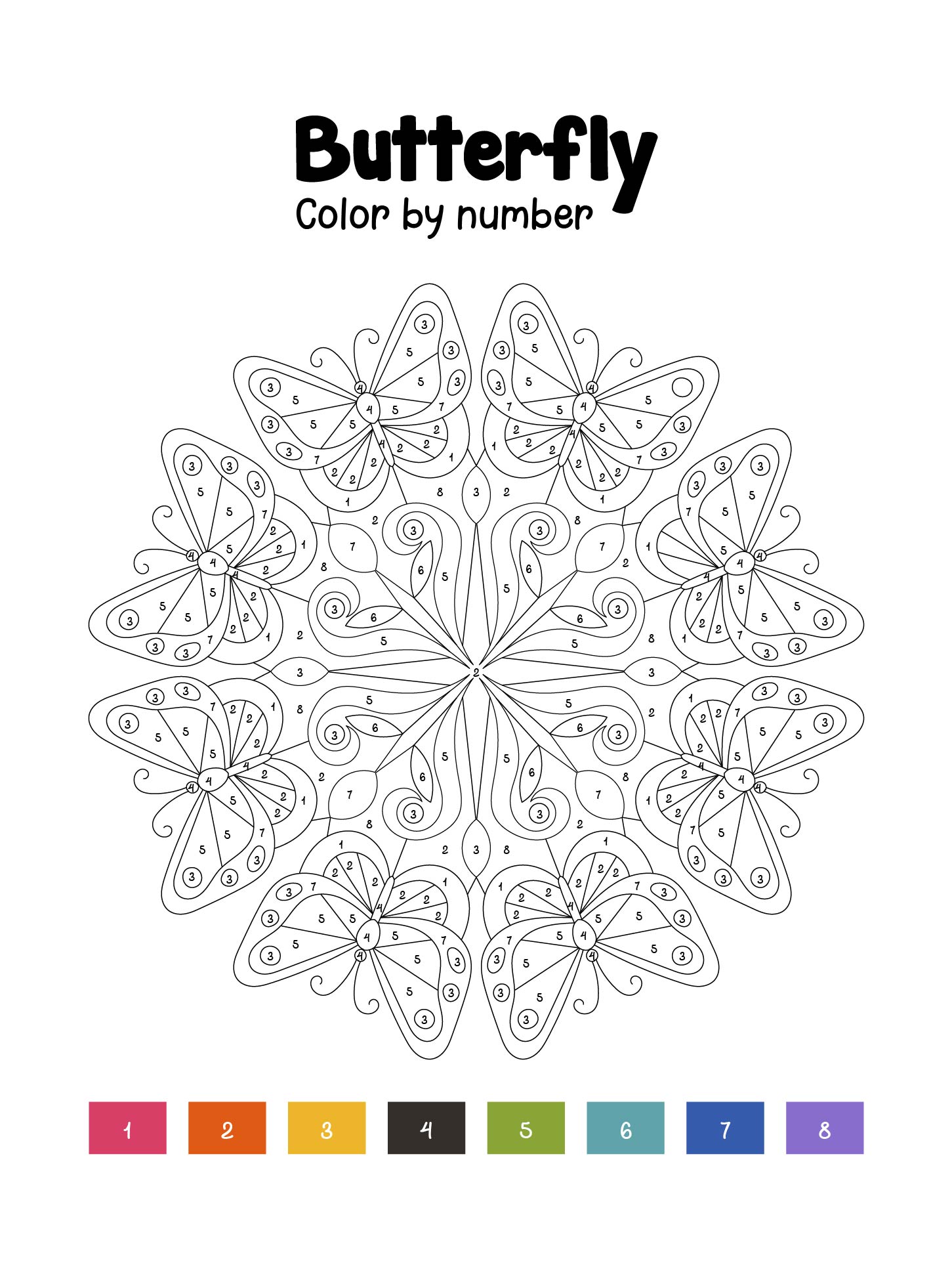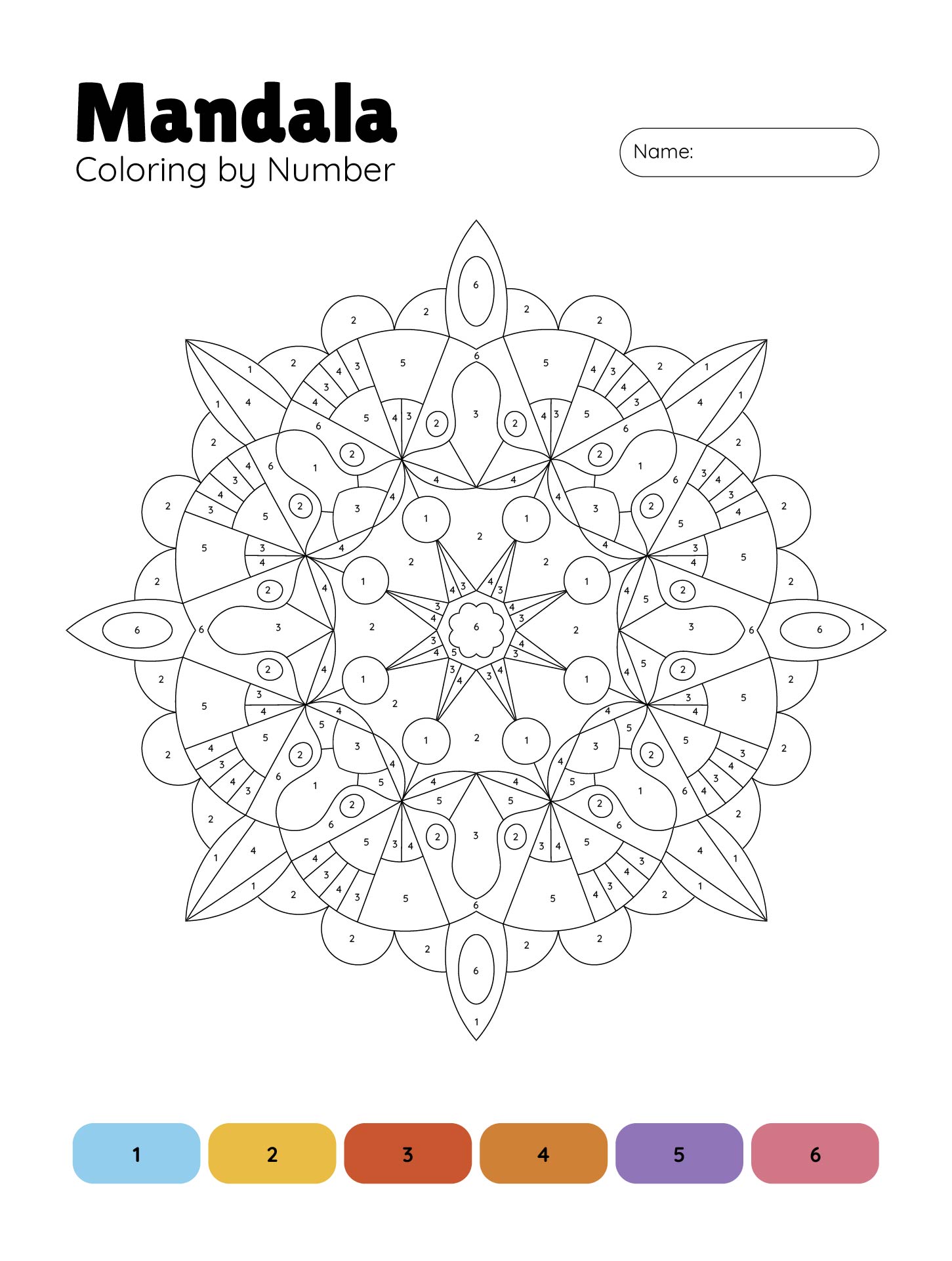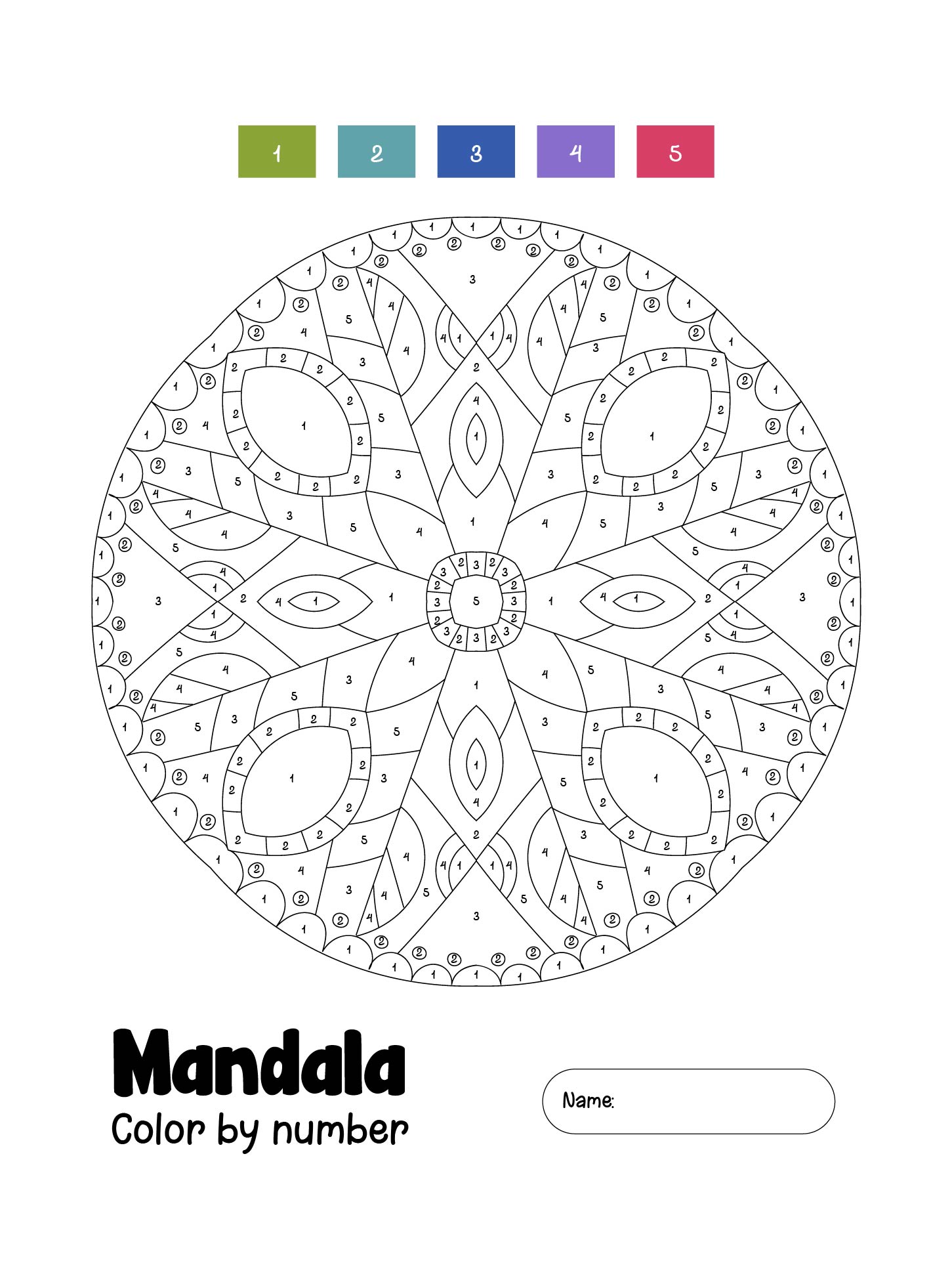 How Does Mandalas Color by Number Foster One's Creativity?
The numbered sections that divide the mandala into distinct segments provide structure in Mandalas Color by Number. Each segment is assigned a number that corresponds to a specific color. This division and numbering system provides the artist with a clear road map to follow.
It adds a sense of order and direction to the coloring process, making it more approachable, especially for those who are unsure of their artistic abilities. The numbered sections act as guidelines, allowing people to break down the intricate design into manageable parts and avoid feeling overwhelmed.
The actual enchantment of this activity besides the freedom, it provides for personal expression through color selection. While the numbers provide structure, the artist is totally free to choose the colors.
This process of creative decision-making allows for a personalized touch, allowing artists to inject their feelings, preferences, and aesthetic flare into the artwork. Color selection becomes a kind of self-expression, allowing people to create something unique and representative of their personality.
The balance of order and creativity
The numbered parts offer the kind of regulated activity that many people find comforting. It is accessible to those who value step-by-step processes due to the clear divisions and criteria that keep people organized and focused.
The selection of colors also gives people the freedom to use their imagination. Artists may let their imaginations run wild while yet having a structure to work within thanks to this therapeutic creative activity.
The structure that numbered divisions provide helps ease the stress that comes with creative pursuits. The comfort of having a predetermined starting point might be found by those who might feel worried about beginning an artwork from scratch.
People can explore their emotions and inner thoughts through their color selections. Their choice of colors may express their attitude, state of mind at the time, or even their goals. This sense of accomplishment inspires and motivates artists to keep up their participation in the activity.