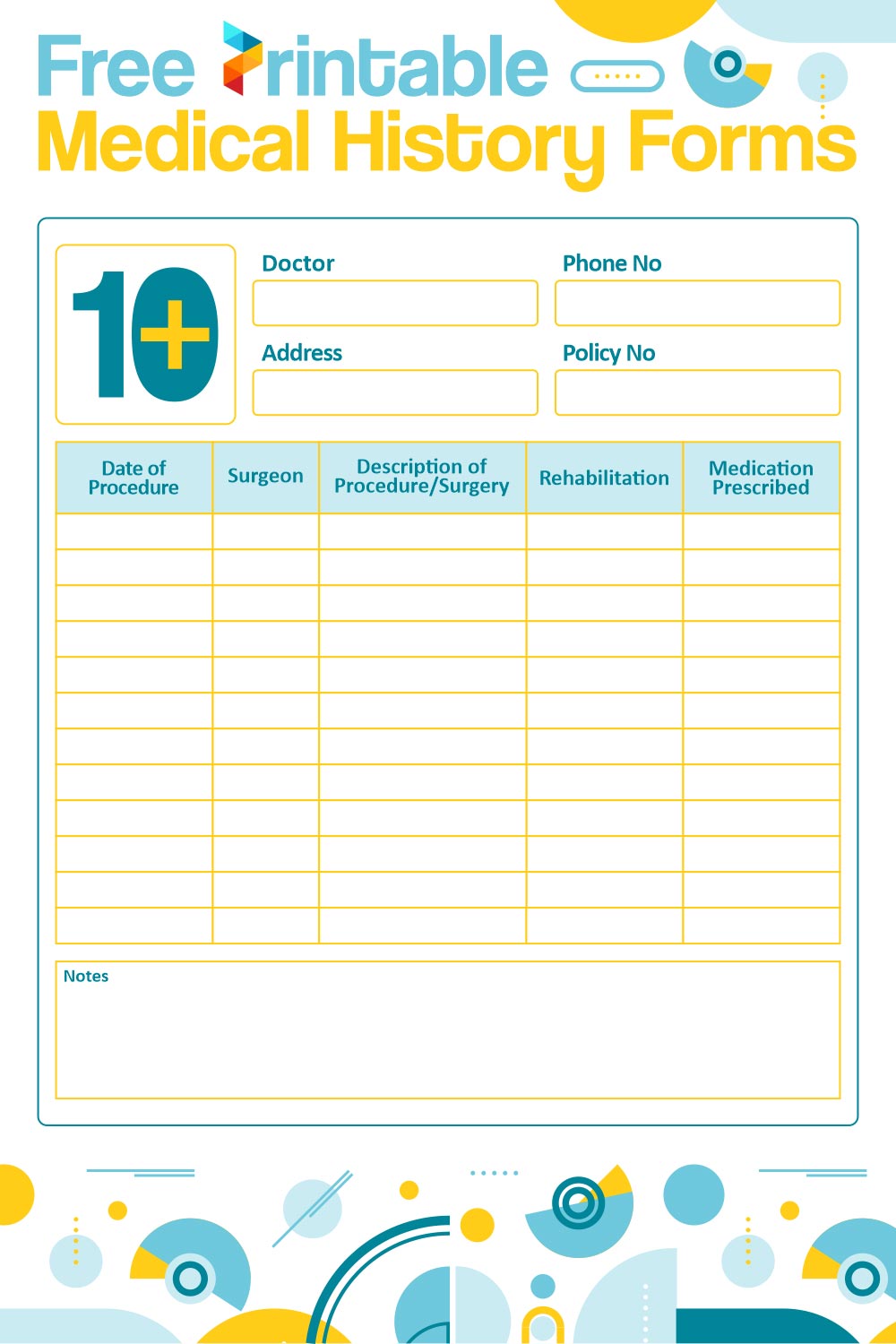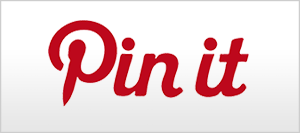 Printable Medical History Forms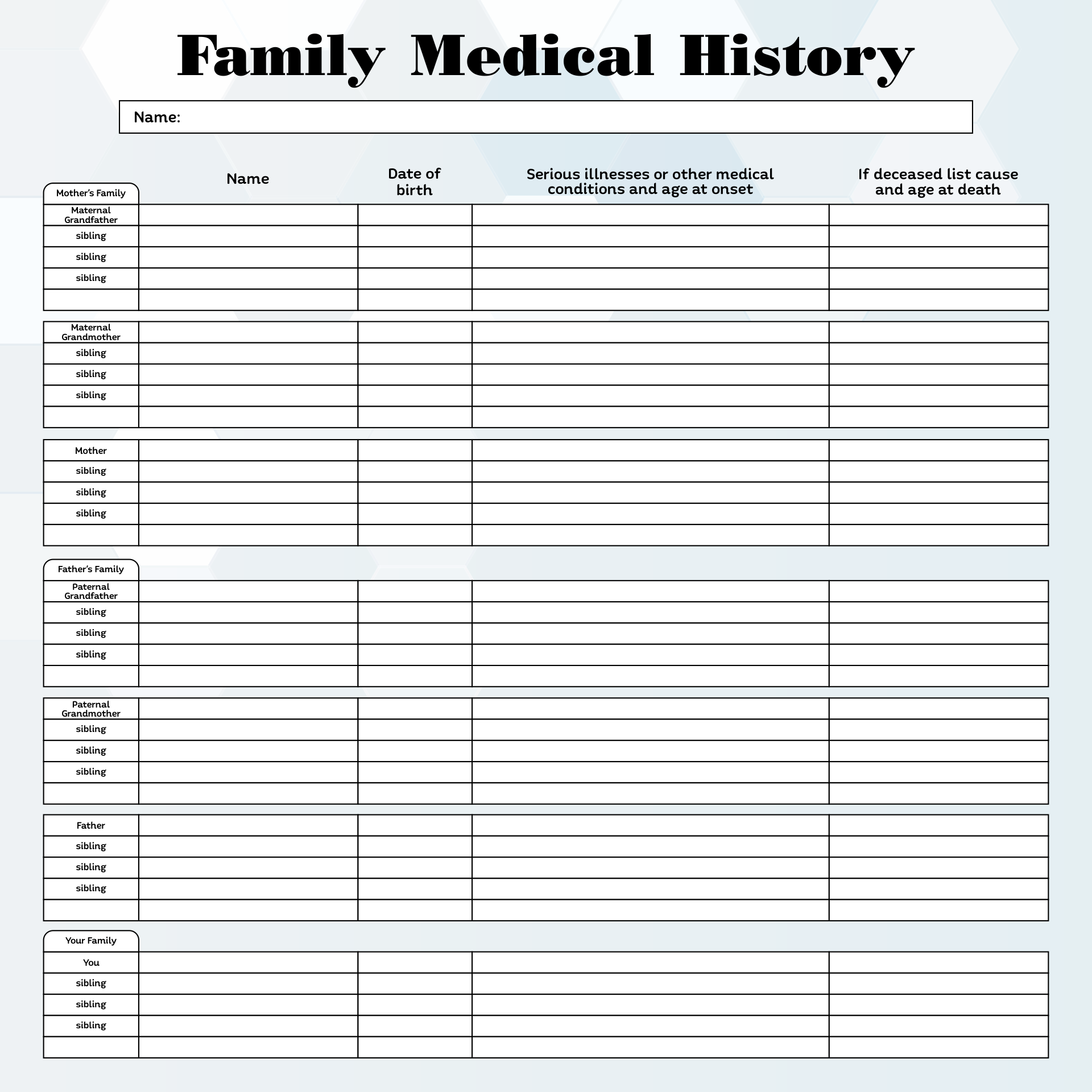 What do you know about medical history forms?
A medical history can be defined as a collection of data regarding a person's health. Details regarding allergies, illnesses, surgeries, vaccines and the results of physical exams and tests would be included in a personal medical history. It can also include details about the medications you're taking and your lifestyle habits, such as diet and physical activity. A person's close family members' medical histories are included in a family medical history (parents, grandparents, children, brothers, and sisters). It also needs to include current and previous illnesses each one has. Thus the medical history will help bring the lines on certain illnesses that are probably down within generations. Furthermore, the reason why medical history is important is that it allows health providers to provide the most suitable and effective treatment or help for a patient's problems when they have more knowledge about their medical history. It can also assist in the diagnosis of potential diseases, as well as the understanding of genetic and likely diseases in your family, allergies, history and present medications, and vaccination records. You need to understand your own medical history since you need to explain every symptoms and allergy that you might have after consuming some specific drugs. Plus it will be much better to keep a copy of your family binder for each member to prevention on losing them during some unexpected events.
What should be included in the medical history form?
It is essential that the history form contains health information and illnesses that are particular to the patient. There should be space for changing it on a yearly basis or as needed. A medical history form template might help you figure out what information should be included on the form. However, to give you a good start, here are some items that must be included on the history form: The patient's diet, illnesses, current medicines, allergies, chronic disorders, current therapy, surgeries, herbal products, and anesthesia sensitivity should all be listed on the form. Second, the paperwork must include the patient's physician's name and contact information. This section of the form must be signed by both the patient and the physician. Third, the form also included a section for the physician's carry observations.
Fourth, the form should have a section for "progress notes," which lists any updates and improvements. Five, the patient should be able to answer questions with a simple yes/no. Finally, to make sure the patient somehow doesn't forget critical health concerns, the form should include a medical alert sticker, note, notation, or other visible reminders. So, here's what you need to think about and put in your medical history form. The more information the patient provides, the easier it will be for the hospital and doctor to treat the patient, both in terms of medicine and treatment. As a result, patients should submit as much information and fill out forms as truthfully as possible. This is like a conscious agreement to give medication treatment in case an emergency case happened.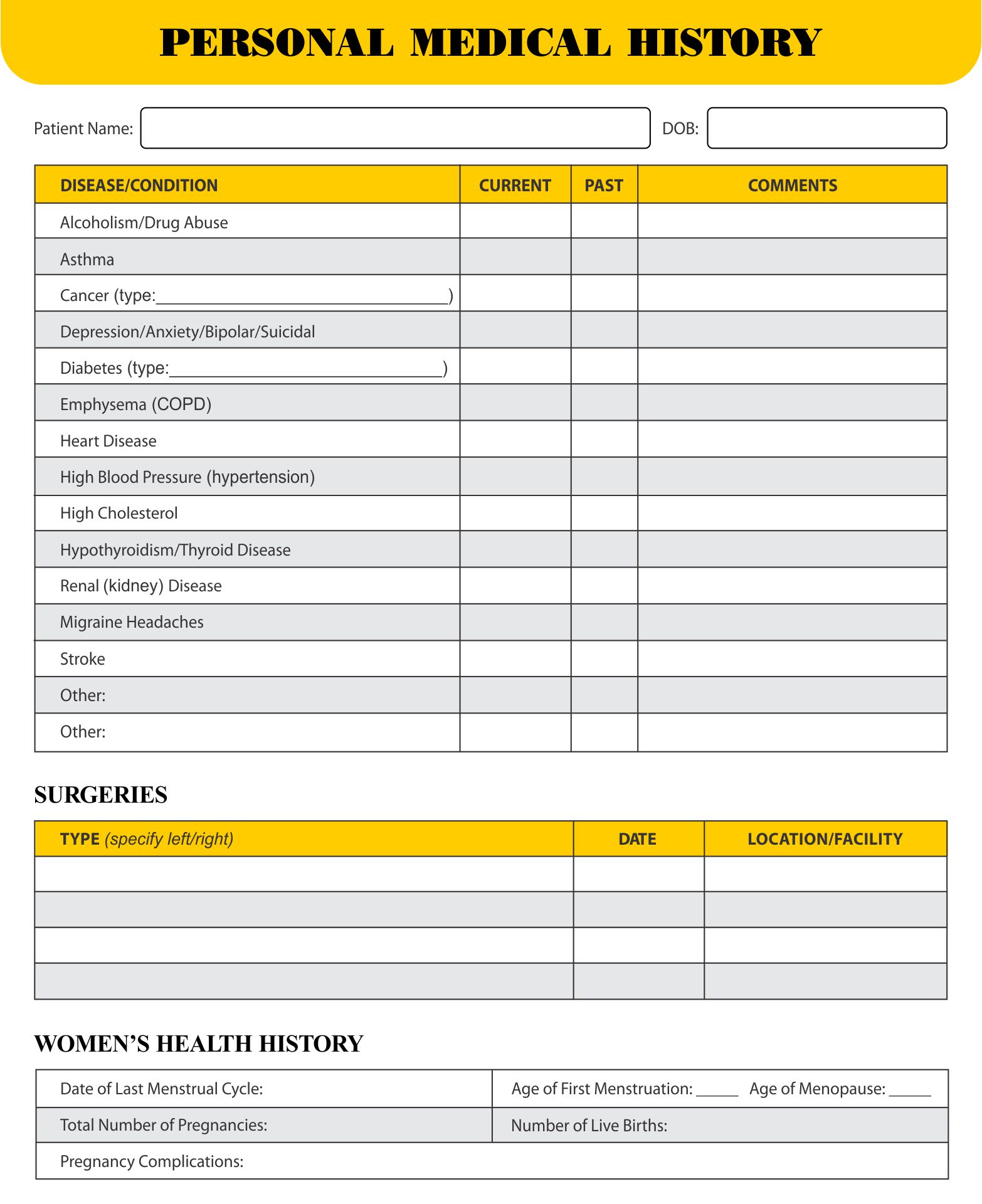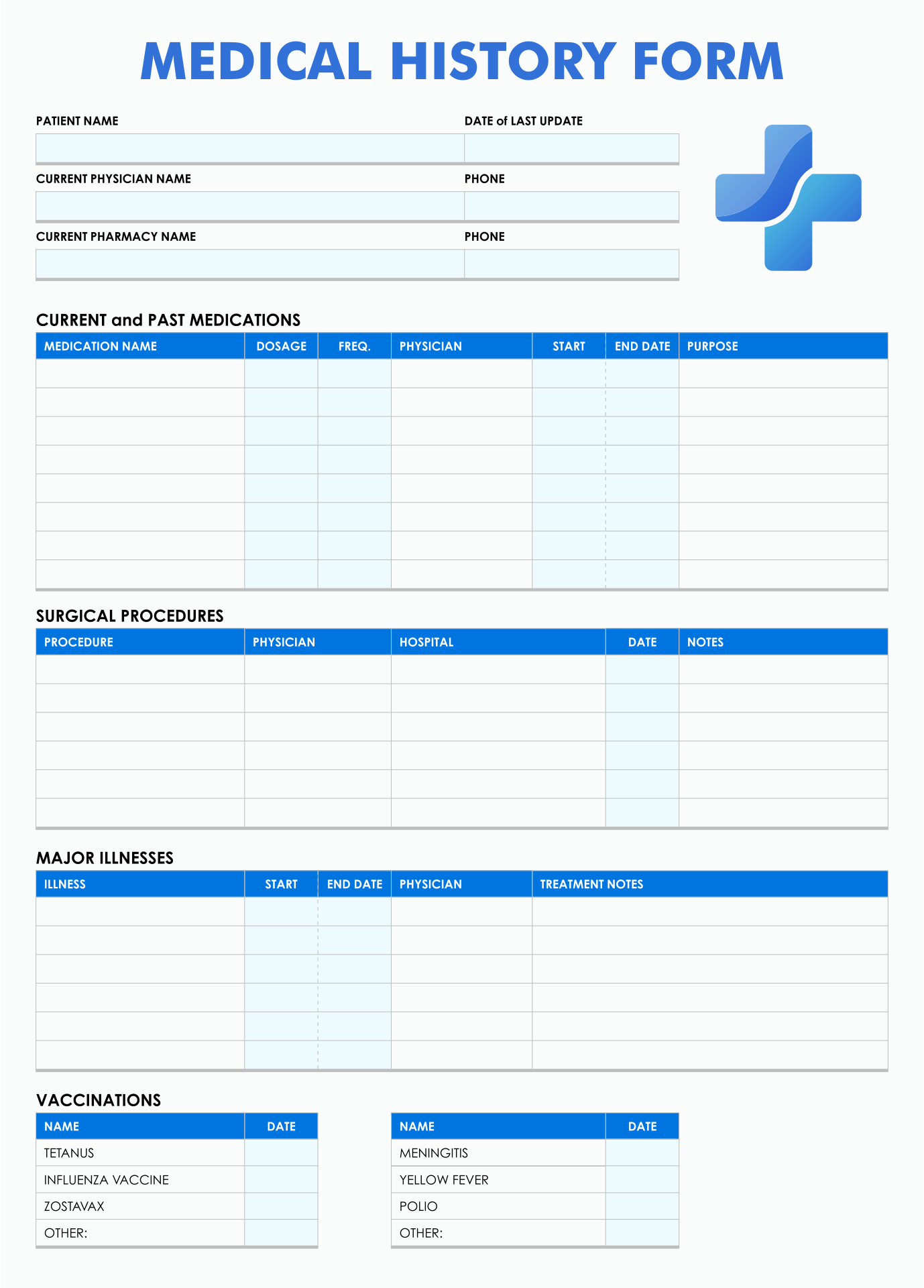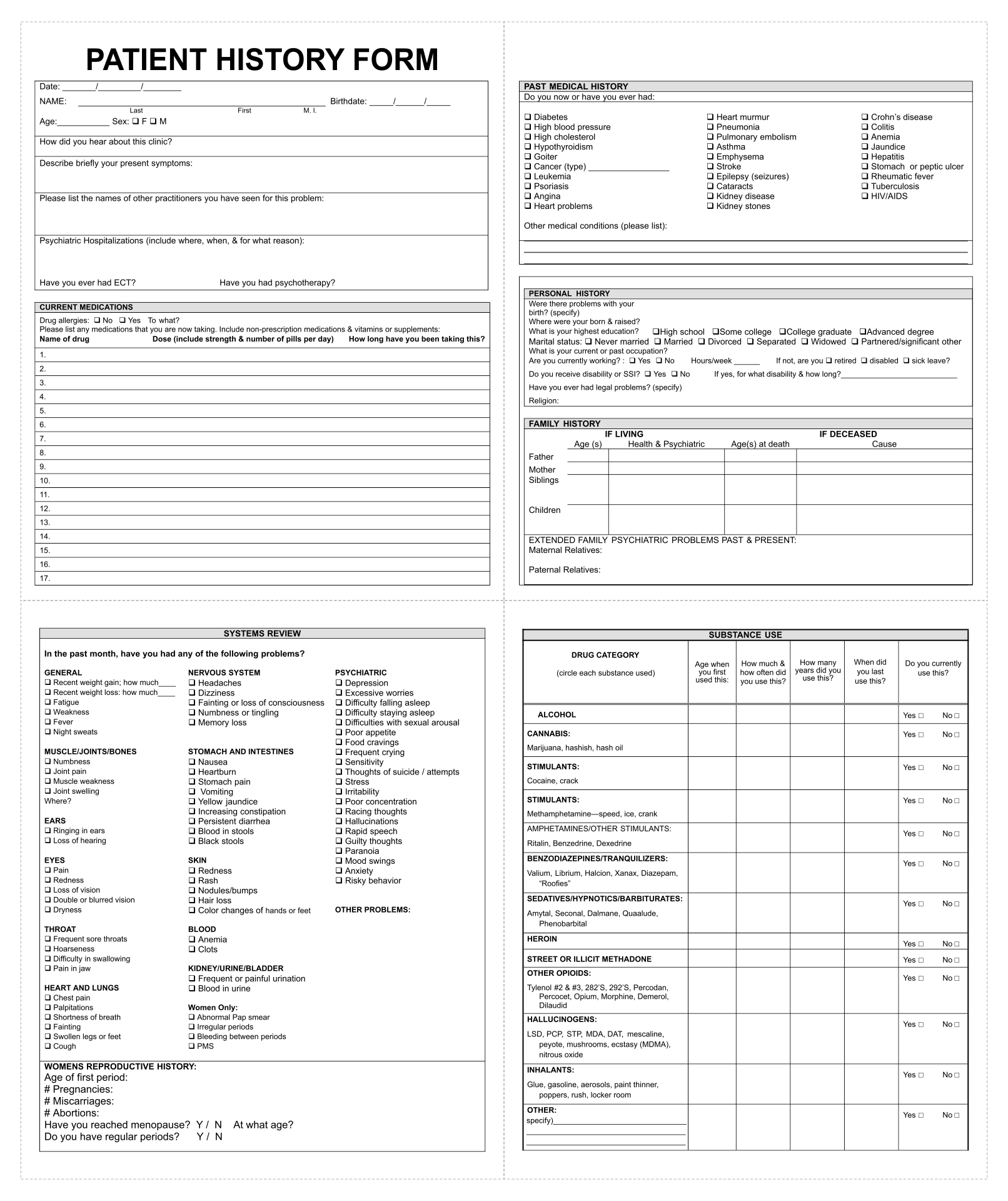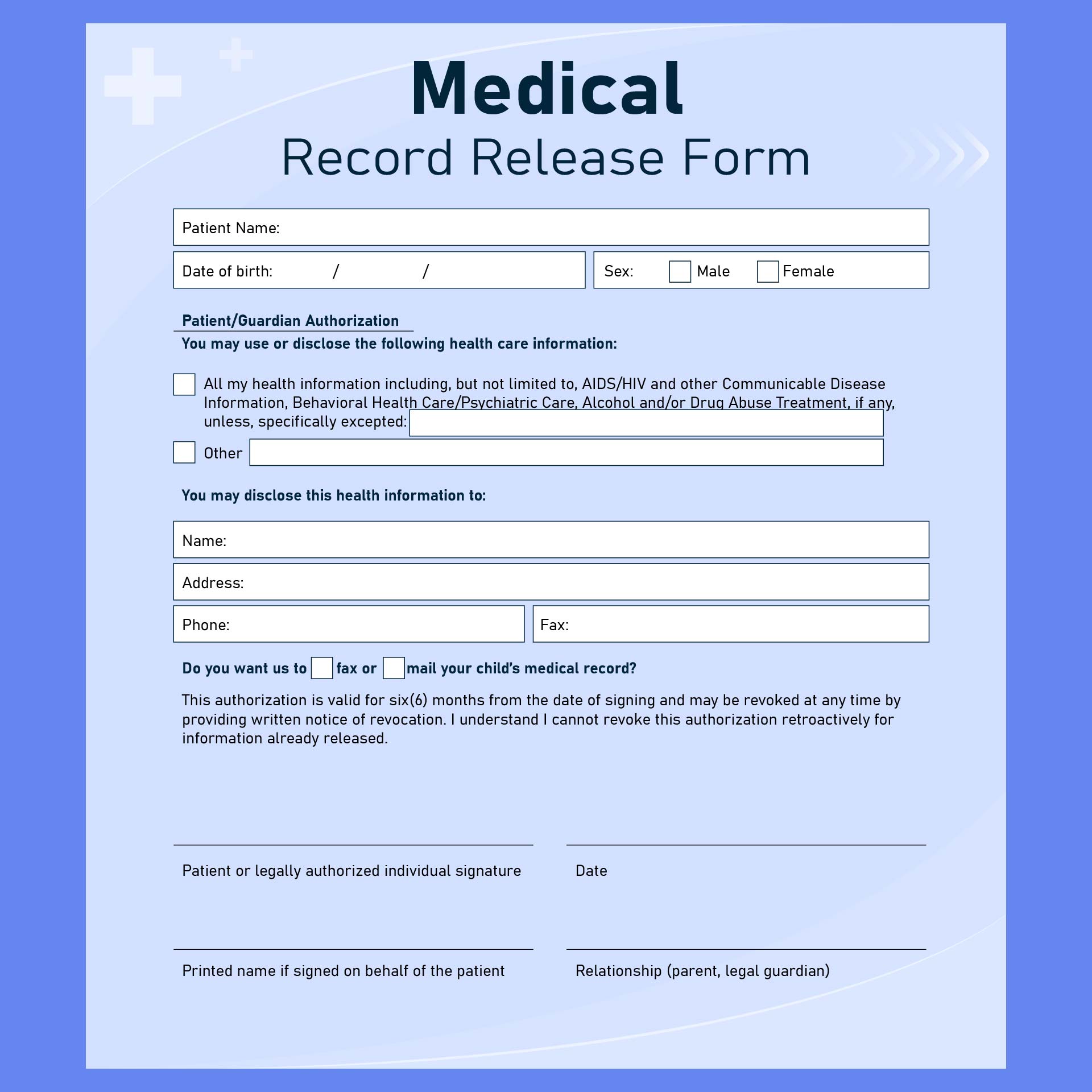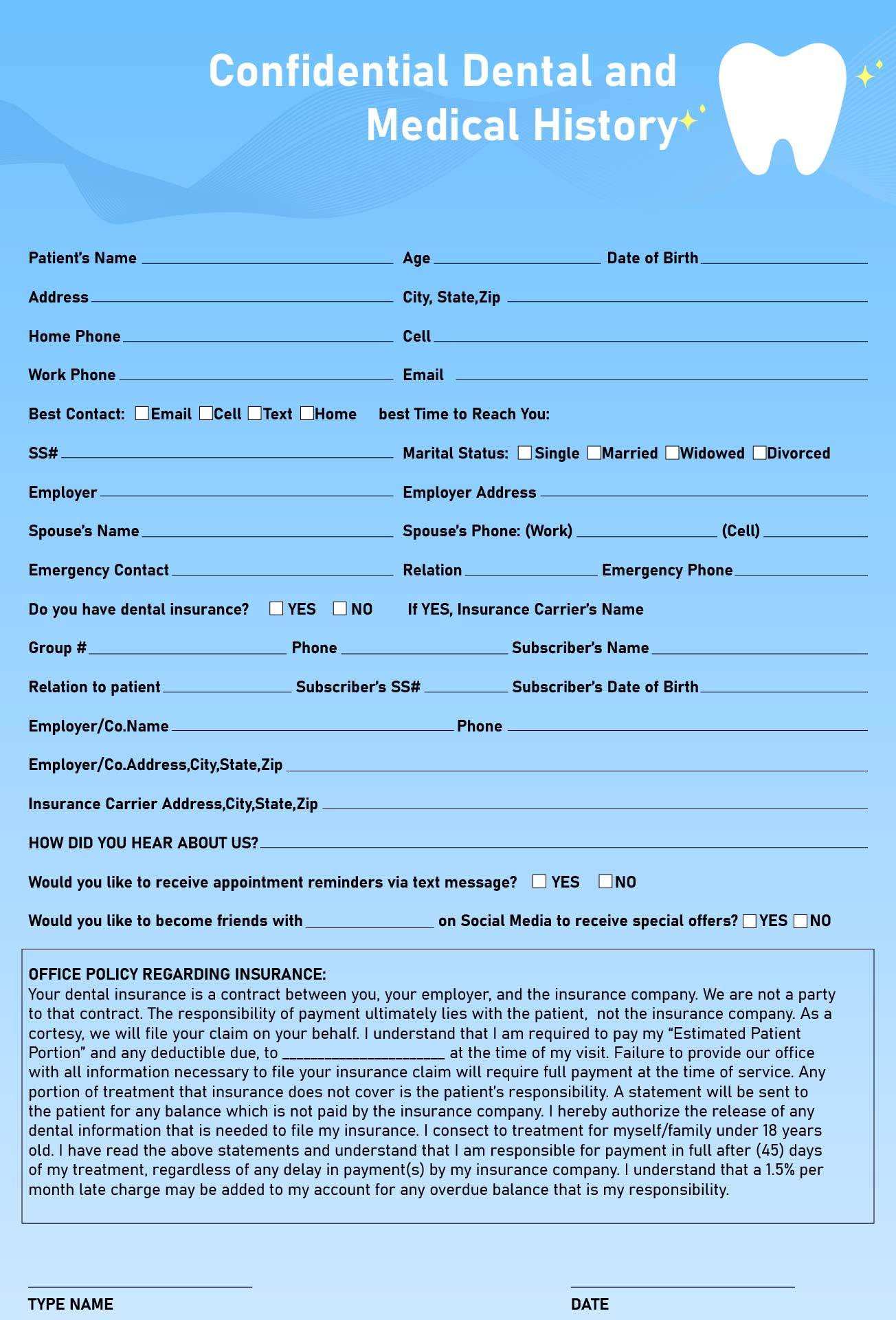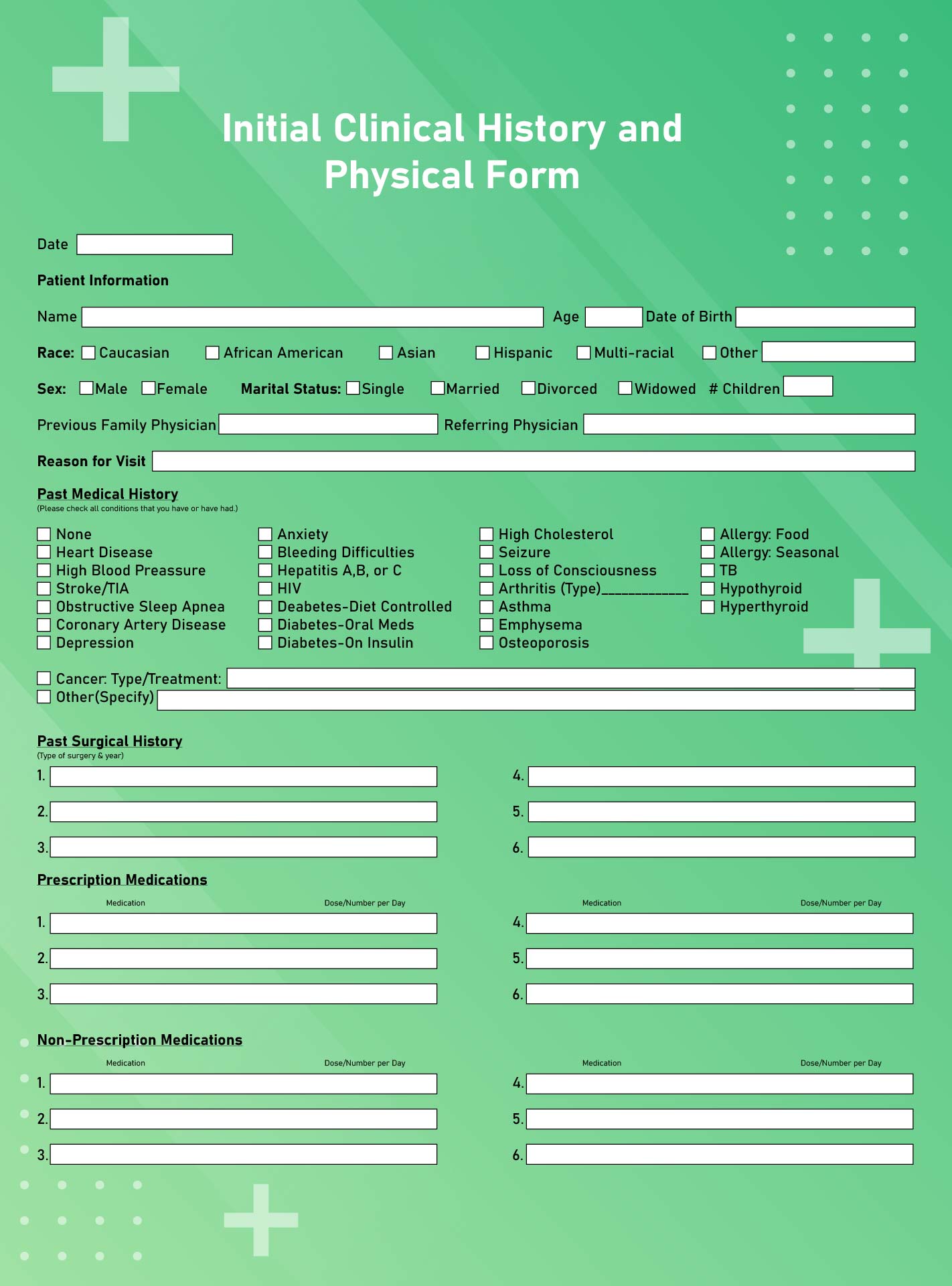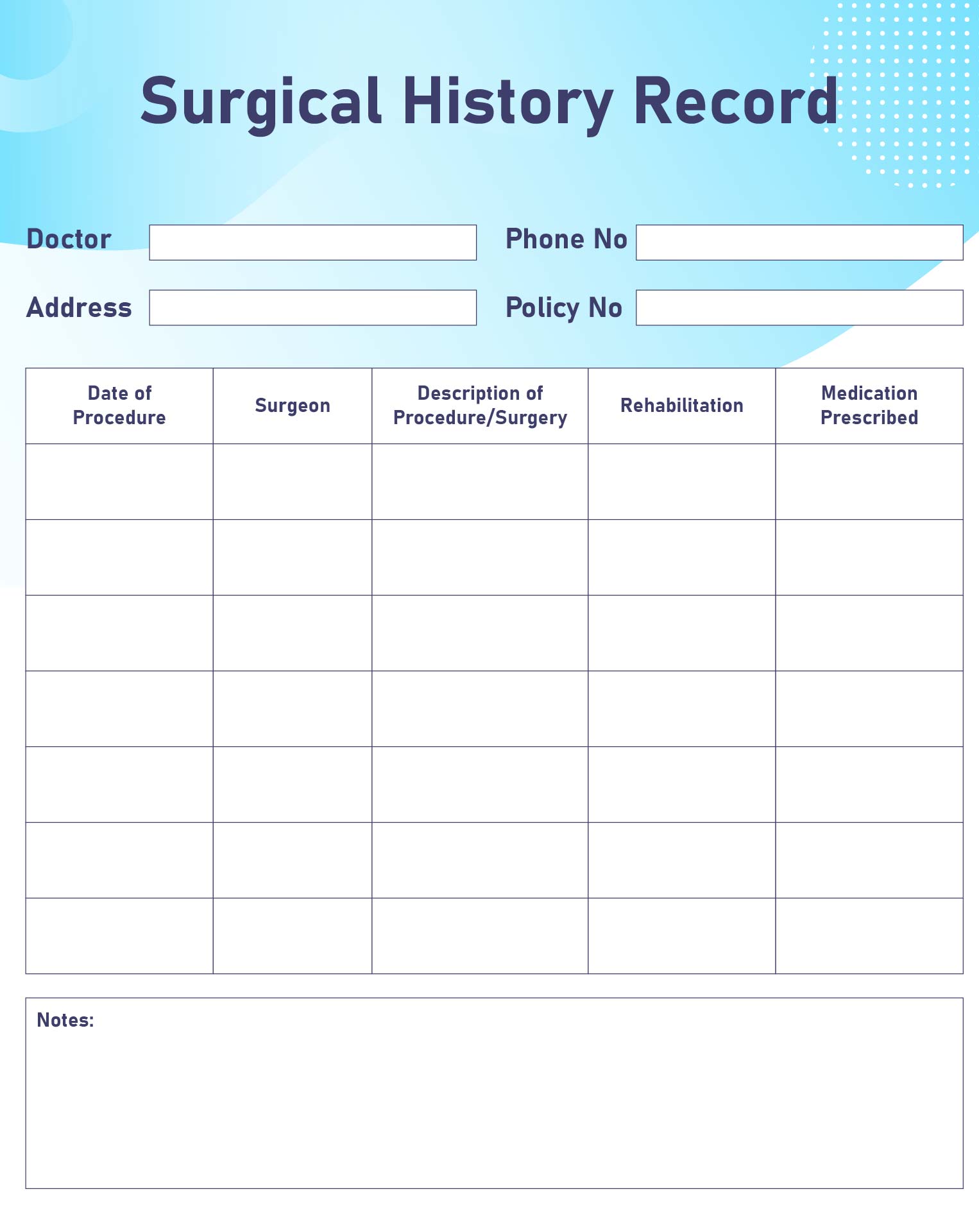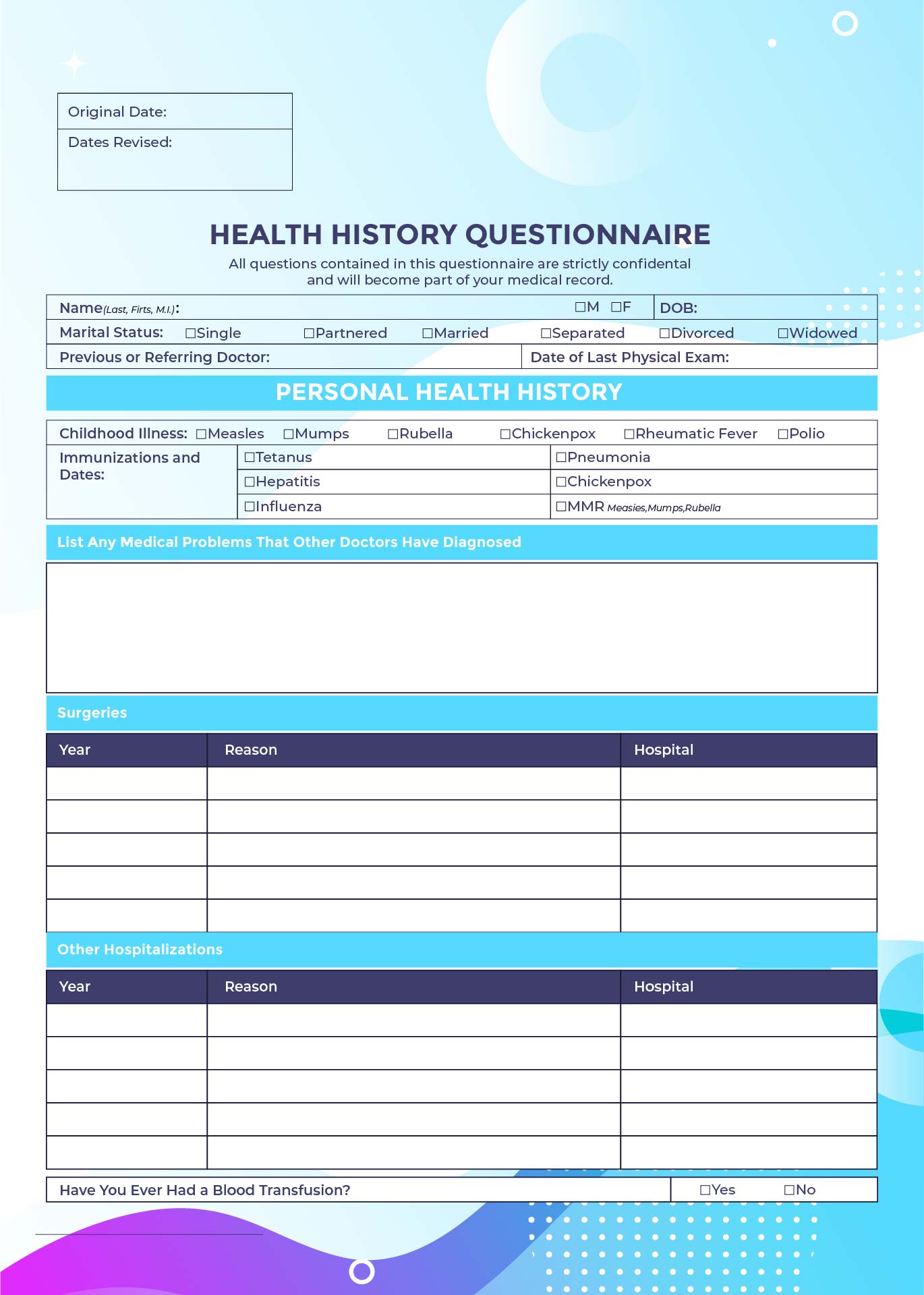 How to make our own medical history form?
To fulfill our medical history form, obtain all of your medical records, including medicines, current diseases, doctor visits, and hospitalizations. This is the bare minimum of information that should be included on your medical history form. Things like your date of birth (DOB), diagnostic tests, current health checks, blood type, information on chronic diseases, and food and medicine allergies should all be included on the form, in addition to the obvious information. Pick a good medium for making the medical history after you've gathered all of the above information. You can choose any format as long as it is convenient, safe, and available in an urgent situation. You have the option of using a spreadsheet, a spiral notebook, or a binder. You can choose what you want based on your preference. You also need to have as much data as possible in your medical history to enable the doctor who treated you to obtain a solid understanding of your general wellbeing. We can also give a brief description of your diet and lifestyle, such as whether you workout often, smoke, or have recently gained or lost weight. Include the contact information of your recent medical care providers, as well as the persons to contact in the case of emergencies. Also, if your health insurance supports medical bills, give your health insurance provider's contact details. Take a look at a medical history form template to get a better understanding of what is going on. So, when creating our own medical history forms, that's what we should do and pay attention to. It needs clarity and correct information to contain various types of information that belong to us because it affects doctors' capacity to treat us as patients.