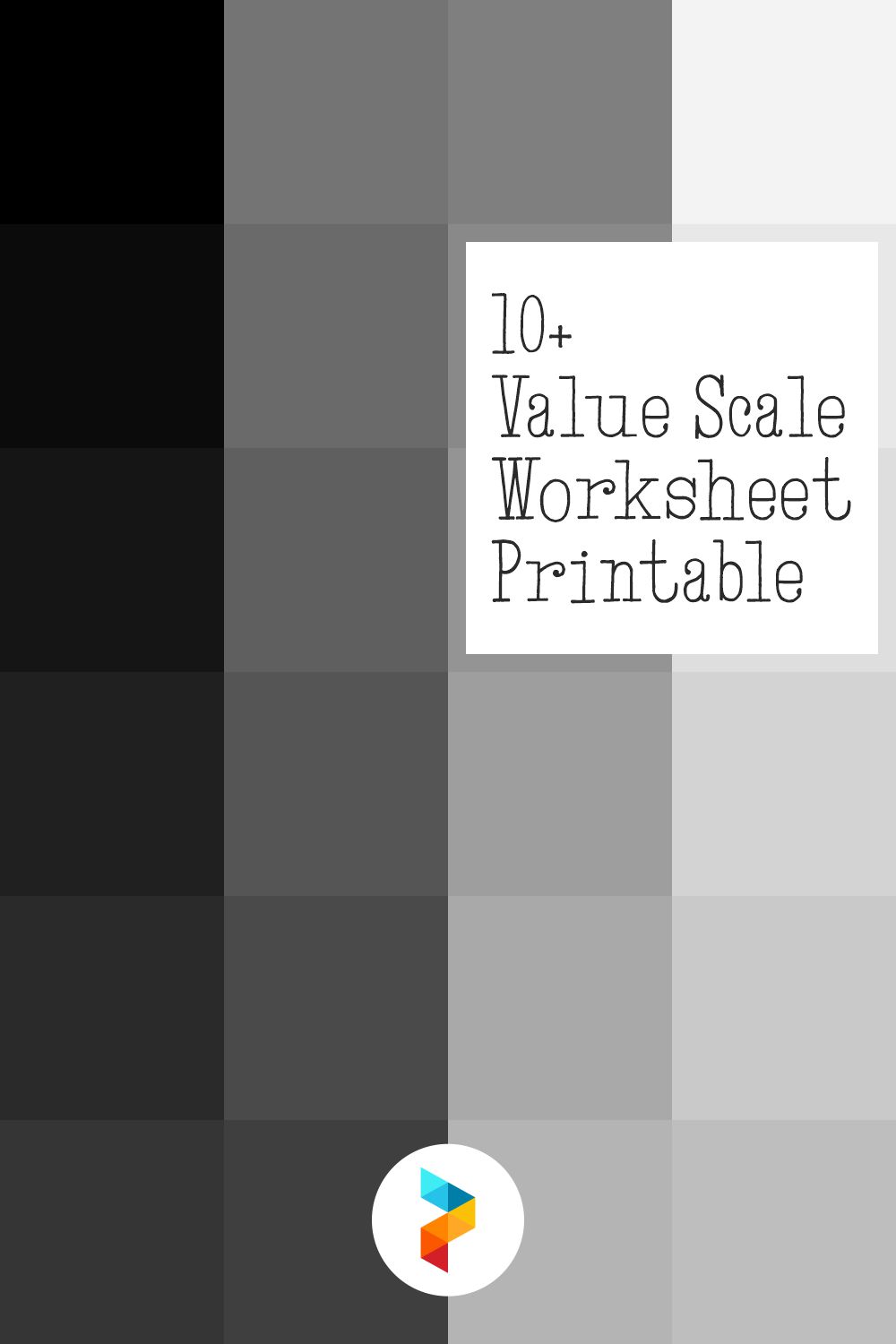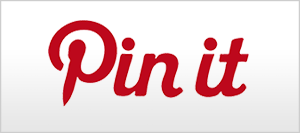 Value Scale Worksheet Printable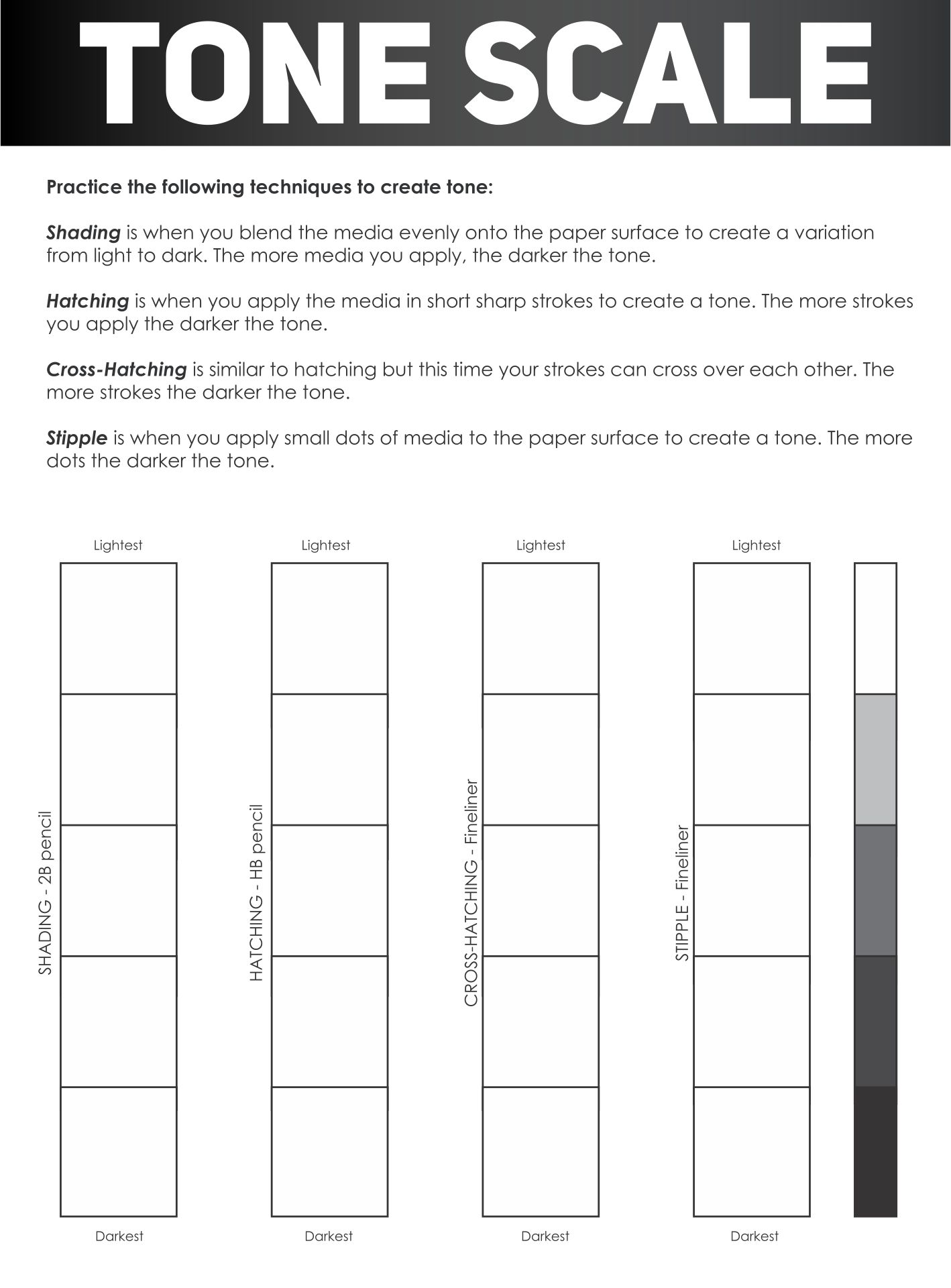 The Role of Value Scale Worksheets
The interplay of light and shadow contains the secret to producing brilliant and moving works in the enthralling realm of art. Understanding and expert use of value—the spectrum of tones from light to dark—play a crucial part in the overall impact of any artwork's visual appeal. In order to improve their artistic abilities, artists might use the "Value Scale Worksheet" as a useful tool.
Value in art
It is critical to understand the concept of value in art before venturing into the world of value-scale worksheets. The relative lightness or darkness of a color or tone is referred to as its value. Understanding value allows artists to create depth, volume, and form in their compositions, as well as generate mood and atmosphere. Mastering value is essential for artists who want to transform their two-dimensional images into dynamic and emotive works of art.
Worksheets with value scales provide artists with a crucial foundation for understanding and successfully manipulating tonal values. These worksheets display a graded scale with numerous hues in between, going from the brightest white to the darkest black. Artists can hone their awareness of tonal nuances and develop a trained eye for capturing and duplicating the subtleties of light and shadow by regularly practicing with value scale worksheets.
It is enlightening and empowering to start the path of building a value-scale worksheet. You will be taken step-by-step through the process of creating your own value scale worksheet in this part. You will study the fundamentals to lay a basis for your artistic progress, from choosing the proper tools, such as pencils, erasers, and graphite grades, to mastering the methods for making fluid transitions between values.
Studies and application
A value scale worksheet provides more than just basic instruction; it also serves as a springboard for more sophisticated artistic techniques like value studies. This section will discuss value studies and show how they are essential for developing your artistic abilities. We will explore the practical use of value scales for researching a range of topics, including still life, portraiture, and landscapes. By analyzing complex subjects and identifying the nuances that contribute to aesthetic harmony and balance in their artwork, artists can undertake value studies.
Advanced techniques and challenges
You will face obstacles on your creative path that will require you to hone your abilities even more. Using value scale worksheets, this lesson will present sophisticated approaches that can let you express yourself artistically to new heights. We will discuss typical difficulties that artists go through while performing value scale exercises and offer workable answers to them. You'll learn cutting-edge strategies to increase your artistic ability, from experimenting with various materials to embracing unorthodox styles.
Discover how to use value scale worksheets as a strong basis for producing more challenging and significant artworks. As your knowledge of value scales becomes automatic and influences your artistic judgments, you will see a transition in your artistic vision as a result of persistent practice. This will also improve the caliber of your work.
In conclusion, value scale worksheets are a crucial tool for artists looking to maximize the expressive power of their work. By adopting value scale exercises and comprehending the importance of value in art, artists are better able to capture the essence of light, shadow, and shape, giving their works life. Following this thorough manual will set you on a fulfilling path of artistic development and give you the skills necessary to produce captivating and memorable works of art.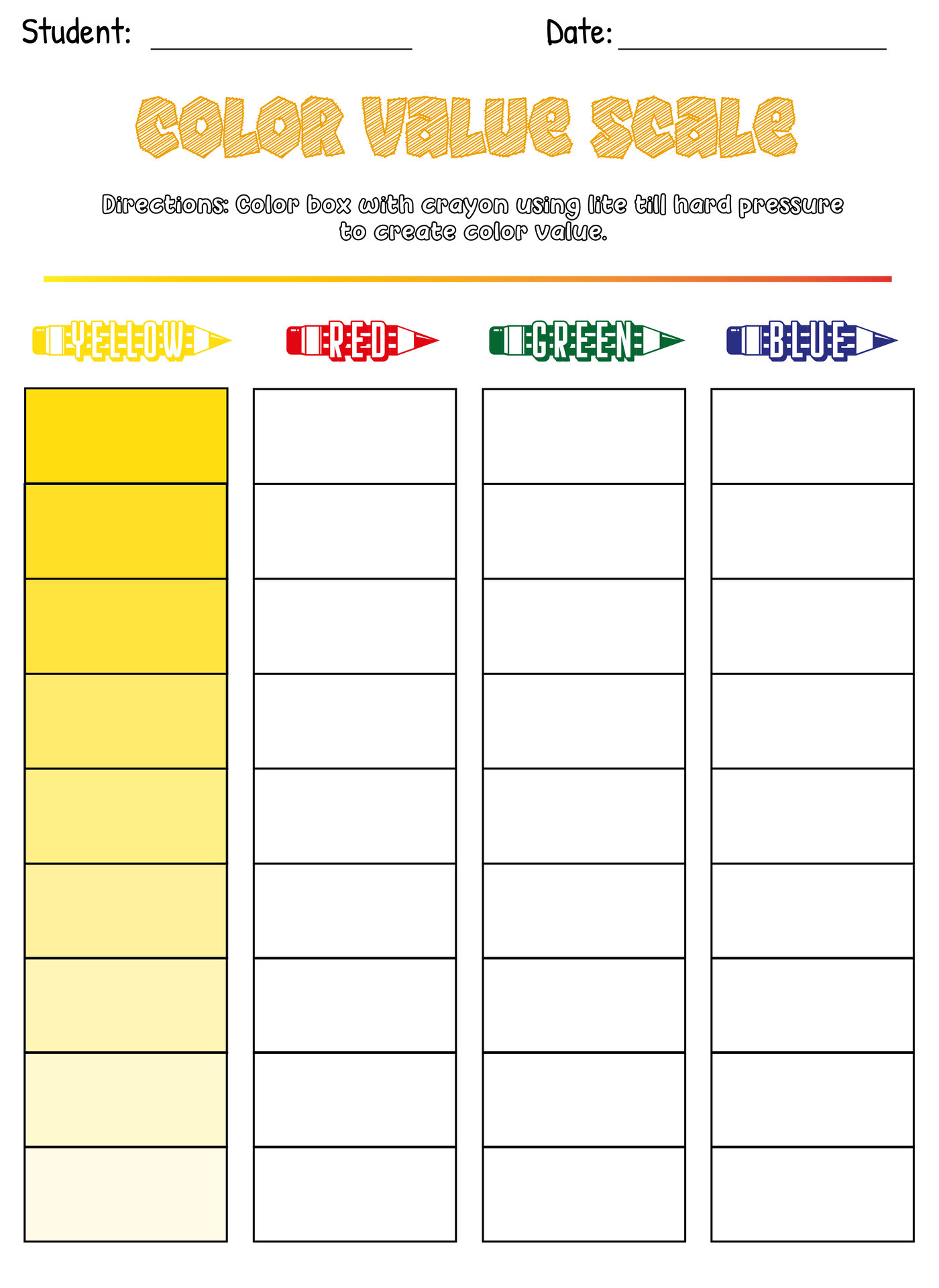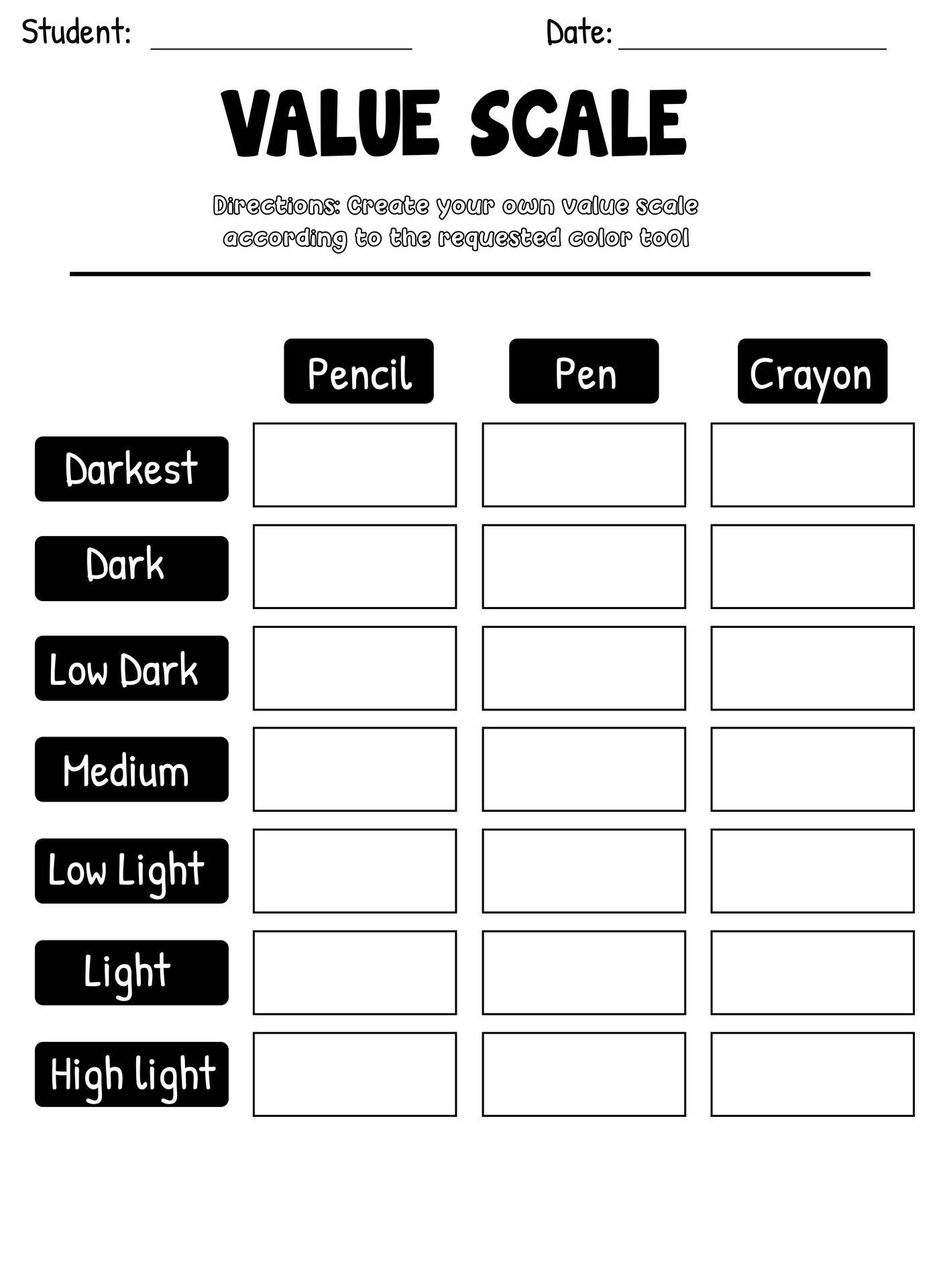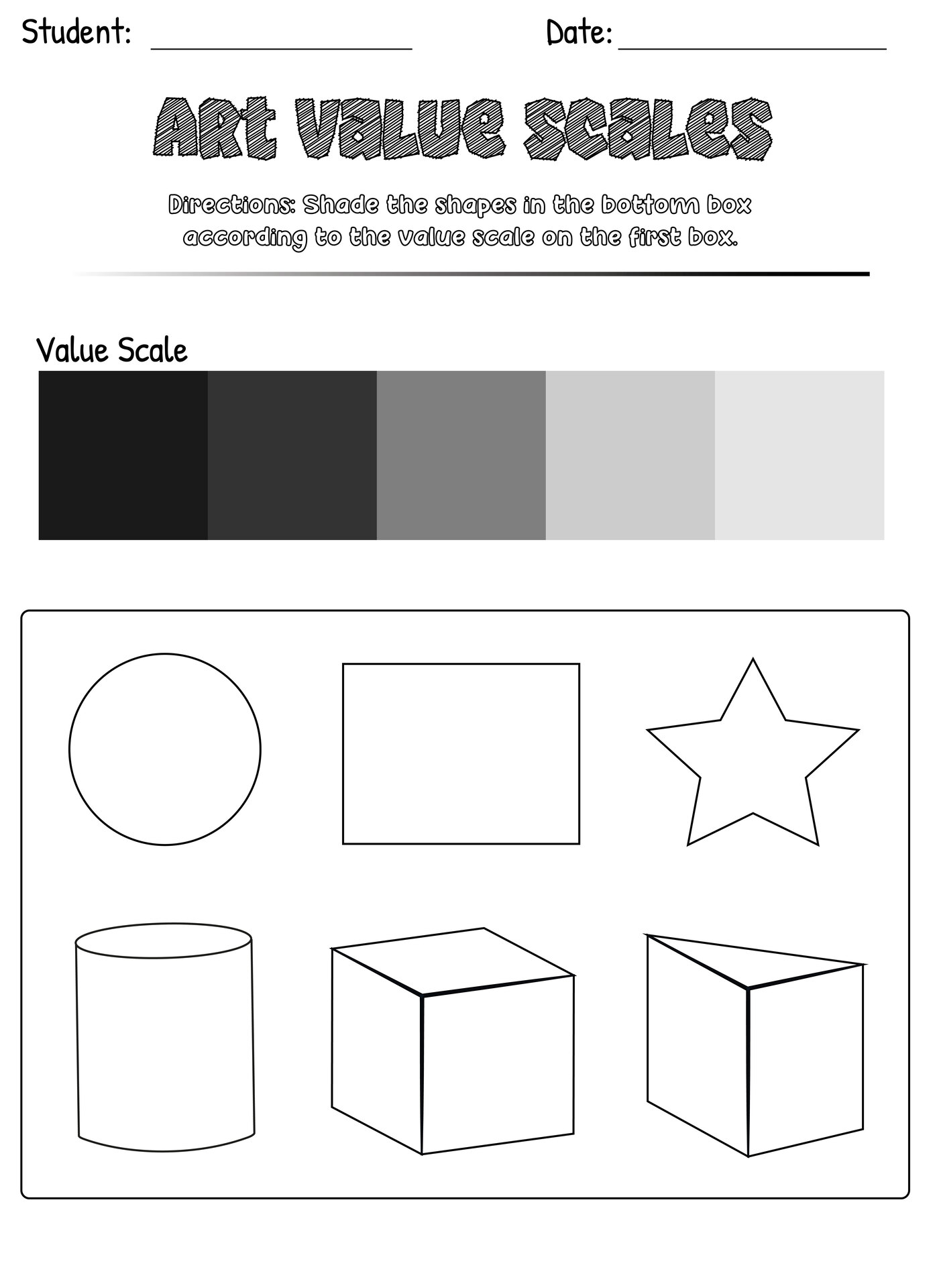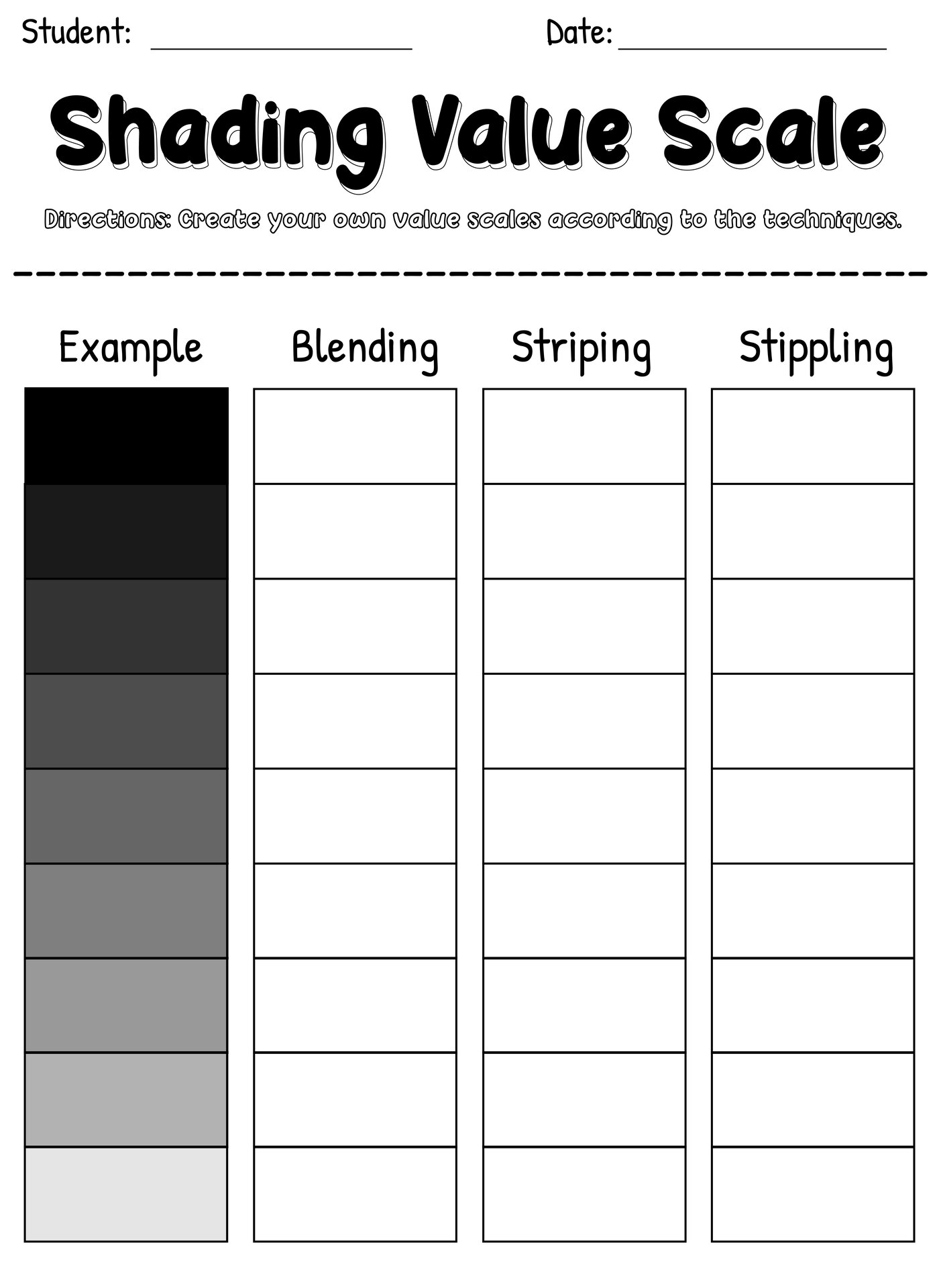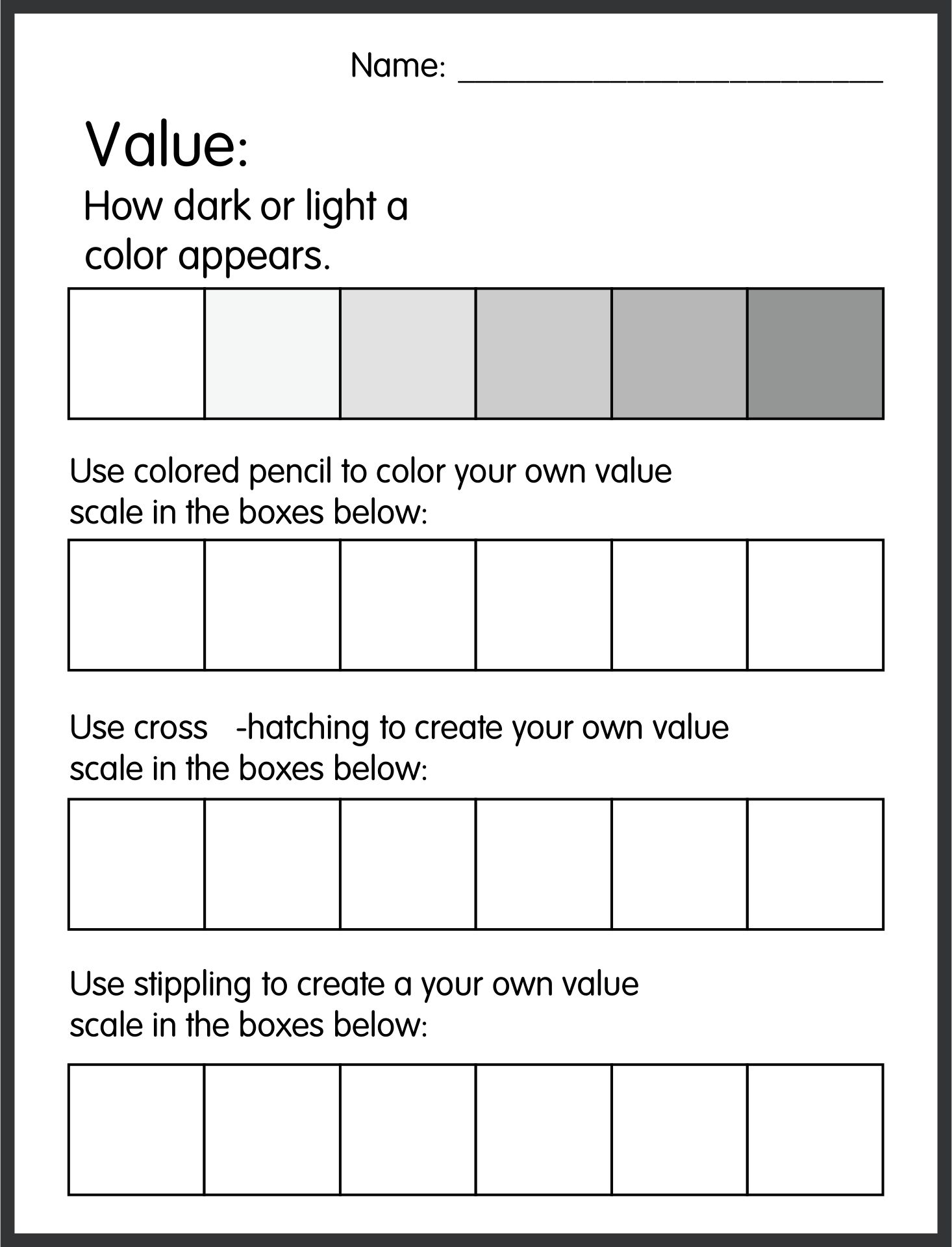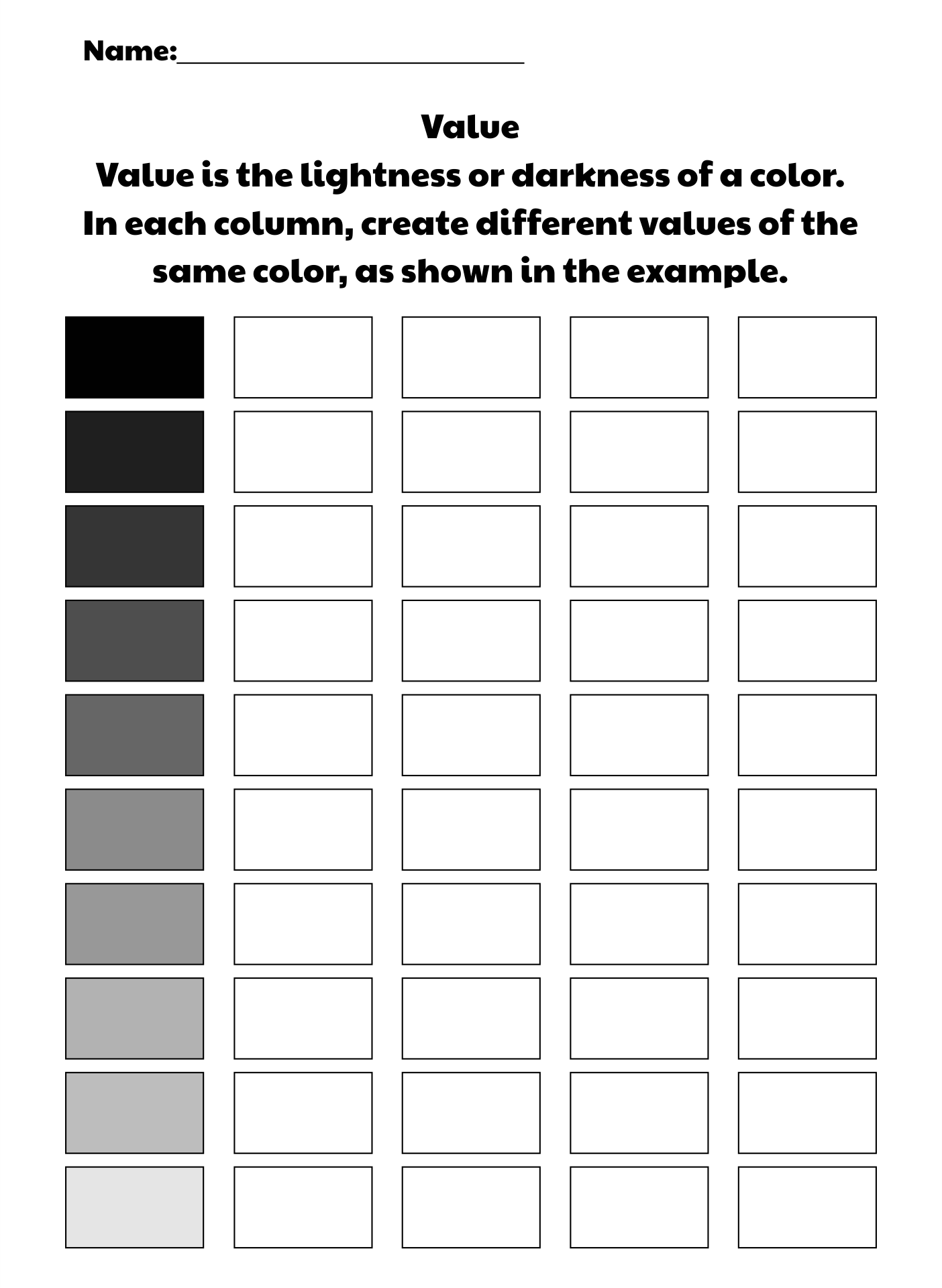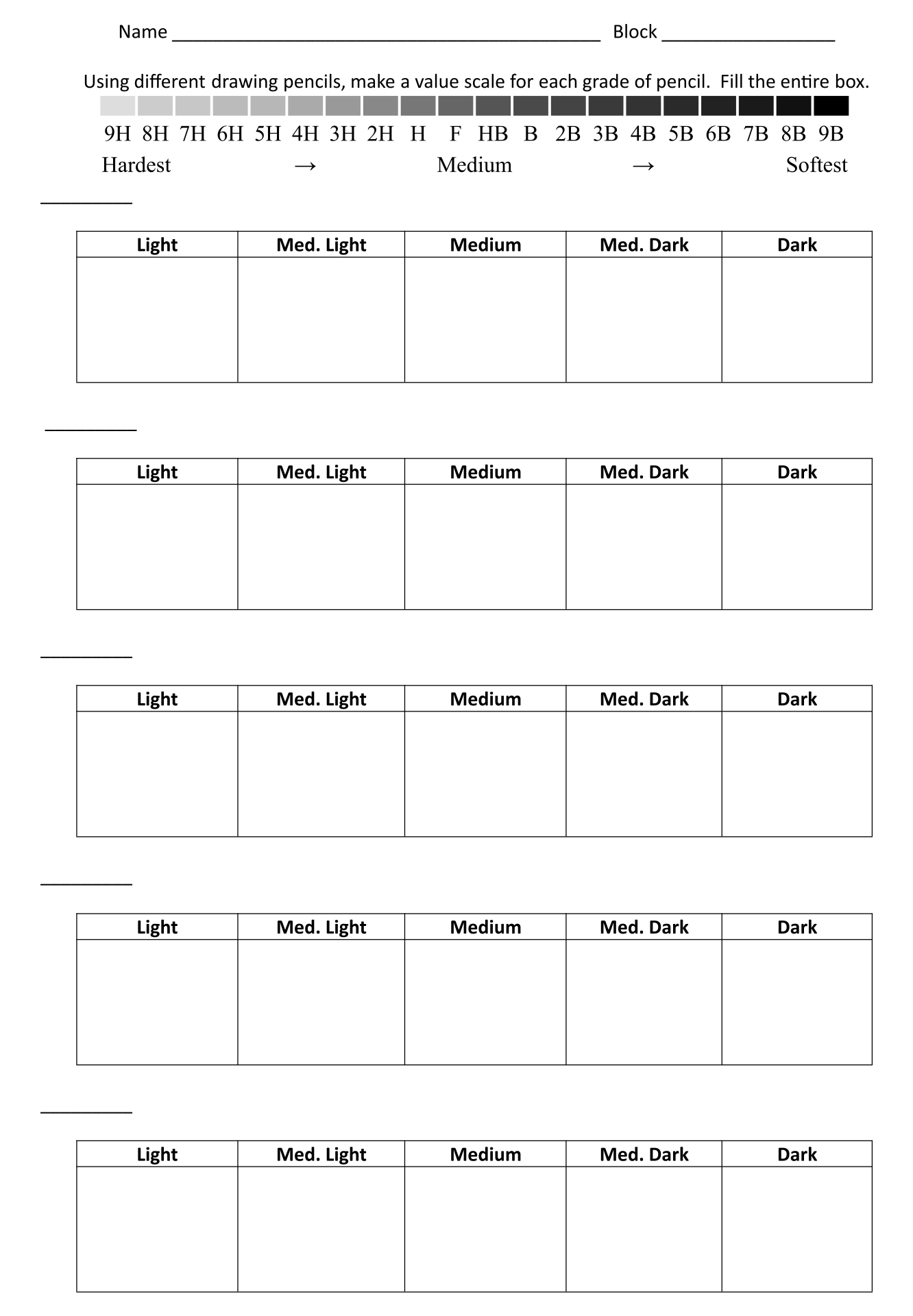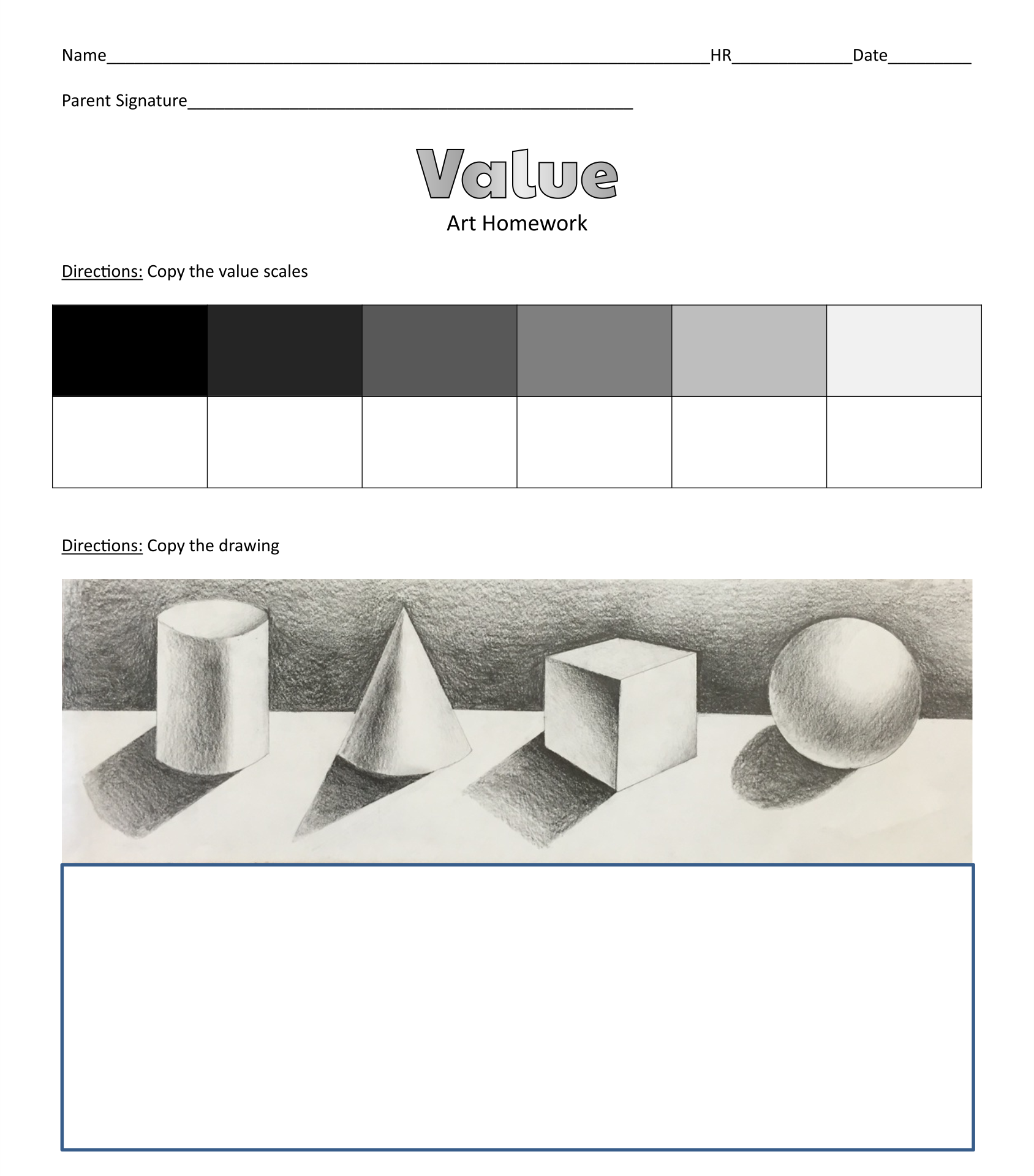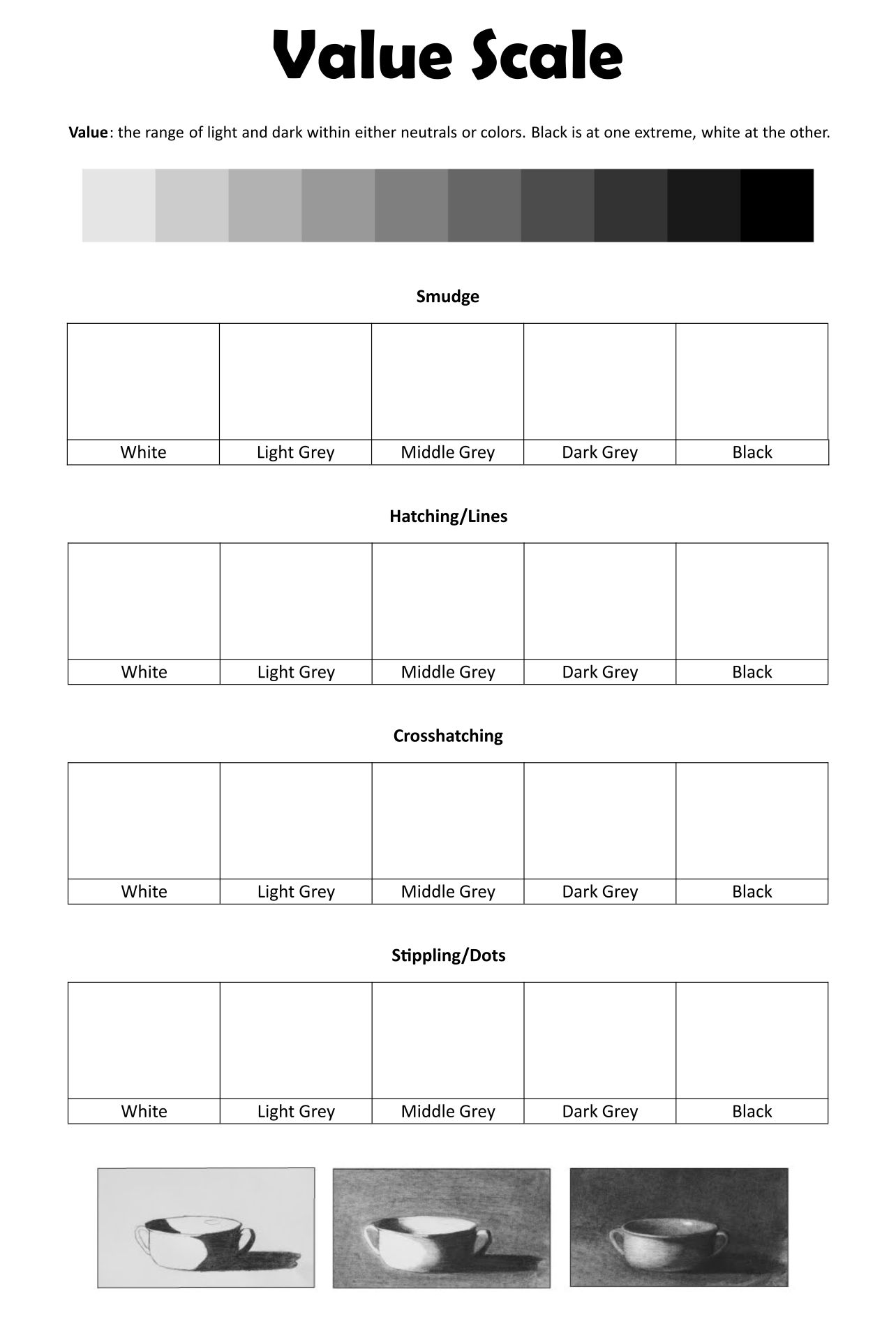 Emphasize the Value of Consistent Practice with Value Scales to Develop Better Understanding and Control of Tonal Values
Constant exposure to value scales sharpens an artist's vision, allowing them to detect minute differences in tonal values within their work. This improved perception translates into an improved ability to capture the essence of light and shadow, resulting in more realistic and visually appealing artworks.
Artists eventually obtain better control over their artistic instruments as they actively work through value scale exercises. Consistent work with a pencil, charcoal, or paintbrush homes the artist's ability to apply variable pressure and accomplish seamless transitions between light and dark tones. This enhanced power results in richer, more nuanced artwork.
Value gradations aid artists in comprehending the fundamentals of adding depth and dimension to their compositions. By mastering tonal values, artists can convincingly depict three-dimensional forms, give life to their subjects, and evoke a sense of realism that enthralls viewers. Similar to how words act as the language of literature, tonal values are the language of visual art. Artists who consistently work with value scales are able to communicate feelings, atmospheres, and stories with more impact and eloquence.
Artists learn through value scale exercises how light interacts with various surfaces to produce highlights, shadows, and midtones. Artists may effectively depict intricate lighting scenarios and increase the intricacy of their work by acquiring a deep understanding of these connections. Value scale practice helps people become more proficient across all media. Any artistic activity benefits greatly from the capacity to manipulate tonal values, whether it be in drawing, painting, digital art, or even sculpting.