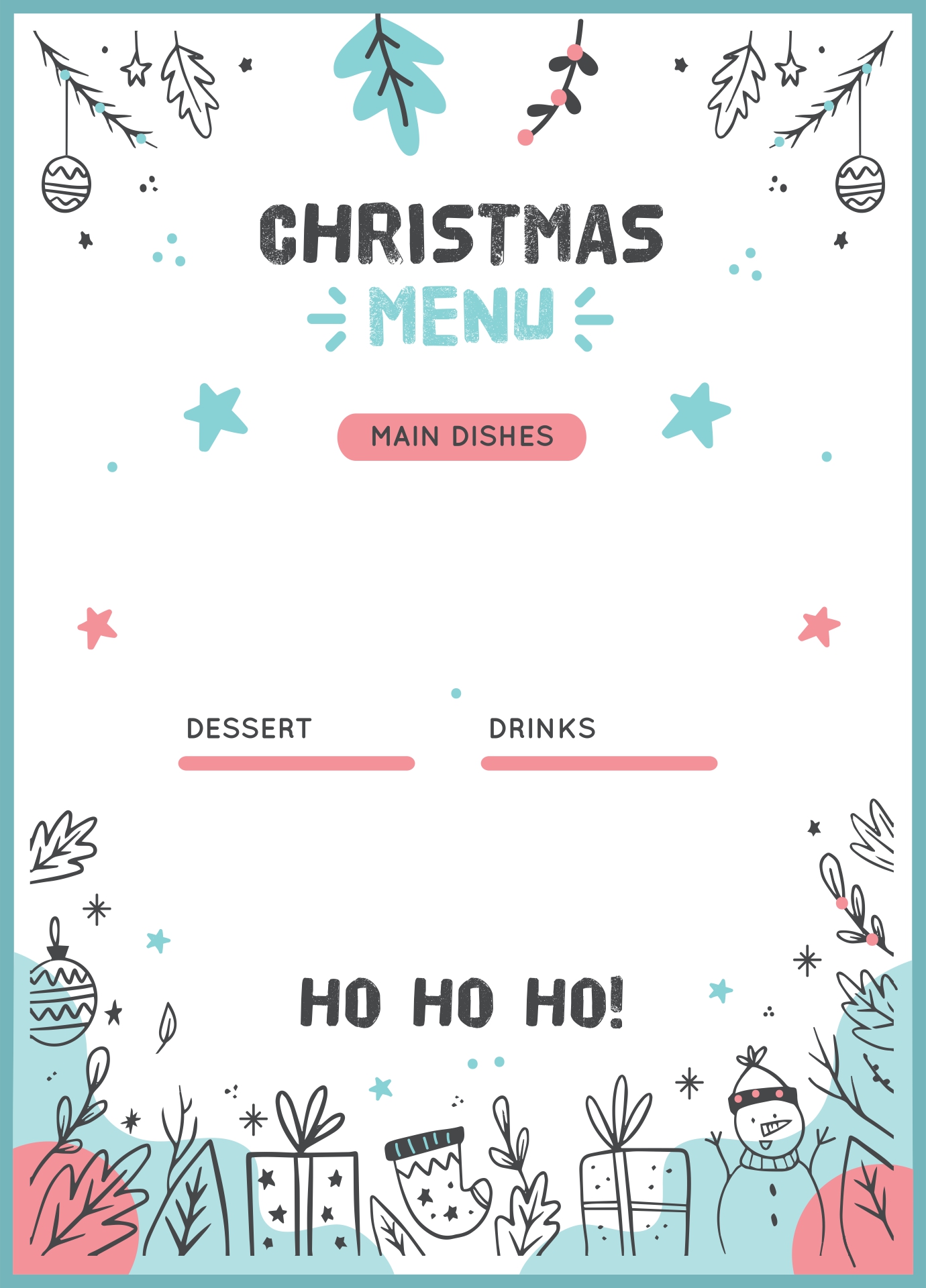 What is served at a Traditional Christmas Dinner?
Christmas dinner is usually served either on the evening of Christmas Eve or on Christmas day. The menu served at the dinner is different in each country or region. For example, in America, some people eat roast turkey as the main dish and they eat gingerbread cookies and drink hot chocolate for dessert. In Austria, people eat goose and chocolate mousse as dessert. In Denmark, most people eat duck for the main dish. In Finland, people eat ham but also fish. In Germany, people eat roast goose and roast carp on Christmas dinner. You see, the tradition can be very different for each country and probably even for each family.
What is a Good Menu for Christmas Dinner?
What has considered a good menu for Christmas dinner is different for everyone. Some families may have their own traditions and stick to them. They also may try something new but still keep the traditional dishes on the menu. But if you are looking for menu ideas, you can try something like baked ham with sugar glaze, cranberry bites, cheese balls, roasted Brussels sprouts, roast beef, steak, roasted potatoes, sweet potato bites, gingerbread cookies, mashed potatoes, salad, sugar cookies, roast chicken, roast turkey, roast duck, goose, etc. You can look up recipes online and you can try different menus for each year.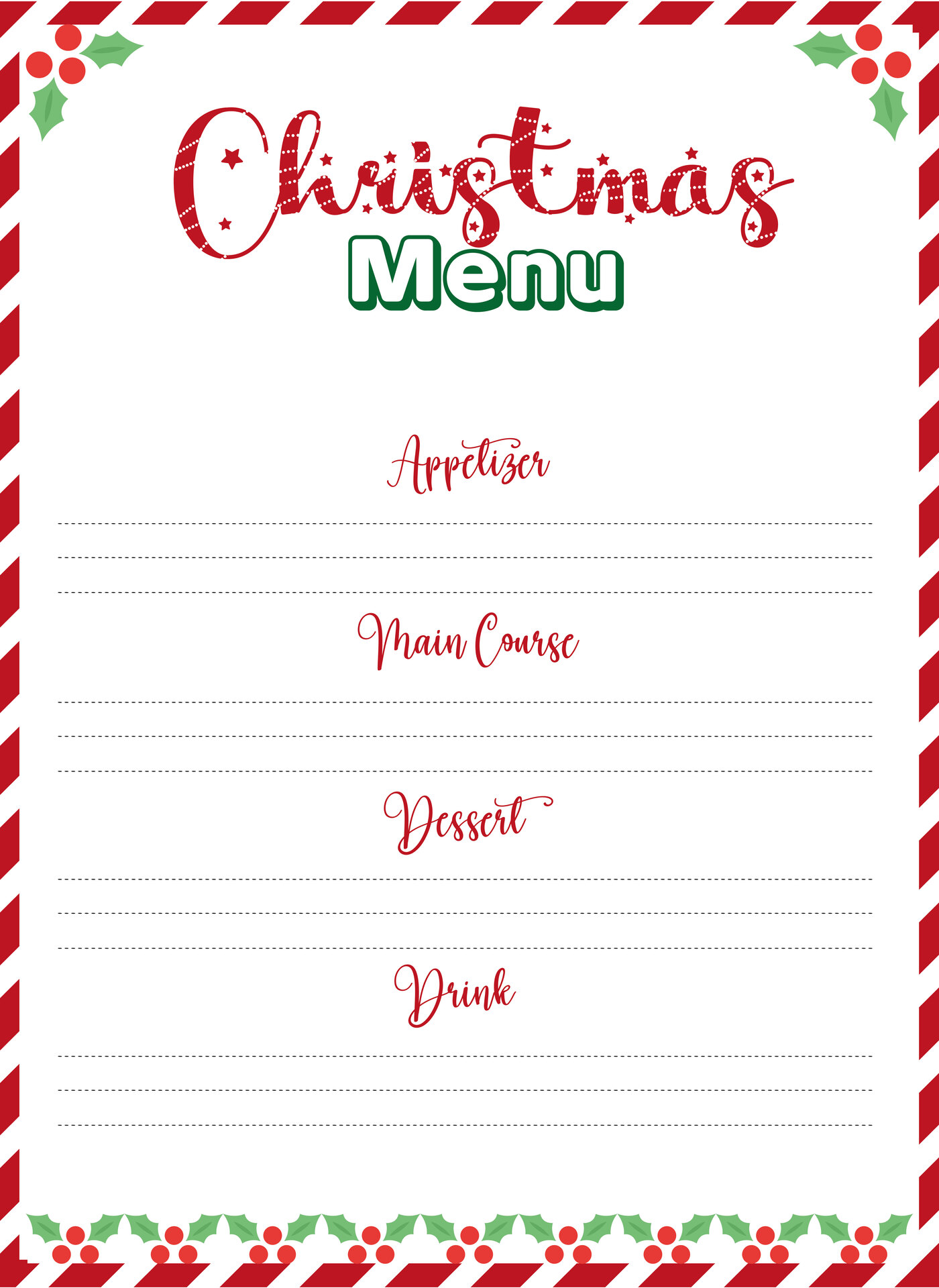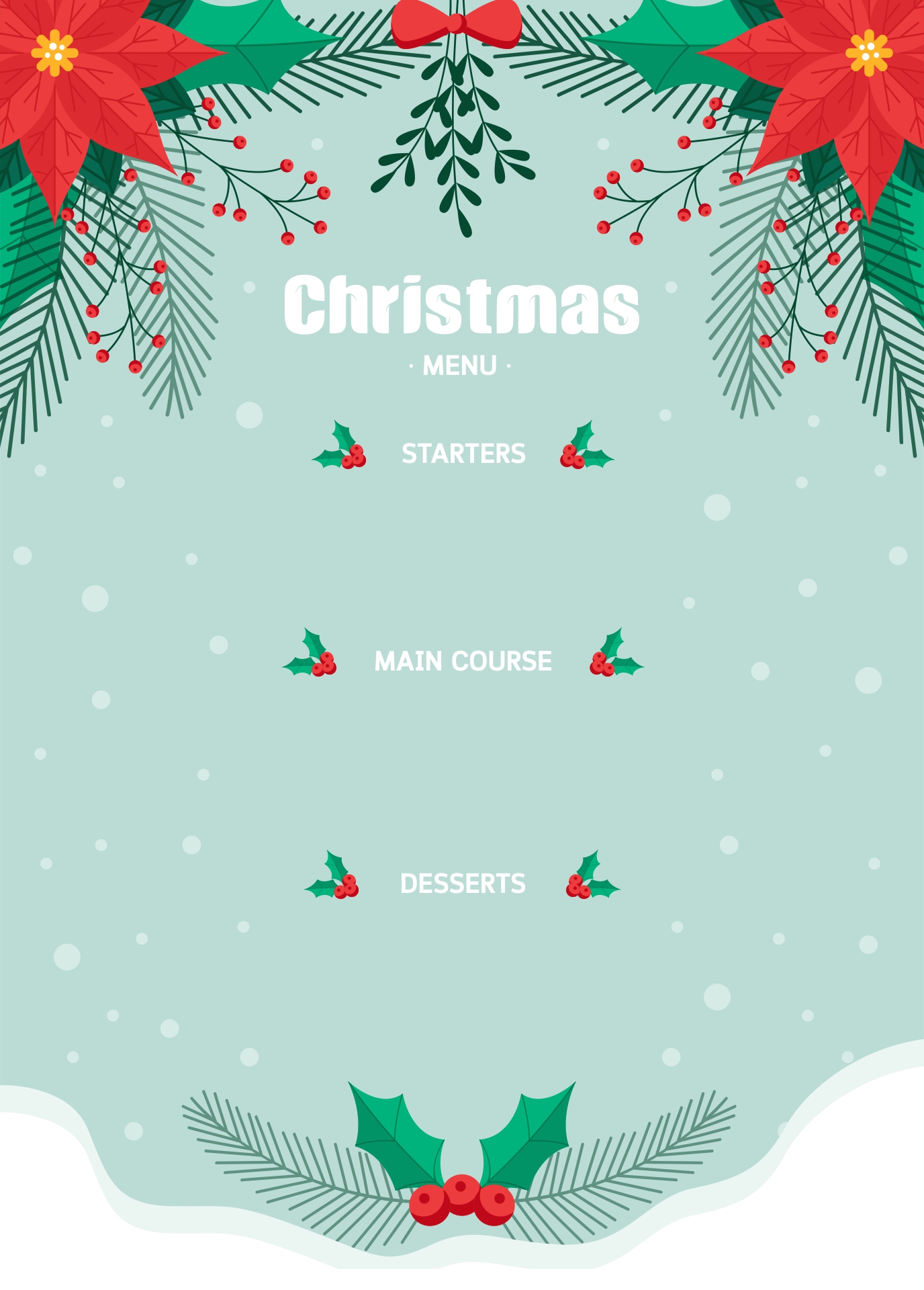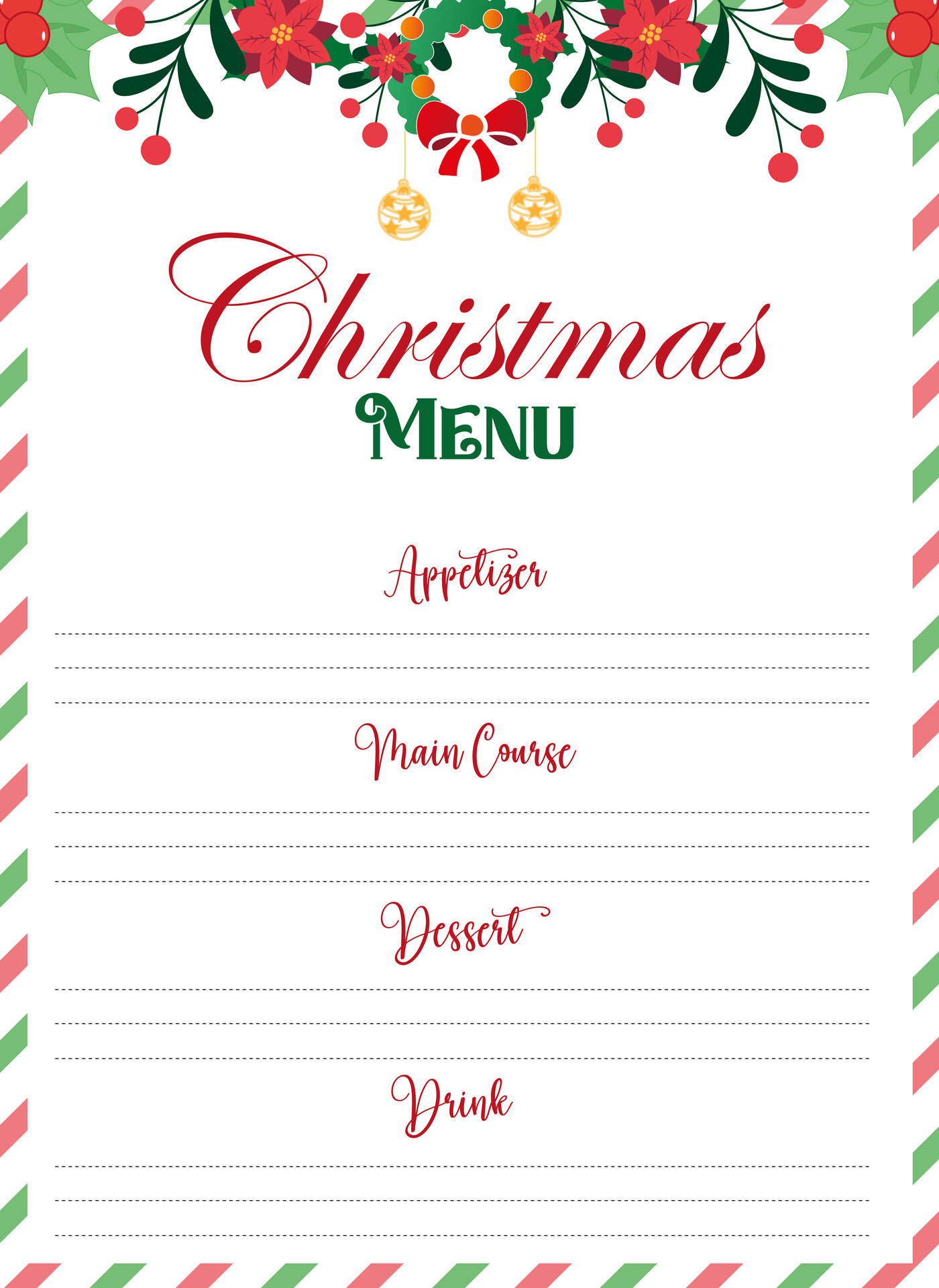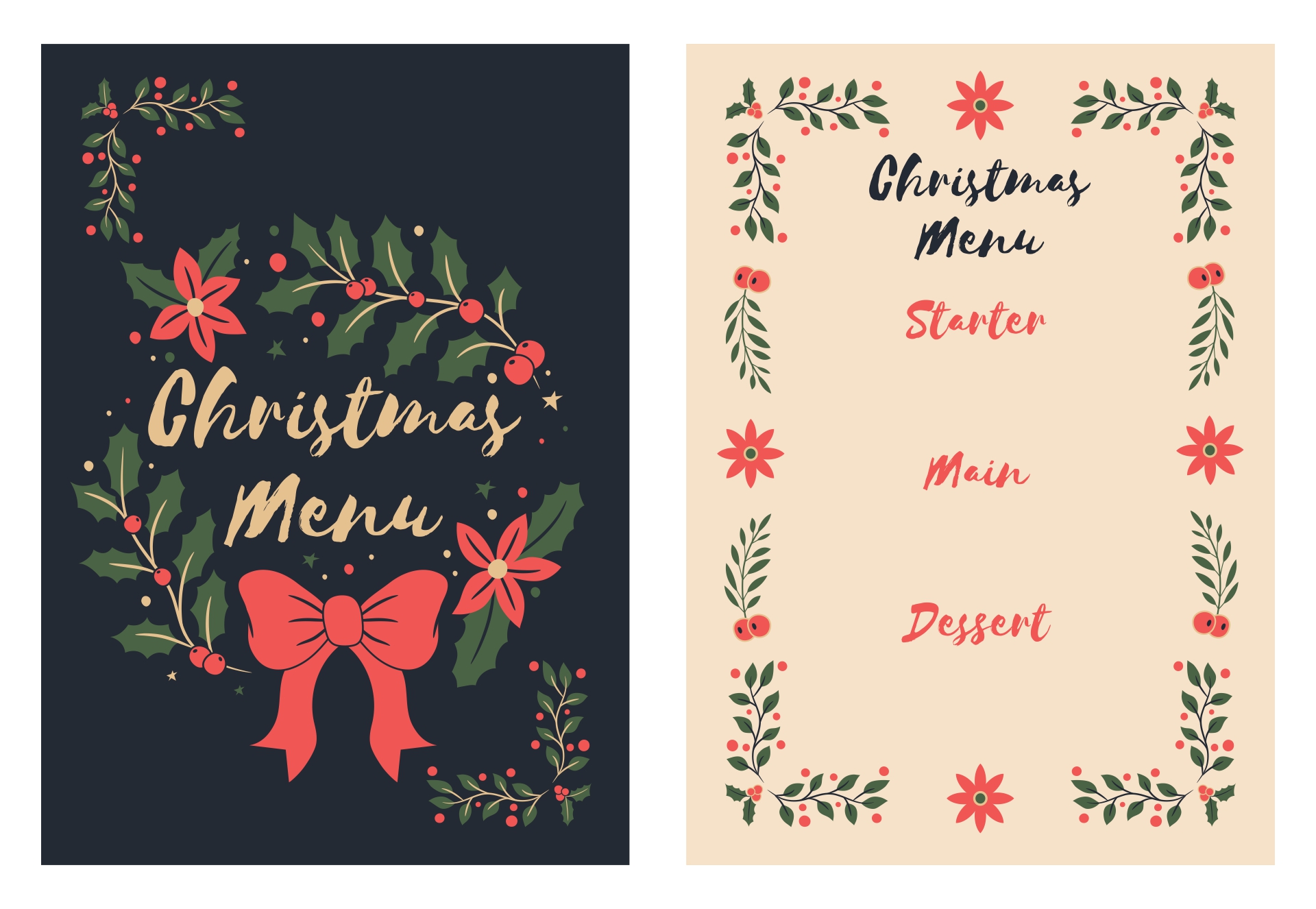 How do You Make Your Christmas Dinner Menu?
Once you decide on what dish to make, you may want to make your Christmas dinner menu. You can do it using a menu template that you can find online. You can use some of the templates for free. You can use free designing service websites or apps. You can use a certain amount of templates provided on the sites or apps. Once you pick the template you can edit it starting from the background. Choose a background that serves you the most. You can choose either a light or dark background. After that, you can start to adjust the fonts. Choose a font that complements the background but also easy to read. After that, you can type your own menu starting from the appetizer, main dish, to the desserts. Once you're happy with the text, you can add some decorations such as Christmas lights or garlands. Print it in a nice thick paper and place it on the dinner table.
---
More printable images tagged with: