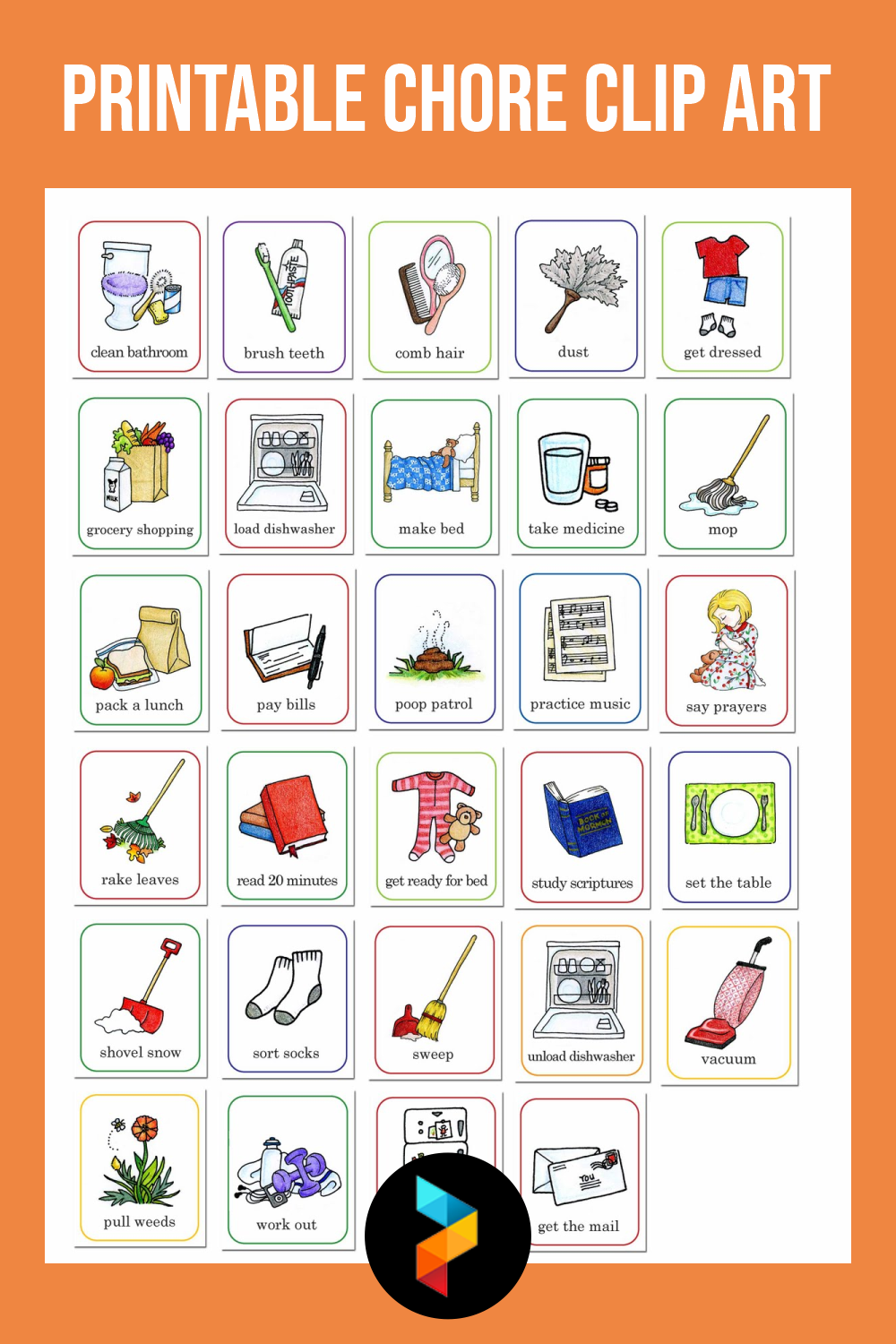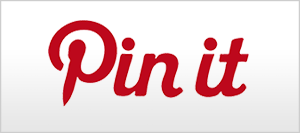 Printable Chore Clip Art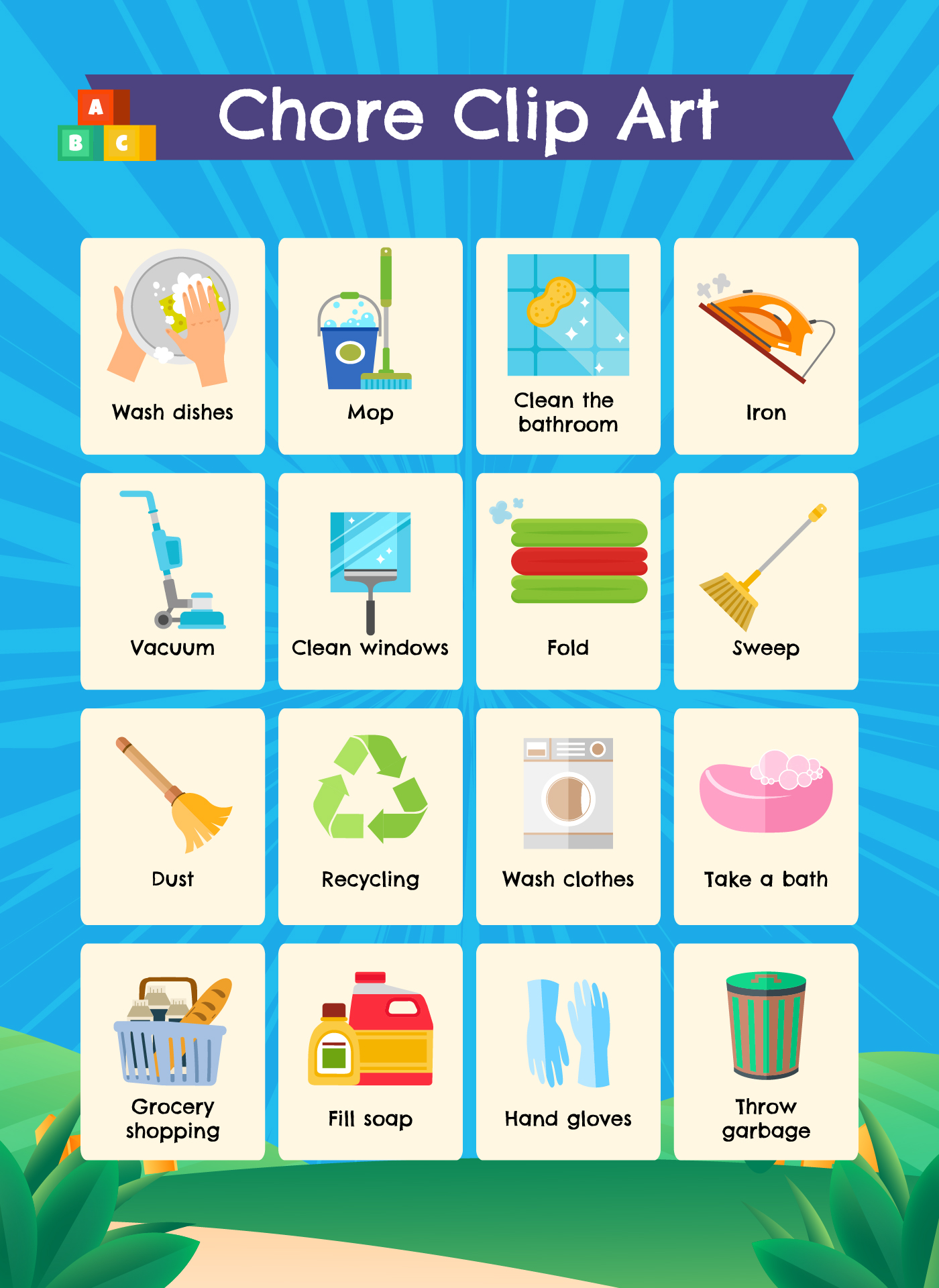 What is Chore Clip Art?
Chore clip art is digital images or graphics that depicting various household chores or tasks. It is a collection of ready-made pictures or drawings that may be used in books, presentations, websites, and other printed or digital publications.
Images of chores like sweeping, mopping, doing the dishes, vacuuming, laundry, gardening, and other activities typically connected with keeping a clean and orderly home are included in chore clip art.
The Purpose of Chore Clip Art
Clip art can be used for a range of tasks, such as constructing chore schedules for kids, designing teaching materials about housework, or inserting graphic components in articles about housekeeping or cleaning.
What is the Importance of Chores for Kids?
The importance of chores for kids is related to the various benefits that they can get. All of these benefits are related to basic skills that will be useful for their lives when they grow up.
By doing easy chores, children will be able to get basic life skills. The reason is, they will become adults and cannot get help from their parents anymore. By teaching chores to children, they will be able to do various household tasks such as sweeping, washing dishes and clothes, mopping, and so on.


Chores are also important for children because they can make children have good independence and responsibility. This is because they have several household chores to do every day. It can also help children to be more productive and not just lazy at home.


Chores can make a good awareness for children. So, when things are messy, they won't wait for you to clean it up. They will clean it by themselves because they realize that it is the responsibility of all family members to make the house look clean.


Chores also help children to have respect for others. The reason is, they have to help you to clean the house every day so they will understand that cleaning the house is a tiring task. In that way, they can respect other people who have also cleaned the house and won't make the house dirty.


Teaching kids about chores from an early age can make them have a good work ethic. These are needed in school and work. So, it will help the children in their future.


Chores can also help children to do good time management and make plans. These two skills are very important for children.


By doing household chores with their parents, children can create good relationships and communication with their parents.
What Chores Can Be Given to Children?
Even though chores are good for children, you shouldn't give all household chores to children. Start teaching the chores to the children with the easiest. Here are some lists of chores that you can give children.
Children aged 2-3 years or toddlers can do some chores like helping tidy up their toys and putting clothes in the washing machine. If you have pets in your house, you can teach them to give food and drink to these pets every day.


Preschoolers aged 4-5 years can do some basic chores such as hanging clothes, feeding the pets, sweeping the floor, helping to prepare food at the table, watering the plants, washing the dishes, and taking out the trash.


Meanwhile, for children over 5 years old, several household chores can be taught are washing clothes, mopping floors, drying clothes, and cleaning toilets. You can also ask them to cook together and go grocery shopping.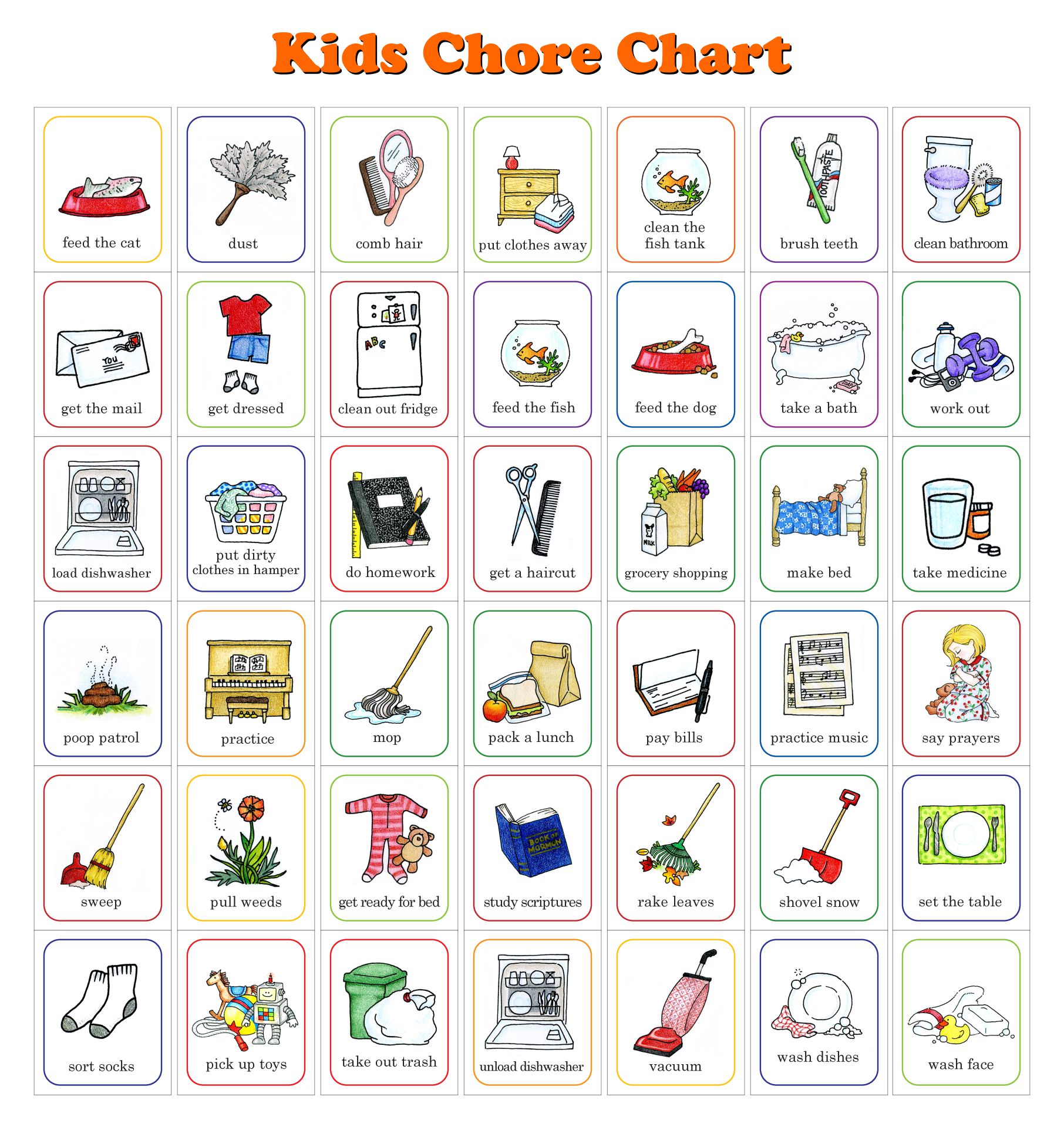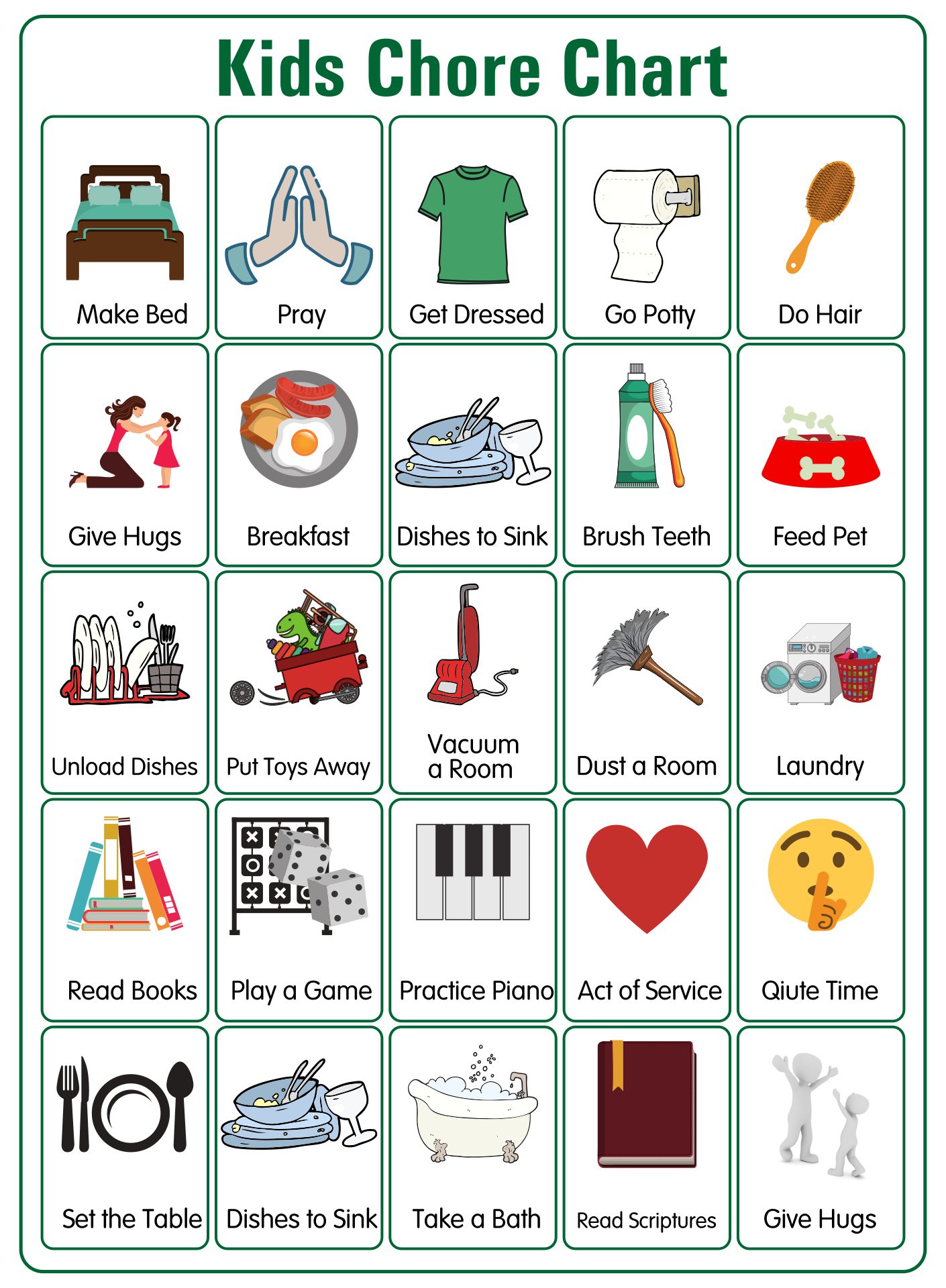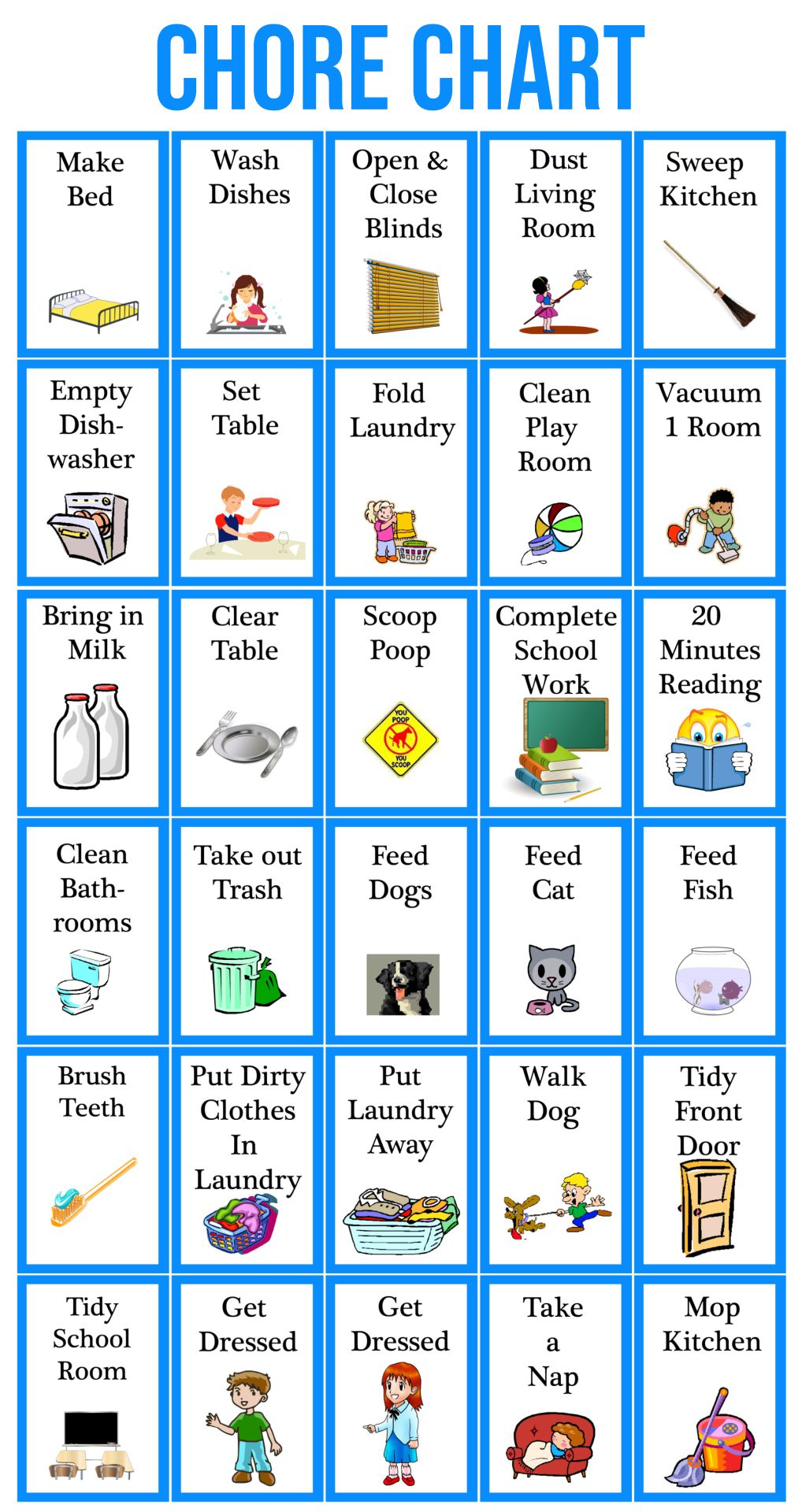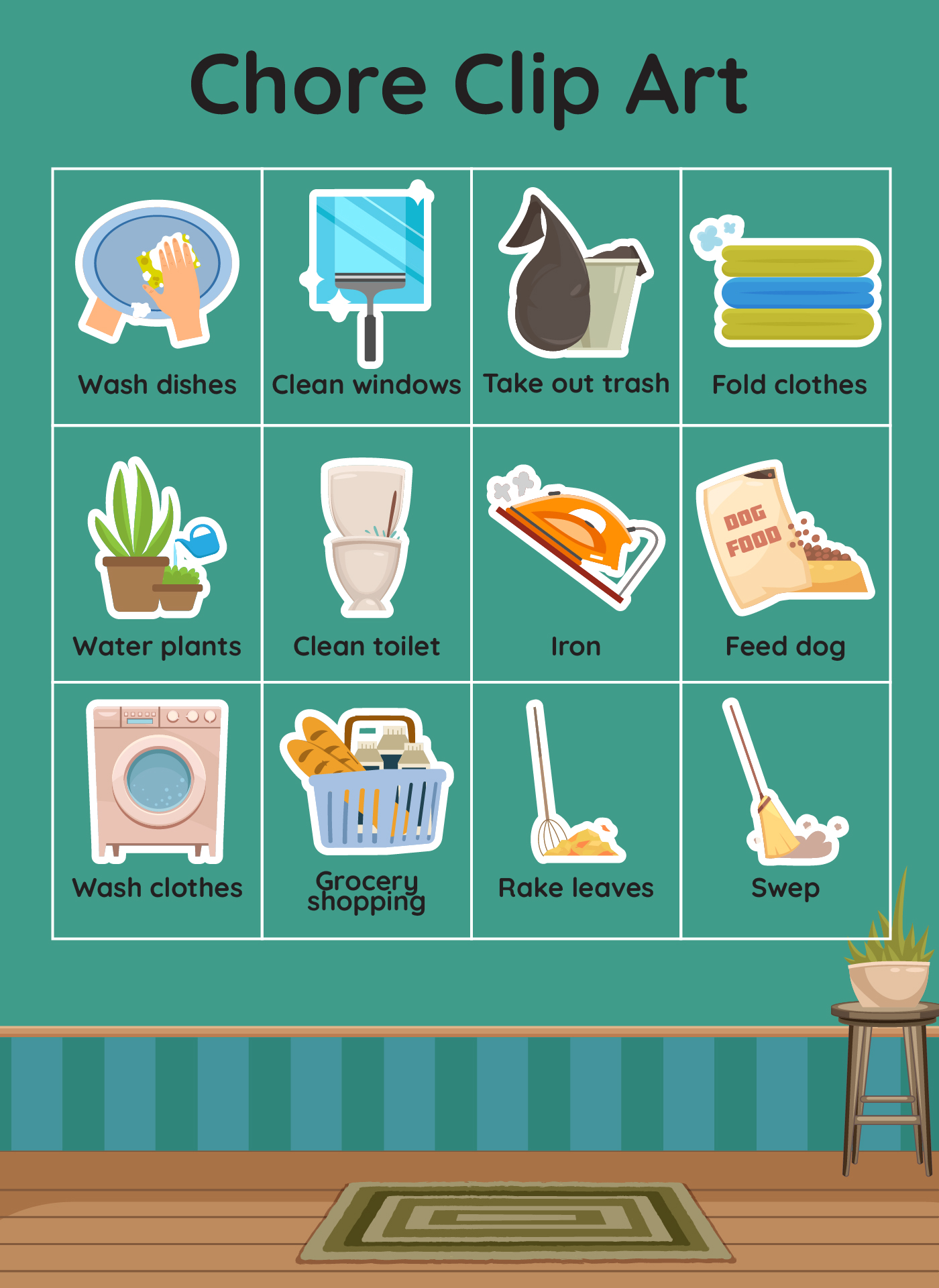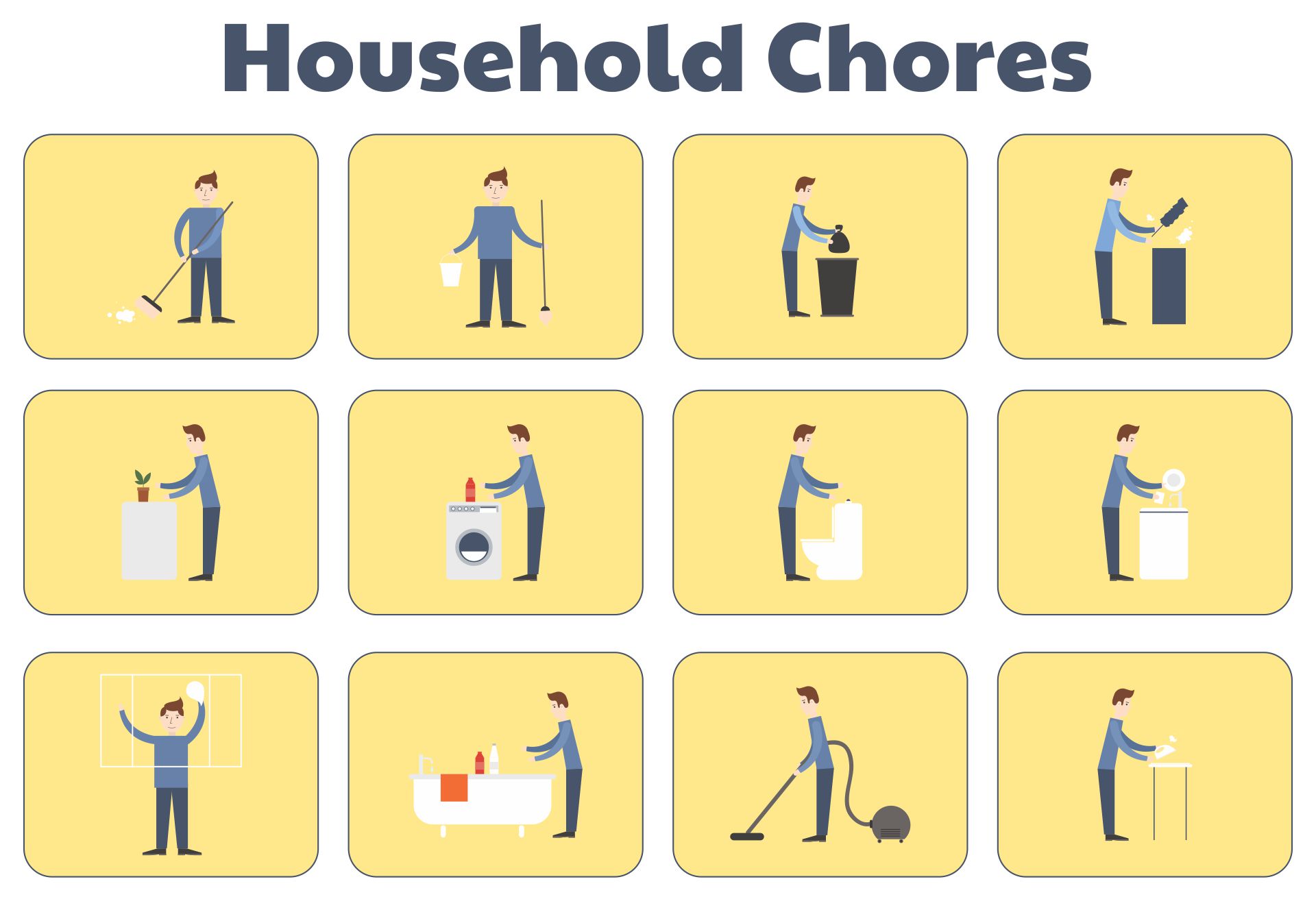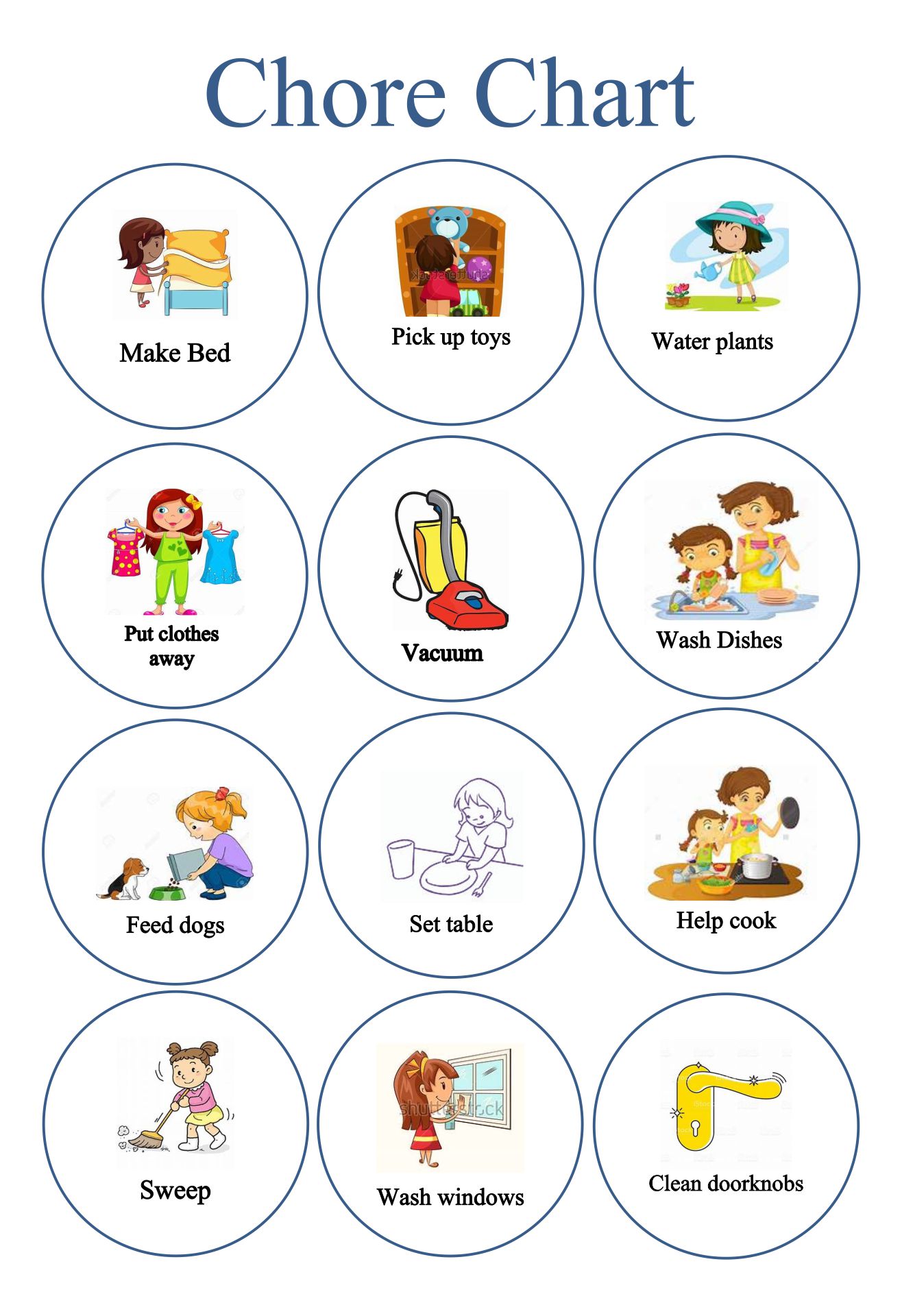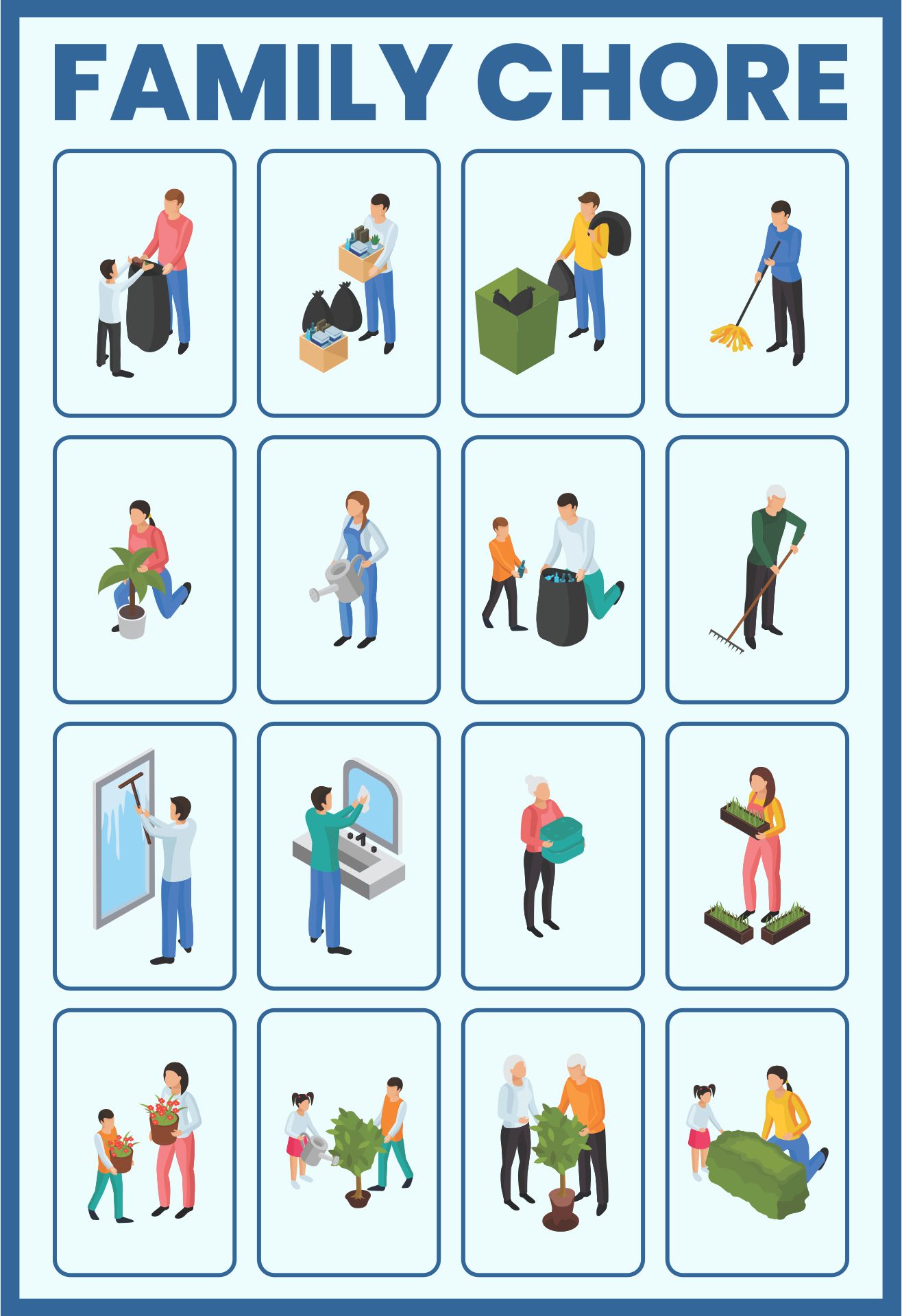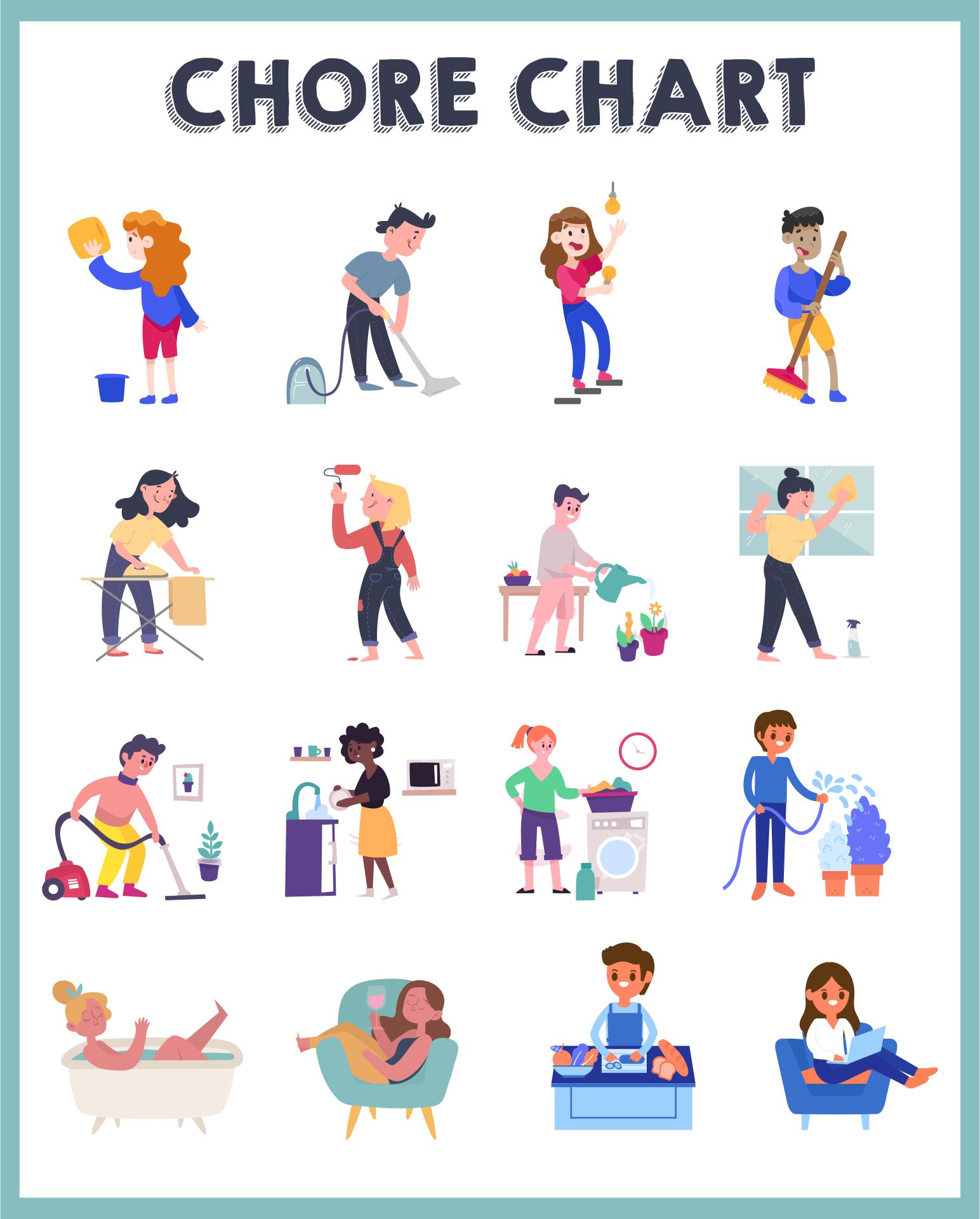 How to Teach and Involve Kids to Do Chores?
To help children do all of those household chores, you need to do some ways to involve them in doing various household chores. For example, you can make chore charts to discipline the kids.
It will be better if you do the chores together with the children and supervise them. So, here are some tips for you to teach and involve them to do chores.
Give them the chores details. With detailed chores, children will understand what they have to do. Make a daily schedule of chores and use chore charts which contain various household chore lists for children to do. The chart has an attractive design. You just need to download and print it.


The most important thing in doing chores is consistency. Therefore, you need to teach children about consistency. When they are lazy to do the chores, you can start the chores and ask the children to help you. In this way, children will not refuse to do it.


If the children do other chores besides the chores you have given to them, let them do them. It can increase their enthusiasm for doing the chores.


Discuss the chores with the children. Ask them if they can do that to-do list or not. So, you can find out what chores are liked and disliked by children. The best way to get kids to enjoy doing chores is to teach them the chores they like the most and the easiest first.


You should consider the timing of the chores. You can ask the children to do the chores after they come home from school or after they finish playing.


You should involve all family members in the household chores. It can make them more enthusiastic about doing the chores.
Here's How to Motivate Kids in Doing Chores
Motivating children to do housework can be difficult, but with the correct attitude, it can become a positive and educational experience. Make a task chart or a list outlining their obligations. Be explicit about what needs to be done, when it needs to be done, and how.
Be Careful, Avoid this Common Mistakes!
One typical error is giving children duties that are above their ability or that require too much time. As they mature and acquire expertise, it's critical to progressively present increasingly challenging activities. Give kids room to do activities on their own; if you hover over them, they can get discouraged.
Make sure they are aware of the proper and safe way to complete the task. Take into account their suggestions and include them in choosing their duties. Avoid activities that could endanger their safety.
So, those are all reasons why kids need to do chores. By teaching children about household chores from an early age, they will be able to have good attitudes in the future. Patience is key; remember that they are learning and improving over time. We hope that the provided printable chore clip art can help you directing your son or daughter in carrying out their household duties. Let them give a shot!