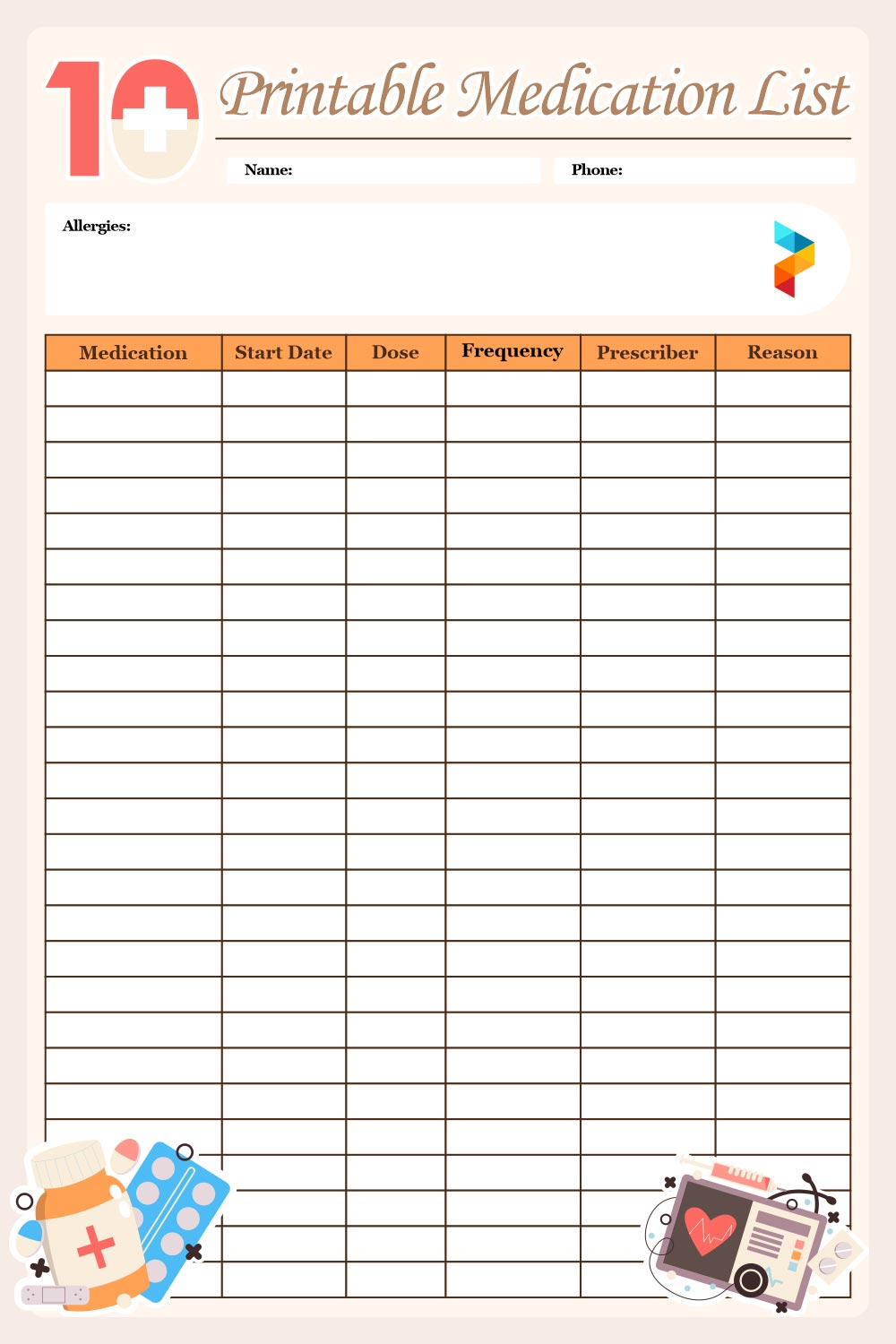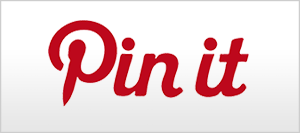 Printable Medication List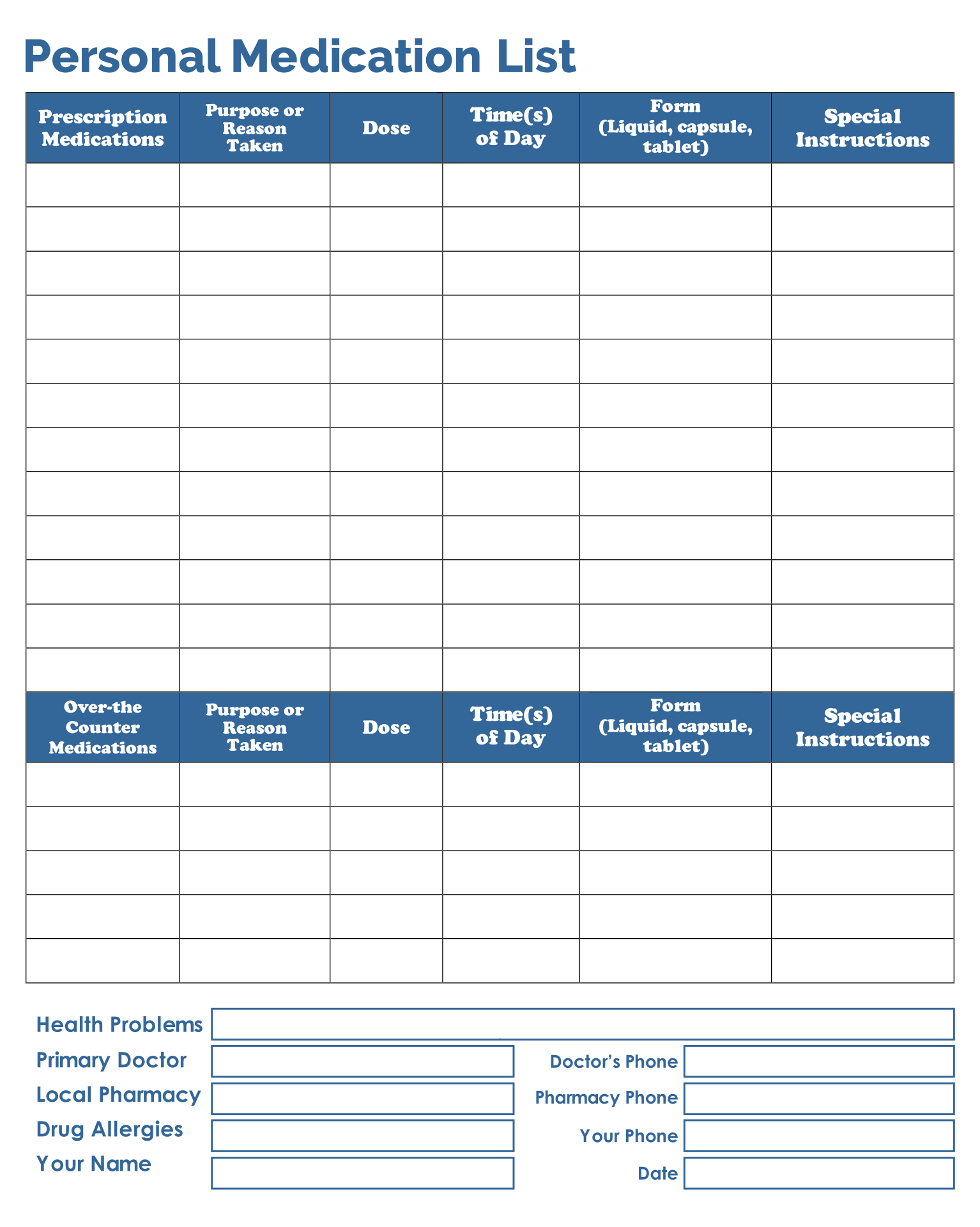 How important medication list is?
Which item in your wallet is the most important? The most crucial, yet frequently ignored, item you should bring is an up-to-date and accurate list of your medications. It simply takes a few minutes to put together and could help medical personnel treat you or a loved one in an urgent situation. Life does not always go as planned. When an emergency happens, we must ask for assistance from the nearest hospital.
Furthermore, by maintaining an up-to-date list of medicines easily accessible and with you at all times, you are actively participating in your treatment, offering critical information to medical personnel, and allowing them to identify the best course of action. The medication list also serves as a guide for what medications to take as well as other details like dosage and when to take the medication, all of which imply that the medication list should be owned and carried by everyone.
It is also required for those who are elderly. Unexpected incidents can happen to anyone, not just the elderly. As a result, the medication list can be classified as an important type of note for individuals. You can have this prepare not only for yourself but also for your family members to keep them away from unwanted medical treatment outside the house.
What are the things that need to be considered when having a medication list?
For some people, a medication list has become a necessary and significant thing. People with a history of the disease who must take medicine when outpatient are the ones in question. Furthermore, the people who carry the medication list are typically persons who forget or are unfamiliar with the medications they need to take. As a result, it's critical that people keep track of the medications they need to take using the medication list.
The medicine list itself can take the shape of a handwritten note, a customized notebook, or even digital notes or an app. It is based on the preferences of the person. Then there's the matter of paying attention to what needs to be known and being alert when someone has a medication list. Things to keep in mind include having a medication record book to keep track of all your medications and any allergies you may have.
Then, whenever you see your doctor or pharmacist, bring your medication list with you. To avoid shredding, becoming wet, and being damaged, ensure sure the medication list or medicine record book is kept out of reach of children. To limit the danger of loss, it is also necessary to provide a backup medicine list.
One thing people who use a paper-based medication list can do is make a copy of the medication list's notebook. Meanwhile, it is highly suggested that people who use a digital reminder medication list create a memory backup for the reminder. So, those are the things to consider when it comes to the medication list because the drugs included on the medication list play a significant role in our bodies and health situations.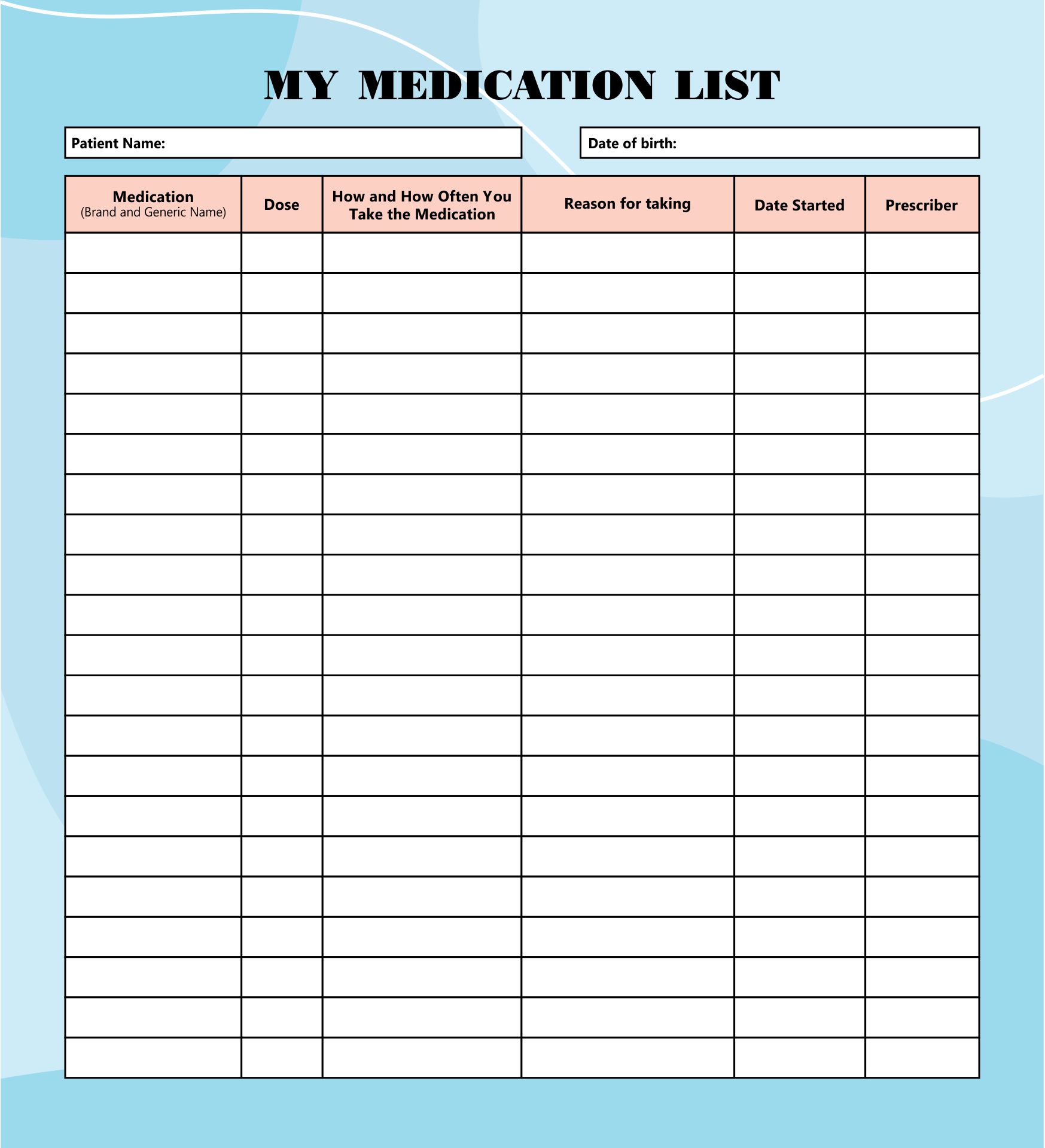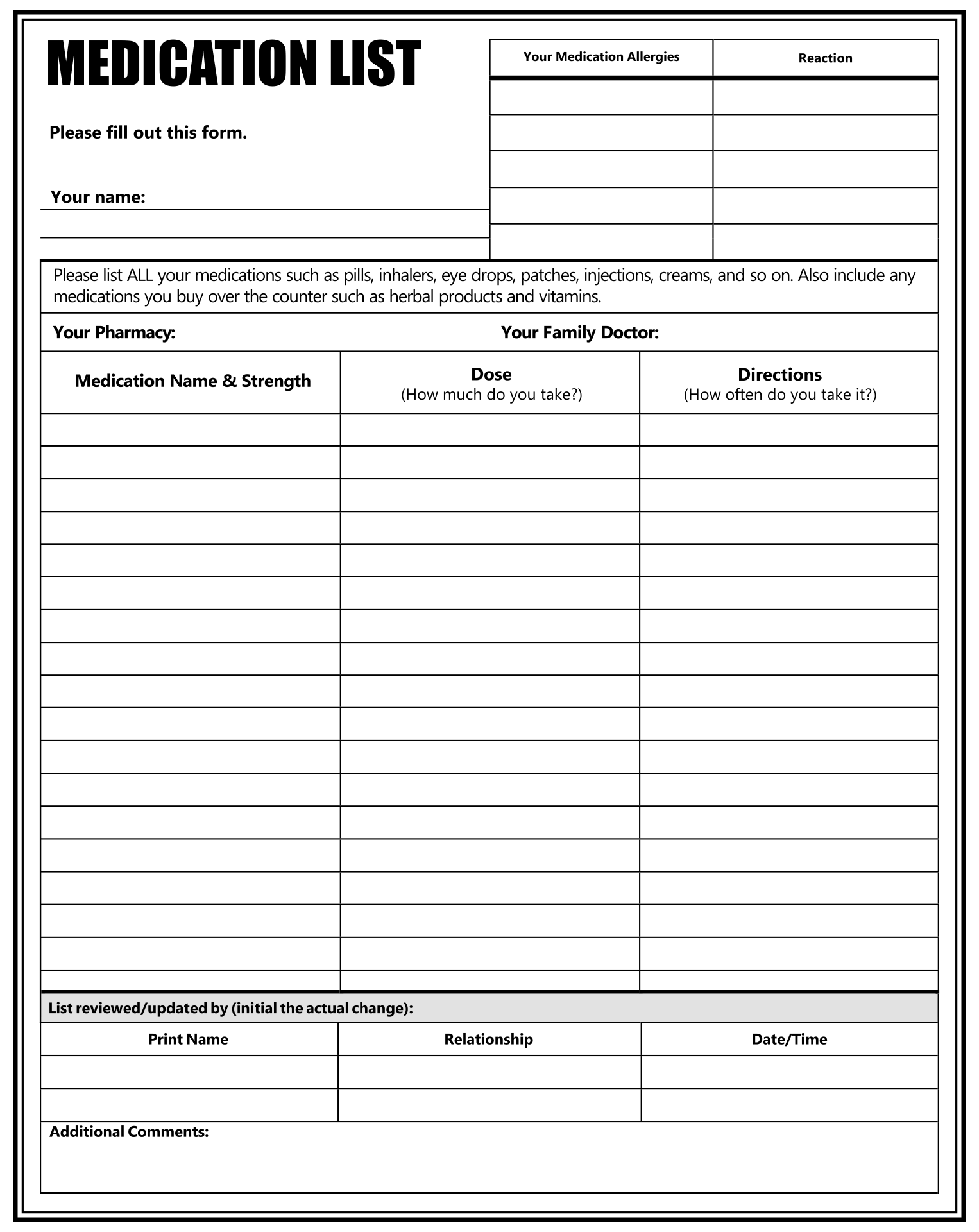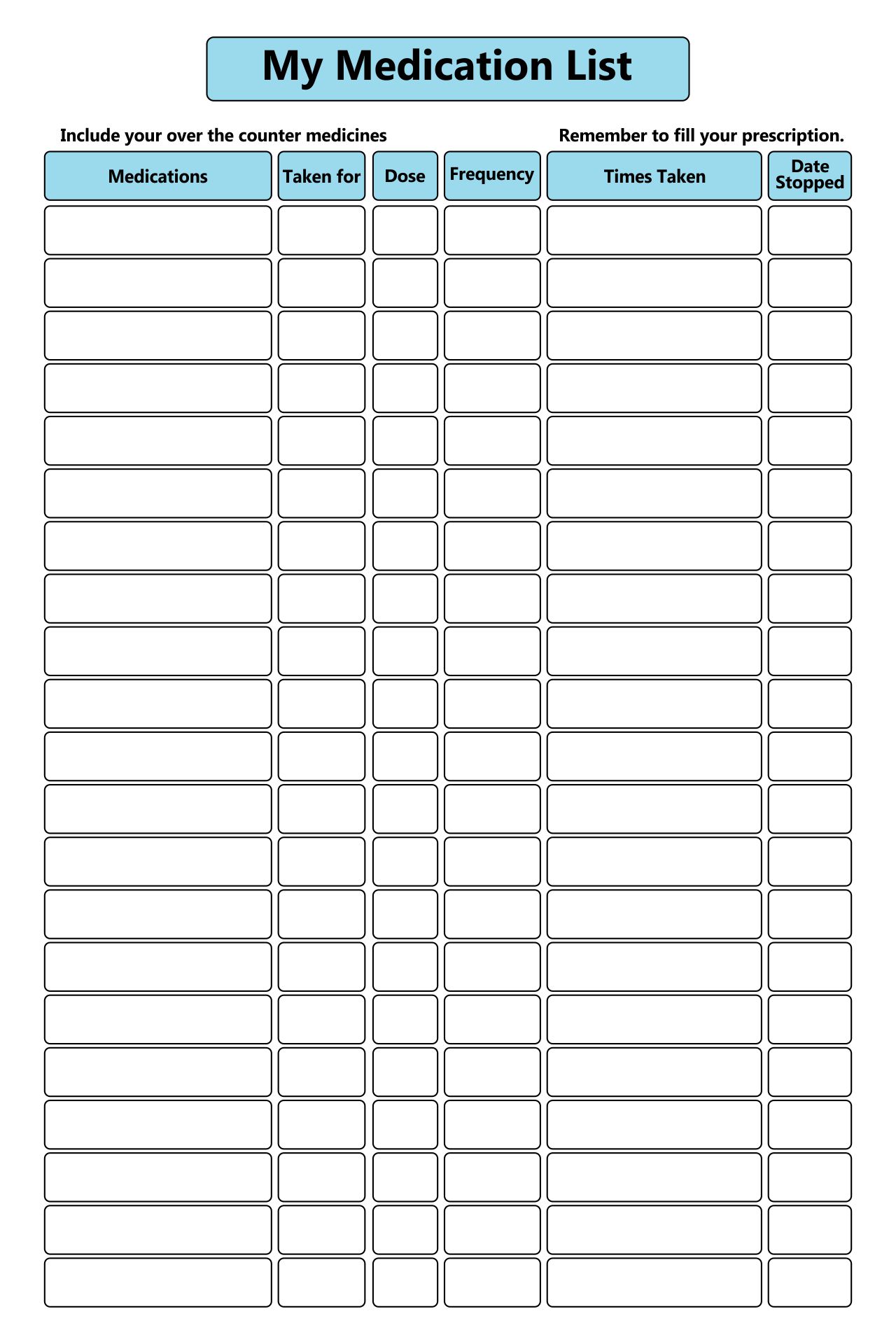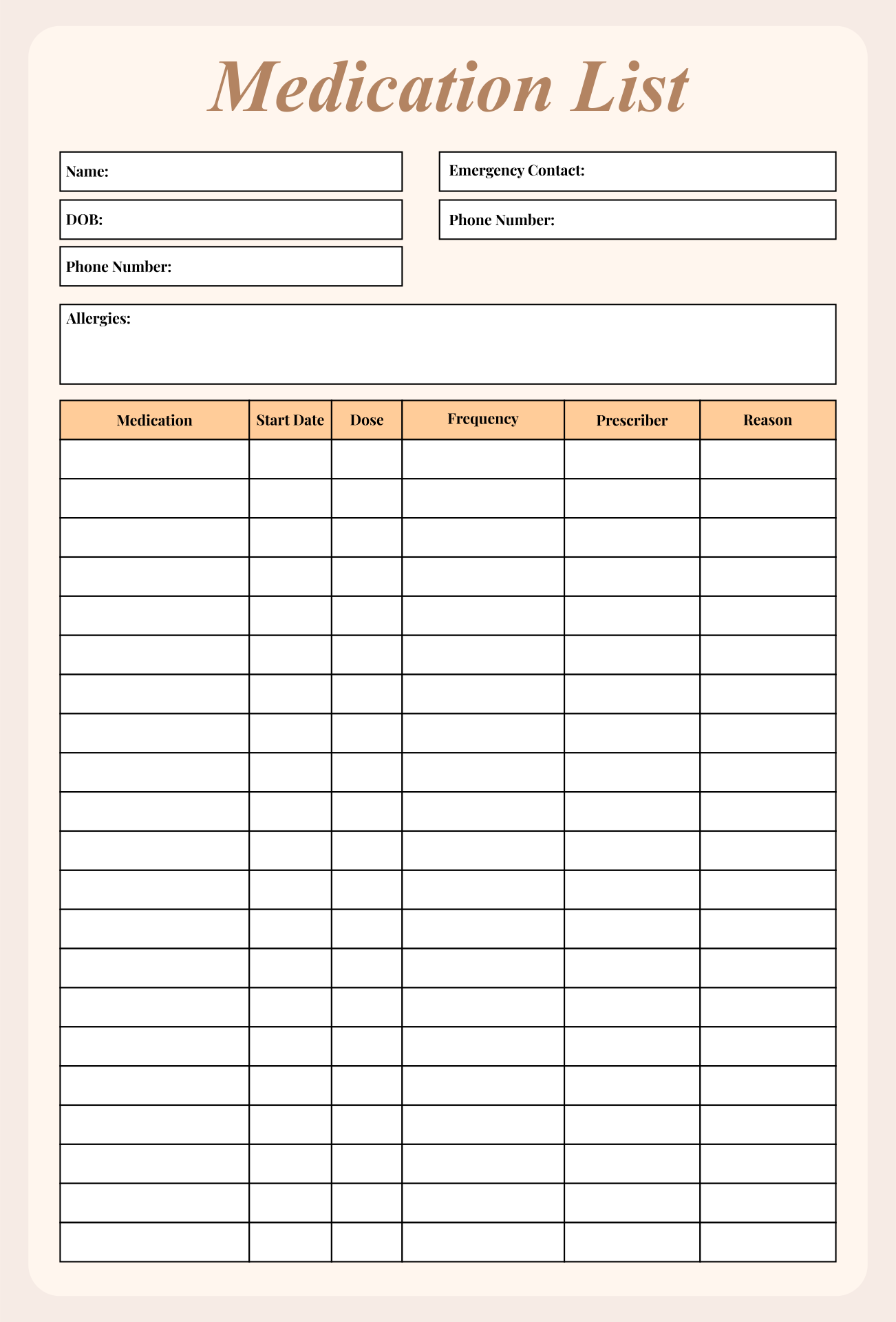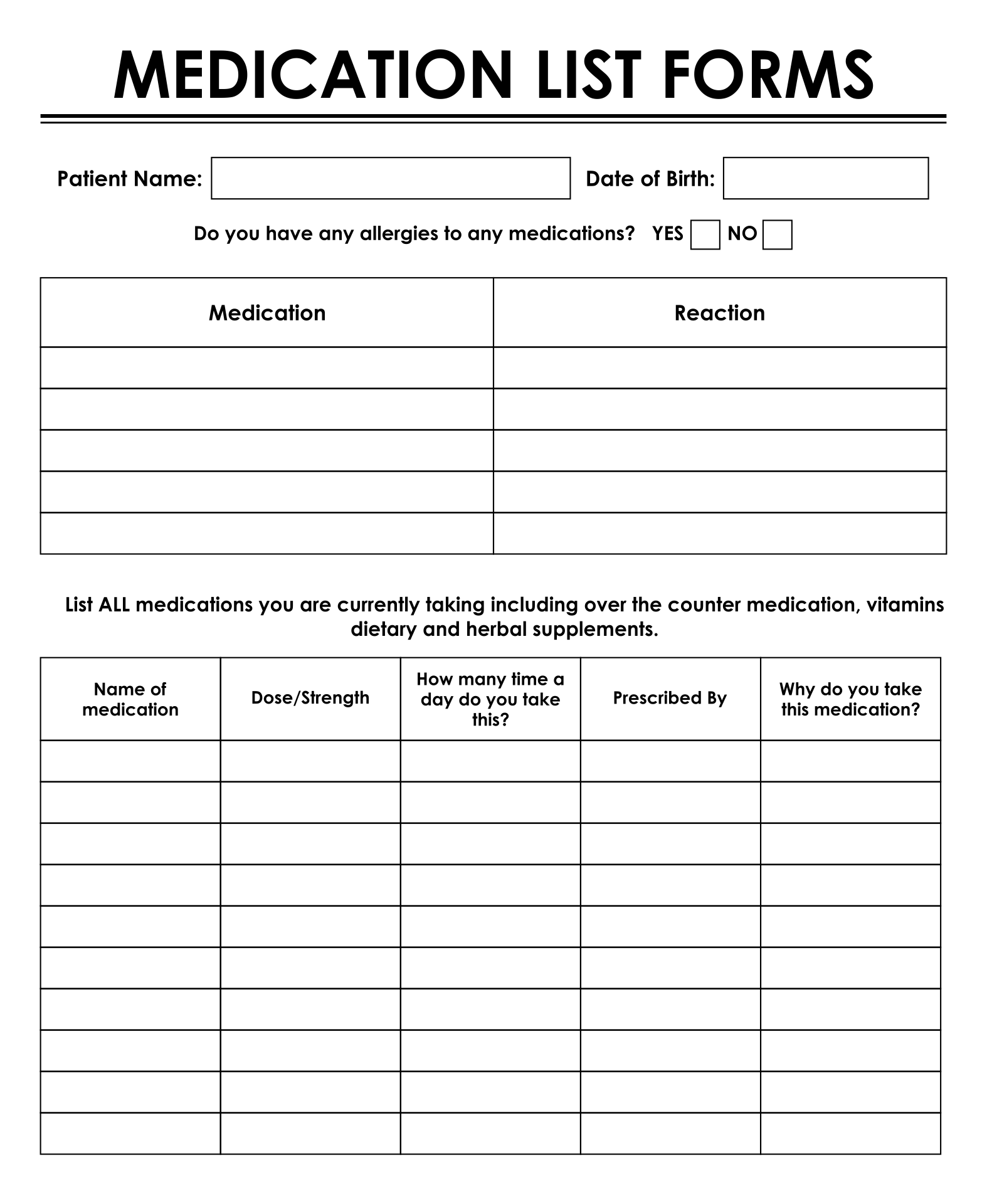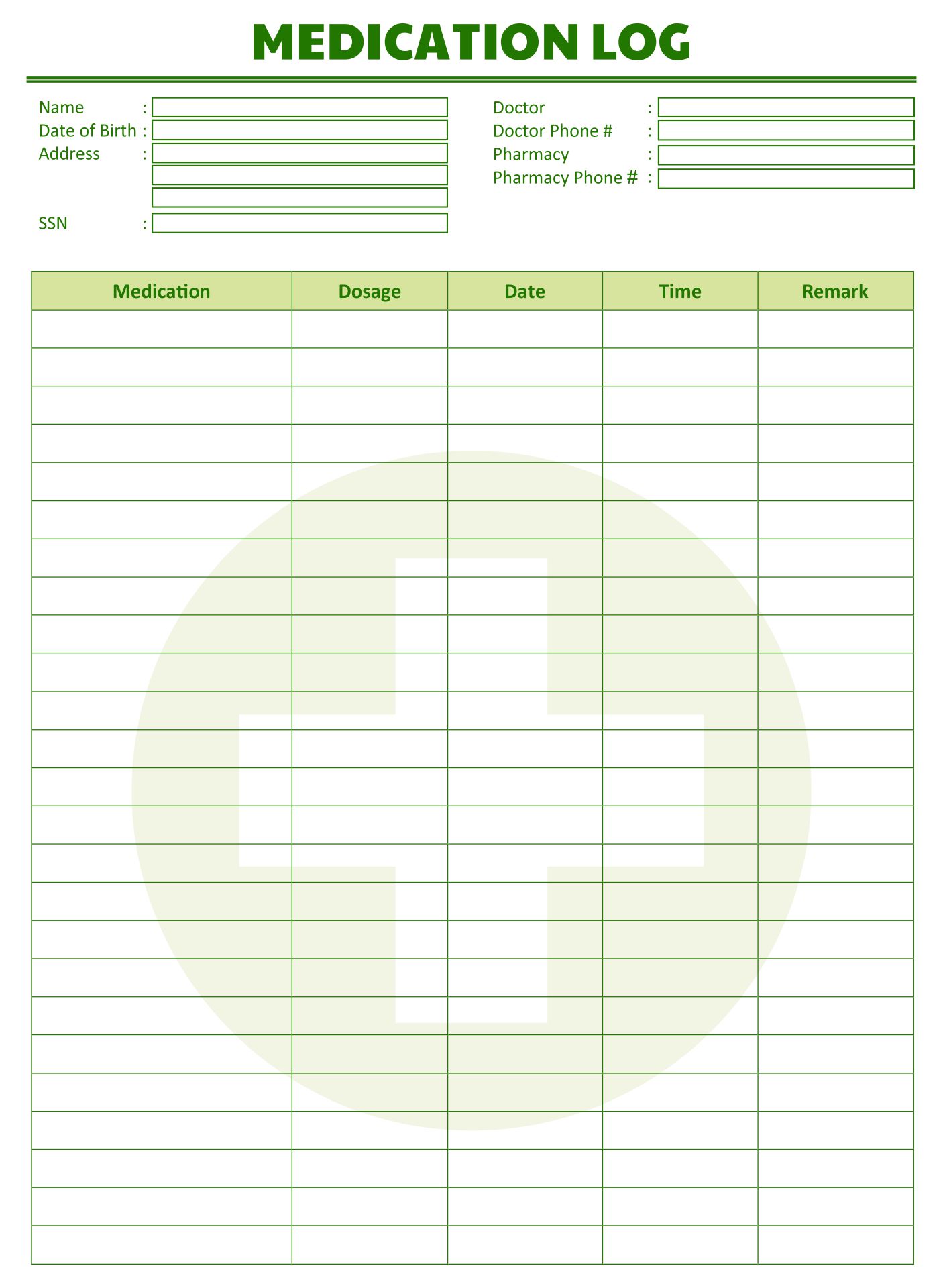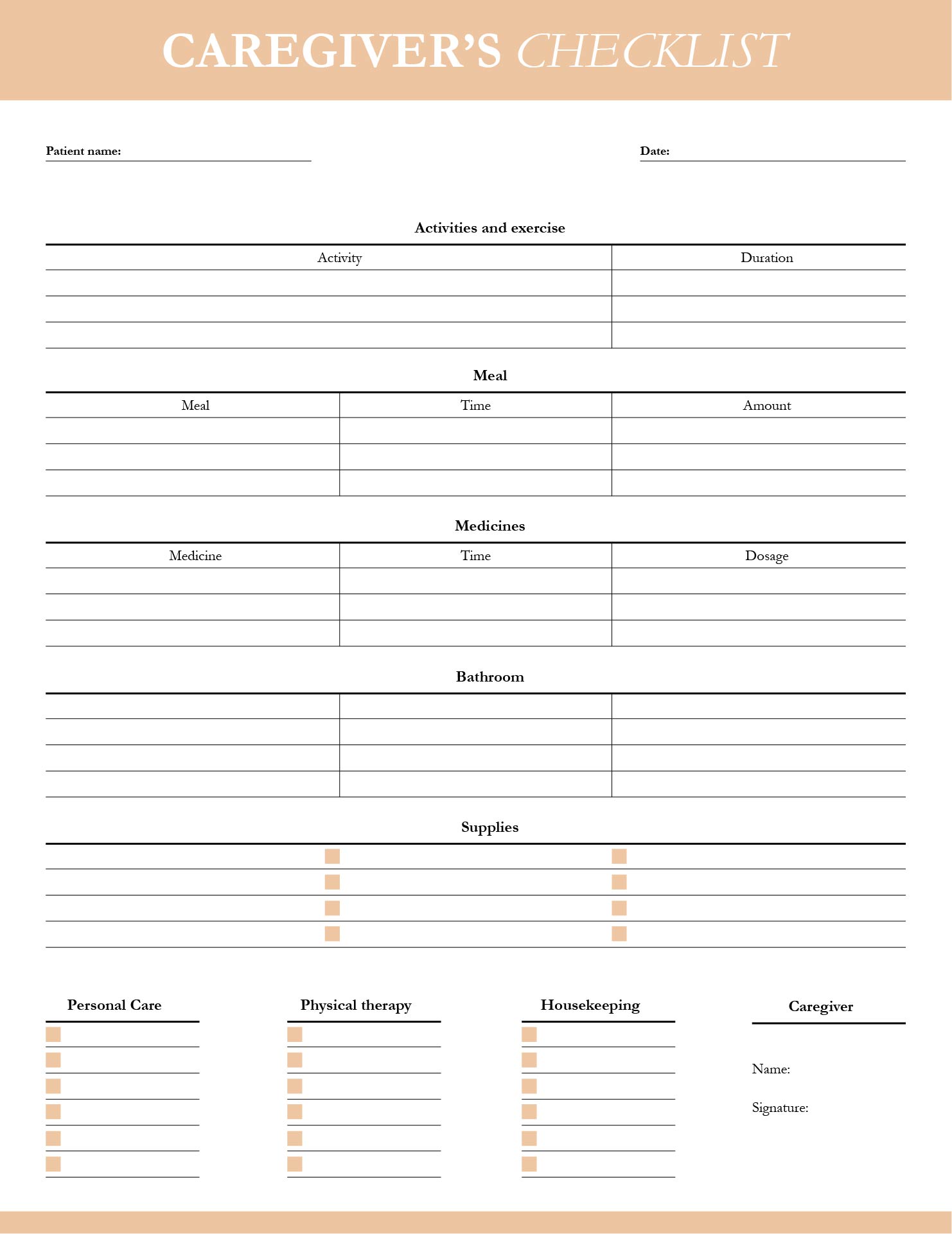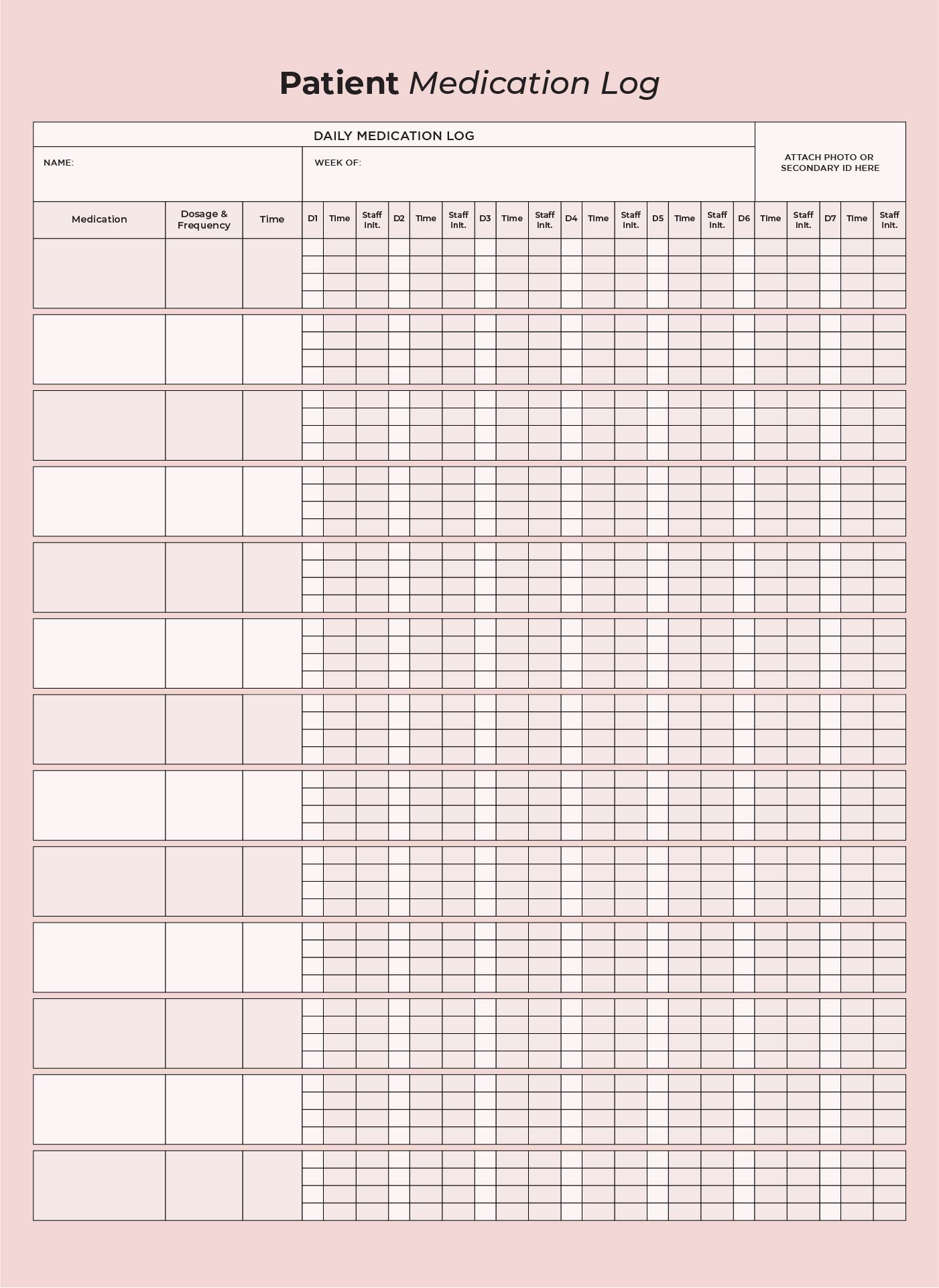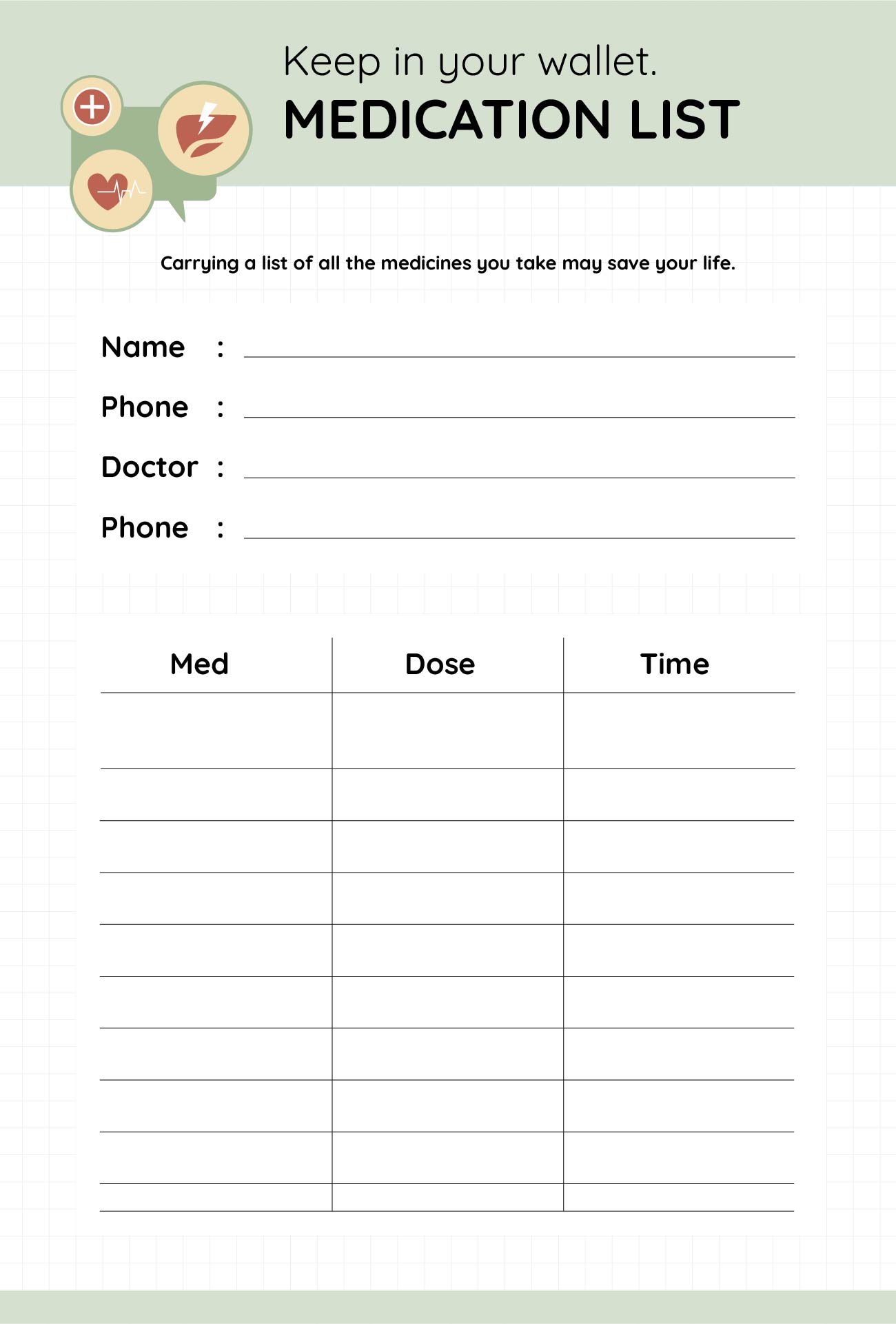 What are some of the most well-known medication reminder apps?
On smartphones, iOS and Google Play both have well over 300,000 health-related apps. The majority of these applications require you to put in each of your medicines. You enter the name of the drug, the dose, just how many you consume it, and when you'd want to be notified to take it for each one. You might also have concerns about data security or who has access to the information you share in an app.
We recommend that you read the app's terms of service to see whether they appear to be appropriate for your specific needs. Therefore, here is a recommendation for a well-known app that can be useful since it is about medication lists. We can call it Medisafe. It has been in operating for nearly 10 years. Many people like it because it is free to use. You could enter your prescriptions into the program, just as we instructed before.
The software creates a report of when you took each of your prescriptions after you enter all of them. You may share the details with a family member or caregiver if you want. They can verify to see whether the doses are missed. Medisafe can also alert you when you're running low on prescriptions and need to get some. It can also advise you about prescription interactions, such as avoiding certain meals or alcoholic drinks while taking certain medications.
If you want to choose, you also could update health data in the app, such as your blood pressure. As the evolution of technology grows, there are many things to be done easily online and straight from your smartphone in real time.
How important medication list is
---
More printable images tagged with: