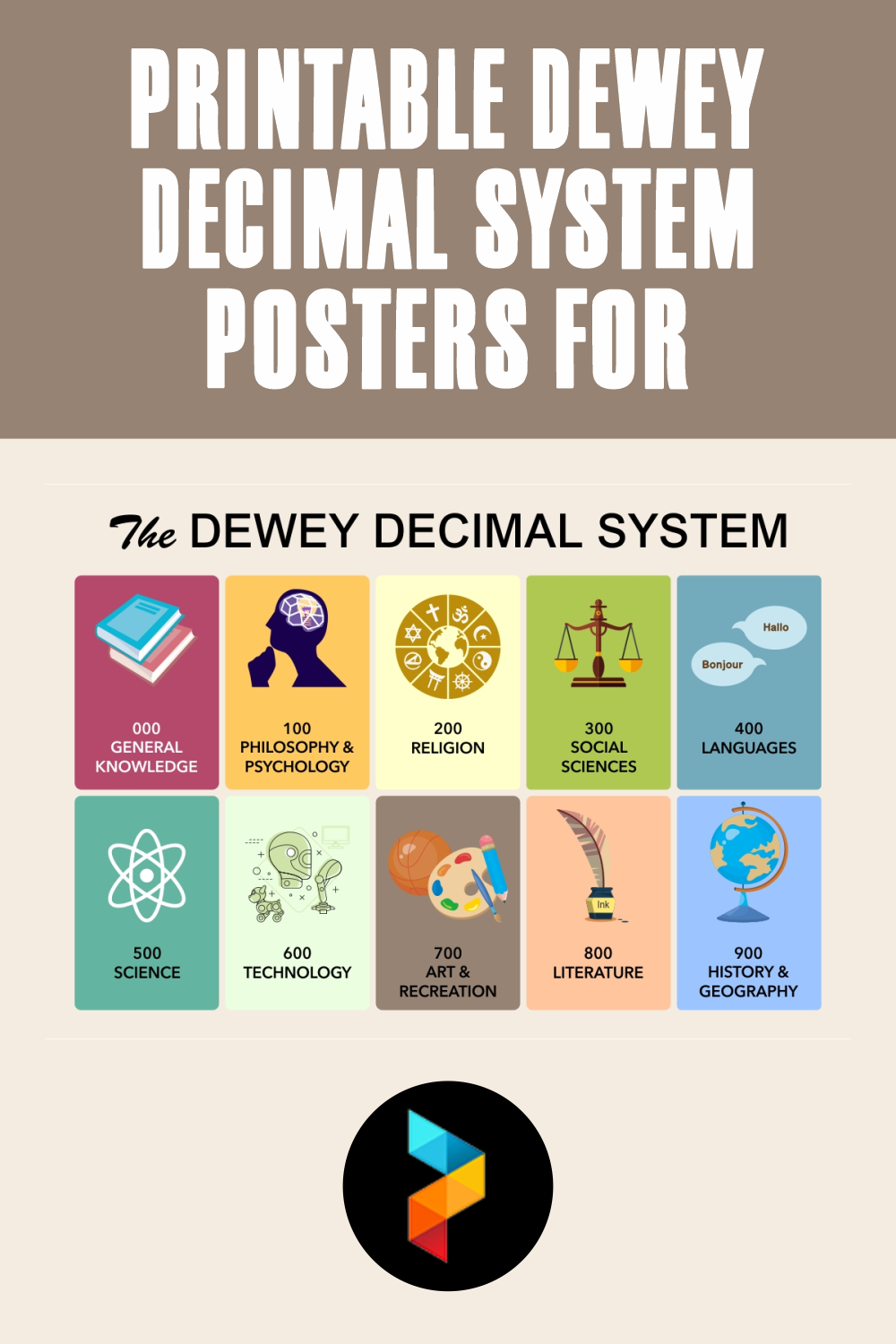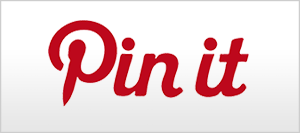 Printable Dewey Decimal System Posters For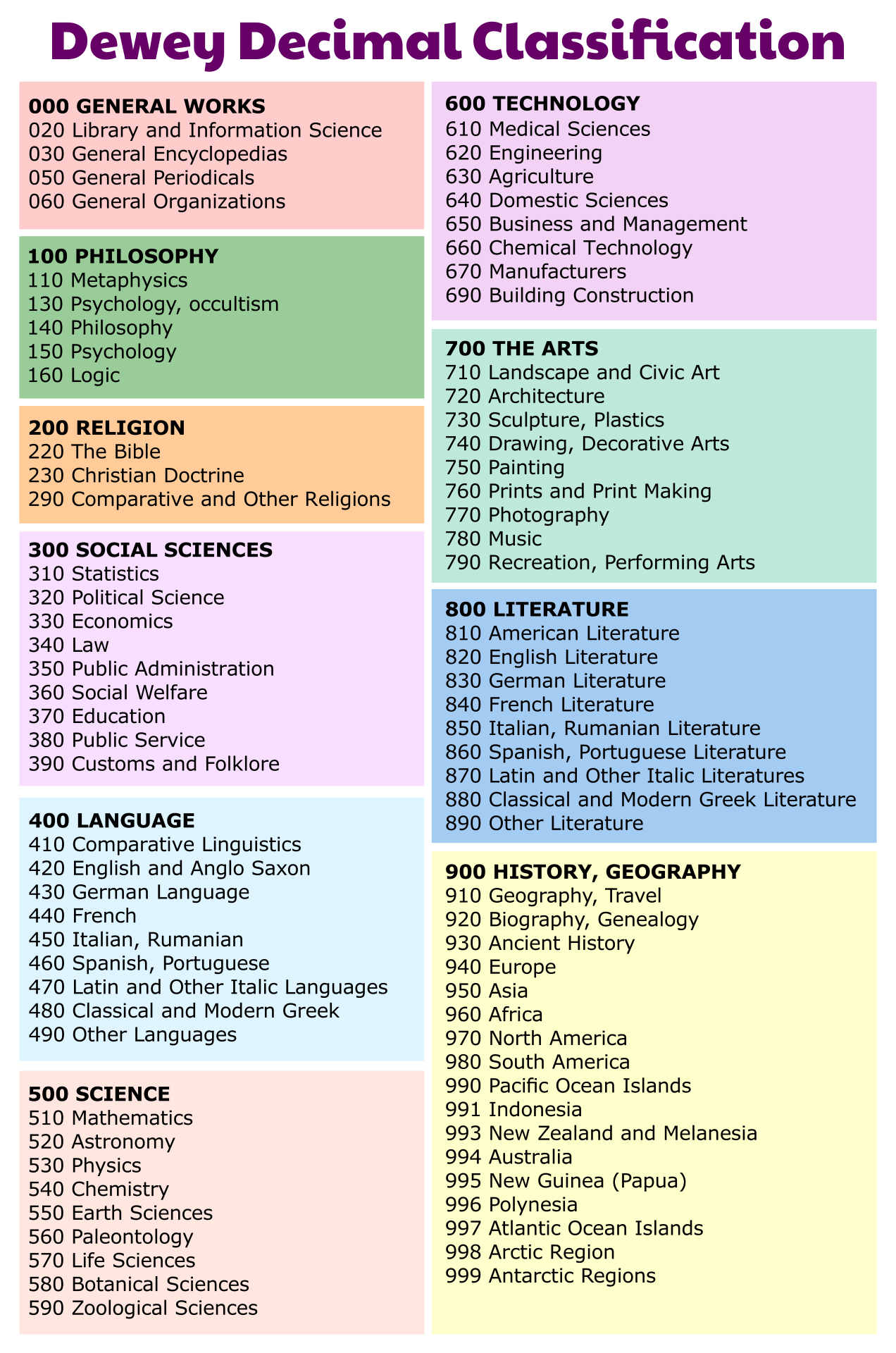 What is the Dewey Decimal System?
A classification scheme used in libraries to arrange and classify books and other library items is called the Dewey Decimal System. It bears Melvil Dewey's name and was created by him in the late 19th century.
Users of the library may quickly identify books on particular subjects thanks to the system, which uses numerical notation to assign a distinct number to each subject area. The ten main kinds of knowledge that make up the Dewey Decimal System are each assigned a three-digit number. A hierarchical structure results from further subdividing these main classes.
The ten main classes are as follows:
000-099: General Works
100-199: Philosophy and Psychology
200-299: Religion
300-399: Social Sciences
400-499: Language
500-599: Natural Sciences and Mathematics
600-699: Technology and Applied Sciences
700-799: Arts and Recreation
800-899: Literature
900-999: History and Geography
Smaller portions are further separated into each primary class. It is simpler for library patrons to find resources on particular topics when books are organized using the Dewey Decimal System, which allows librarians to categorize volumes in a logical and consistent manner.
Although certain libraries may use different classification methods, like the Library of Congress Classification system, the system has been widely adopted in libraries all across the world.
Who created the dewey decimal system?
Melvil Dewey, an American librarian and educator, developed the Dewey Decimal System. Melvil Dewey created the system while working at the Amherst College Library in Massachusetts in the late 1800s. He desired to develop a practical and effective technique of organizing and retrieving books in libraries.
Dewey's classification was initially published as the "Dewey Decimal Classification" in 1876 and has since undergone adjustments and upgrades to incorporate new information and topic areas. It soon gained popularity and was extensively adopted by libraries worldwide.
The work of Melvil Dewey on the Dewey Decimal System revolutionized library categorization methods and had a profound influence on library structure and information availability.
How the Dewey Decimal System Changed Over Time?
The system has undergone several updates and editions in order to include new topic areas, modernize terminology, and reflect knowledge advancements. The "Dewey Decimal Classification, 23rd Edition," released in 2011, is the most current complete edition of the system.
The Dewey Decimal System has added new fields of study and multidisciplinary disciplines to its scope of coverage over time. To accommodate computer science, information technology, environmental studies, and other modern themes, for instance, additional classes and subdivisions have been established.
The Dewey Decimal System has undergone revisions to make it more adaptive to various cultural contexts and inclusive of the entire world. It has made an effort to include more varied and intercultural viewpoints and to avoid unnecessarily emphasizing Western ideas.
Libraries can now access and update categorization data more easily, thanks to WebDewey, an online version of the system. More regular updates are possible with WebDewey, which also offers more tools for viewing, searching, and customizing the categorization.
The Dewey Decimal System has evolved to incorporate categories for electronic books, online databases, multimedia materials, and other digital resources in response to the expansion of electronic resources and digital media.
While the Dewey Decimal System has improved, it has also been criticized for various limits and prejudices. Some say that it does not appropriately portray particular topics or cultural viewpoints. As a result, alternate categorization systems, such as the Library of Congress categorization system, have grown in favor in particular libraries or academic specialties.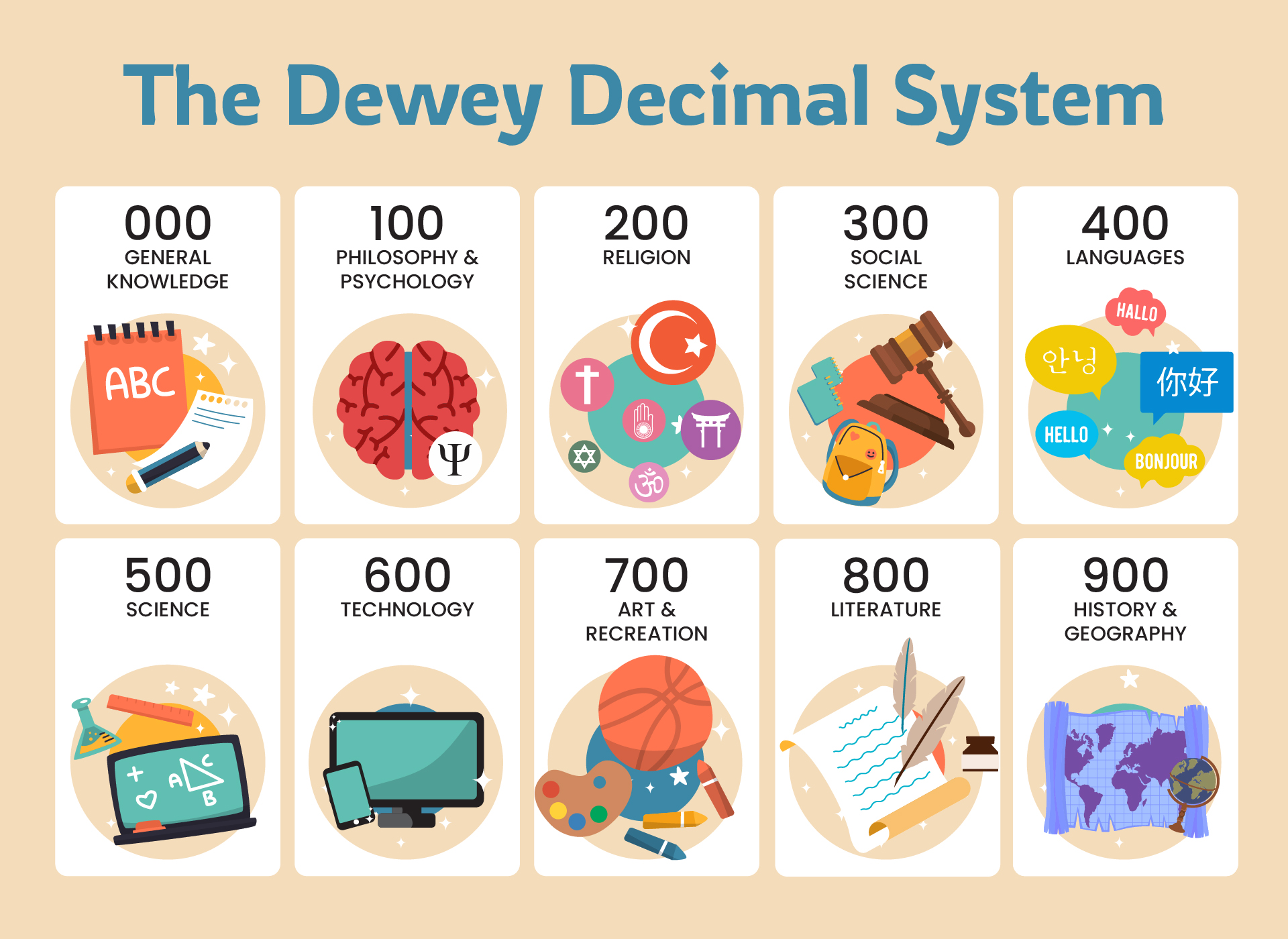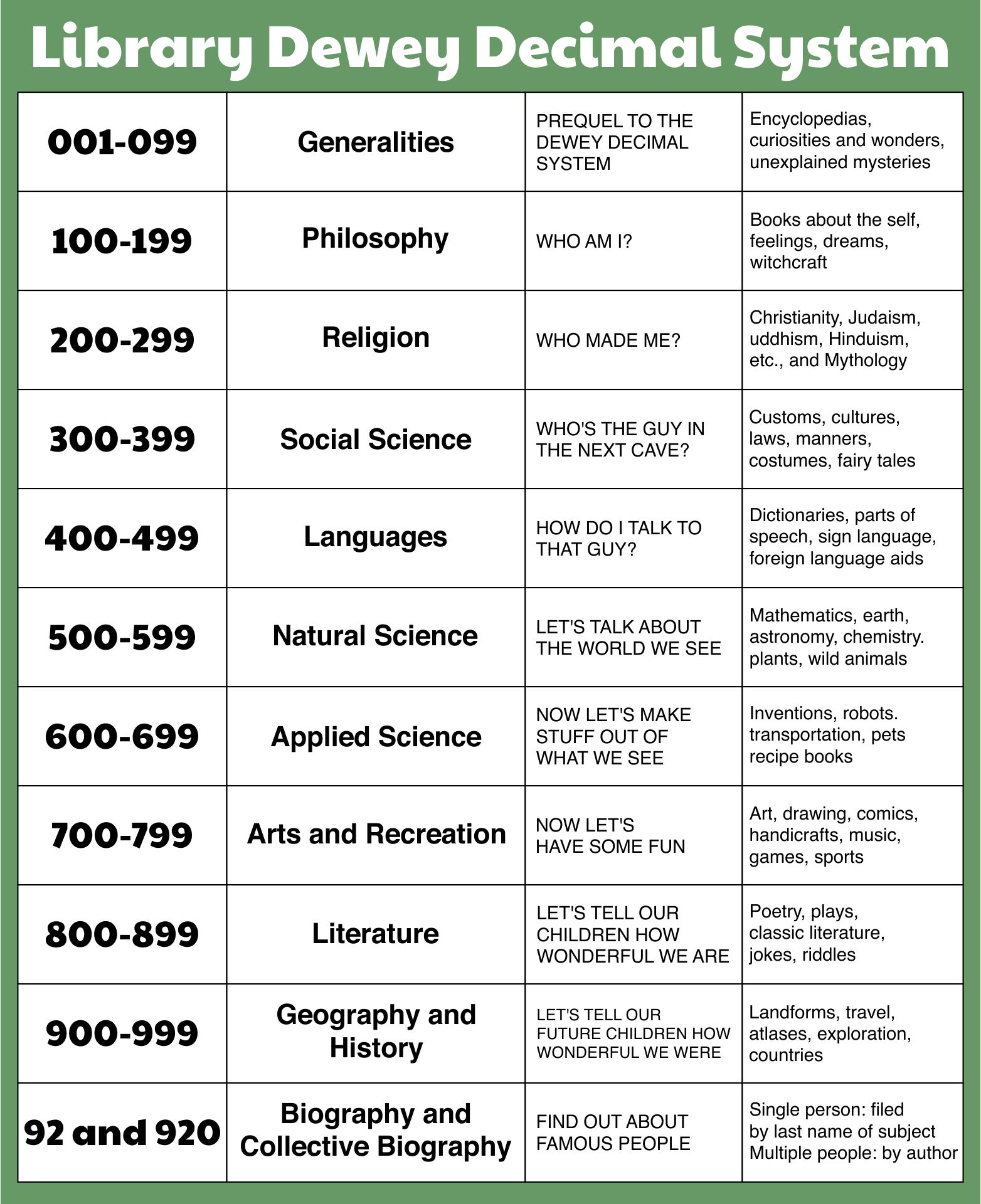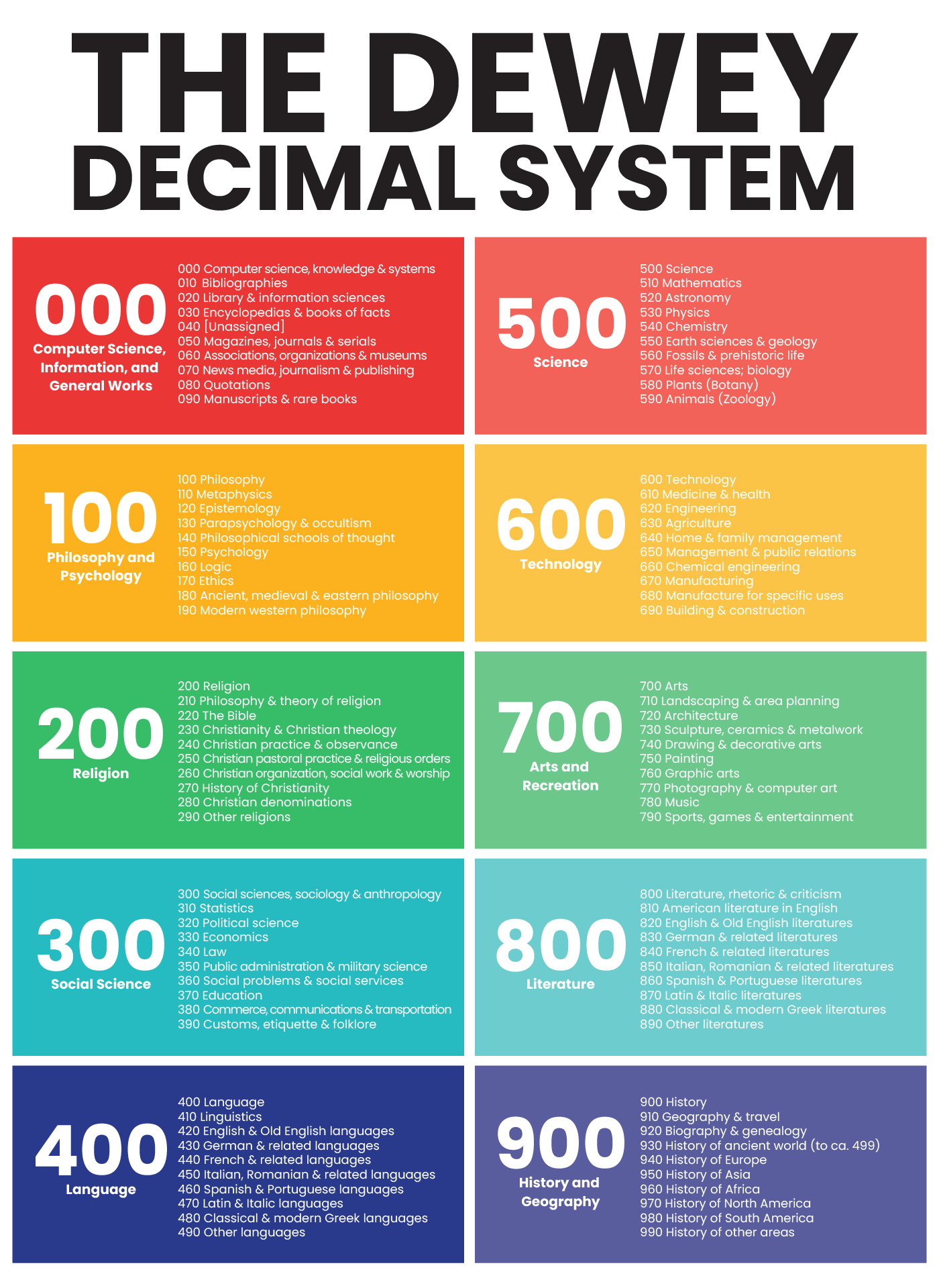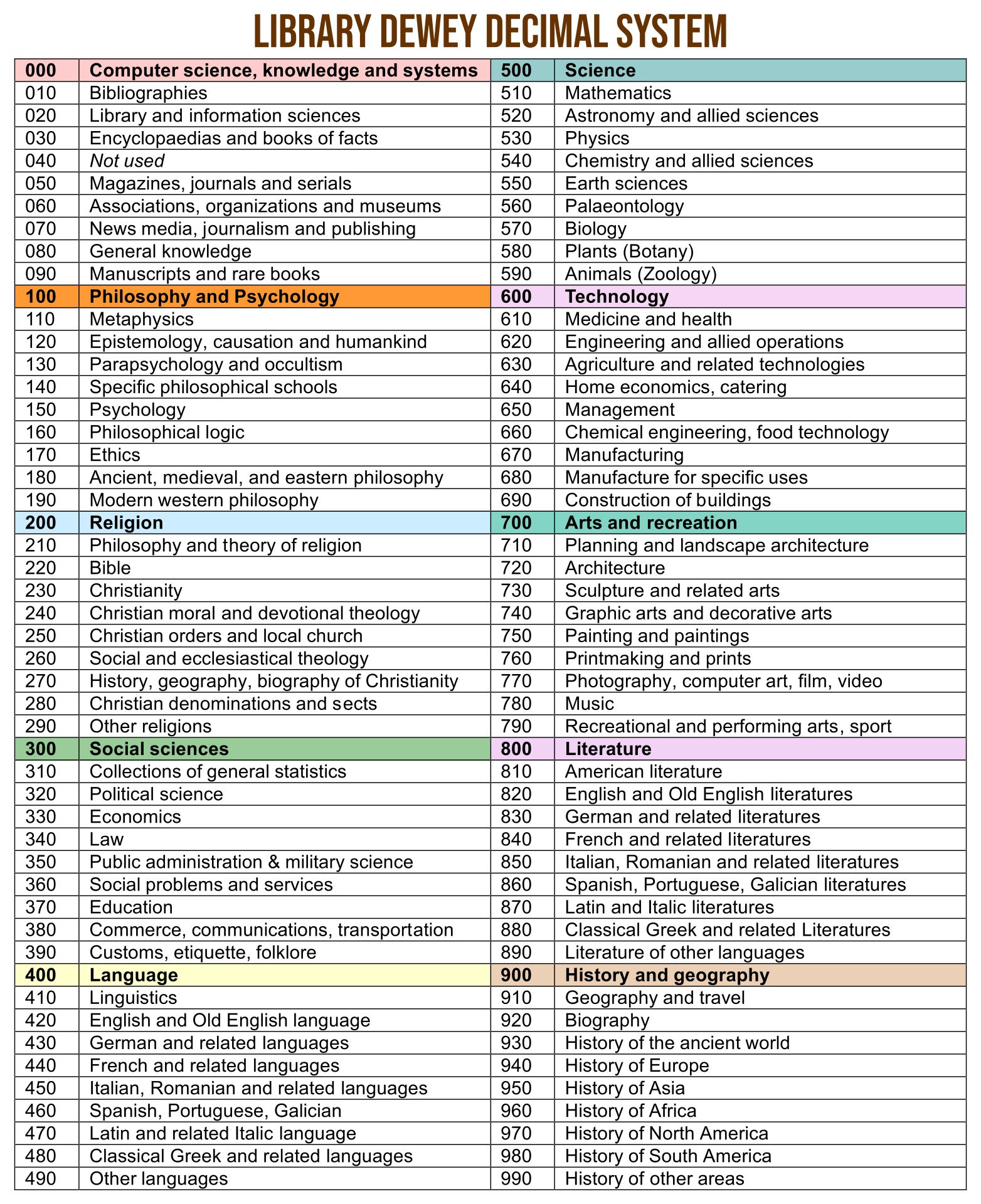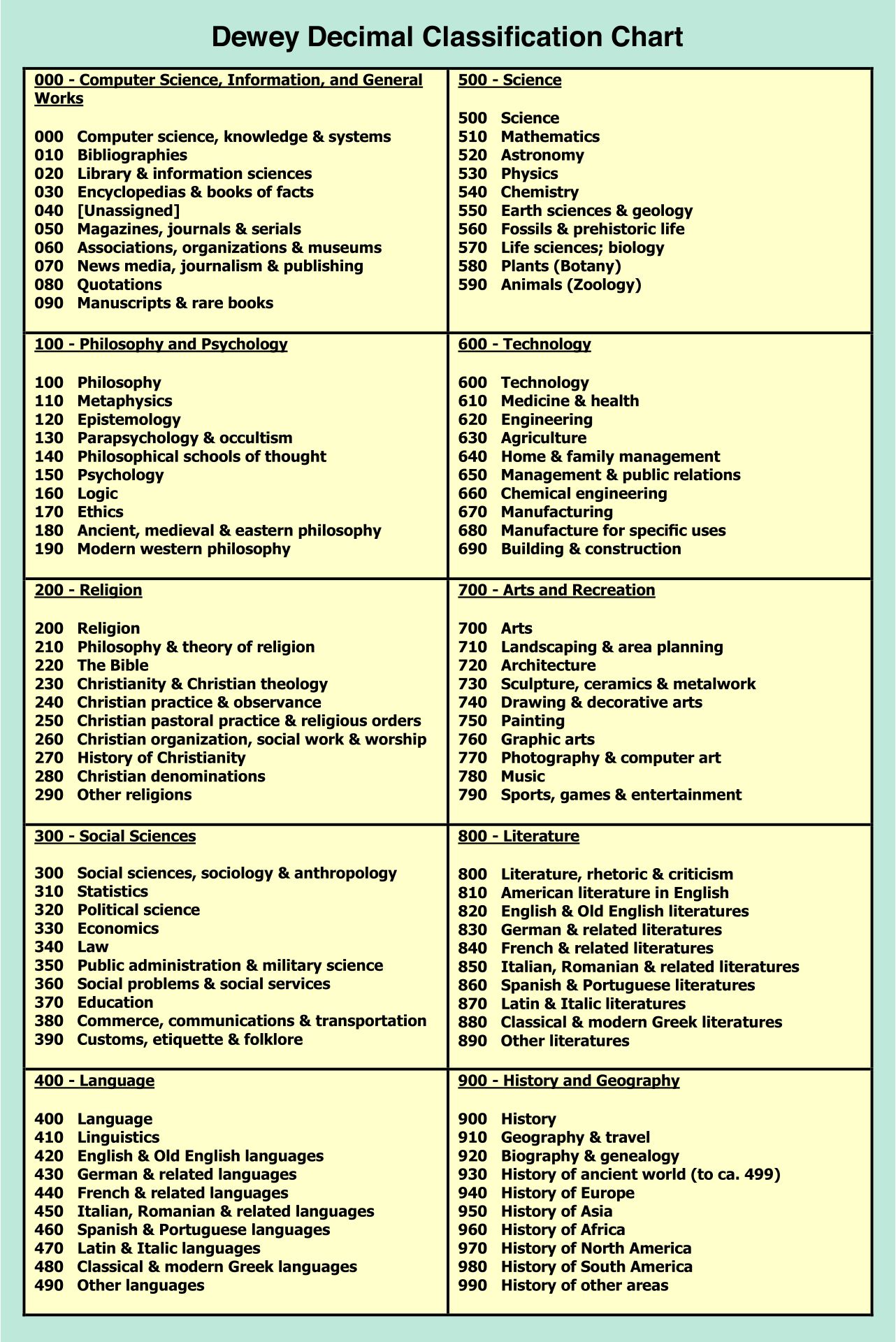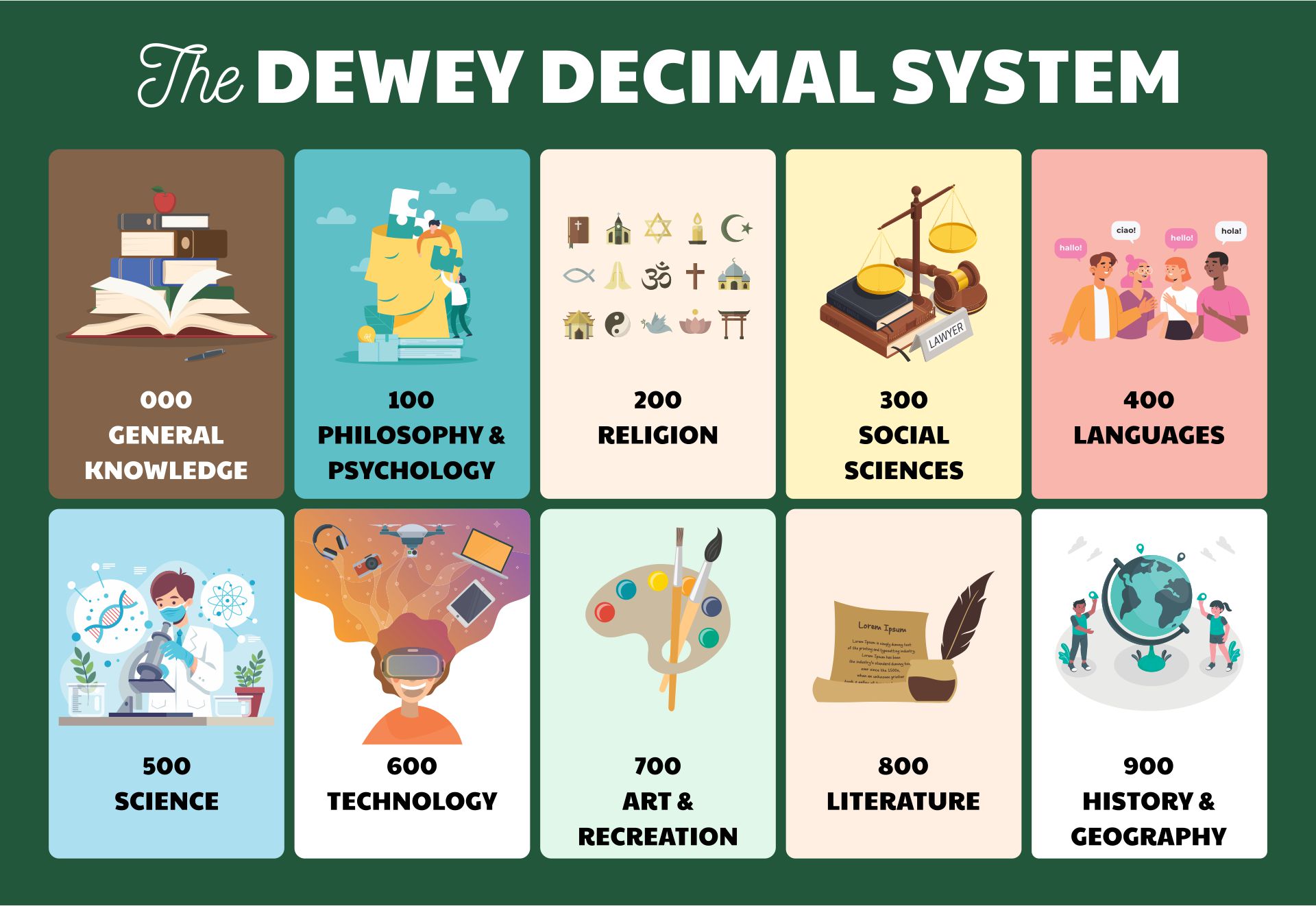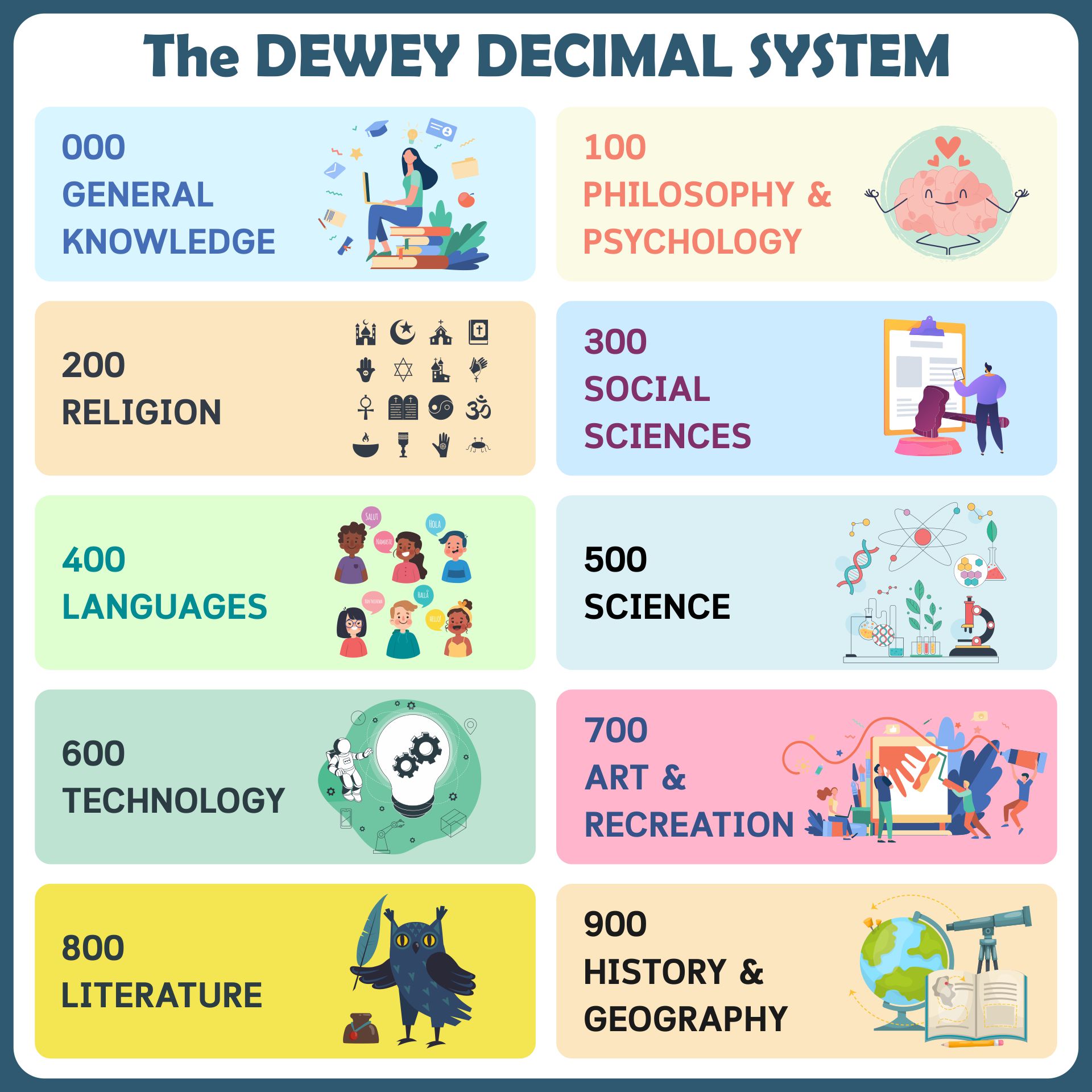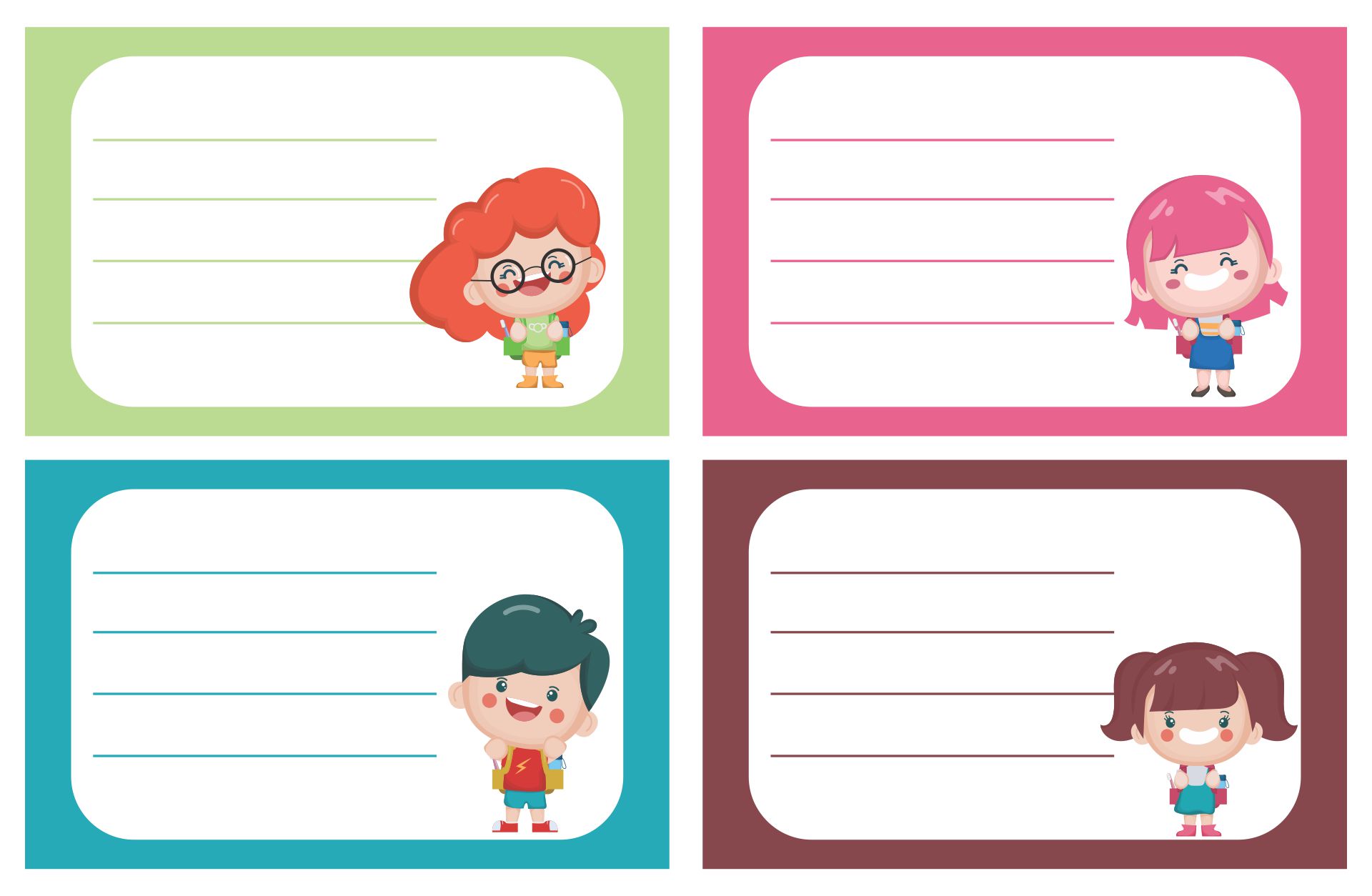 What are the alternative for cataloging systems?
American academic and research libraries frequently employ the Library of Congress Classification system. It uses a mix of letters and numbers to classify things according to topic matter. Comparatively speaking, the LCC system provides more flexibility and detail than the Dewey Decimal System.
The topic classification system known as Book business Standards and Communications is mostly utilized in the book business. It divides books into subject categories based on factors that are influenced by the market. BISAC is made to help publishers, bookstores, and online merchants organize and market books to customers.
Another library categorization scheme that aims to provide a thorough and adaptable replacement for the Dewey Decimal System is the Universal Decimal categorization. By offering more precise categorization possibilities and encompassing a wider variety of topic areas, UDC improves upon the Dewey method.
Facet analysis is the foundation of the S. R. Ranganathan-created Colon Classification system. It focuses on dissecting a subject's numerous sides or characteristics and then bringing them together to provide a categorization code. The Colon Classification system seeks to offer a more methodical and logical method of classifying library resources.
Another alternative to the Dewey Decimal scheme is the Henry Evelyn Bliss Classification scheme. It is intended to be a completely enumerative and analytico-synthetic categorization system, with the goal of thoroughly addressing all potential topic areas. The semantic connections between subjects are the main emphasis of the Bliss system.
---
More printable images tagged with: