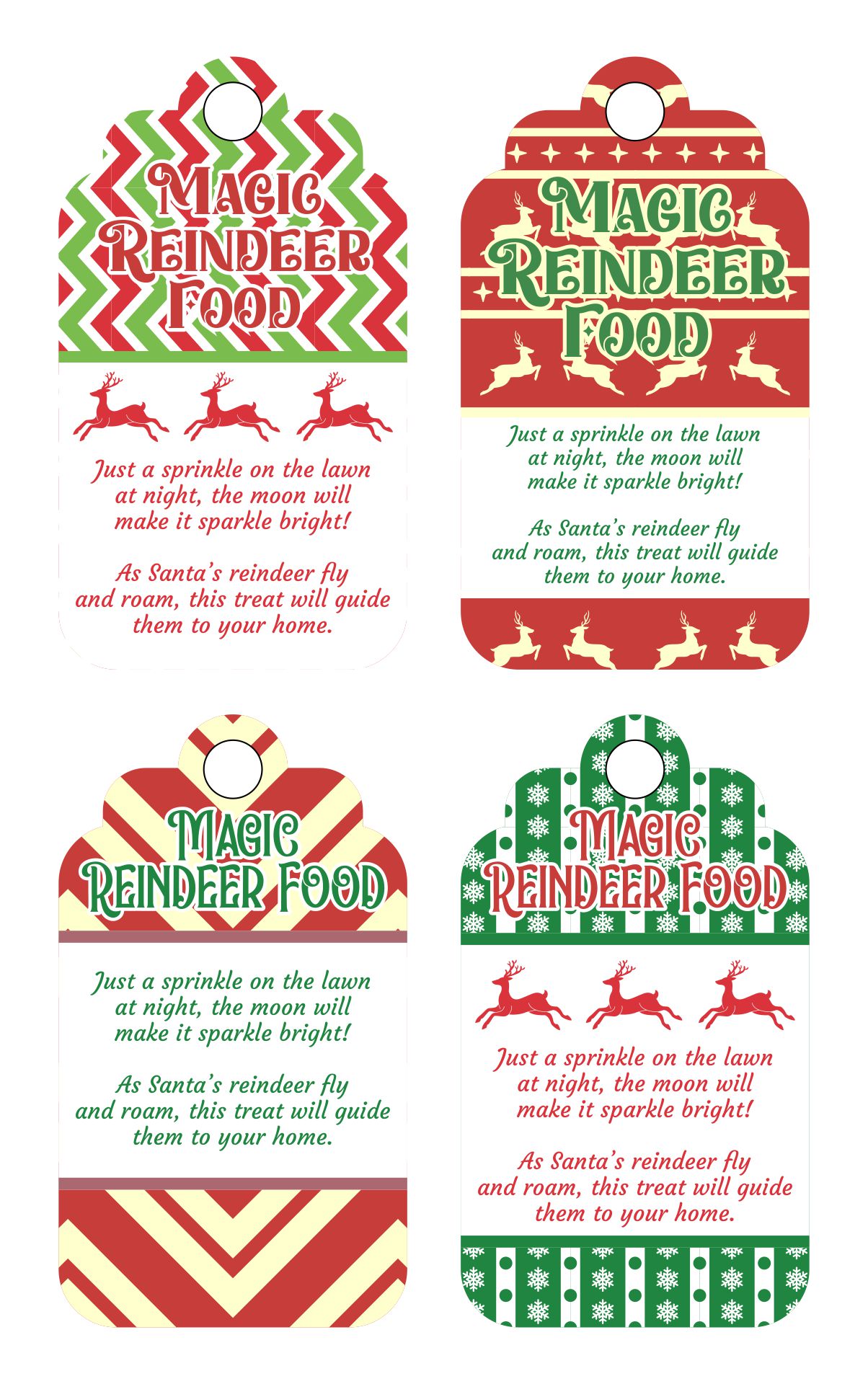 How can I obtain magical reindeer food tags?
As you may be aware, Christmas reindeer food is oat-based, decorated with sprinkles and glitter, and spread on the lawn for the reindeer to consume. You can attach a tag that says "Reindeer Food" on the package to make it look more like Christmas.
They serve as a label indicating the meal is for a reindeer and a tool for sealing the plastic wrap should be used after you have placed the food into some plastic wrap.
You can give those reindeer foods to the kids by wrapping some of them in plastic bags. Each kid can obtain a pack then they can then happily scatter throughout the grass.
When you're done printing the tags, you can attach them to the plastic wrap by clipping or poking holes in them. Then, you may use a red ribbon to embellish it.
You can have some packs prepared to share with the kids in the neighborhood too for a playful time between the snow.
What are some suggestions for making festive food labels for the Christmas feast?
Use food labels to indicate the different food options if you don't feel like explaining them to your dinner guests. But if you're tired of reading the same basic food labels, you may spice them up. This will likely boost the moods and catch the vibes altogether at once.
Here are some suggestions you might use on your Christmas feast:
Miniature chalkboards. Simple to make and remove for safekeeping are these reusable small chalkboards that are available to purchase from a store for $8 for 20. Besides that, there won't be any scraps to pack with these party recipes because they are so delicious.


Cardholders made of rustic wood. With these rustic wood card holders, you can add some rustic character to the buffet line. Your dinner table can also be enhanced with a merry feel by this rustic wood.


Toothpick flags. These toothpick-mounted white flags are reasonably priced and simple to design. If you want to modify the name of the food, you can even remove the toothpick flag with ease.


Beverage markers for hanging. Applying these hanging beverage identifiers to label containers or drink dispensers during your Christmas feast.


Kraft paper hang tags. Place these straightforward tags near your serving utensils. Alternatively, you may attach them to seasonings or drinks. This set of straightforward food labels will undoubtedly add some style to your dinner table.
Labels are commonly used for the needs of your occasions and be attached to your souvenir bags or to be placed on the desk for your guest's name too, however, it is more commonly known as the place card. Ask your kids to involve in decorating and making unique tags for a nice spend holiday together.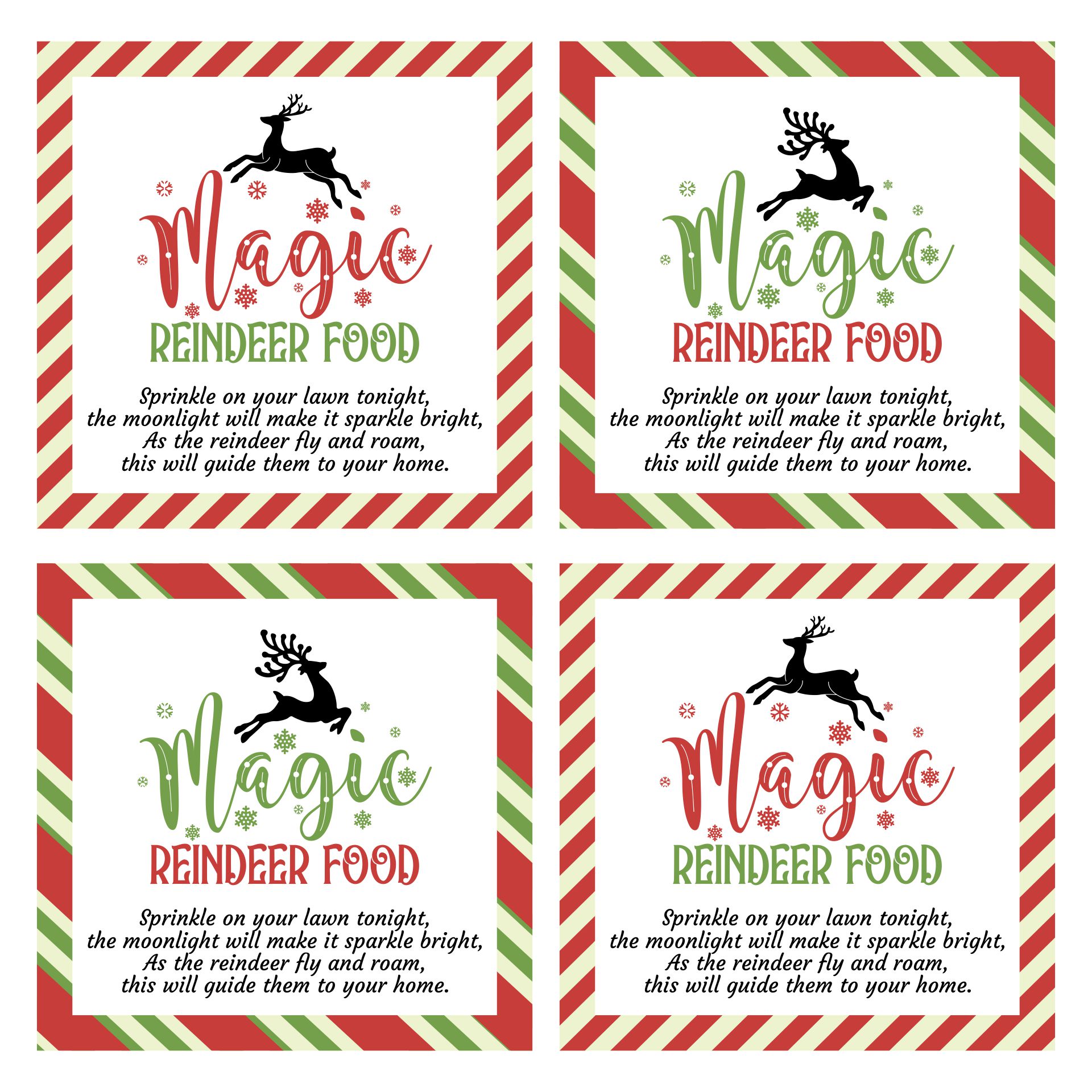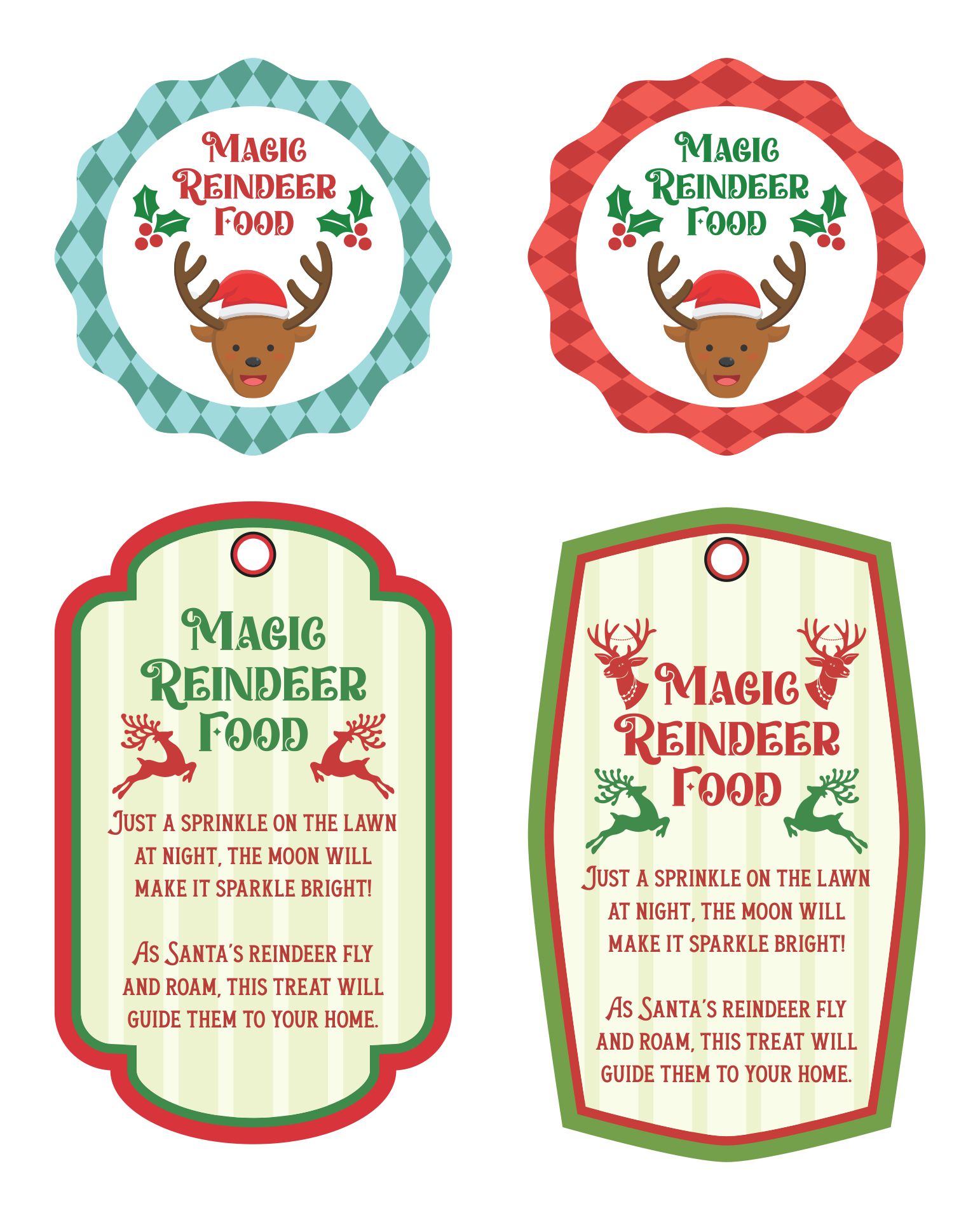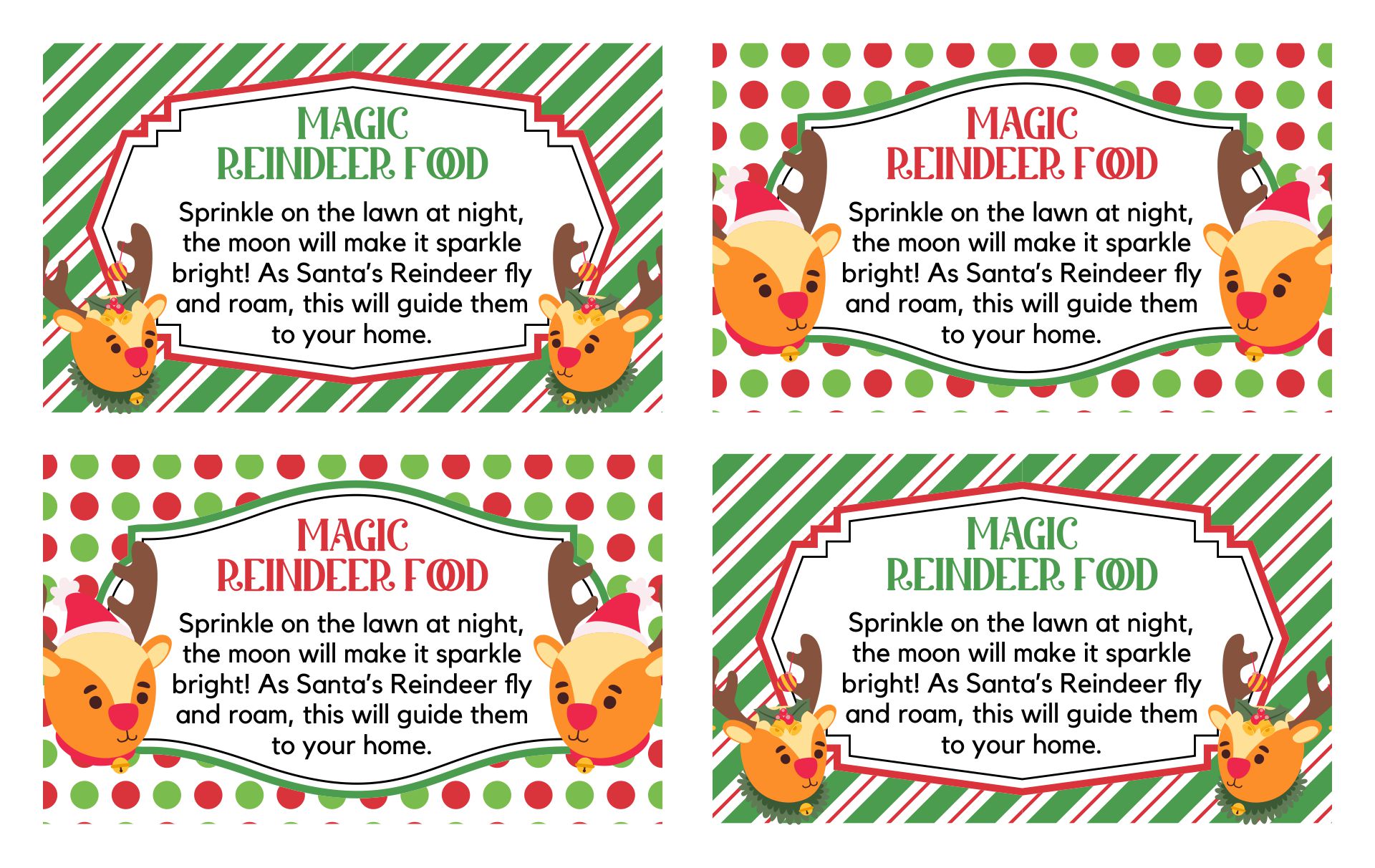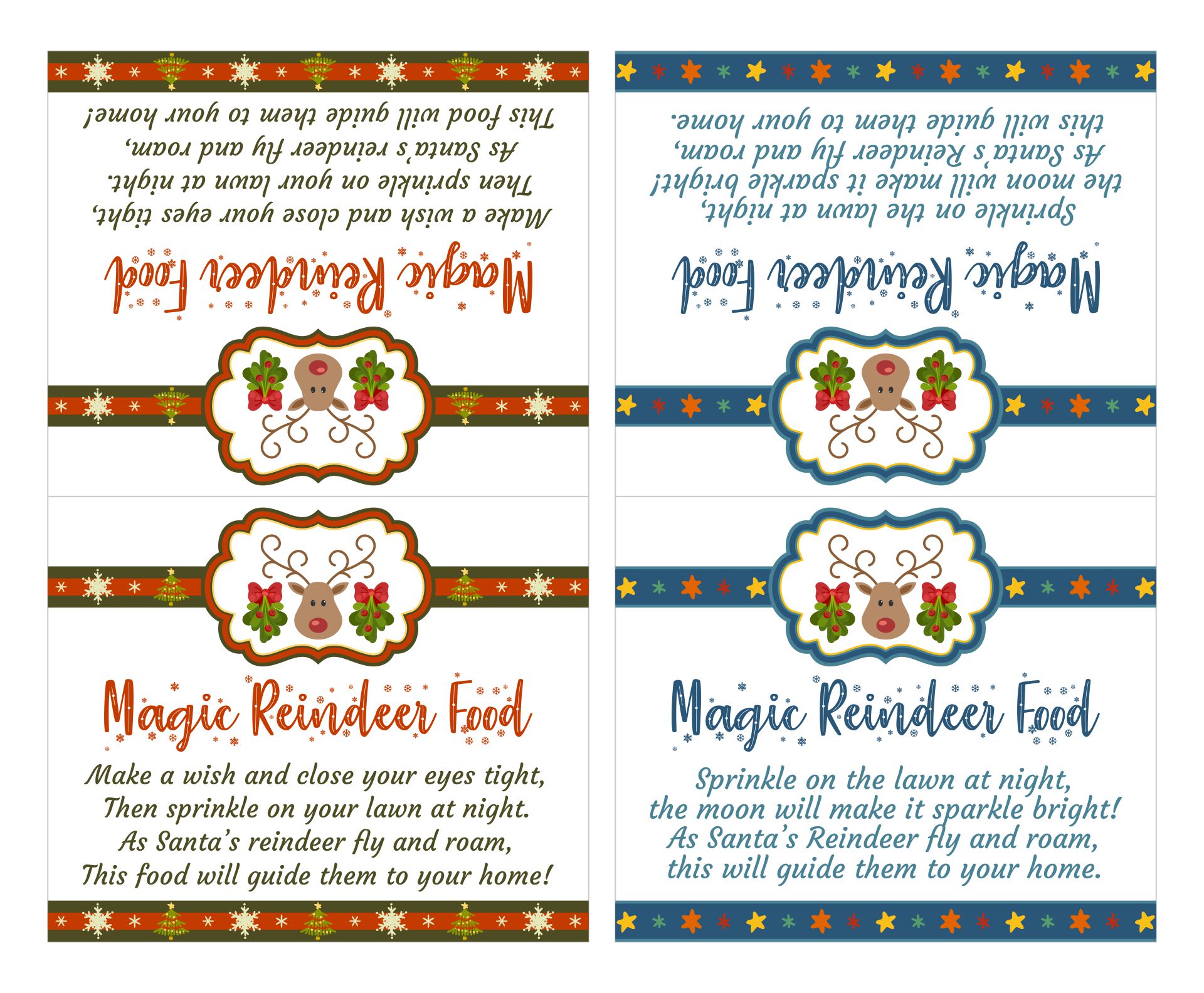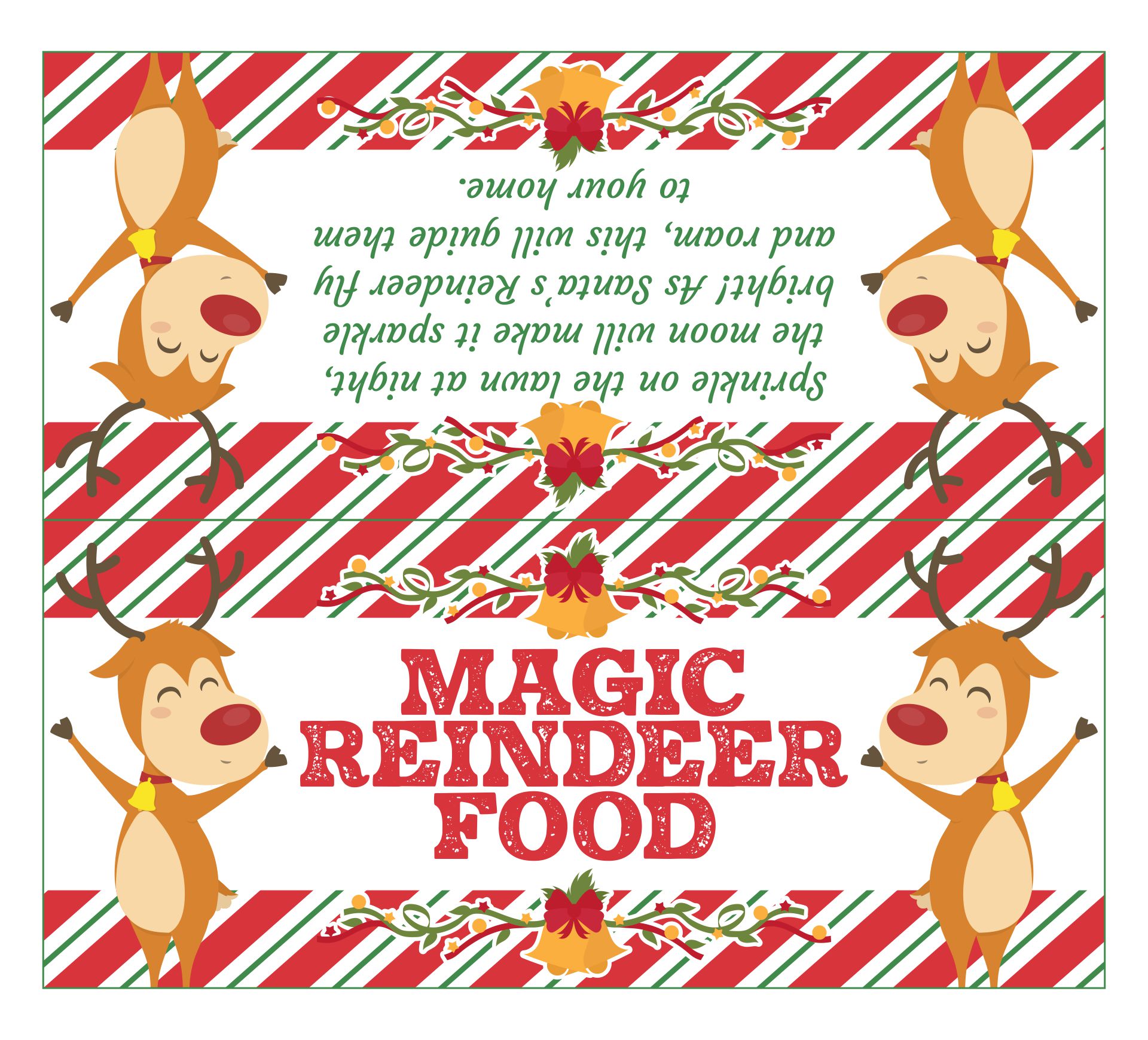 What do food tags for magic reindeer look like?
The term suggests that magic reindeer food tags are labels that indicate that the products they are attached to a pack of food that crumbled and needs to be sprinkled. It is a kind of special bag made to attract the reindeer to find a way with Santa to deliver the gift.
The printed form of paper for the tags is similar to those of cards in general. However, in addition to being rectangular, printable templates are also available in a variety of various shapes, including round and square.
In terms of size, tags for reindeer food are usually between 3-5 x 2.5 inches. Animated pictures are frequently put in these tags because they appear cuter and kids will love them. Some designers even make special ones with pop-up styles.
Following that, lettering stating that the tags are magic reindeer food tags will be printed on the basic food tags. Along with the ingredients for the foods, it also includes brief instructions for how to sprinkle the foods.
Don't forget that the borders of the tags will typically be decorated with Christmas-related borders, such as red lines, green lines, candy cane patterns, and so on since we are still in the holiday spirit. A wonderful time meant to be shared with others so get a call for your friends and family at that time.
Who are the reindeer predators?
To protect themselves from predators, reindeer frequently gather in herds. An individual reindeer has a higher likelihood of being attacked by a predator than a herd does.
Furthermore, the predators are wolverines, brown bears, grizzly bears, gray wolves, and golden eagles some of that prey on reindeer. Most people think that polar bears would prey on them, however, most of the time, they are just too fast for a polar bear to capture them.
Tell the kids some story about it so they will be able to notice the natural cycle as well.
---
More printable images tagged with: