Players are challenged in The Hidden Picture Game, an interactive puzzle game, to locate particular items or pictures within a bigger graphic or scene.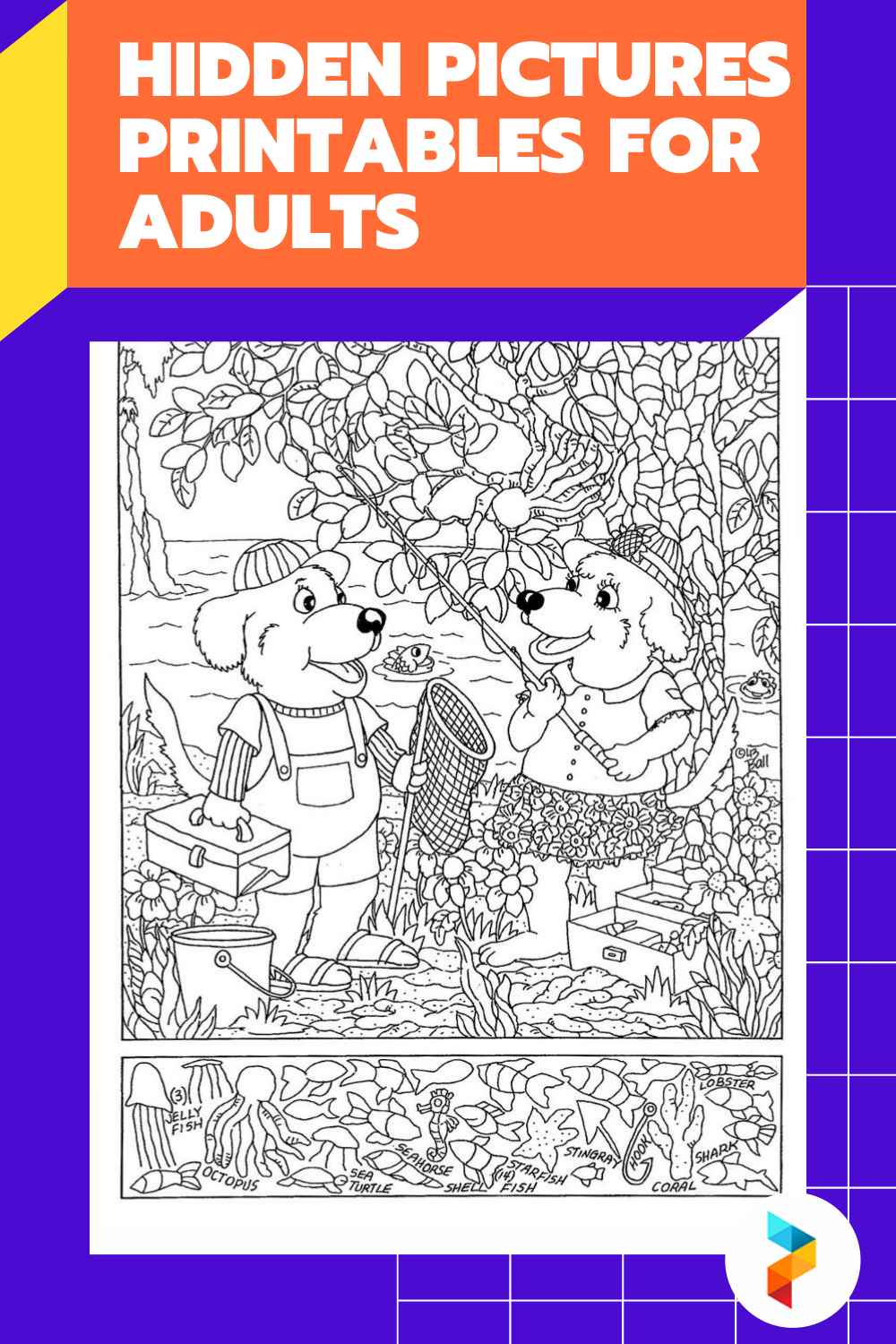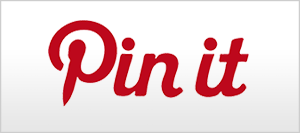 Hidden Pictures Printables For Adults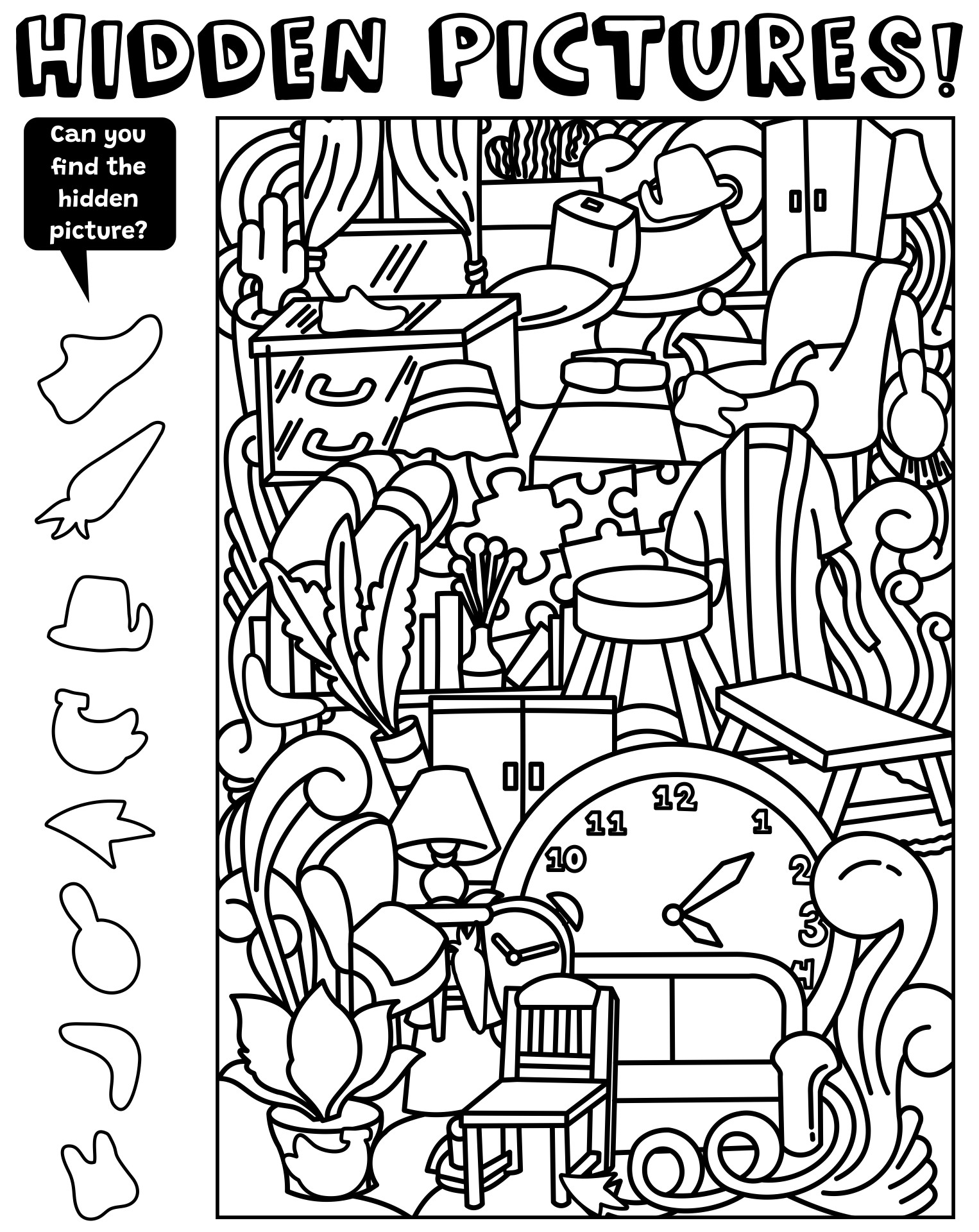 What is Hidden Picture Game?
Players are challenged in The Hidden Picture Game, an interactive puzzle game, to locate particular items or pictures within a bigger graphic or scene. These puzzles, sometimes referred to as "hidden object" or "I spy" games, are intended to put players' powers of observation, focus, and perception to the test.
Players are given a colorful, intricate picture that is loaded with many items, characters, and components in a standard hidden picture game. The image seems chaotic, but a few specific elements are deftly tucked away, fading into the backdrop or being concealed by the stuff around them.
The object of the game is to find and recognize these concealed objects within a set time frame or without any time restrictions. To find concealed objects, players frequently employ their visual perception and scanning abilities.
Hidden Picture Printables as Medium for Stimulation
There are many different mediums in which hidden picture games may be found, including books, periodicals, internet resources, and mobile apps. They are well-liked by both kids and adults because they provide a stimulating pastime that challenges the mind and improves visual activity.
Players may enjoy these games either alone or with others as they compete or cooperate to uncover the concealed things. You can download the mind games template on this page for free! Enjoy these printables if you're seeking for a stress relief and mindfulness activities.
Brain Teaser Games for Cognitive Abilities
Games with hidden pictures are brain teasers because they test and engage your cognitive abilities. You must maintain a high level of concentration and keep your attention on the task at hand to find all the hidden items.
It may be more difficult to find the hidden objects when there are distractions. You can improve your ability to distinguish between patterns, colors, and shapes by playing hidden picture games.
The objects you're looking for must be distinguished from the background elements. As you engage in more hidden picture games, you begin to notice trends and typical hiding places. You can find hidden objects more quickly if you have this skill.
Tips for Adult in Playing: Make a Checklist!
Once you download and print the hidden pictures game template from this page, you can start looking at the list of objects that can be found in the pictures. Don't hesitate to make a checklist and mark the objects you find on the sheet.
You can also color objects on printed sheets. There's nothing wrong with making it a coloring page! Wouldn't that be more fun? You can see colors that can relieve fatigue and calm the mind.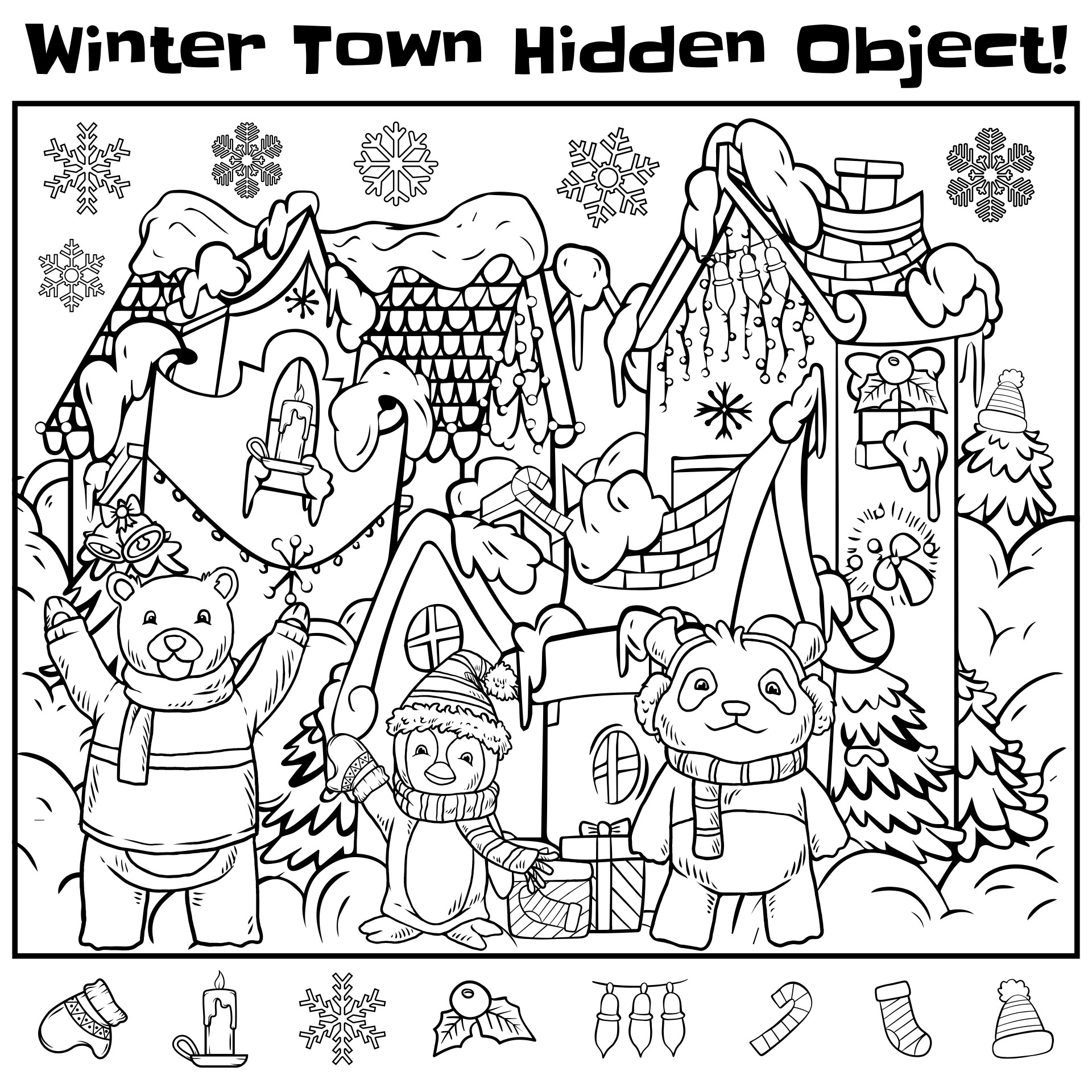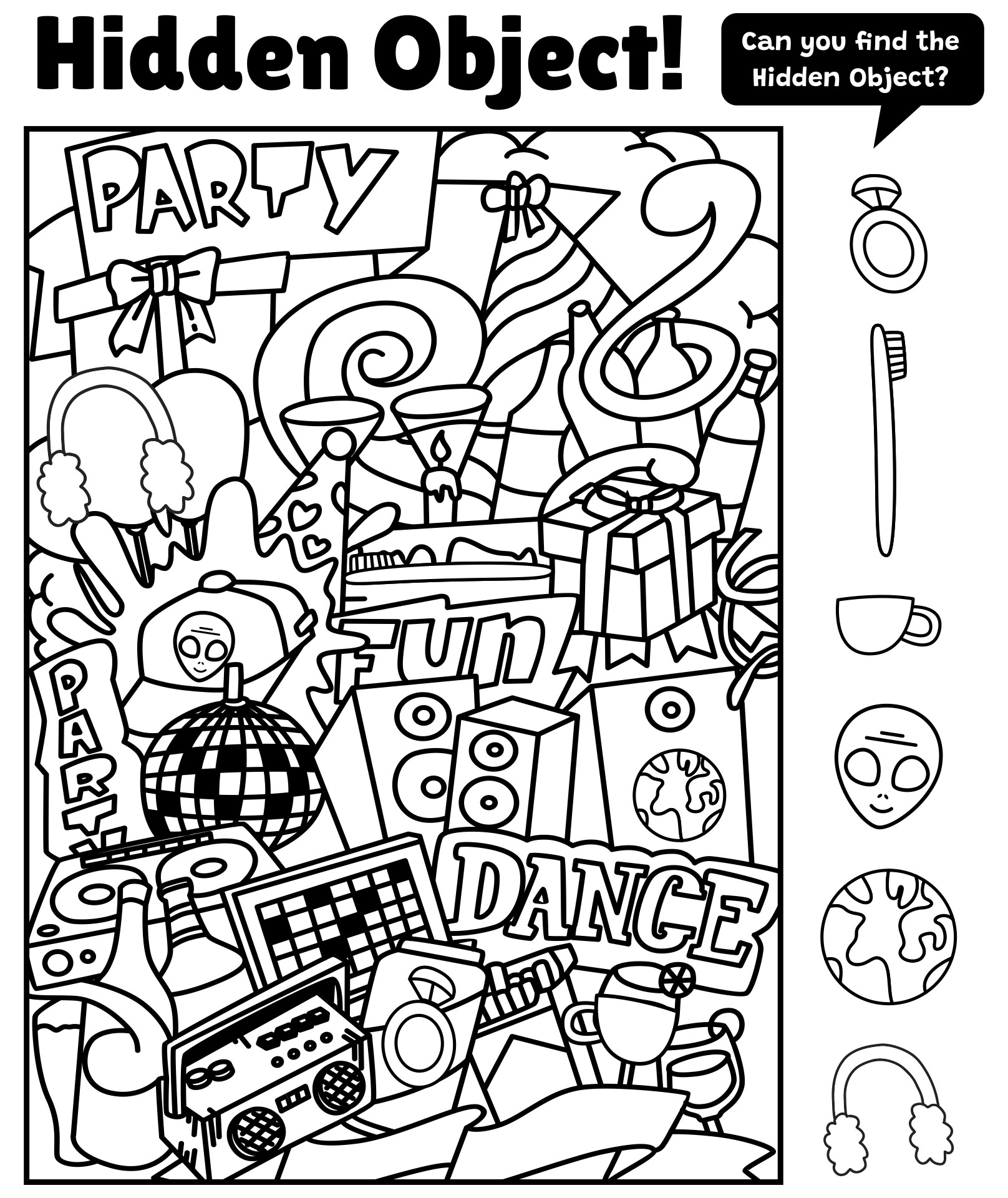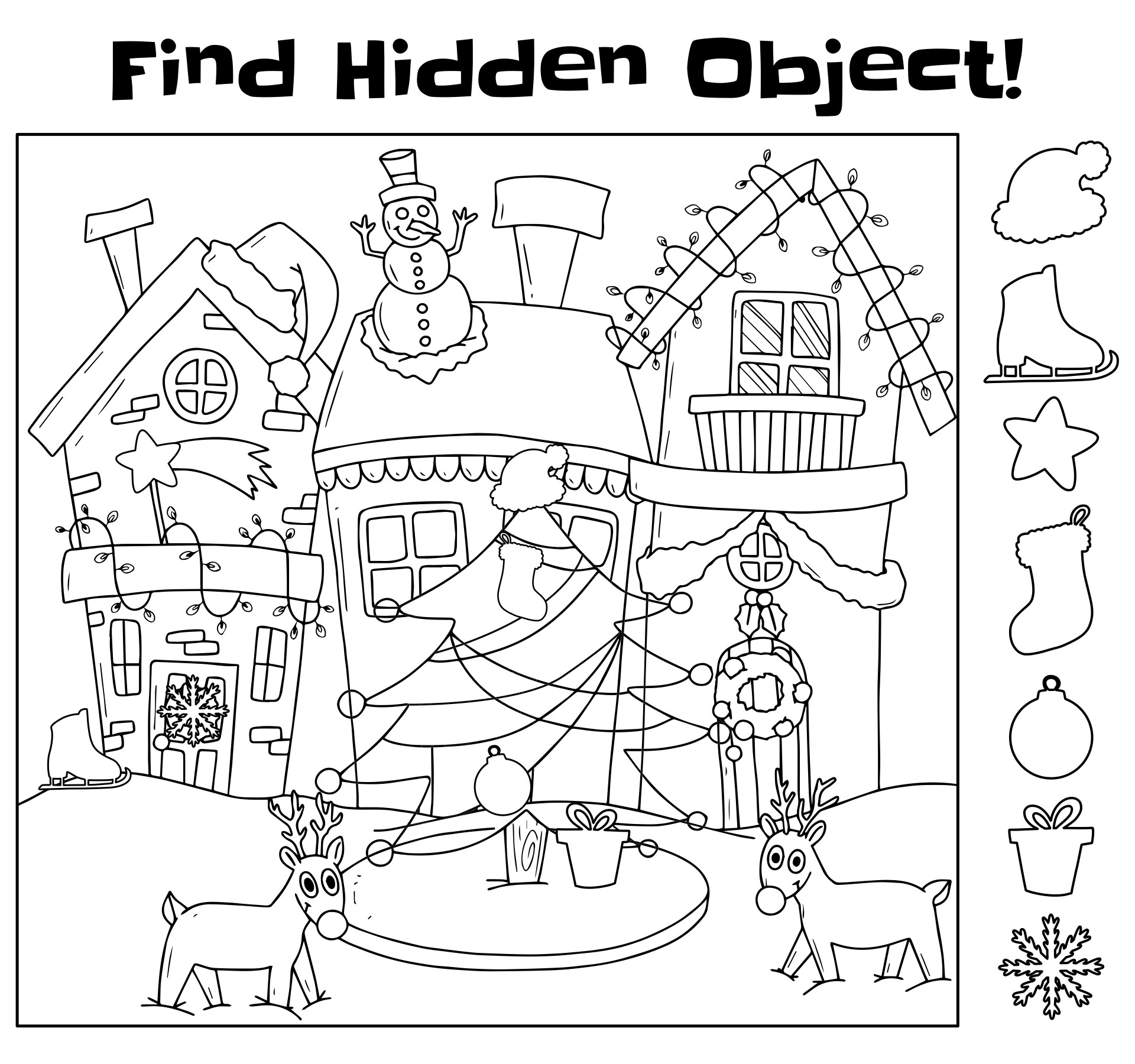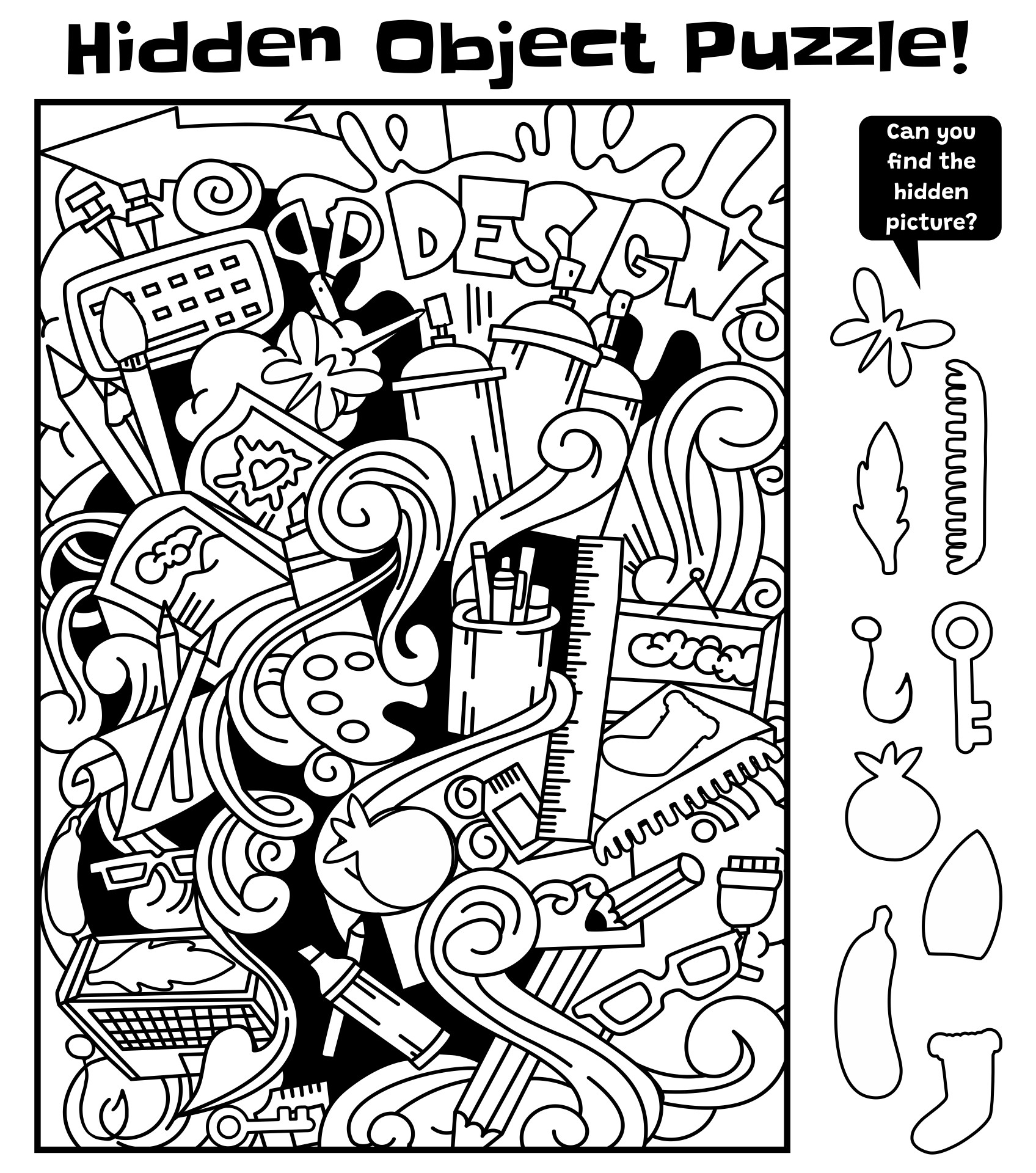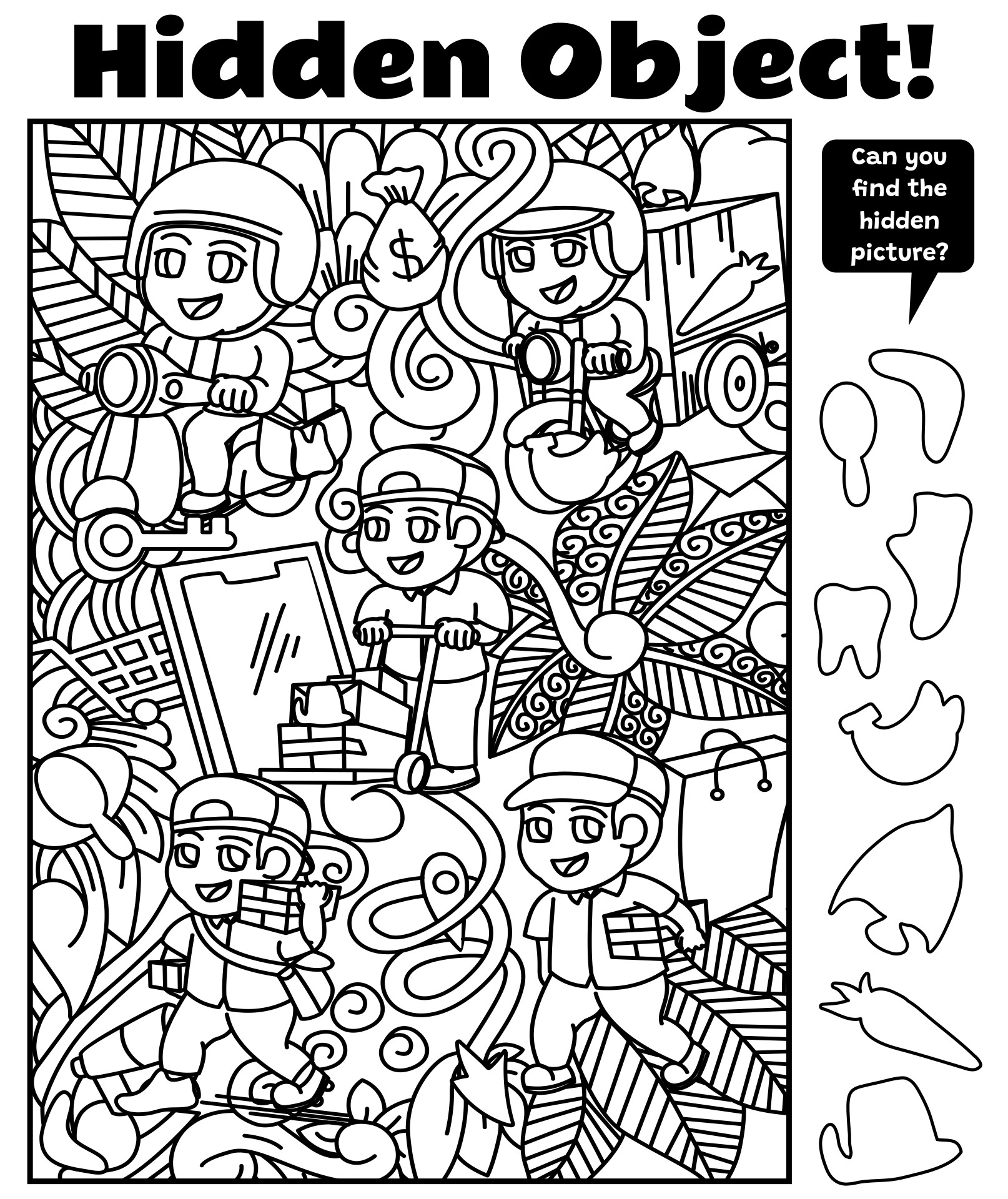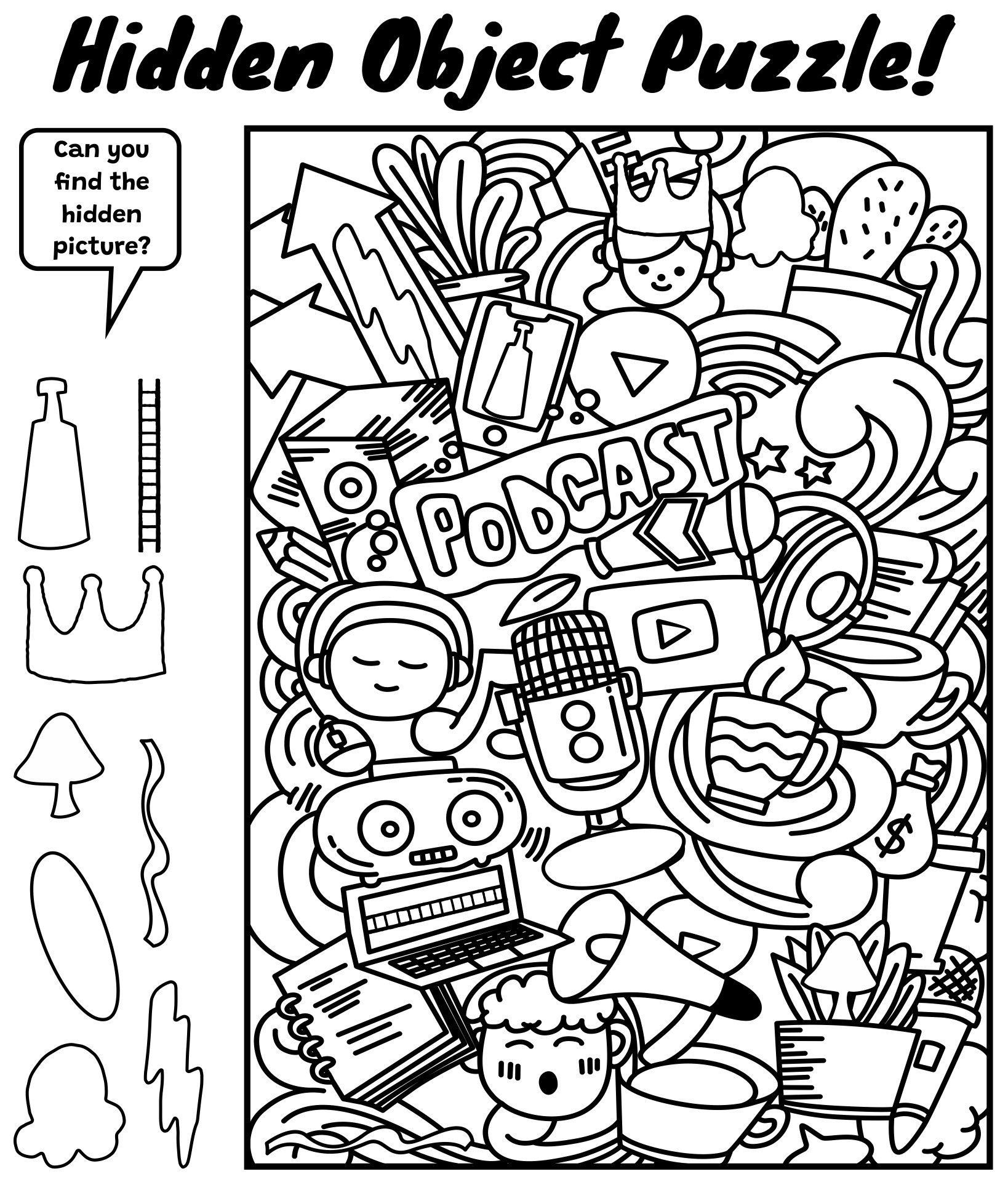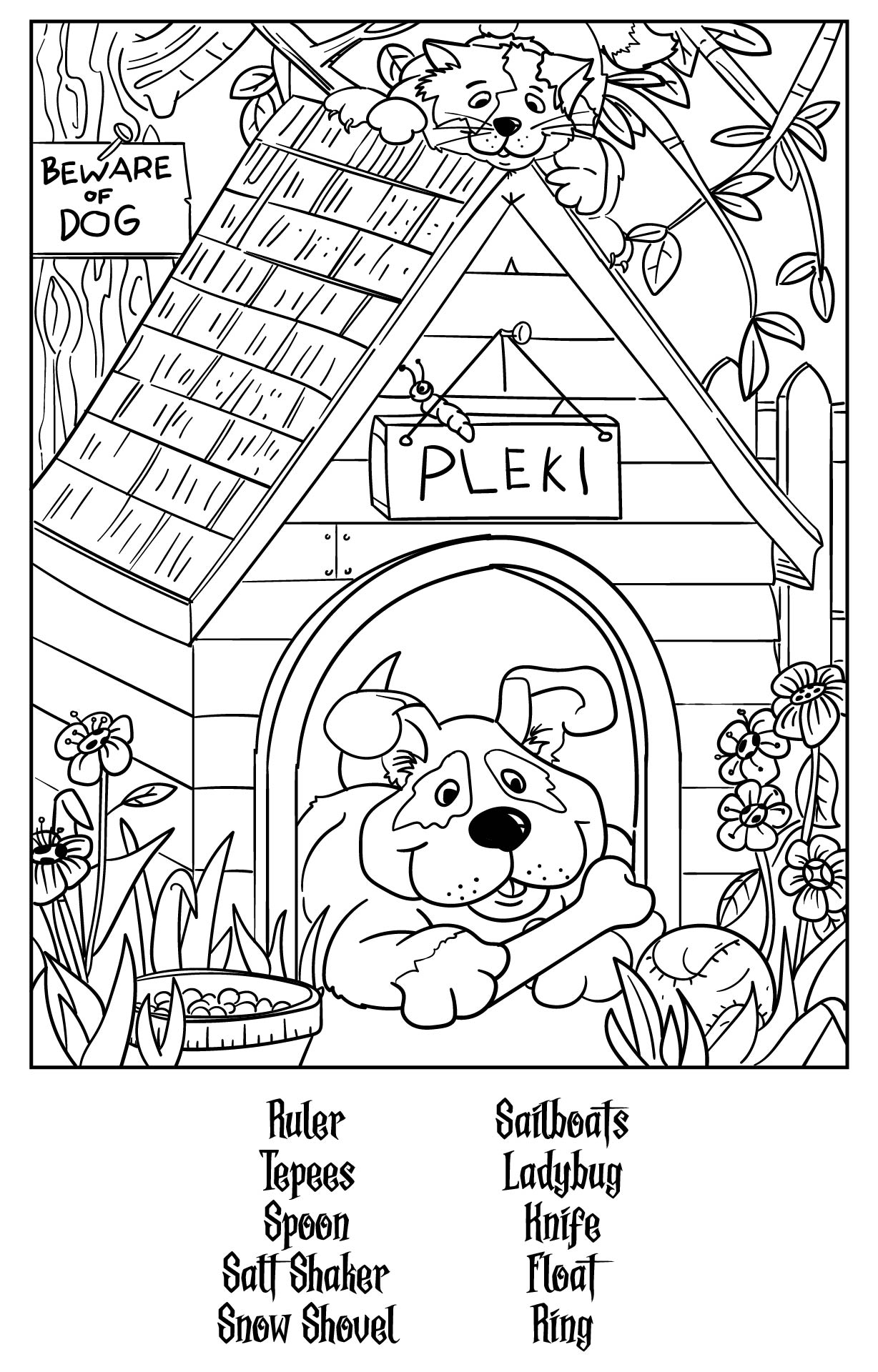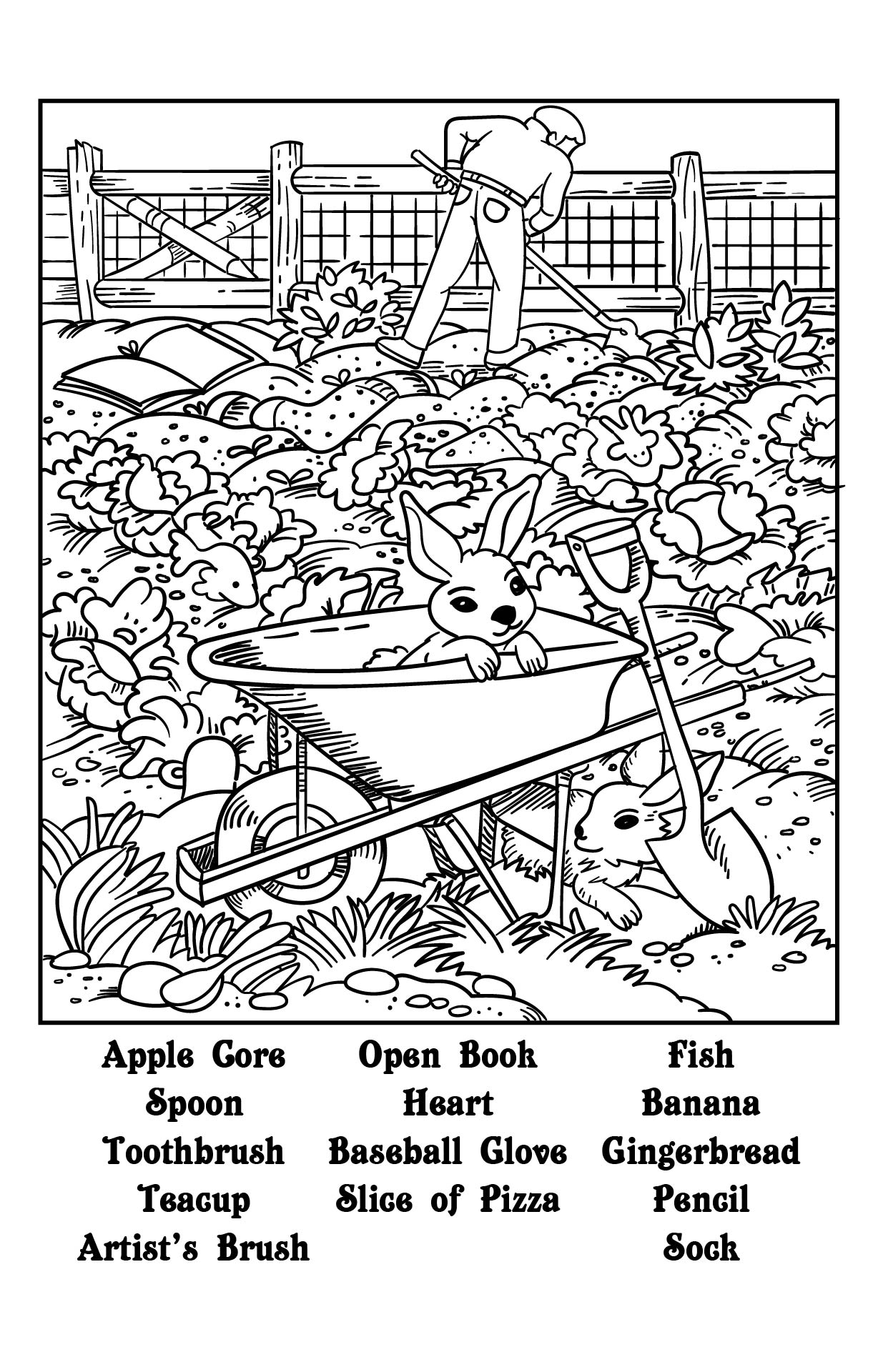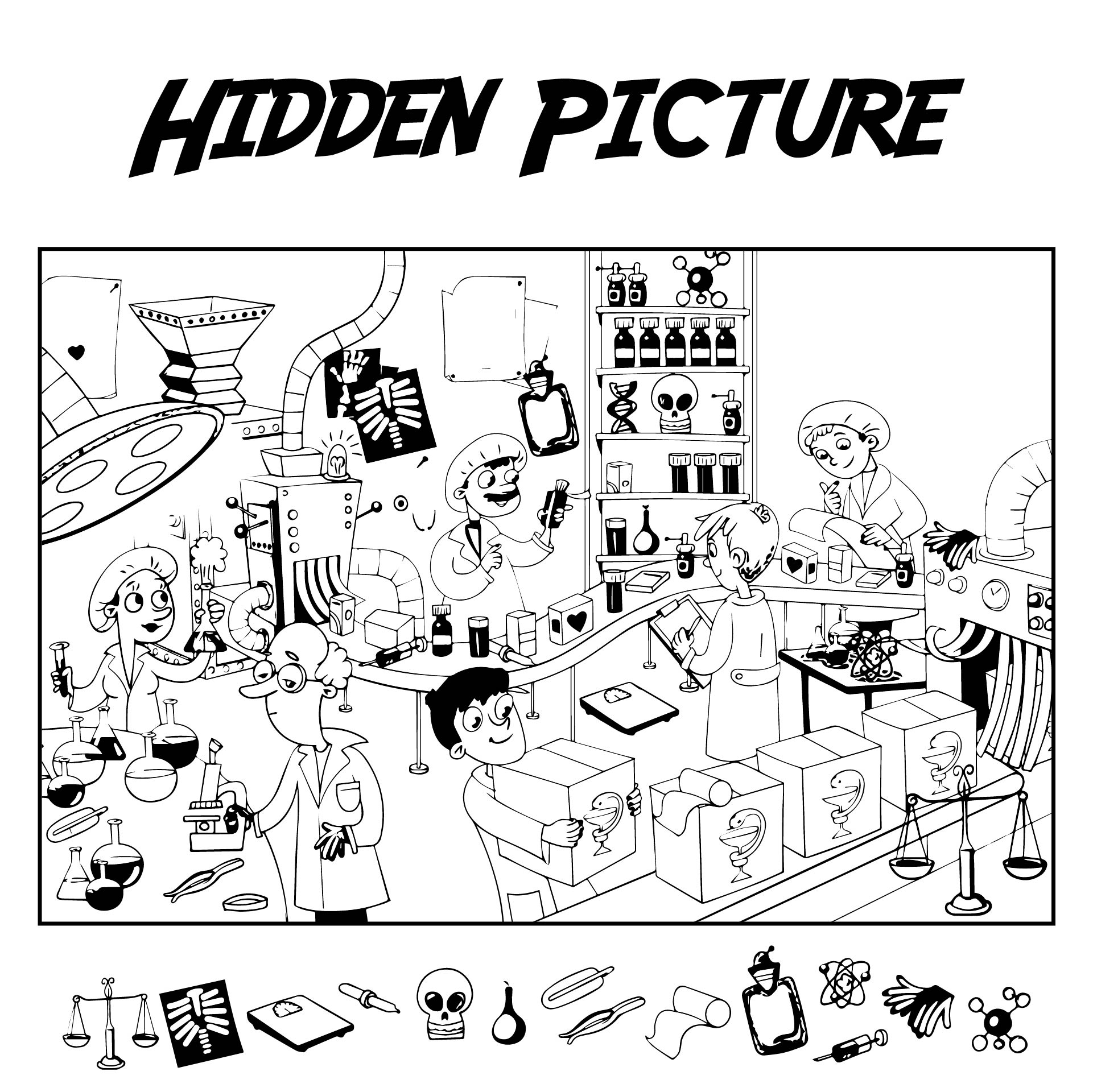 What is the Good Side of Playing Hidden Picture Games?
Hidden picture games encourage social contact and family ties and can be played alone or in groups. As players cooperate to achieve a common objective, discuss strategies, and celebrate each other's triumphs, playing together fosters communication, cooperation, and collaboration.
There are a lot of educational themes for hidden picture games and you can also ask players to name and recognize different items. Exposure to new words and terminology helps with word recognition, linguistic abilities, and general language competency.
As players immerse themselves in the effort of uncovering concealed things, hidden picture games encourage attention and concentration. The game demands persistent focus on detail and the capacity to block out outside distractions, which can develop concentration abilities that are useful in many facets of daily life.
How to Create Your Own Hidden Pictures Game?
Customizing the game to meet your chosen theme and audience will increase player enjoyment. Here's a step-by-step guide to getting started:
Select a Theme: For your hidden picture game, decide on a theme. You can include anything that grabs your attention, whether it be people, things, the natural world, or fantastical things. The choice of pictures and hidden objects will be determined by the theme.
Prepare Images: Find or create images that fit the theme you have chosen. You can use photographs, hand-drawn illustrations, or clipart. Make sure the images are eye-catching and have enough details to effectively conceal the objects.
Select Hidden Objects: Choose the specific items or objects you want to hide in the images under "Select Hidden Objects." A list of 10 to 15 items that range in size and difficulty is a good place to start. Take into account items that blend into the background or are partially hidden by other picture components.
Modify the Images: Insert the hidden objects into the images using image editing software or even a simple drawing program. Place them strategically so that they are difficult to spot but not impossible.
Arrange the Game Layout: Decide on the layout of your hidden picture game. Arrange the game. A single-page puzzle or multiple pages with various images can be made. Clearly and logically arrange the hidden object lists and associated images.
Add Instructions: Include detailed instructions on how to play the hidden picture game. Explain the goal, rules, and any additional guidelines or hints that players might require.
Finalize and Share: Once you are happy with your hidden picture game, polish the design and layout before sharing it. You can produce a digital version, print hard copies, or even make it into a playable online game. Share the game with others, whether it be among friends and family, at a gathering or event, or online.
The Hidden Picture Game is an interactive puzzle game that tests players' observation, focus, and perception skills by revealing colorful, intricate pictures with hidden objects. These games can be found in various mediums and can be used as stress relief, mindfulness activities, or educational themes. Customizing the game involves selecting a theme, preparing images, selecting hidden objects, modifying images, and sharing it online or offline.